International Space Station undocking delayed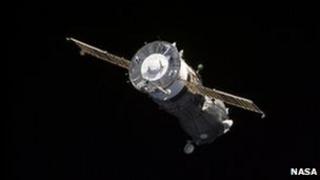 Three crew members have returned to the International Space Station after the Russian Soyuz capsule due to take them home failed to undock.
The two Russians and one American had been due to return to Earth when computers signalled a technical problem with the hermetic seals.
Their descent has now been postponed until Saturday.
Russia's space agency says checks show the station is sealed and it is unclear why a false signal was sent out.
"The preliminary analysis based on technical expertise shows that the on-board computer received a false signal that the hermetic seal was missing, after the door between the capsule and the space station was closed," Roscosmos chief Anatoly Perminov told reporters at mission control in Korolyov, near Moscow.
"We have carried out all necessary checks today on the hermetic sealing of the station and they show that the station is sealed.
"We need to figure out completely the reason for the false signal and fully guarantee that the moving processes of the operation are safe."
Nasa said the crew had found a small piece of damaged equipment and experts were trying to work out whether this was causing the problem.
Nasa will be watching developments particularly closely because next year its space shuttle will be taken out of service, the BBC's Richard Galpin reports from Moscow.
The only way to get Nasa astronauts to the International Space Station and back will be on board Russian Soyuz capsules, our correspondent says.
'No reason to rush'
The new scheduled time for the spacecraft's descent is about 0520 GMT on Saturday, according to Roscosmos official Alexei Krasnov.
The three crew members due to return are Russia's Alexander Skvortsov and Mikhail Korniyenko, and Nasa's Tracy Caldwell Dyson.
All three arrived on the ISS on 4 April, travelling up on the same Soyuz capsule.
Mr Perminov said they were in good health.
"We could have done it [the undocking] today but we need extra time to avoid further risks," he added.
"There is no reason to rush. The most important thing is to guarantee the safety of the crew."
Due to remain on the ISS are Russia's Fyodor Yurchikhin and two other Nasa astronauts, Doug Wheelock and Shannon Walker.