Ban over 'killer shrimp' lifted in Cambridgeshire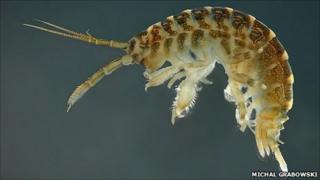 A ban on using boats on a reservoir in Cambridgeshire, enforced after the discovery of an invasive shrimp, has been lifted by Anglian Water.
Dikerogammarus villosus, known as "killer shrimp", was found in the UK for the first time at Grafham Water, near Huntingdon, on 3 September.
The Environment Agency confirmed it was the predatory species and also imposed measures to contain them.
People using the water are still advised to keep an eye out for shrimps.
Equipment should be checked and hosed down after use, officials said.
The creature, which varies in size from 3mm to 30mm, was spotted by anglers and sent to the Environment Agency for identification.
The shrimp preys on a range of native species, such as freshwater invertebrates - particularly native shrimp - and even young fish.
This alters the ecology of habitats it invades, and could cause extinctions.
It has spread across most of Western Europe over the past 10 years.