High hopes for a colourful autumn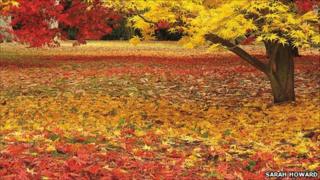 Experts are hopeful that trees at the National Arboretum will provide a colourful display this autumn.
The team at Westonbirt has compared 2010 weather and planting conditions with records kept by W J Mitchell, the arboretum's first curator.
They say this year's weather closely matched that of 1929, which Mr Mitchell described as "a year of extremes", but produced autumn colour into November.
Westonbirt's collection of maples is well known for its autumnal show.
Records charting autumn colour trends at the arboretum span a period of more than 80 years ago.
'Bold statement'
W J Mitchell became curator in 1927, and used his logs to often consider the conditions through the year that would result in leaves bursting into a blaze of colour during the autumn months.
Entries for 1936 described the summer as wet and sunless, prompting Mr Mitchell to fear a poor display in that year's latter months, yet he was proved wrong.
"There has never been a better all round colour than this autumn; this is making a very bold statement," he wrote.
"After this summer and autumn I shall modify my opinion."
Spokeswoman Katrina Podlewska said: "At Westonbirt, we always are hopeful of good autumn colour.
"But if we look at the past, and 1929, we did have a cold winter and a late spring - similar to this year. So if we continue to have relatively normal conditions - without masses of heavy rainfall or a very early frost - then we will get a good autumn colour."
Ms Podlewska said that there were already a few signs of autumn's imminent arrival, with some Japanese maples' leaves changing colour.
As well as the maples, she also that there were a number of other species in the arboretum that were known for their autumn colour, such as the Persian ironwood.
"It has a range of colours, including deep plum and deep red," she told BBC News. "On the leaves of the ironwood itself, there are sometimes various different colours."
"So it is not just the maples, although they are the stars of the show."
Simon Toomer, director of the arboretum, which is managed by the Forestry Commission, says Westonbirt staff enjoy the challenge of predicting when autumn will fall and what type of colour the leaves will be.
"Trying to guess the timing and colouring of trees in autumn is something that we... indulge in every year," he said.
"It's good fun, but if I've learnt anything over the years it's that nature is a mysterious thing and even with increased scientific and plant knowledge, we often get it wrong."
The records also showed that Westonbirt experienced a long, cold spell over the winter of 1928-29 but many trees survived.
The Japanese maples were among those to cope with the harsh conditions, and in the autumn of 1929, Mr Mitchell noted their "exceptionally beautiful" salmon pink leaves.
According to the recently transcribed logs, the winter of 1929 was followed by a later spring than usual, as was 2010, yet Mr Mitchell described the season as "one of the most floriferous for trees and shrubs for some years."
He also noted that the cherry tree blossoms were "particularly successful"; which the current staff said was also the case for the trees during this spring, raising hopes of a colourful autumn display.