Snail sat-nav triumphs in contest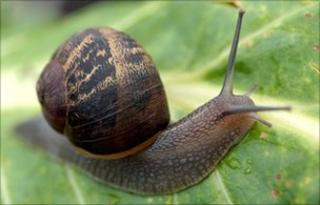 A 69-year-old grandmother from Devon has won a BBC search to find the country's best amateur scientist.
Ruth Brooks from Totnes devised an experiment which determined - contrary to received scientific wisdom - that snails have a homing instinct.
The talent search was carried out for BBC Radio 4's Material World programme.
Ms Brooks emerged as the winner from four finalists chosen by a judging team.
The other three finalists were:
Sam O'kell, 35, a croupier from Cheshire; he tested his theory that there is more room at the front of music gigs than further back
Nina Jones, 17, a student from Buckinghamshire, looked at how people of different ages present themselves online through their Facebook photos
John Rowlands, 41, an amateur astronomer from North Wales; he researched the frequency of noctilucent clouds, luminous layers of ice crystals that form high in the atmosphere.
Many gardeners have always maintained that snails have a homing instinct.
Their evidence is from the bitter experience of having snails return to ravage prized plants after they've been disposed of - often by furtively throwing them over the fence into a neighbour's garden.
But some scientists thought the snail was too simple an organism to have a homing instinct. However in a series of carefully designed experiments, Ruth Brooks showed the opposite may be true.
She found that Helix aspera, the garden snail, has a strong homing instinct over 30m.
Ms Brooks gave her advice to fellow gardeners: "I would say that on the evidence that it would be safe to take your snails away beyond a 100m or further and put them somewhere nice with some food and you can be almost certain that they won't come back.
She added: "I shall certainly be following that advice."
A professional scientist, Dr Dave Hodgeson, from Exeter University, was brought on to assist her with the experiment.
Before the experiment started, he said he would be amazed if snails were shown to have a homing instinct.
"I am amazed," he said.
"I was extremely sceptical. I thought there was no way that these creatures would show a homing instinct in the way that homing pigeons do for example. And yet they do."
Dr Hodgeson said he would be interested in taking the research further himself. He has two theories he would like to explore:
"They either have some clever mechanism that helps them get home or it's entirely possible that snails are just moving around the landscape and when they stumble across a place they come from they just stop."