Badger cull 'may worsen problem'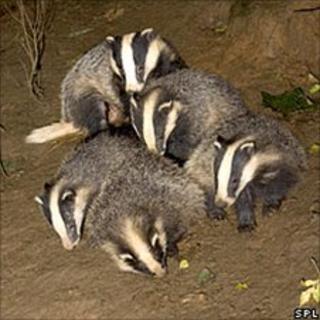 The UK government's plans to curb cattle tuberculosis by culling badgers could make the problem worse, says a former government scientific adviser.
Ministers propose licensing farmers in England to shoot badgers on their land.
But Dr Rosie Woodroffe, a member of the now defunct Independent Scientific Group (ISG), said the policy risked increasing the spread of TB.
The government says culling is badly needed to curb a disease that costs the UK more than £100m per year.
The ISG spent 10 years studying evidence on various options for bovine TB control, including supervising the biggest experiment ever conducted on the issue, the Randomised Badger Culling Trial (RBCT) - also known as the Krebs Trial.
Its headline conclusions were that culling did reduce the rate of cattle TB inside target zones, but the rate increased just outside.
This is thought to be because killing badgers upsets their social structure, causing them to roam further in search of food and territory, increasing contact with cattle.
The ISG's final report in 2007 concluded that culling was not an effective option, even if conducted rigorously and systematically. Hilary Benn, then Environment Secretary, ruled against a cull based largely on evidence from the trial.
The ISG then analysed various strategies that could be pursued at lower cost - including licensing farmers to conduct a cull, rather than having it co-ordinated by some central agency.
It concluded: "We consider it likely that licensing farmers (or their appointees) to cull badgers would not only fail to achieve a beneficial effect, but would entail a substantial risk of increasing the incidence of cattle TB and spreading the disease."
It suggested there was a real risk that culling would be fragmented or short-term or unco-ordinated - all of which would be likely to increase perturbation of badgers and so the extent to which they would spread disease.
Dr Woodroffe, who now works with the Zoological Society of London, told BBC News that comprehensive and regular culling had proved difficult to achieve even within the format of a rigid government-commissioned study.
"For farmers to do this, they'd have to cull simultaneously in the whole area and maintain their interest year after year, when they won't see any benefits in the first year, maybe in the face of animal rights protestors," she said.
"And we're talking about maybe 200 farms in a 150 sq km zone; so there's a serious risk of piecemeal culling, which will make matters worse."
Farmers' delight
Farmers, though, have expressed satisfaction with the decision, with the National Farmers' Union (NFU) calling it "a major step forward".
"Our view is that farmers will want to do this," Kevin Pearce, the organisation's head of food and farming, told BBC News.
"Most of the time when farmers have a problem they can do something about it. Here, they've been in a position of having to sit by and watch as their herds are destroyed... our gut reaction is that they'll want to protect their farms."
The NFU is to consult with farmers' groups across regions of England affected by bovine TB - predominantly the South-West and counties along the Welsh border - on the detail of their response to the government's proposals.
Announcing the proposals - which now go out for a three-month consultation - Agriculture Minister Jim Paice told reporters that the scientific case for culling had advanced since Mr Benn decided two years ago that it was not a cost-effective option.
"Bovine TB is having a devastating effect on many farm businesses and families," he said.
"Last year 25,000 cattle were slaughtered because of the disease. We can't go on like this."
Mr Paice hopes to announce the final plan early in 2011, with the first culls possible later next year.
Conditional approval
The European badger (Meles meles) is a protected species under European and British law, but ministers can sanction killing in certain circumstances, including to tackle diseases.
Licences are issued by the statutory agency Natural England. Mr Benn instructed the agency not to issue any licences for bovine TB control; under the current government's proposals, this instruction would simply be reversed.
Groups of farmers and landowners would be invited to come forward with bids to mount culls in specific areas.
Applicants would have to satisfy a number of conditions, including:
the area must total at least 150 sq km
there must be "high and persistent" levels of TB in cattle
the group can show it can access at least 70% of the land in the area
the group must commit to culling at east once per year for four years
there must be evidence that culling will bring badger numbers down far enough to reduce TB transmission without wiping badgers out entirely in the area.
Licensees would be allowed to trap the animals in cages and shoot them, or just shoot them as they roam - so-called free-shooting.
They could also deploy vaccines. Earlier this year, an injectable vaccine was licenced for use in the UK, and government officials said there is evidence of its effectiveness - although that evidence has yet to be released.
However, the government calculates that both vaccination and cage-trapping will be about 10 times more expensive than free-shooting.
Many details remain to be decided, including what sanctions farmers' groups would face if they gained a licence but then failed to stick to its terms, for example by opting out before the end of the four years.
Two months ago, the Court of Appeal upheld an appeal by the Badger Trust against the Welsh Assembly Government's plans for a trial cull in Pembrokeshire.
One of the reasons for the judgement was that proponents expected the measure to produce only a 9% decline in TB in cattle, which the court ruled was not a "substantial reduction", as required by the Animal Health Act.
Defra is using different legislation, the Protection of Badgers Act. Even so, campaigners are expected to explore legal options if they do not think the government's case stands up.