Discovery shuttle is prepared for its final voyage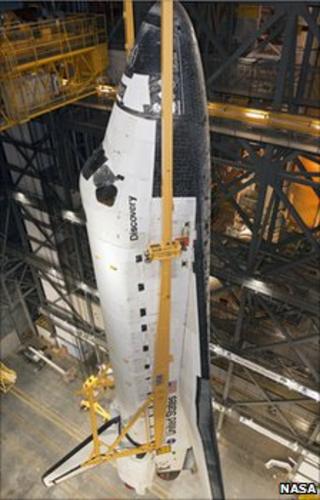 Nasa's shuttle Discovery is getting ready to blast off into space one last time, after technicians reattached a main separation nut that fell off on Friday.
The orbiter has now been bolted to its external fuel tank and is set to go on its 39th and final mission to the International Space Station on 1 November.
An internal nut on the left side of the shuttle slipped out of position and fell into the aft compartment during the preparations for the flight.
The Discovery lift-off is planned to be the penultimate launch before the shuttle fleet retires early next year.
The Endeavour orbiter is scheduled to head for the skies on 26 February. This is expected to be the programme's 140th and last voyage.
Nut problem
Discovery was towed from its hangar and into the Nasa's Kennedy Space Center's vehicle assembly building in Florida on Thursday.
But after technicians managed to attach a large separation system bolt on the lower right side of the shuttle's belly, an internal nut slipped out of position and fell off.
The bolts ensure that the fuel tank separates from the orbiter after the craft pierces the atmosphere.
The issue with the missing nut was successfully resolved on Saturday and the bolt had been re-positioned.
It was yet another delay after the orbiter was taken to the assembly building a day late because of a broken water main.
'Final' mission
If everything else goes well, Discovery should be moved to launch pad on 21 September and ready for lift-off on 1 November.
The STS-133 crew, headed by commander Steve Lindsey, will deliver spare parts, supplies and a new module to the ISS.
The astronauts plan to fly to the Kennedy Space Center on 12 October. They will then take part in a dress-rehearsal countdown a few days later.
Discovery is set to dock with the ISS at around 1pm on 3 November and head back to Earth on 10 November, landing at the Kennedy Space Center on 12 November.
After that the orbiter, the oldest in service, is likely to end up on public display, probably at the National Air & Space Museum in Washington DC.