Openness urged on UK's emissions
By Roger Harrabin
Environment analyst, BBC News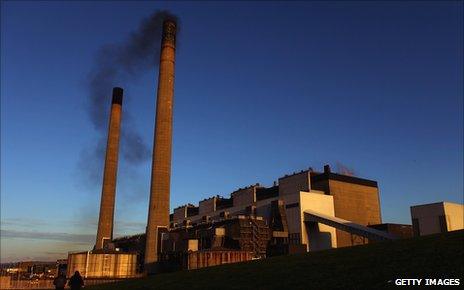 The UK government's chief environment scientist has called for more openness in admitting Britain's apparent cuts in greenhouse gases are an illusion.
Robert Watson says that if emissions "embedded" in imported goods are counted, UK emissions are up, not down.
He says the same syndrome is true for other rich nations which offshored manufacturing industry.
That means developing countries - particularly China - are blamed for goods they buy for export to the West.
He said: "At face value UK emissions look like they have decreased 15% or 16% since 1990. But if you take in carbon embedded in our imports, our emissions have gone up about 12%. We've got to be more open about this."
Prof Watson is often outspoken and his comments are likely to be brandished by poor nations looking to put pressure on wealthy countries in next months' climate talks in China.
A spokesman for the Department of Energy and Climate Change (DECC) said this phenomenon was acknowledged by the government.
The British government has known for some years that UK emissions cuts were not what they seemed, but that has not generally stopped ministers trumpeting emissions reductions in interviews.
In response to Prof Watson's remarks, a DECC spokesman said: "Our position is that greenhouse gas emissions in the UK have been cut by 22% since 1990. While some emission reductions have resulted from the trend for manufacturing to move overseas, international rules state that emissions from manufacturing are counted by the country of production.
"Changing that would be very difficult. We don't have jurisdiction over emissions embedded in imports, they're difficult to calculate accurately, and not easily verified."
Prof Watson accepts that it will be hard to find a different metric than the current system.
He was the previous chairman of the Intergovernmental Panel on Climate Change (IPCC) and he says when the current system was set up, there was little discussion of alternative systems because economists had not begun to calculate embedded emissions.
Some analysts think it is impossible to track CO2 emissions along modern supply chains where manufactured goods often contain components from many manufacturers in different countries.
Any system for monitoring embedded emissions would cause long - and maybe irresolvable - debate in the UN climate talks.
Tom Burke, visiting professor at Imperial College London, agrees the calculation would not be easy, but says that it should be possible over time.
The UK would fare particularly badly if emissions were to be added up on a basis of CO2 consumption rather than production because so much of its manufacturing industry has moved overseas, whilst consumption of goods in the UK has increased.
In fact it could be argued that the UK's targets for reducing CO2, which are higher than the EU average, imply a tacit acknowledgement of this syndrome.
At the other end of the scale is China, where the government has shaped an export-based economy. The Tyndall Centre's estimates suggest that up to a quarter of China's carbon emissions come from goods exported to places like the US and Europe
An early study on the topic was done for the UK's Department for Environment, Food and Rural Affairs (Defra) by the Stockholm Environment Institute.
The research was amplified by work from Dieter Helm, professor of energy policy at the University of Oxford. "I am keen that we treat China's emissions as our own. I am quite optimistic that we eventually will," he said.
The DECC spokesman said: "UK government - and I think organisations such as Carbon Trust and Tesco - have been undertaking research on this issue.
"But what this underlines [this] is that the best way of getting an accurate account of, and reducing, global emissions is by reaching a global deal, and building on the Copenhagen Accord which importantly includes commitments by major manufacturers such as China."
There are still huge and maybe insuperable obstacles to any such deal - particularly in the US Senate which has not been able to pass a climate bill. But China itself may have made a small step towards a solution by offering to host the next preliminary UN climate talks - in Tianjin from 4 October.
It is believed by UN climate officials that China will have something to offer the world in an attempt to unjam the talks - but it's not yet clear what.
Professor Watson was speaking to BBC News for a documentary Uncertain Climate to be broadcast on BBC Radio 4 at 0900 and 2130 on Monday. Part One is on BBC iPlayer.