Big rocket booster in second test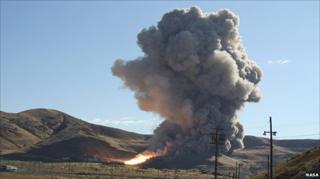 A further test ignition has taken place on the giant booster intended to power the early flight phase of Nasa's next big rocket.
The five-segment motor is an upgraded version of the four-segment booster that currently lifts the space shuttle off the launch pad.
The test took place at manufacturer ATK's facility in Utah.
Nasa is currently in the process of developing a successor to the 29-year-old shuttle, which will retire in 2011.
The new vehicle's design is uncertain, however.
The larger ATK booster was developed as part of Nasa's Constellation programme, a multi-billion-dollar project to build the rockets and spaceships capable of taking astronauts back to the Moon.
But in February, President Barack Obama announced that he wanted to cancel the project and instruct the US space agency to investigate new technologies before embarking on the development of a next-generation rocket.
The US Congress then stepped in to try to roll back some of the White House ideas.
Politicians on Capitol Hill, worried that the President's plans would lead to too big a gap in US spaceflight capability, have been trying to frame legislation that would mandate Nasa to begin developing a big rocket immediately.
This vehicle - like the Constellation rockets - should lean on shuttle heritage, legislators have said. ATK's test therefore still has high relevance.
Tuesday's motor was heavily instrumented to gather data on the performance of new components.
The static booster was expected to produce a maximum thrust of 16,000 kilonewtons, or 3.6 million pounds. The current four-segment solid rocket boosters on the shuttle produce about 14,600kN, 3.3 million pounds of thrust.
Nasa's Alex Priskos said the data gathered from the test was "absolutely excellent", giving "the chamber pressures and the thrust pressures that we were expecting".
ATK's first test of a five-segment booster took place in September last year.