UK biofuels 'falling short' on environmental standards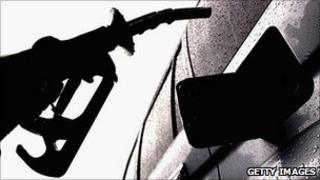 The Renewable Fuels Agency says it is disappointed that the vast majority of biofuels sold on UK forecourts do not conform to environmental standards.
The body said fuel suppliers were meeting legally binding volume targets but some were falling "well short" on achieving voluntary green standards.
But since biofuels have had to be mixed into forecourt fuel, there had been a reduction in emissions, it added.
The figures are based on 2009/10 data, which will be finalised in early 2011.
The Renewable Fuels Agency (RFA) is the UK's independent regulator for biofuels, and is responsible for the Renewable Transport Fuels Obligation (RTFO), which requires a percentage of fuel sold on forecourts to be biofuels.
In the first year of the RTFO, 2008/09, the target was 2.5%, and it is set to gradually increase until 2013/14 when 5% of all fuel sales have to be from a renewable source.
Falling short
Provisional figures for the second year of the obligation showed that almost 1.6bn tonnes of biofuels had been sold, primarily as a blend with traditional transport fossil fuels (petrol and diesel). This equated to 3.33% of total sales, exceeding the government's target of 3.25%.
However, a RFA spokesman said that, despite the volume target being achieved, the agency was "disappointed that more companies did not source more fuel that was produced according to a recognised environmental standard".
"We believe that sustainable biofuel is available, in sufficient volume, should these companies wish to procure it," he told BBC News.
Figures released by the RFA show that just 33% of biofuels met an environmental standard, well short of the 50% goal for 2009/10.
About 80% of the feedstock to produce the biofuels was imported, most of which was not subject to meeting an environmental standard.
But the spokesman did add that the RTFO did appear to be achieving its primary objective, namely to cut carbon emissions.
"The year two figures suggest that the RTFO is succeeding in cutting carbon. The target on this front was exceeded, with biofuels... delivering carbon savings of 51% compared with conventional diesel or petrol."
Under the RTFO, the target to cut emissions during 2009/10 was 45%.
"This is a significant reduction, equivalent of taking half a million vehicles off the road, or making Edinburgh, Cardiff and Belfast car free."
However, he did caution that the savings reflected the directly measurable savings biofuels offer in comparison with fossil fuels, but did not take into account the potential impact from indirect land use change.
Indirect land use change is a complex set of circumstances that makes it difficult to measure - such as when land used to grow food is switched to grow fuel crops, but as the demand for food remains it lead to primary forest being felled in order to create more arable land for food production.
The growth in demand for biofuels around the globe has been criticised by environmental groups, who said it is accelerating the rate of habitat loss and increasing food insecurity.
Currently, the majority of biofuels are produced using food crops - such as cereals, soybean, rape seed oil, sugar cane and palm oil - on arable land.
However, technological advances will see an emergence of "second generation" biofuels, which - for example - will be able to use waste from food crops (such as the leaves and stems) and woody plants that can grow on poor soil.
Proponents of biofuels say the new technologies will markedly improve the environmental performance of the renewable fuels and halt the sector's reliance on food crops. Some developers are even working on "third generation" fuels, such as using vast ponds of algae as a feedstock for fuel.
Currently under the RTFO, only the volume target is mandatory; the carbon savings and environmental standards goals were voluntary.
However, this is set to change when the EU Renewable Fuel Directive (RED) comes into force at the end of the year, which will expect member states to ensure the biofuels meet both environmental and carbon saving criteria.
Under RED, member states will also be expected to ensure that 10% of transport fuel is from a renewable source by 2020.