Apple genome is cracked by geneticists
By Howard Falcon-Lang
Science reporter, BBC News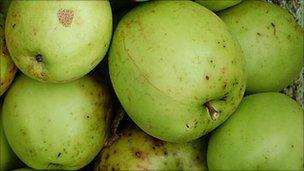 A team of 86 global scientists has sequenced the genome of the Golden Delicious apple for the first time.
The DNA breakthrough could result in new and improved apple varieties which are more resistant to disease.
Scientists from 20 institutions took two years to unravel the apple's code - the largest plant genome uncovered to date.
Professor Riccardo Velasco at the Edmund Mach Foundation in Italy, who led the research team, said that sequencing the genome "would have huge implications for applied breeding".
"This breakthrough will help us to develop high quality traits and bring new things to the apple market," he told BBC News.
Kate Evans from Washington State University's Tree Fruit Research and Extension Centre said the discovery would help the "long-term sustainable production" of apples.
Scientists hope improvements to the popular Golden Delicious variety - which originated in West Virginia, US, more than a century ago - could enhance the taste, look, and crunchiness of the fruit.
The researchers were also able to trace the apple's ancestry, and found the domestic fruit's wild ancestor Malus sieversii originally grew in the mountains of southern Kazakhstan. There are more than 7,500 varieties of apple known today.
The researchers also discovered that the huge size of the apple genome originated when it got accidentally duplicated far back in its evolutionary history.
A large number of genes can give plants a competitive advantage, providing more in-built defences against disease.
Related Internet Links
The BBC is not responsible for the content of external sites.