The secret life of Dr Marie Stopes
By Howard Falcon-Lang
Science reporter, BBC News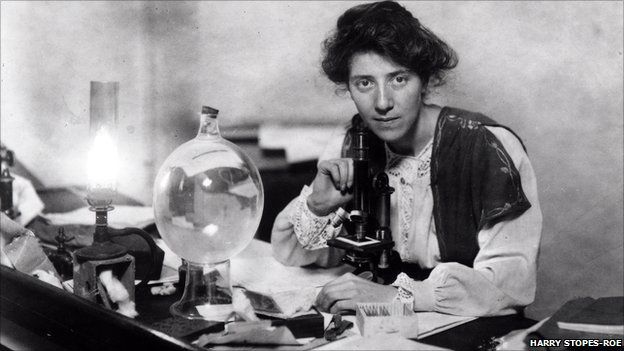 Marie Stopes (1880-1958) shook the world. She wrote a best-selling sex-manual for women and was a controversial birth control pioneer. On a darker note, she also corresponded with Hitler and believed in the creation of a super race.
When Stopes set up her first birth control clinic in 1921, everyone assumed that she had trained in medicine.
Yet, bizarrely, she was an expert on fossil plants and coal.
So how did this young palaeontologist come to transform Western society and become one of the most infamous women in history?
The making of Marie Stopes
Looking back, Marie Stopes must have felt an ironic inevitability to the way that her bipolar career unfolded. Her father, Henry, was a leading archaeologist and avid collector of Stone Age artefacts. Her mother, Charlotte, was a Shakespearian scholar and suffragette.
The impact that these two strong personalities had on Stopes became evident even from a young age. While still a teenager, she declared her intention to divide her career between science and humanitarian endeavours. Her prophecy came true.
That she was bound for extraordinary things was first signalled during her student years. In 1900, aged 20, she enrolled at "the Godless University on Gower Street" (University College London), so-called because its students didn't have to sign up to the 39 articles of Anglican religion.
After graduating from UCL in only two years, winning the Gold Medal for biology, and fighting off more than one marriage proposal, Stopes got her first break as a wannabe scientist.
It just so happened that one of her professors, Francis Oliver, was on the verge of a massive breakthrough in plant evolution. He was about to discover a crucial "missing link" between ferns and advanced plants. As his research assistant, Stopes was to play a pivotal role in the work.
With her passion for scientific research ignited, Stopes went to Munich, Germany, to conduct a PhD on the sexual habits of certain primitive plants called cycads.
Returning to the UK in 1904, after an amazingly condensed education, the broadsheets hailed Stopes as "the youngest Doctor of Science in Britain". The University of Manchester immediately snapped her up as a lecturer. However, they failed to realise that the eminent Dr Stopes was in fact a woman.
When the news broke, the university tried to rescind the job offer.
However, Stopes was not only academically brilliant, she was also a great networker. Friends in high places "fought valiantly" on her behalf and the appointment was soon confirmed.
But Stopes wanted to do more than just teach students. Her thirst for knowledge led to places where many of her male colleagues feared to tread and to tackle some of the important questions of the day.
In her mid-20s, she crawled down the cold, damp, and frankly hazardous coal mines in Lancashire, collecting spectacular 300-million-year-old plant fossils. Her hard labour shed new light on the origin of coal.
Coal was, of course, the fuel of the British Empire, so this was no trivial work, but of huge economic and social importance. But there were more extraordinary breakthroughs to come.
In 1907, Britain's most esteemed scientific institution, The Royal Society, made an unprecedented decision. It sent Stopes on an 18-month expedition to the wilds of Japan.
The experience catapulted Stopes from academic to celebrity. Suddenly, the whole country was agog at the exploits of this intrepid female explorer.
The stated purpose of the trip was to solve a problem that, 50 years earlier, Charles Darwin had called "an abominable mystery": the evolutionary origin of flowers.
In the company of a massive entourage of Japanese porters, Stopes set out for the remote northern island of Hokkaido. There, scrambling up muddy streams, she dug up fossils that proved to be the oldest flowers - a monumental discovery that did much to address Darwin's dilemma.
Yet, the real reason for this Japanese expedition may have been romance. While in Munich, Stopes had fallen for Japanese botanist Kenjiro Fuiji and it seems likely that she duped the Royal Society into bankrolling the trip in order to rekindle the love affair after he had returned home.
If so, the relationship quickly - and acrimoniously - fizzed out. And in an amazing bout of sour grapes, Stopes published a "novel" on her return to Britain about a young female palaeontologist who was jilted by a pompous Japanese professor.
Any resemblance that the fiction had to real life was purely coincidental, Stopes claimed.
As Stopes turned 30, in 1910, she was fast becoming the rising star of British science. Naturally, she was in much demand.
That year, the Canadian Government brought her in as a "hired gun" to resolve a dispute about the age of rocks in New Brunswick.
Between hard nights partying with American tourists, Stopes spent arduous days hammering out plant fossils from the shore of the Bay of Fundy - home of the world's highest tides.
Analysing the fossils back at the British Museum, London, she cut through years of muddled thinking and resolved the dispute decisively. Her elderly, male colleagues were left speechless. However, if they knew what was coming next, their jaws would have dropped.
In 1911, Stopes had married fellow scientist Reginald Gates, but something was amiss. While working on her fossils, she found a locked cupboard at the British Museum containing every book about human sexuality.
Rifling through the textbooks, she realised that Gates was impotent.
While it is hard to believe that a scientist so knowledgeable about the sex life of plants could be so naïve about her own sex life, Stopes used the information to get her marriage annulled on the grounds that her virginity remained intact.
In the court proceedings, Gates told a different story, calling Stopes "super-sexed to a degree that was almost pathological" and ruefully remarking that, "he could have satisfied the desires of any normal woman".
During the First World War, Stopes returned to her work on coal.
In particular, she became interested in the physical make-up of coal, or its "visible ingredients" as she called it. Scientists still use today the scheme she devised to describe coal properties.
The practical importance of her work is evident when anyone flicks on a light switch. Her findings are used to optimise the way coal is burned in power stations and are key to efficient generation of electricity.
This period of her life illustrates her amazing ability to multitask.
While writing about coal, Stopes was also reflecting on her recent unhappy marriage. Out of her experiences of sexual frustration came Married Love, the first sex manual aimed at women.
Written in 1916, it took a further two years before she could find someone to print it. As one publisher remarked, if women demand too much in the bedroom they won't find a man at all. After all, there was a war on and men were in short supply.
The storming success of Married Love was quickly followed later in 1918 by Wise Parenthood, a best-selling guide to birth control.
This set Stopes on a road that led away from fossils and coal, and much has been written on her subsequent work as the controversial family planning guru and eugenicist.
But Stopes never completely turned her back on fossils.
Many years later, in 1953, when she was in her seventies, she attended a botanical meeting of the Linnean Society. A young graduate student called Bill Chaloner was pushed forward to greet this imposing character.
"Ah, dear boy, this is wonderful!" she gushed when he nervously told her about his research on coal and fossils, "Of course, fossil plants were my first love!"
The young student grew up to be one of the most influential fossil plant experts of the 20th Century. I met him when I embarked on my own PhD and he remains an inspiring mentor. He is also a tangible link to the remarkable but forgotten scientific career of Dr Marie Stopes.
Bill and I often wonder what Stopes might have achieved if she'd devoted her entire life to plant evolution. On the other hand, if she had, what kind of world might we live in today?