US Senate will not pass a full climate bill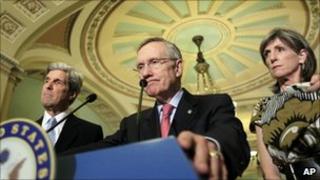 The US Senate will not pass a full climate bill in its current session, majority leader Harry Reid has said.
Mr Reid acknowledged on Thursday that Democrats pushing for a bill could not muster the required number of votes.
Instead, he plans to introduce more limited legislation that would boost energy efficiency in vehicles and crack down on offshore oil exploration.
The news is a major blow to prospects of achieving a new global deal on climate change through the UN talks.
Some advocates of climate legislation in the US have criticised President Barack Obama for failing to take a strong lead on the issue, despite campaign promises.
In June 2009, the House of Representatives passed a bill that would cap emissions from most sectors of the economy and establish a nationwide carbon market.
A similar bill was introduced into the Senate last September, but did not receive enough backing; and weaker versions have suffered a similar fate.
On Thursday, Mr Reid acknowledged legislation was not going anywhere.
"We know where we are - we know that we don't have the votes," he said.
The Democrats hold 59 of the 100 Senate seats. But some Democrats fearful of the economic impacts of cap-and-trade legislation have joined the minority Republicans in opposition to the bill.
Key cuts
US legislation is key to tying up a new global agreement on climate change - the agreement that governments promised in 2007 they would deliver at last year's Copenhagen summit, but did not.
"It is very important to have the US in any agreement, as it constitutes 20% of global greenhouse gas emissions," said John Lanchbery, principal climate change adviser at the UK's Royal Society for the Protection of Birds (RSPB) and a seasoned observer of UN negotiations.
"And it's in the position where it has to have some domestic legislation before it will put anything forward internationally," he told BBC News.
In 1997, President Clinton signed the Kyoto Protocol. But with the Senate vehemently opposed, the US did not ratify the treaty.
Many US politicians have said they will not travel down the same road again.
Yet many developing countries demand a strong US pledge before they will contemplate major curbs on their own emissions.
"They want the US to move, and they think it isn't offering anything substantial; so it is very important internationally," said Mr Lanchbery.
Election issue
Carol Browner, director of the White House Office of Energy and Climate Change Policy, said Mr Obama would support Mr Reid's decision.
"Obviously, everyone is disappointed that we do not yet have an agreement on comprehensive legislation," she said.
US-based environment groups have so far backed Mr Obama in public, despite private frustrations that he has not given a strong lead since taking office.
But some are now questioning his record.
"We really need the president to take the lead and tell us what bill he's going to support," Fred Krupp, president of the Environmental Defense Fund, told Rolling Stone magazine.
"If he doesn't do that, then everything he's done so far will lead to nothing."
Mr Reid indicated he would introduce fuel efficiency and oil exploration measures next week.
He said he had not given up hope of bringing a more comprehensive bill back later this year.
But with mid-term elections due in November and Mr Obama struggling for approval on issues such as the Gulf of Mexico oil spill, the mathematics of Senate votes may be even worse for the bill's proponents by then.