The Adoption
Words by Jon Manel
Illustrations by Daisy Mojave Holland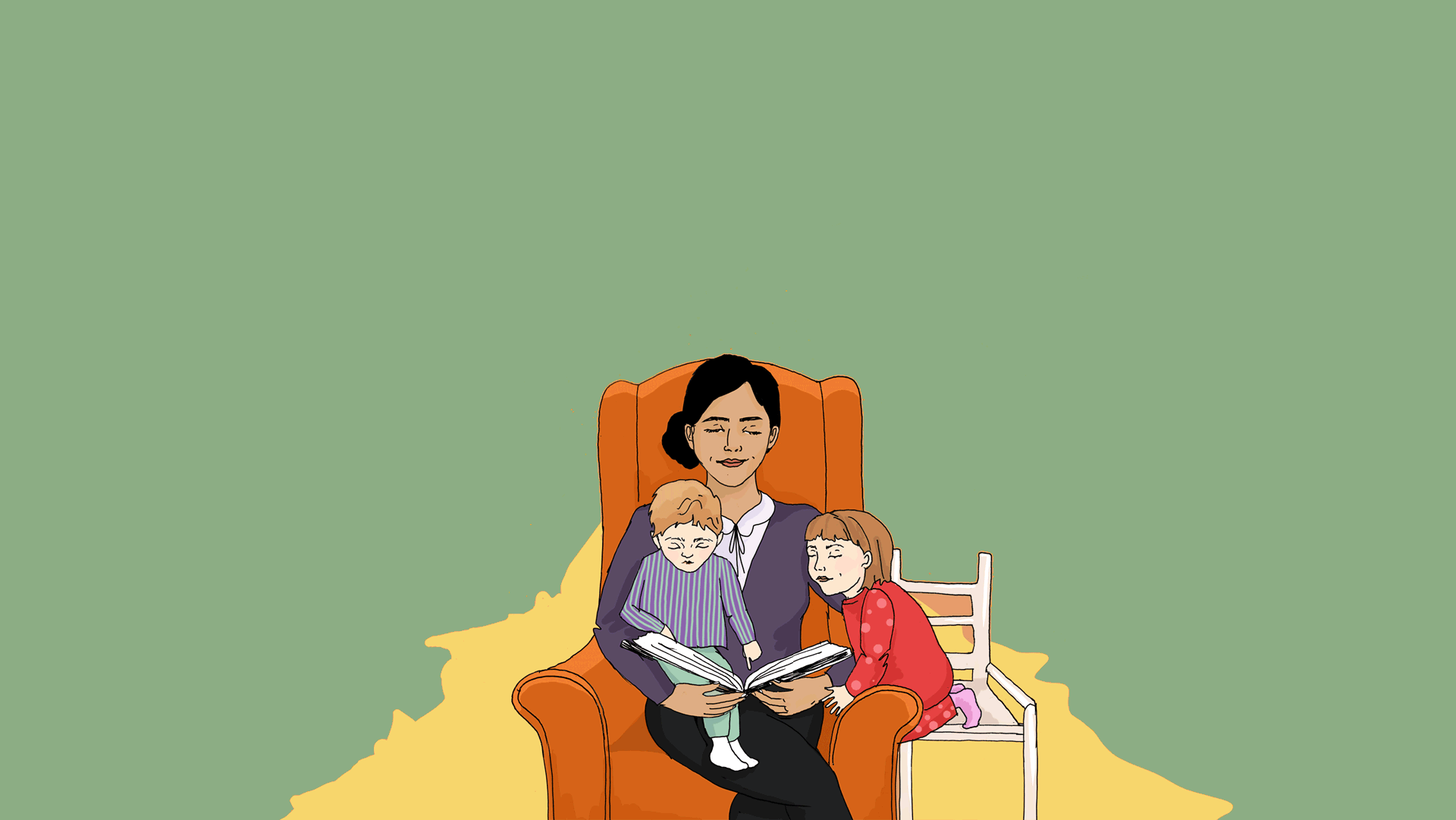 One true story. Two young children. A family is being shattered; can a new one be created? For National Adoption Week, we present an adaptation of the BBC's award-winning podcast The Adoption, offering a rare insight into the process through the eyes of those affected.
Chapter 1: So quiet
One by one, Ruth is taking her photographs down from the shelves to show me the smiling faces of her children.
"She was just learning to walk," she recalls, as she looks at one of them.
Ruth reaches for another picture. "He was always a smiler."
Her youngest is just a few months old. But when I visit, the house is really quiet. There is no crying or gurgling to be heard.
"That's Bethany with her arm right around Ben's neck, looking very happy and cheeky all at the same time," she says looking at another photo. "She's trying to say, 'You're going nowhere, you're staying right next to my side'. And Ben's got his cheeky eyes."
Bethany is three years old and Ben, the second youngest, is two. But it will be years before she will be allowed to see the two of them again - if ever.
By the time all the photos have been put away, I have seen pictures of all of Ruth's children. There are six in total. The oldest is a teenager. But they are no longer in her care.
"It was all good fun then. It's good fun to remember these days," she says. "That's why I like to have the photos about. You can't forget the good old days."
Three of her children have been subject to court orders that have ruled they should be adopted. Two others are in the care of Ruth's parents, and one is living with his father.
But Ruth is still hopeful for the future.
"My kids have gone into care and are going up for adoption, but it won't put me off having any more children. I know I can care for them, I know I can prove it. Give me the chance."
Chapter 2: Bethany and Ben
Ruth is not this woman's real name but this is a real story. It is about two of her six children – the two who we are calling Bethany and Ben.
In March 2016, a court ruled that the two young siblings should be adopted.
Every year, thousands of children are the subject of such rulings around the United Kingdom.
This means it has been decided they can no longer be brought up by their parents.
The search is now on to find Bethany and Ben a new parent or parents.This usually happens away from the public eye but in this case, I was allowed to follow what happened.
Most of their names have been changed but you are going to be reading their own words.
By the time the family court had ruled the two children should be placed for adoption, Bethany and Ben had already been removed from their home. When I first started to follow their story, they had been with their foster carer, Lucy, for six months. They were brought to her straight from their nursery school.
Bethany had refused to get into the car with the social workers. She was too upset, so one of her grandfathers had to bring her to the foster home instead.
"Bethany did cry for her mummy for about an hour," says Lucy. "I sat her on my knee and I cuddled her, and I reassured her. I said, 'At the moment you're not able to go home and I'm going to look after you'."
She says each of them was holding a teddy bear. "They'd got dummies in their mouths and that's all they had. And the dummies, although they're three and two [years old], are very important to them - their big comfort."
Lucy says both Bethany and Ben were not as distressed as she probably would have expected them to have been.
"You'd think that they'd be really crying out and wanting mummy, but no. You don't know what sort of emotional attention they got at home. We don't know what went on, so probably getting all the attention here was something they were thriving on."
She remembers that at first, both children were fairly wary.
"I ran them a bath and filled it with bubbles. They thought that was amazing, to go into a bath full of bubbles - they loved that. So that sort of broke the ice."
For now, Lucy's house is their home.
Just like Ruth, Lucy has many photos to show me – but hers are of the children she has looked after on behalf of the local authority. Her photo album is the story of 19 years as a foster carer. Including Bethany and Ben, at this point she has had 76 children stay with her.
She decided to become a foster carer after she had adopted two children herself.
"I thought, 'What am I going to do when they've gone to school?' I became very friendly with the foster carer that looked after my two boys and I thought that was something that I could do."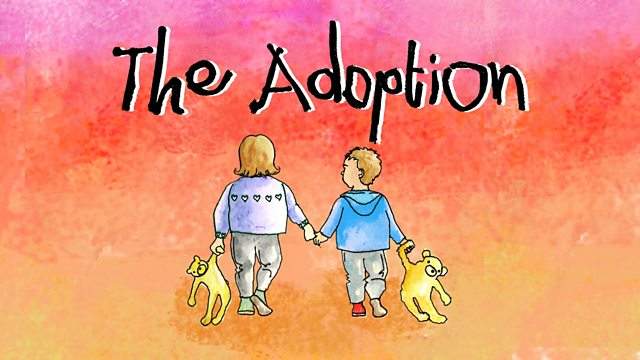 Her job is to look after children in her home on behalf of the local council. Sometimes it is just for a few days, but it is often for weeks or months. Occasionally, it is for even longer.
Lucy gets an allowance to cover the cost of each child's care, which varies depending on how old they are. For Bethany and Ben, the allowance is around £130* each per week, plus allowances to pay for clothing and things like presents for birthdays and Christmas. She says money is not a consideration for her.
She tries her best to prevent the children getting confused about her role – she is their foster carer, not a parent – so they call her by her first name. However, she can't help but get emotionally attached.
"They become part of your family and I always say that as each child leaves, they take a part of me with them. And I can't talk about it for a few days after they've gone because it brings a lump to my throat."
She admits she will cry again when Bethany and Ben move on.
"These children do have a lot on their shoulders. They're dealing with things that they shouldn't be dealing with. I mean, these little children shouldn't be going through all this - they should be leading a happy life like ordinary children, but they're not."
Chapter 3: A family ripped apart
Adoption would mean permanent change for Bethany and Ben. Adopted children are given a new family – even their birth certificates are changed so they only contain details of their new parents.
"They have been loved and wanted, there's no doubt about that, but their parents haven't always put their needs first," says Sharon Clarke, the social worker in charge of Bethany and Ben's case.
"They've seen a lot of adults who are angry with each other, a lot of shouting. They've not always had their birth parents available to them when they've needed [that], so they've had to be quite self-sufficient," she says.
"They've got older siblings who have perhaps done a lot of their care because their parents haven't been available."
It is not safe for the pair to be in their home any longer, she says.
Sharon has been a social worker for more than 23 years. She works for Lincolnshire Children's Services, which is part of the local council and is responsible for working with the families of children considered at risk of coming to harm.
All of the children Sharon works with are in the social care system and either have been, or are expected to be, the subject of court rulings which order that they should be adopted.
"The ones who come to adoption are the ones where nothing else will do and it is the last resort," she says.
A very small number of children in the UK are voluntarily given up for adoption - or "relinquished" - by their parents. Sharon says there can be several reasons for this. "If a parent has had a child removed previously," she says, "or they maybe feel they can't financially cope with another child."
She says parents with a "learning difficulty or a mental health problem might recognise that they need help and support and ask for that child to be adopted."
Before starting the search for potential adopters, social workers are encouraged to see whether members of the children's family could take on that role. In Bethany and Ben's case, this included their maternal grandparents, Patricia and Geoff.
They tell me their family had not had any previous contact with social services and, understandably, it has been a very difficult time.
"It became apparent that the parenting skills of my daughter - their mother - was well below what might be expected," says Geoff. "My daughter's responsibilities were completely lacking. Children aren't supposed to look after themselves, they're not supposed to look after their siblings, they're supposed to have what's considered a normal life - you know, where they are children and they do children things."
He says Ruth was given a lot of help from care workers, but he tells me he and Patricia feel frustrated about how the situation developed.
"How come we weren't told, instead of waiting until it had gone down the line a bit further?" Patricia asks. "Maybe we might have been able to change something, I just don't know. And I just feel angry."
The social workers say there is always the need for confidentiality when they are dealing with cases like these. But they say that "as the case became more worrying, the grandparents were brought on board. This was through the use of a family group conference, which is basically bringing the whole support network of a family together to come up with a plan to support and protect the family who are struggling".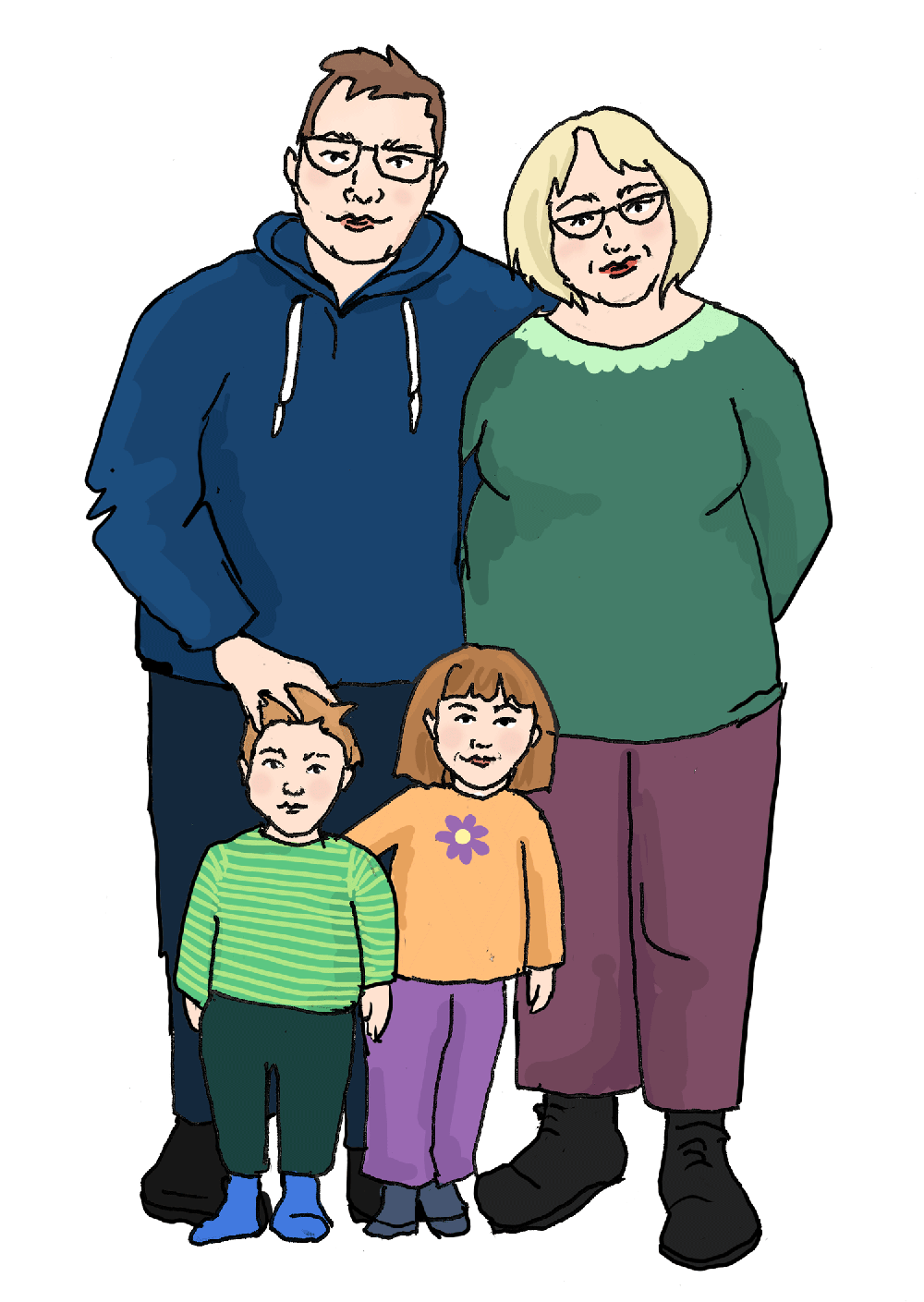 Patricia and Geoff say they would love to bring up Bethany and Ben. But they say they can't because they are already caring for Bethany and Ben's older brothers and sisters.
"Because of physical constraints, we could only take two children," says Geoff.
As incredible as it sounds, he says he and his wife had to make a choice between their grandchildren.
"We had to make a heart-rending decision - we had to choose two out of four children."
Geoff says if they had chosen the younger children, it would have meant that the older two would have gone into foster care and stayed there because it is harder to find families to adopt older children.
He hopes, when they are old enough, Bethany and Ben will appreciate the choice they made. "Given all the facts, it can only be the right thing for them," he says. "And hopefully they'll understand that. It'll get them on a course where they'll live a normal life."
Having made that decision, Geoff and Patricia know sooner or later, they will be seeing them for the last time.
"You realise that the time is getting close," Patricia says. "You think, 'Oh, I'm going to miss them'. I can't judge what it's doing to the rest of the family but I know how I feel."
For now, they are being allowed to see Bethany and Ben – but only every three weeks. This is because there are strict controls on when and how the children can spend time with their family. Social workers call the hours they have together "contact time". This is seen as being very important – both for the children and their families.
Patricia and Geoff's contact time is unsupervised, as it has been decided they do not pose a risk to the children. This means no social workers are with them when they meet. They like going on days out and taking them to the park. They are given six hours before they then have to take their grandchildren back to the foster carer.
Chapter 4: The parents
It is now down to Sharon, the social worker, to try to find Bethany and Ben a new home. The clock is ticking, as Sharon's manager, Anne Johnson, is only too aware.
"We aim to place all of our children within the government timescale," she says. "[That's] presently 121 days, which is nearly four months."
The search for new parents is not straightforward. Sharon and her colleagues had identified potential adopters - she thought they "could be the ones" – but they have said no.
"Unfortunately, on this occasion, I think probably [faced with] the reality of hearing about real-life children rather than case studies, this particular adoptive family felt that the children were a little bit too old for them, so we're now back to the drawing board and looking again."
In the meantime, while the search for a new family continues, contact time for what is now being referred to by social workers as "the birth family" is allowed to carry on.
For the children's birth parents, this is just two hours once a fortnight. Their sessions are supervised by social workers at a local contact centre run specifically for that purpose and to provide support.
After seeing his children, Bethany and Ben's father, Stephen, tells me he feels he should have been given the chance to bring up his children and should have been given the opportunity to go on parenting courses.
"I can't see I've done anything wrong," he says. "All I tried to do was the best for my children."
Lincolnshire Children's Services says its staff had many concerns about how the children were being cared for and that Stephen was offered a full parenting assessment as part of the care proceedings. Social workers say he was supported, encouraged and his parenting skills assessed, but there remained numerous and serious concerns over his ability to safely parent his children.
Stephen is no longer with Bethany and Ben's birth mother Ruth. Back in his flat, he shows me his selection of mugs. One has the words World's Greatest Dad written on the side, while another says Number One Daddy.
"I've got some more in the cupboard," he says.
He says when he and Ruth lived together, the children were getting fed all the time because he was doing all the cooking and housework.
"I was also going out to work. I was coming home lunchtimes when I could to feed the youngest children," he says.
For her part, Ruth has accepted the fact that her children are going to be adopted, but that doesn't make it any easier for her.
"I like to think I'm a good mum," she says. "Obviously people can say different. I did and do what I think I'm good at – which is being a mum."
Social services have been involved in Ruth's life since before Bethany and Ben were born. The social workers acknowledge she loves them but they believe – despite many attempts to help her – she hasn't kept them safe.
"When they are babies," she says, "[it's] easier. Obviously as they get older, it does get a bit tougher because they're more active. I still gave them all the love and attention. There were the tough times and, well, the easier times."
Ruth feels social services were unfair on her. "They felt I wasn't making sure that the kids were safe. They say, 'Well you've got to sort this out, you've got to sort that out'. But at that time, I didn't. To me it didn't really sink in because I think I've had depression for years. It rears its head every now and again. I'm on tablets now for it."
According to Lincolnshire Children's Services, Bethany and Ben were on the register for emotional and physical abuse, as well as neglect, and Ruth's home was unsafe.
Ruth says her case has not been helped by having to get used to more than one social worker. She says she has had three because the first two left their jobs.
Lincolnshire Children's Services says at times "unfortunately there is the need for a change of social worker. This can be difficult for birth families and children, who feel that they have built a good working relationship."
Ruth says social services have made a big mistake - her children were safe and were not being neglected.
Chapter 5: A new family found
As they approach the halfway point in the period set by the government to successfully place Bethany and Ben, Sharon Clarke and another colleague think they have managed to find a couple who will want to adopt them.
We are calling the potential adopters Julie and Robert. They have been told about the children and want to hear more.
"We need to meet face-to-face because I will have questions for them about how I feel they can meet the children's needs," says Sharon. "And presumably they'll have a big list of questions for me and issues and things they might be worried or concerned about."
Julie and Robert have been shown a report about the children, called the Child Permanence Report. This contains all of their background information - their medical information, all their history and a lot of details about the birth family.
Having read it, they have decided they want to proceed.
There is still much in this rigorous process that will need to happen first, but looking around their home, you wouldn't think that.
"I don't want to jump ahead too much," Julie says, yet she and Robert have already decorated one room in blue and the other in pink.
"Blue is the traditional colour, but if our son wants to change the room, then we'll oblige and consider it," says Robert.
"Ikea delivered 48 packages," Julie says, showing me the other room, "so we had to work out which bit went with which. There's quite a lot of pink in here."
Julie says the choice of colours was as a result of talking to the social workers. Pink is apparently Bethany's favourite colour.
"We'll wait and see what our new daughter would like [her room] to look like," she says.
As he talks about the children, Robert has a smile that stretches from ear to ear.
"We want them to be happy and we want them to be happy to be with us," he says.
Julie is in her late 30s and Robert is in his early 40s. They only embarked on the adoption process seven months ago.
"I just didn't want to be pregnant," Julie says. "The whole idea of it was completely horrific to me. I thought as I got older that would disappear and it didn't - it didn't go away - but then I realised that I did want to have a family."
Robert then suggested they should adopt. "We just feel that we'd like to give children the chance to live their life and grow up and be happy," he says.
They were assigned a social worker, who visited them once a week until what is known as a "home study" – a report all about the couple – was completed. That was presented to a panel of people appointed by the council which considers who should be put on the list of approved adopters.
The recommendation was made that Julie and Robert should be approved, and the area's assistant director of children's services – who is ultimately responsible for these decisions – did just that.
Julie and Robert have had to make difficult decisions about the number, the ages and the backgrounds of the children they want adopt.
"We discussed children [who] had learning difficulties, maybe some physical difficulties, the ages of children that we might consider to adopt, and that's a really difficult process because you know that there are children out there who are looking for what we call a forever home and you don't want to say no to anybody," says Julie.
"But realistically you have to consider what, as brand-new parents, we are going to be able to cope with when our life changes completely when we adopt."
Social workers want Julie and Robert to know as much about Bethany and Ben – and their backgrounds – as they possibly can. They have been invited to hear directly from a group of people who know a lot about them and their parents.
They are about to attend what social workers call an "information sharing meeting".
They are joined around a large table by nine others, including social workers, the foster carer and a teacher from the children's nursery school. The meeting lasts more than two hours. It is a chance for all the professionals involved in the case to tell them what they know, and for Julie and Robert to ask any questions they want.
They hear some serious concerns about the way the children were being brought up.
They are told Stephen "was the authority figure in the home".
"In his own way, he was trying to provide some sort of structure but his approach was very inflexible and it wasn't appropriate a number of times, going over to becoming unsafe," they are told.
Robert and Julie hear that "some of his parenting, as the court reports will say, was quite cruel - locking children away from toilets and things like that".
Drug and alcohol misuse can often be factors in cases like these, but the social workers explain that they have "never been an issue in this family".
The children, they're told, "were pretty much found looking after themselves".
Both Ruth and Stephen deny they were cruel or neglectful.
For Julie and Robert, the two-hour session was all they needed to make up their minds.
"We're going to go through with it for definite, 100%," Robert says afterwards.
That means they will now have to face a second adoption panel – this time in the hope that they will be approved specifically to adopt Bethany and Ben.
This might come as a surprise but they will not actually meet the children until this process has been completed. Julie and Robert are going through the approval process to adopt two children based purely on what they have been told about them. They will have to wait to see them in real life until after they have been accepted as suitable to adopt them.
The social workers explain that the process is created "from the child's perspective as much as possible". They do everything they can to stop children going through the trauma of meeting potential new parents who might then change their minds.
Chapter 6: A new 'teddy bear family'
With social workers increasingly confident that new parents have been found, it is now time to bring the subject up with Bethany and Ben for the first time. But how do you go about telling children – especially when they are aged just two and three – that they are to be given a new mum and dad?
Sharon is nervous. She is seeing the children straight after they have seen their birth mother, followed by their birth father, at supervised contact sessions.
"I have absolutely no idea how they're going to take to this idea about moving again and a new mummy and daddy, when they have a mummy and daddy who they've just seen and who they've had a nice time with," she tells me.
Sharon is going to read them new stories, which have been written especially for them – Bethany and Ben's Teddy Bear Adventure books.
"This is the first tool that I'll be using to talk about the reasons why they're not living at home with mummy or daddy," she says, "and to explain my special job of trying to find them a special forever family and to help them remember who's important in their lives."
There is a slightly different book for each of them but both feature two bears - brother and sister bears called Ben and Bethany. One is wearing a pink T-shirt with "I'm the big sister" written on it and the other is wearing a blue one which reads "I'm the little brother".
And so the story begins…
"Once upon a time there were two teddy bears, one teddy bear was called Bethany and one was called Ben."
"You are the bear," Sharon tells Bethany "who loves baking cakes and painting her nails all the pretty colours of the rainbow."
"I'm the bear," says Bethany back.
"They live with a lovely foster bear family."
"I wonder who's next? Who else do you think will be a bear?" Sharon asks them. "Who have you seen today?"
"Mummy and daddy," Bethany replies.
"Mummy bear and daddy bear don't know how to keep little bear safe and the wise bear judge one day said, 'You need a new bear family'."
"A new teddy bear family," Sharon repeats.
Sharon leaves the books with Lucy, the foster carer, so the children can continue to have their new stories read to them.
While the children are listening to the bear stories, their potential new parents are about to be questioned.
Usually, an adoption panel takes place behind closed doors, but I was allowed to watch much of what happened.
The panel comprises a number of independent people who have relevant backgrounds, often in social work. There is also a medical advisor, as well as former adopters and adoptees.
The panel considers a lot of confidential information. The social workers are asked a wide range of questions, and Julie and Robert are quizzed for about 20 minutes.
Adopters are usually advised by their social workers that they are only put in front of the panel once they are considered to be ready, and that the outcome is likely to be positive. However, Julie and Robert found it tougher than they had expected.
"You get asked lots of questions that you can't answer because you've not been a parent," says Julie.
She says she and Robert were asked, "How would you cope with this?" and, "How would you do this?" and, "What would you do if this happened?"
"I don't know," she says. "Ask me in six months' time and I'll be able to tell you, but at the moment you can't be any more prepared than you try to be."
Despite being tough, the outcome is exactly what the couple have been hoping for. The panel recommends that the children should be placed with Robert and Julie, and once again, this is approved by the area's assistant director of children's services. This process does not finalise an adoption – a court will have to decide whether or not to do that later – but it means Julie and Robert can now be introduced to Bethany and Ben for the first time.
First though, the children need to be told another story. Sharon, the social worker has to return with Teddy Bear Adventure Book Two.
"Remember my special job," she reminds them, "is to help find you a new family."
"A new family?" Bethany asks.
Pointing at a photograph in the new book, Sharon says, "This lady is your new..."
"Family!" Bethany says.
"That's right, that's your new mummy. And this is daddy," Sharon tells them.
After seeing pictures of what will be their new home, including their bedrooms and garden, the children tell Sharon they want to take their scooters with them.
"That's mummy, that's daddy!" Bethany says looking at the pictures in her latest book.
Sharon tells the children, "And they'll say, 'We want you to be our little boy and girl, to come and live at our house and be a big family, all together'."
Chapter 7: Goodbyes and hellos
Before Bethany and Ben can meet their new parents, something very important has to happen. With the adoption process progressing quickly, their contact sessions with members of their birth family have already started to become less frequent.
With Ruth and Stephen, the fortnightly intervals have been increased to four weeks. Now they are to come to an end altogether.
Social workers have had to arrange what will be the final meetings - or at least their last for a very long time.
Words, of course, cannot adequately sum up the emotions.
"It feels as though you are losing a part of your body," Patricia, their grandmother, says. "We've just got to remember all the things that we've done, so just keeping them in our minds and our hearts."
Ruth has a message for the adopters.
"Please look after them with all your heart. I know I couldn't do it. You've got the chance, so just please look after them," she says.
And she wishes she knew more about these new parents.
"I'm not saying I want to know where they live or anything like that – it's just nice to have that little bit of information. I know the kids will be safe – they wouldn't put them with someone that isn't safe, but it's just a bit of general information on the adopters."
Stephen later tells me what he said to his children.
"Daddy will see you again some other time. And [I] said to them, 'Love you,' and gave them kisses and hugs. And then I went."
He says he would give his life for his kids. "I'd do anything for them and I'm really going to miss them," he says.
While the goodbyes were taking place, the children still had not met the couple chosen to become their new parents. Now, finally, it is time for that to happen.
Ten months after being placed in a foster home and five months after a court decided they should be adopted, that day has finally arrived.
Bethany and Ben are about to come face-to-face with their new mum and dad in person for the first time.
Lucy the foster carer is reading the Teddy Bear Adventure books with the children again, when people arrive at the door.
"I looked up at the window and I saw new mummy and daddy coming," Lucy recalls later. "I said, 'Ooh, it's new mummy and daddy'."
Bethany and Ben get off the chairs and run to the door. Julie and Robert do not even have time to knock.
Bethany and Ben are standing in front new mummy and daddy, whose pictures they have just been looking at.
"That's daddy and mummy," says Bethany. "It is. It is. Yes," Julie replies.
Soon Bethany and Ben are blowing the bubbles that their new parents have brought with them. And then they make cakes together.
"They opened the door and they said, 'Are you my mummy, are you my daddy?'" Julie tells me a few weeks later. "So, we all sat around the kitchen table and had a chat and they talked to us and they sat on our knee. We played with them for a little while."
"Sitting there with them at the table, I felt like a daddy then - on the first day we met them," says Robert. "It's what we've been wanting, what we've planned for. When we met them, I was a bit emotional after going home."
The introductions are meticulously planned. The children and new parents gradually spend more time together and, after a few days, the children get to visit their new home for the first time. Bethany insists she wants to take her teddy bear book with her, so that she can look at the pictures again in the car on the way.
For the new parents, it is intense and exhausting.
"You want to know that you've done the right thing and you've made the right decision," says Julie. "You want them to like you, but you also don't want to be soft. It's a bit like a crash-course in parenting for two weeks."
Bethany and Ben move in with Robert and Julie exactly a fortnight after they first meet.
Five weeks later I ask Julie whether they had fallen in love with them.
"I don't know," she laughs. "I've never had children before. I don't think I can answer that question at the minute. The attachments are growing each day. We're really happy - really, really happy."
And the couple are keen to stress they have no regrets.
"No regrets whatsoever," says Robert.
Chapter 8: Another child is born
Six months after Bethany and Ben move into their new home, they are taken to a family court. The children are dressed in their smartest clothes. The judge speaks to both of them in turn. He even allows them to sit in his seat, on their new parents' laps. There are photos to prove it. Then the new family goes out to dinner.
That was the day Bethany and Ben found out that "wise bear judges" are not only there to rule that mummy and daddy bears cannot keep little bears safe, they also have the power to officially confirm the bringing together of brand new "bear families".
Their visit to court was for a special hearing to celebrate the granting of the adoption order. As a result, Julie and Robert are now Bethany and Ben's legal parents. New birth certificates have been issued with Julie down as mum and Robert as dad.
"Our children are both very affectionate and love cuddles and hugs," says Julie. "We have lots of fun days out - both children love being outdoors and getting messy. We grow vegetables in the garden, tend the plants, play with water, ride bikes, go for walks and bounce on trampolines. Ben particularly likes helping to cook meals."
Julie and Robert say their children's favourite toys are now teddy bears they were given on the day they met. They look just like the bears in their special teddy bear books. They take the cuddly toys with them everywhere they go – for all car journeys, on the sofa to cuddle up to and, of course, they have them to fall asleep with at night. They are called simply Pink Bear and Blue Bear.
The new family has conversations about the adoption, and Julie and Robert expect a lot more questions as their children get older.
Apparently Ben "is still very boisterous and struggles to concentrate, needing firm boundaries in order to stay safe". Bethany gets very upset with any change in routine and "likes to know what is happening next and likes 'order'".
Robert and Julie tell me they are very happy and have fallen deeply in love with their children.
When contacted a few months later, Stephen, the birth father, said it had been a difficult time and he had been unwell but was getting better with medication.
The birth mother's parents, Patricia and Geoff, were still fostering two of their daughter's older children.
Lucy, the foster carer, told me she cried when Bethany and Ben left, just as she had anticipated. There have been many more goodbyes since, as she continues to foster children for the local authority.
Having contested the original decision that their children should be put up for adoption, Ruth and Stephen did not contest the adoption order.
Meanwhile, in the house where this story began, new photographs have appeared.
Ruth had not intended for it to happen so soon, but she had become pregnant again.
It was her seventh child.
But none of them are living with her.
*Since the BBC interviewed Lucy, the foster parent allowance that she would have received for Bethany and Ben has increased to £138.67.