Park Life
'A bubble of invincibility in a difficult neighbourhood'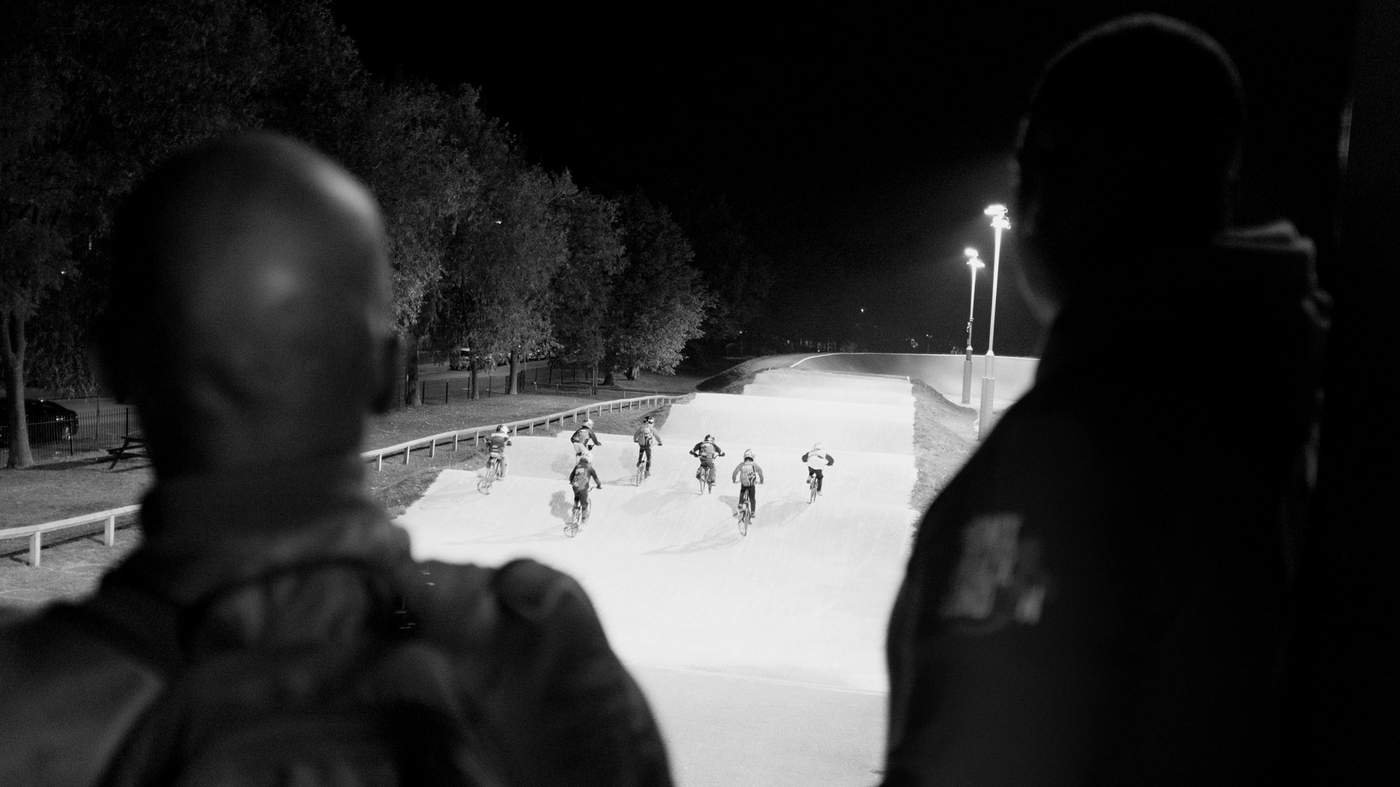 The number 343 bus turns on to Albany Road and from the top deck the track comes into view.
Set against the darkness of its Burgess Park home, it's like stumbling on a glowing circus tent pitched on the edge of a town.
"We wanted to be here so people could see us from the road, we want to be seen," says Michael Pusey MBE, aka CK Flash, a community leader and former DJ.
"There are problems on that side of the park and the other side but not here. They know us. They know what we are about."
The towering heights of the now condemned Aylesbury Estate overlook the track. There are only a handful of homes still occupied.
"The local residents say they like to hear the kids' voices - the laughter from the track," CK continues.
Nearly every night of the week kids and teens on bikes can be seen cutting through the side streets of this part of South London. They are heading to Peckham BMX.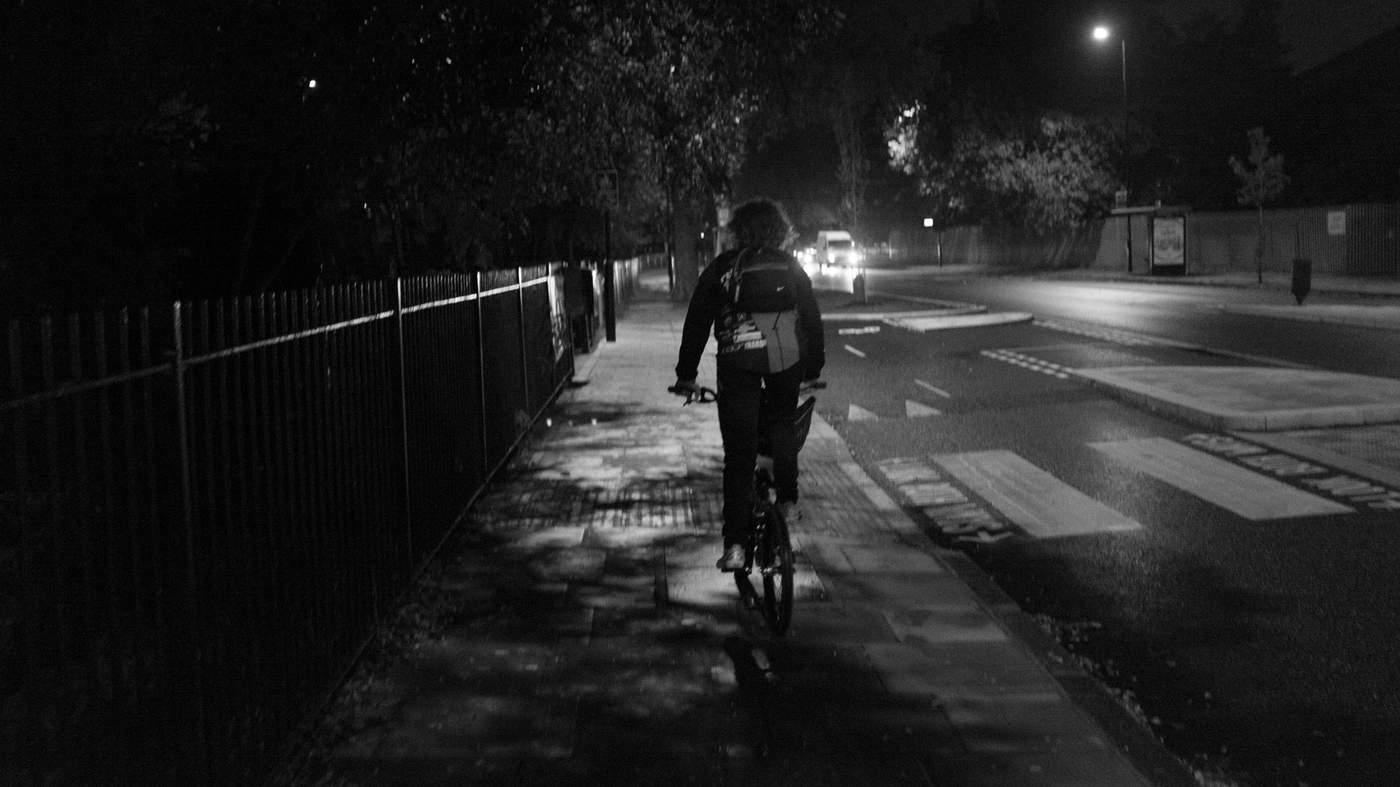 The club has achieved remarkable sporting success in its rapid ascent from a dirt track in Brixton in 2002.
But this isn't all, the club has another purpose - to provide a safe and positive place in the community.
The human stories here are perhaps its greatest achievement.
"For me this club is like a family. My brothers have all moved away. The little kids look up to the older riders," says 17-year-old Isaac. "They look out for them, like a big brother."
The remarkable thing about Isaac is that he lives miles away in Dagenham and he rides a three-hour round trip to the track. As a result, his bike gets more of a beating than most. He's often trying to save for parts. For riders like him, isolated and looking to belong, the club is a welcoming home.
Isaac loves racing around the track.
"Being in the air on your bike is hard to explain. It's scary and there is a thrill but there is also a suspense, it's mysterious."
In 2003 the club started it's move from Brixton to Peckham. Home then was at a really rough and ready dirt track known as the Bird in the Bush.
It was started by CK, a former Choice FM DJ. After eight years of meetings with Southwark Council, the current track was born just up the road from the original track.
CK, who has received an MBE for his community work, tells me it's always been about mentalities not equipment. This approach bore fruit as the simple dirt track went on to produce riders like Kye Whyte, his brother Tre Whyte and Quillan Isadore, who have risen to the very top of the sport.
"I want to create a platform for young people," says CK. "To give them the mechanics to make things work. They are smart kids but somebody has to show them how.
"Some of the kids we work with are at risk of being thrown out of the borough, out of London. It's their last chance, there is the threat of this.
"We work towards turning things around. That's what we are doing, it's serious. Everyone has given up on them."
Everyone is welcome, says coach Nigel Whyte. "For those two hours you can be occupied."
The club has about 350 riders at the moment. A bike and helmet can be hired for £5.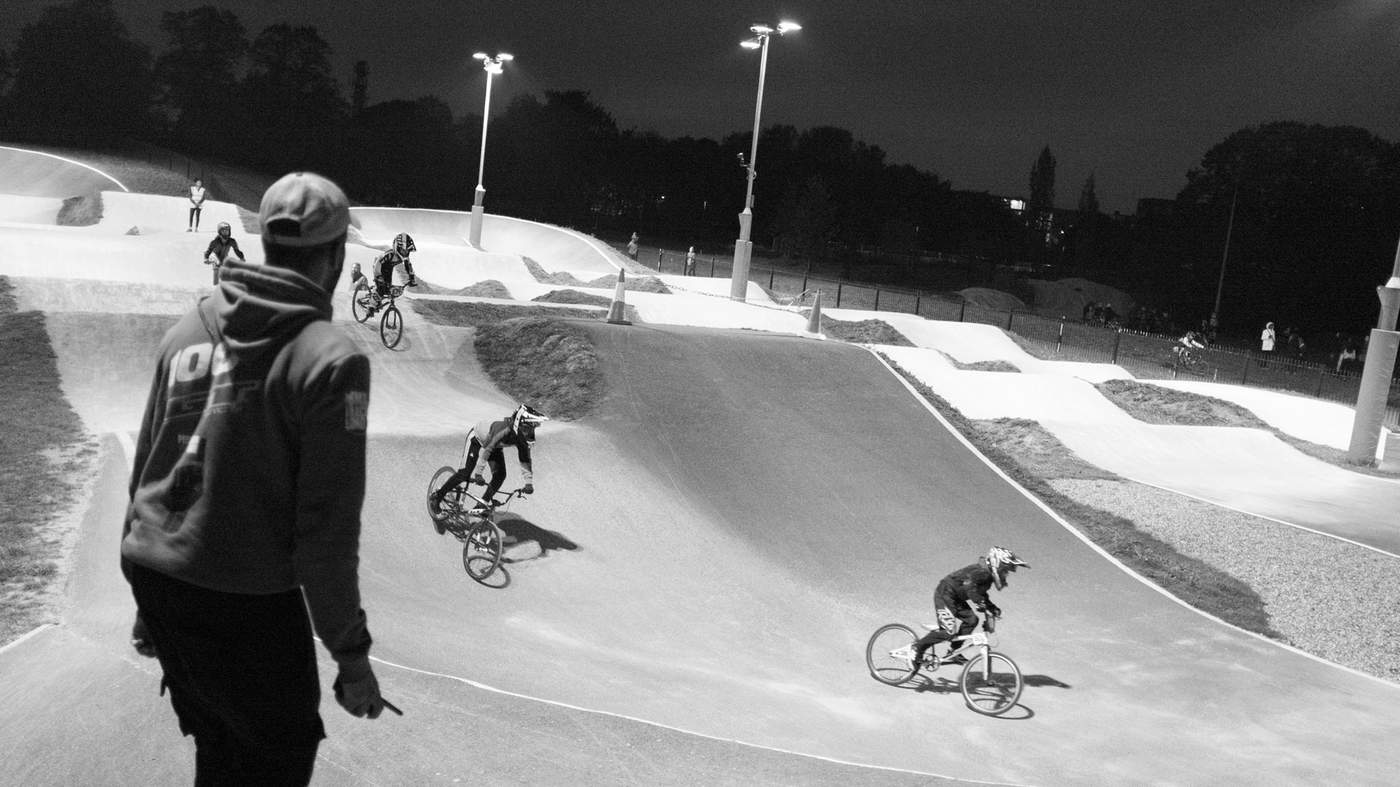 The Chain
Quillan Isidore, 22, is tall and athletic and towers over his bike. He wears a trim goatee beard and sky-blue cycling shoes. He's a local boy on holiday from his current home with British Cycling in Manchester. At 16 he was a BMX world champion. Referring to his time on the original dirt track, he says: "It was like Rocky."
Nigel and CK work hard and never give up, he says. "This is what they say to the kids, never give up. Here if you join up, they don't let you go. It's about making you better all round.
"When I was growing up, if there were problems my mum would say: 'I'll tell CK,' and I'd say: 'No don't!' because I'd be scared of what CK would think. Here [the club] used to get looked down on, Peckham, but now they can see our results. They push the younger riders and they are riding against their peers. It's a chain."
I like the idea of the chain. Local club legend and professional bike mechanic Big Mike tells me that a chain reaches its optimum point once it has been worn in. For the chain to run smoothly, it needs to sit comfortably on the teeth of the chain wheel. For a moment I think of the club as a well-loved bike.
The chain, the chain of riders at the club, move smoothly along the teeth of the chain ring. Gentle pressure can be applied on the crank and this propels the whole bike forwards.
A few weeks after I meet him, Quillan sends me this email:
"I was at a stage where I was really acting up. Hanging out with the wrong people, doing things I shouldn't be doing and basically my attitude was up the wall. With this CK and Nigel very quickly put me in my place with discipline. CK always outlined why I needed to act like a professional athlete to set myself up for the future. This enabled myself [and] all the others to have a great mindset going forward with our careers."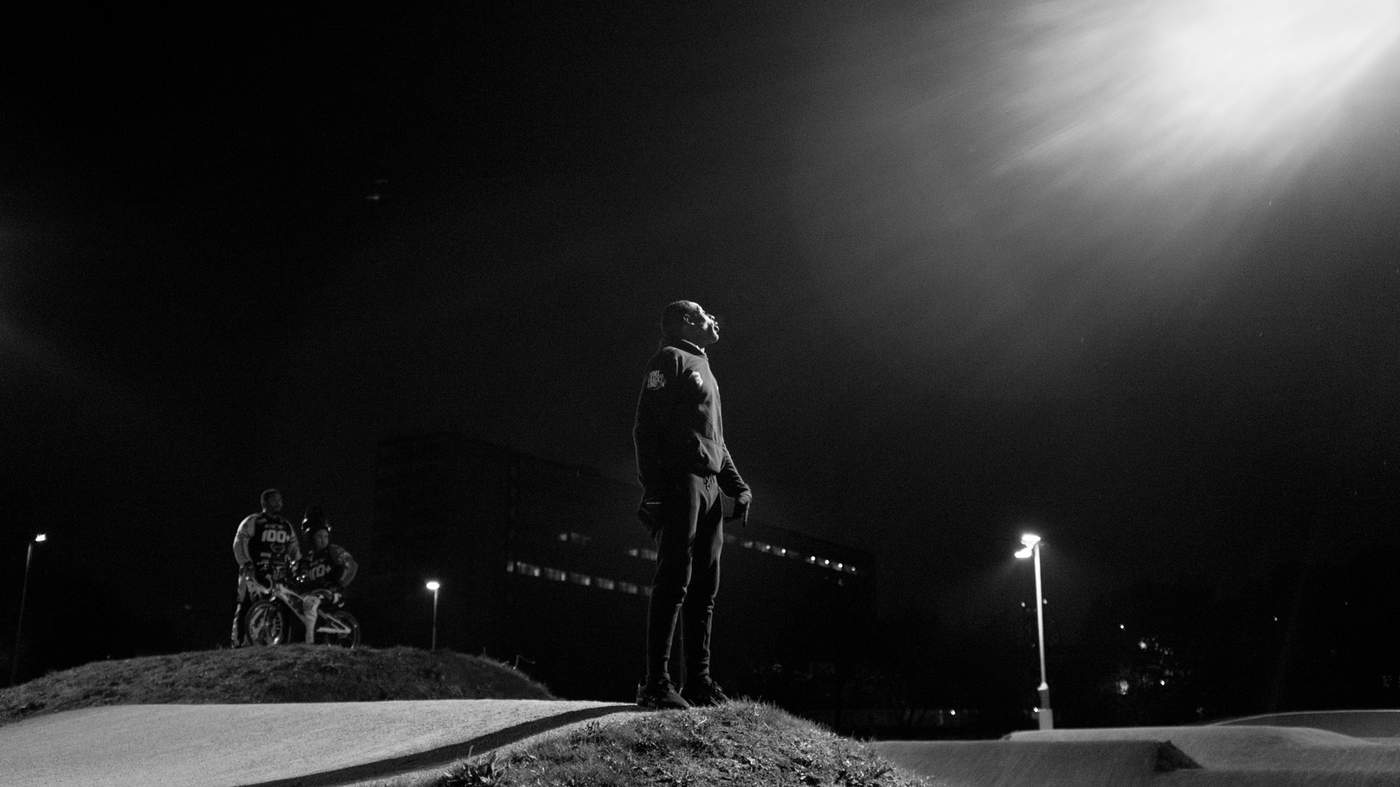 Nigel the coach
Nigel Whyte is 48. He has three sons, two are in the British BMX Olympic Team. He's fit and full of energy. The club members young and old love him.
"I was always a footballer. I made it to semi pro. One season I was playing for three different teams at once," he says. "I was always the guy up first thing in the morning waking everyone else up."
On one of my visits, it's a damp autumn night and I'm at the track-side with two dads. Training should have ended half an hour ago and some of the mums point at their watches. But Nigel is miles away, watching from the centre of the track high up like the captain at the helm. The dads tell me he's brilliant.
Later, Nigel explains the passion he has for helping the kids. "Even if it's for two hours then it's two hours well spent, a distraction - especially for the naughty kids. Those kids who might be going back to nothing. For me, it's the whole thing. I say to them: 'Have you kept your bike clean?' When they do then I know they are keeping their rooms at home clean. 'Have you prepared your kit for tonight's session?' I ask them. If they have, then I know they are preparing their homework."
The club runs like clockwork. CK asks a rider if he arrived on time when he's leaving. He didn't and CK asks him in a firm but friendly way to work towards that goal, to get serious.
While we're chatting, a procession of small kids on tiny bikes wearing their crash helmets, line up to shake Nigel's hand. They want to show him they are ready to ride. He greets every one of them in turn by name.
Later, Esreal, tells me that Nigel built a bike for her youngest son Chrystian, the two-year-old brother of club rider Chrystiano. "He did this out of his own money," she says. She shows me a video on her phone of the tiny BMX turned upside down in her living room with her youngest son spinning the wheels with his hand. It makes me think of how kids obsessed with bikes from every generation have taken their bikes apart in living rooms and kitchens.
"Nigel tells me he's a natural," she says.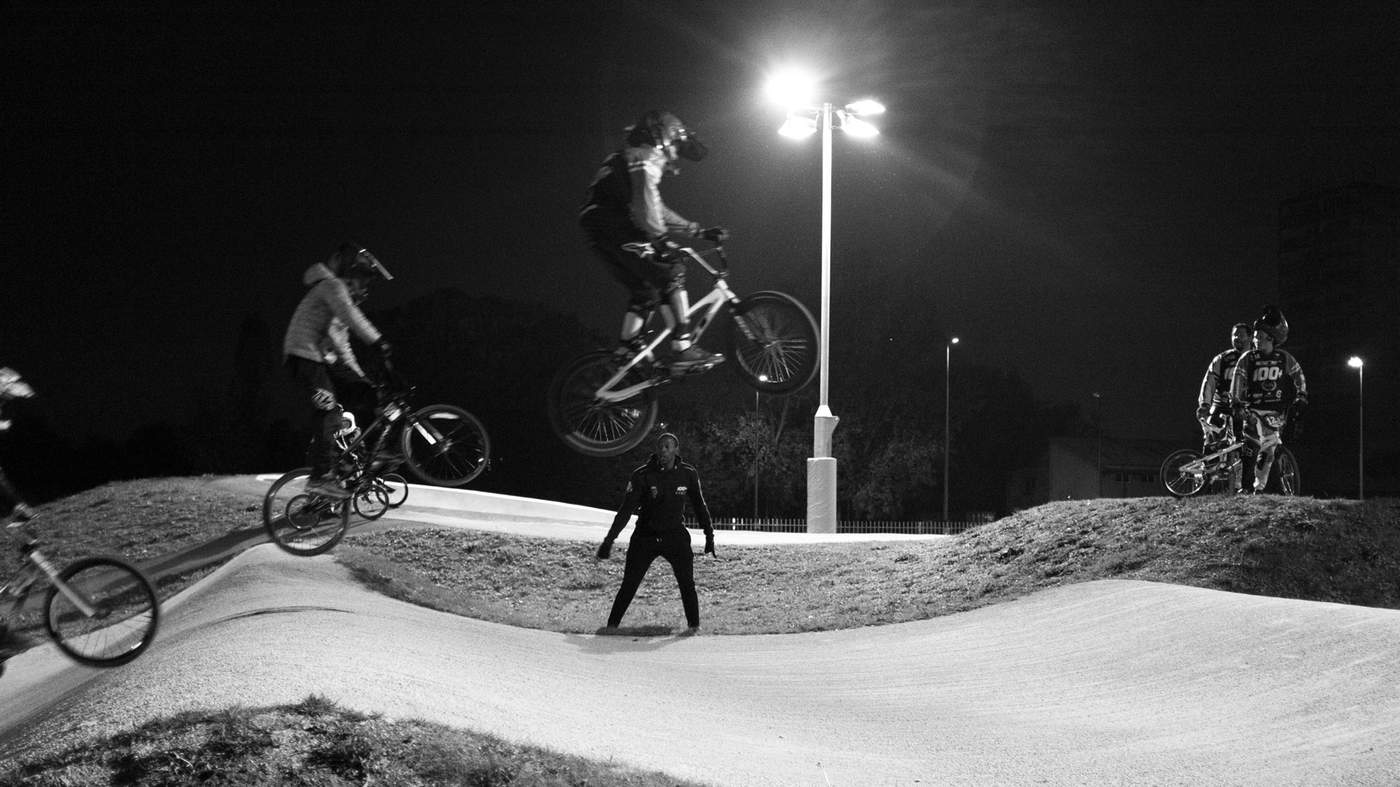 Peckham by night
CK has the group doing floor exercises followed by circuits on their bikes. Bus headlights creep into the park now and then like torches in a forest.
Parents come and go. One brings a camping chair and her laptop, typing away under the track's floodlights. Two Polish dads chat and laugh after work.
A rider returns to the start line. CK calls him over. He tells him he could make it to the Olympic team if he put his mind to it. The boy leans on his handle bars, head bowed low. He is stressed. CK tells him all the mothers here watching their kids love him and that he has to stick to things if he wants to see progress. They are rooting for him.
The session is coming to a close and Nigel reminds the kids that they need lights on their bikes when they leave. Many of the riders at the club head off together in a group through the streets of Peckham and Camberwell.
The Bridge
Eboni is 12. She is strong, smiley and confident. Her mum Zena helps a lot at the track.
"We first saw the track from the bus window. Every Friday night we used to visit family and we'd take the bus," she says.
"Eboni would say: 'Oh please can we go?' I surprised her on her eighth birthday and we came down here. It took off from there. There are a lot of friendships here. We look out for children who aren't doing OK outside the club. There are a lot of mums here and we pick up on things. The club really is a bridge between school and home."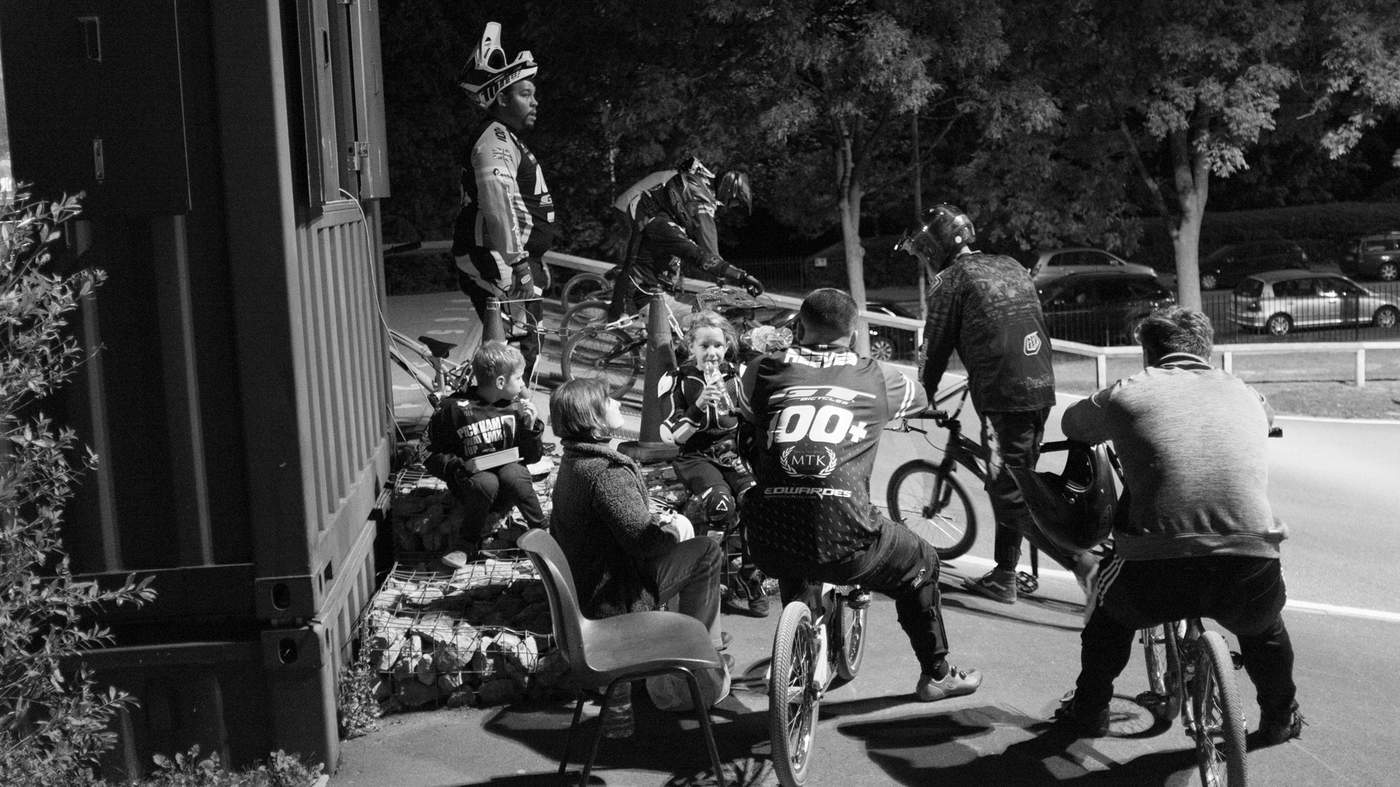 Ola Akerele and her twins, son Lamin and daughter Aaliyah, are regulars.
"Lamin looks up to the older boys and they look after him," she says. "We are handing our kids over in a way, so we have to trust the coaches. Nigel is a father figure really or a big brother to Lamin.
"At a BMX race meeting in the summer, club members went camping, it was a first time for most of us. Nigel said to my son on that trip that Nigel wasn't going anywhere, that he'd be there when my son was 18, 28 and an old man. They laughed about it but deep down it meant something to me and Lamin."
Ola says the sport can be expensive but Nigel helped her find a second-hand bike.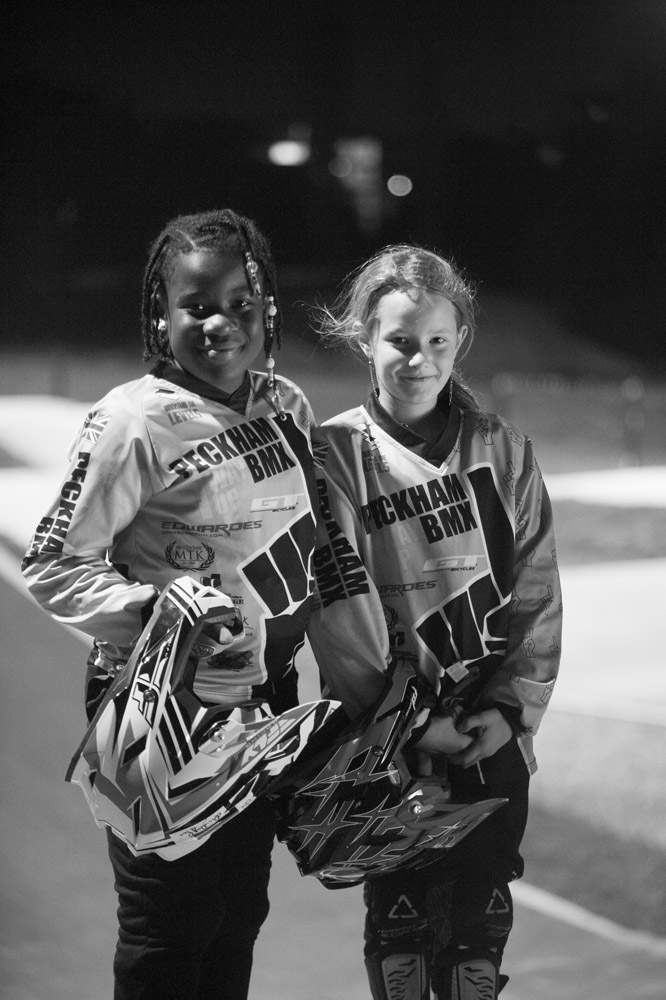 "Sometimes Lamin will say he wants a new bike or this or that. I say to him: 'Did Nigel say you need a new bike? If not then you're not having it.'
"The club sends the message that it's not the bike or the equipment. Of course all the young riders want the bikes like the pro riders but they learn that it is not about getting the next bike and so on. He is still riding the same bike now.
"With my daughter, there was another girl who looked after her and introduced her to the track. It took time but now she is riding all the time.
"It's keeping them busy. Some kids they are looking for a gang because it's like family. But here is a family."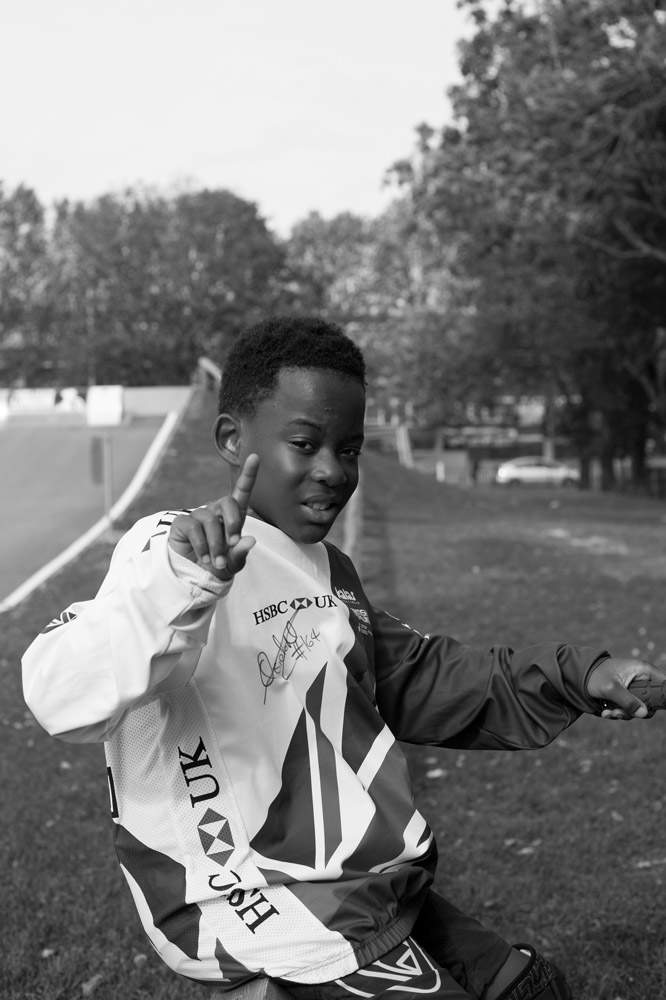 Pro rider Quillan Isidore, gives Lamin a signed team GB jersey as a gift.
"Keep going Lamin. Keep working hard and you'll get there," he says. "You are young and you must keep going." Lamin is shy and quietly talks about what he has been working on. When Quillan heads back to the track Lamin immediately pulls on the over-sized jersey.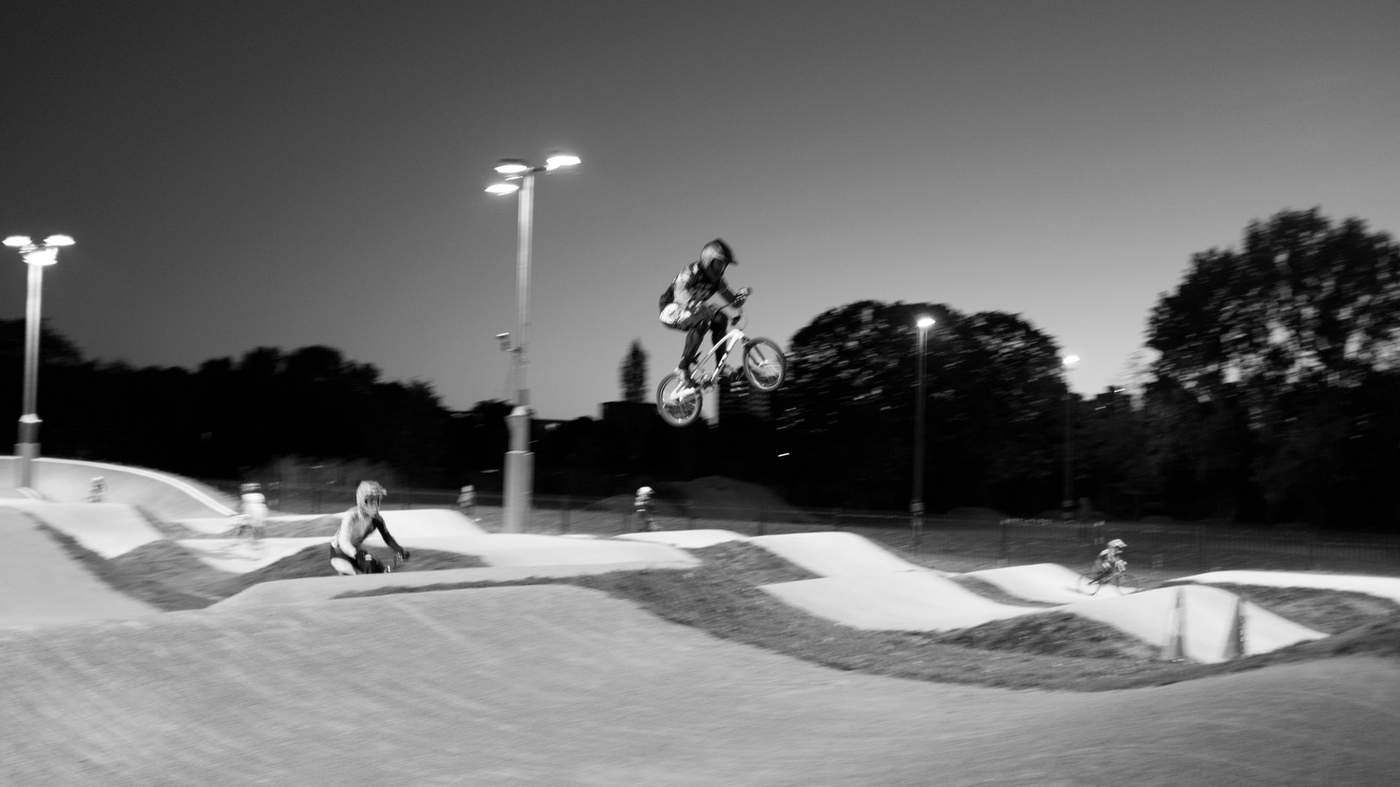 Mary Harris's daughter Shani is a lead rider at the club and could go professional.
Mary has a child welfare role at the club.
"The club is about checking the children are OK, too. The children are confident talking to us but we also try to develop relationships with the parents," she says.
"Sometimes the children don't realise we have this close link with the parents and we can check they are OK in this way.
"The children come to Nigel for advice but the parents need to play a role and sometimes the parents are unable to do this.
"The sport is good for children with ADHD, for example.
"We have seen this here. It might be something to do with the adrenaline of the sport."
Aaron, a young dad from Peckham, coaches at the club. He says it brings him closer to his son.
"When I was 16 or 17, I wasn't interested in focusing on sport, so [it's good] to see the lads here 17-years-old coming back, working hard. There was concern here when they built this track that it'd just be for the middle class kids, coming in, gentrification, you know? But CK has done well with this, keeping the price down, making it accessible."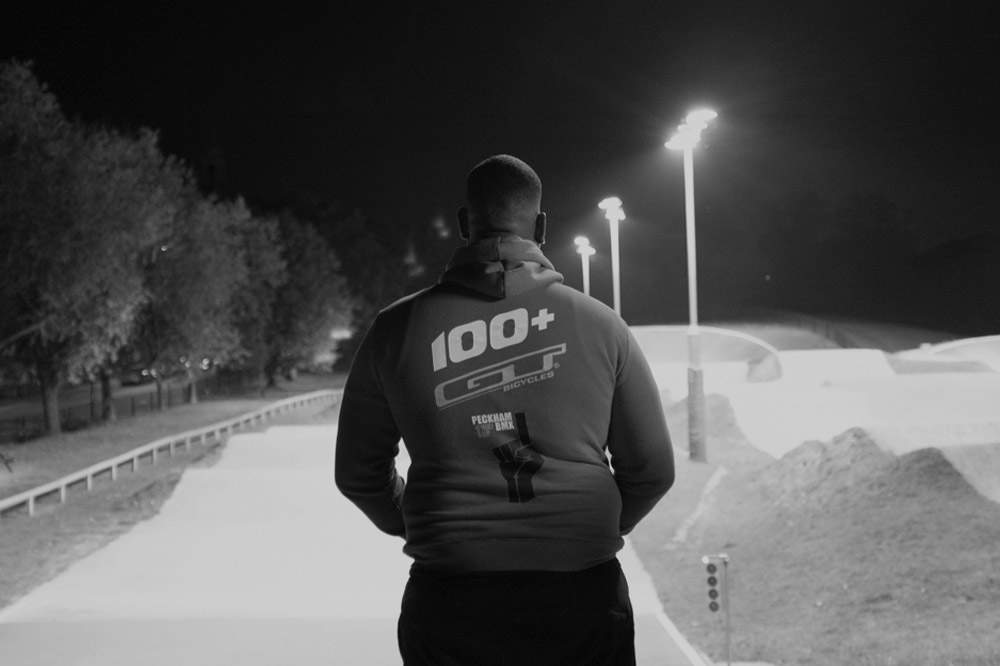 On another of my trips, the club has visitors. Nike has arrived to make an advert and there is a burst of excitement in the night air. Men with expensive-looking equipment wander around the track. The lead actor is a local boy with braided hair and a military jacket. Soon they are gone.
One after another, the riders make their final run around the track, dropping in off a steep slope like seabirds from a cliff. It's silent. Nobody talks, everyone concentrates.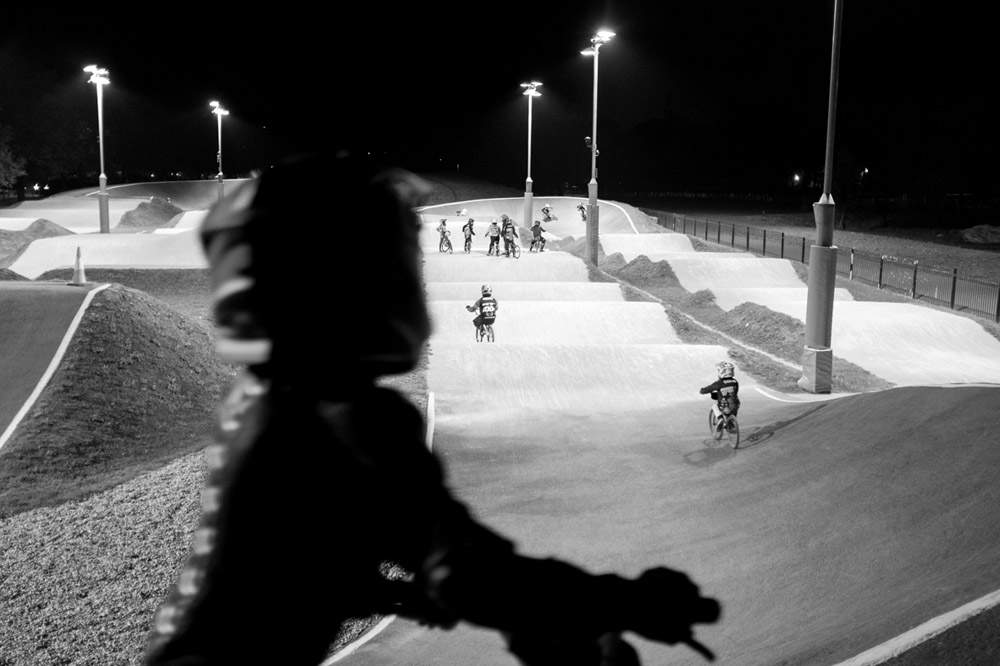 The only sound is composed of two parts. The first is of warm tyres biting into the gravel track, the second is the ratchet sound of the rear wheel when the bike is coasting.
It makes me think of a wave and its backwash. The track itself has a wave-like shape, peaks and troughs and curves and swells. There is the push forwards, the bite of the wheels, the break of the wave followed by the ratchet sound when pressure is released and the bike coasts - like pebbles being drawn back down a beach.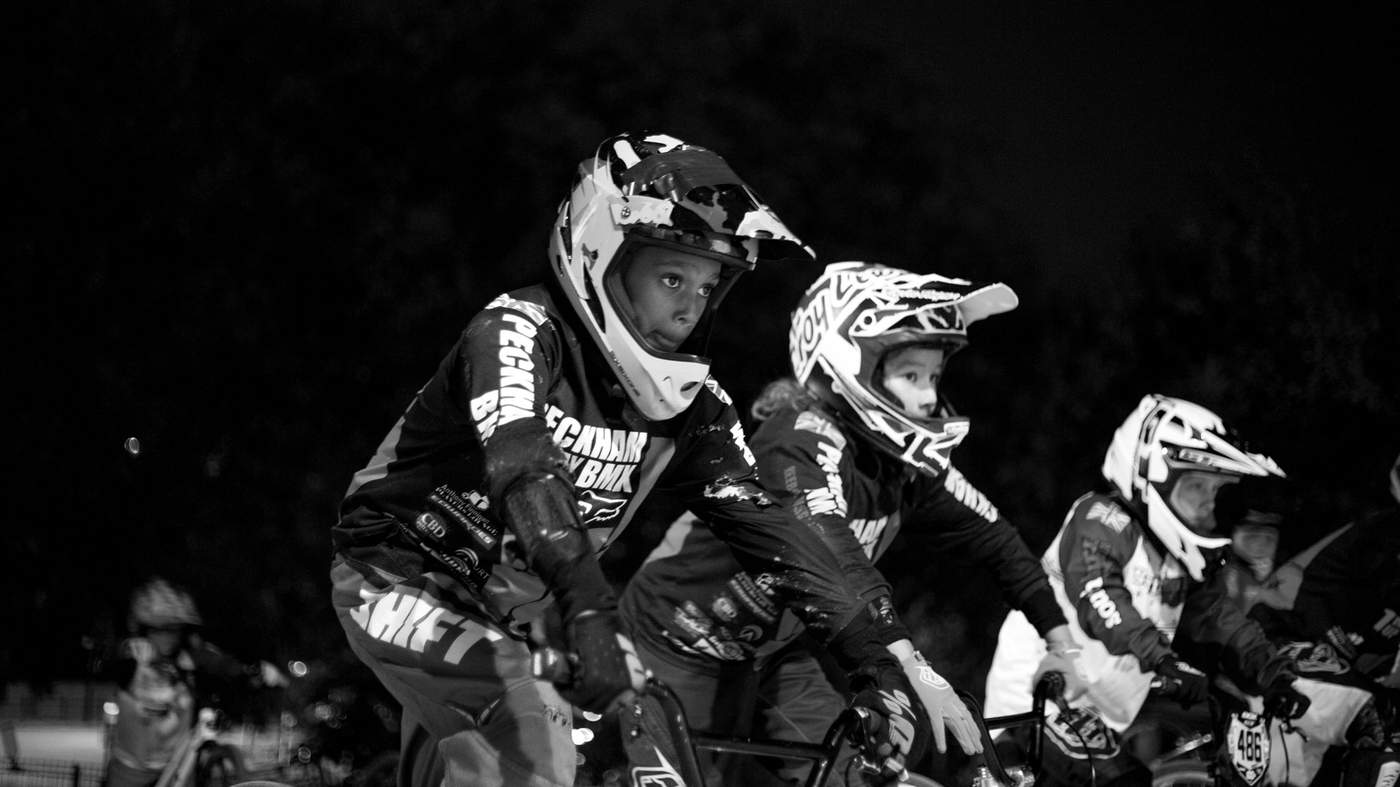 Dean Reeves, coach, team rider and local boy
Dean Reeves, 22, is drinking a protein shake. He's a busy young man, holding down three jobs. He coaches at Peckham BMX, runs his own coaching sessions and works as a waiter at a pizza restaurant. All his energy goes into BMX.
"I started riding in 2010 in Brixton and came over to Peckham in 2012," he says.
"I had to take two years out as I needed knee surgery. It was a setback but it gave me perspective, so I now appreciate every session and this is something I try to offer to the younger riders.
"The sport is not so traditional, it's unorthodox but this is an advantage. We try to use the experience of the riders as wider life lessons. The riders are pitched against one another in body armour and crash helmets, but they are also like a family. There is a sharing culture."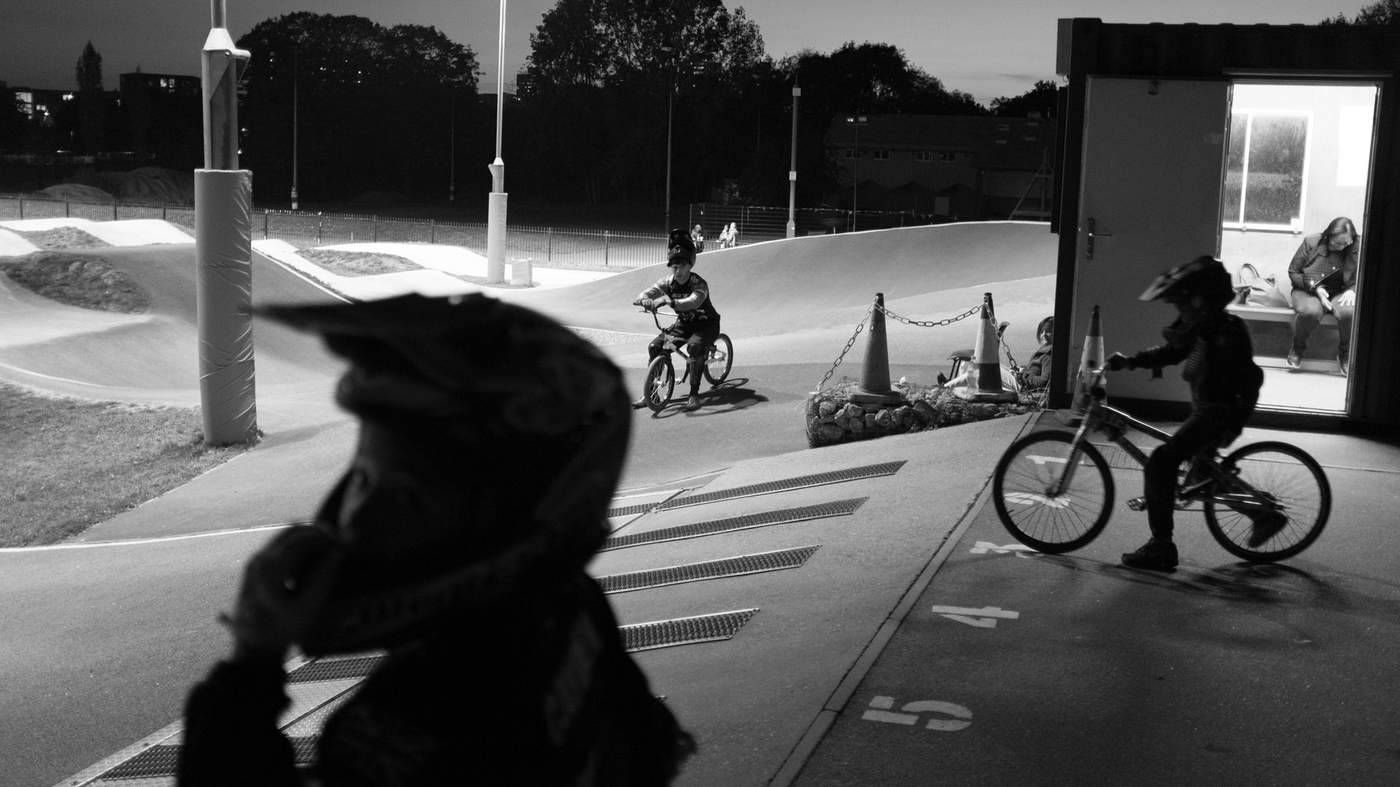 "There is a meshing together of the social aspects of the community and sport. The track is a bubble of invincibility in a difficult neighbourhood."
It was Halloween on one of my visits, and training was in full swing. Nigel asks the riders to focus and to commit to their session, to work through their tiredness. Outside the track, a teenager runs down the middle of the road firing off fireworks straight into the traffic.
Coach Nigel spots this and immediately beckons all the young riders to the other side of the track. The young man eventually runs off, sirens follow minutes later, the smoke clears but the smell remains. It's a reminder of the great work the club is doing. The kids firing fireworks into the direction of on-coming cars are some of the very kids CK, Nigel and their team are working with.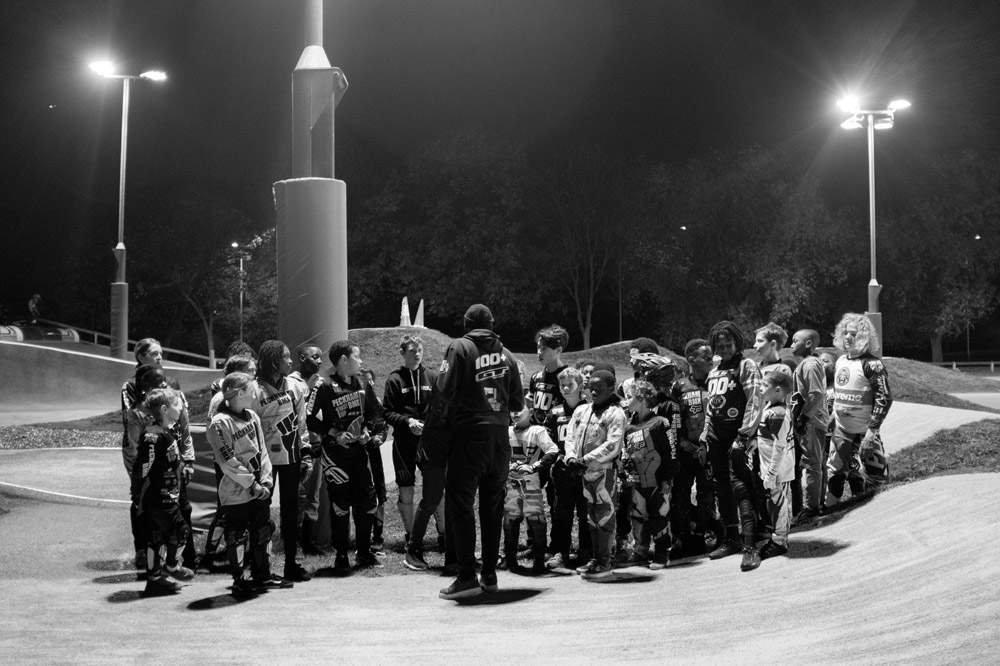 It's a shame that most coverage of the club perhaps inevitably draws on where the club is - the weight of Peckham the neighbourhood is carried by the club. But direct and full of joy, it reaches out to young people in a way that seems to work. Be there, always. Be in the community. Be around, be reliable, be seen.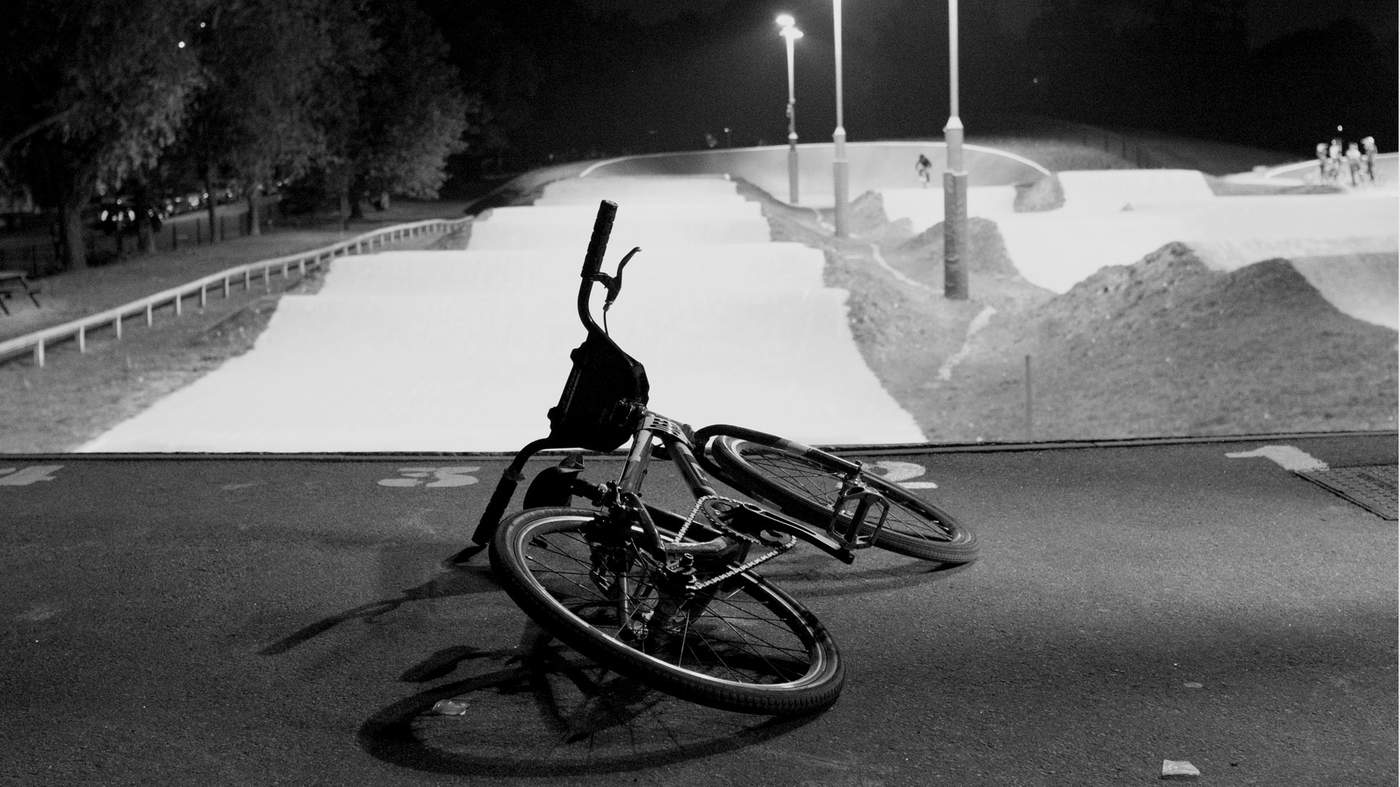 Text and photographs: Christian Petersen
Photo Editor: Phil Coomes
Editor: Kathryn Westcott