What's the recipe for a
Christmas number one?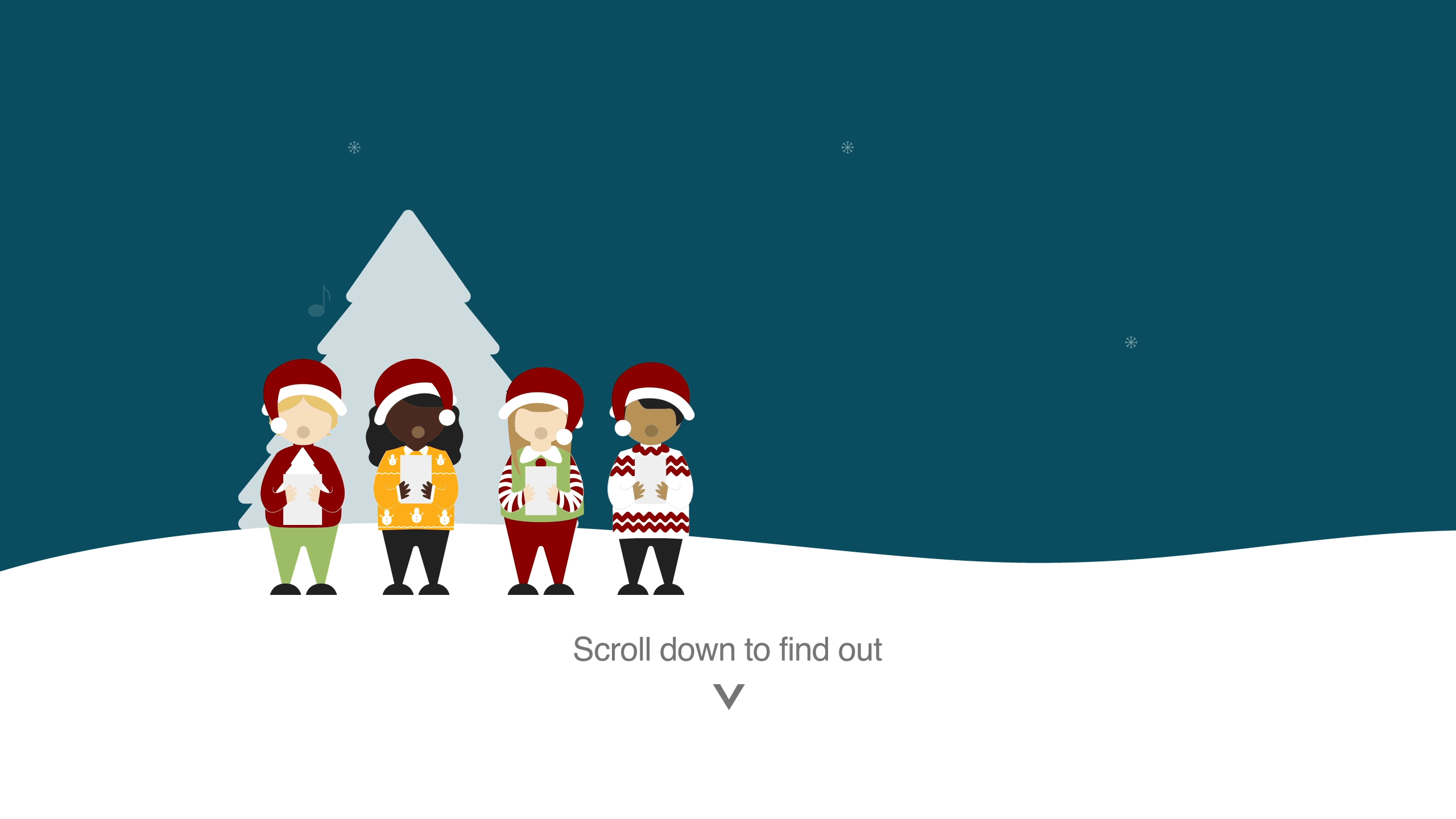 It's the most wonderful time of the year - yes, Christmas is nearly upon us again.
But wait!
Before we get ready to jingle our bells and eat too many chocolates, the burning question of which song will make it to Christmas number one remains unanswered, until it's announced on 21 December.
The BBC data elves wondered: How many Christmas songs have actually made it to number one? Has technology changed the way we listen? And most importantly, what should you listen to when driving home for Christmas this year?
Here's a closer look at the data - and what it means.
Christmas songs have made up a much bigger chunk of the UK charts at Christmastime since the turn of the millennium.
Why?
That's when those songs started being available on download (added 2004) and streaming (added 2014).
This means people can now cherry pick the Christmas songs they want, rather than having to buy entire Christmas albums.
It's worth noting that in this period the number of singles included overall in the Official UK Charts has increased.
The singles chart started out as a slightly arbitrary 18 songs per week in 1952, but soon reached 50 songs in 1960, and has been increased in increments since.
The current level of 100 songs per week was set by the Official Charts Company in 1983. This created more room for Christmas songs on the charts than there had been 50 years ago.
Now, whether more Christmas songs are good or bad news - we'll leave that up to you to decide…
Some songs
reappear in
the charts year
after year.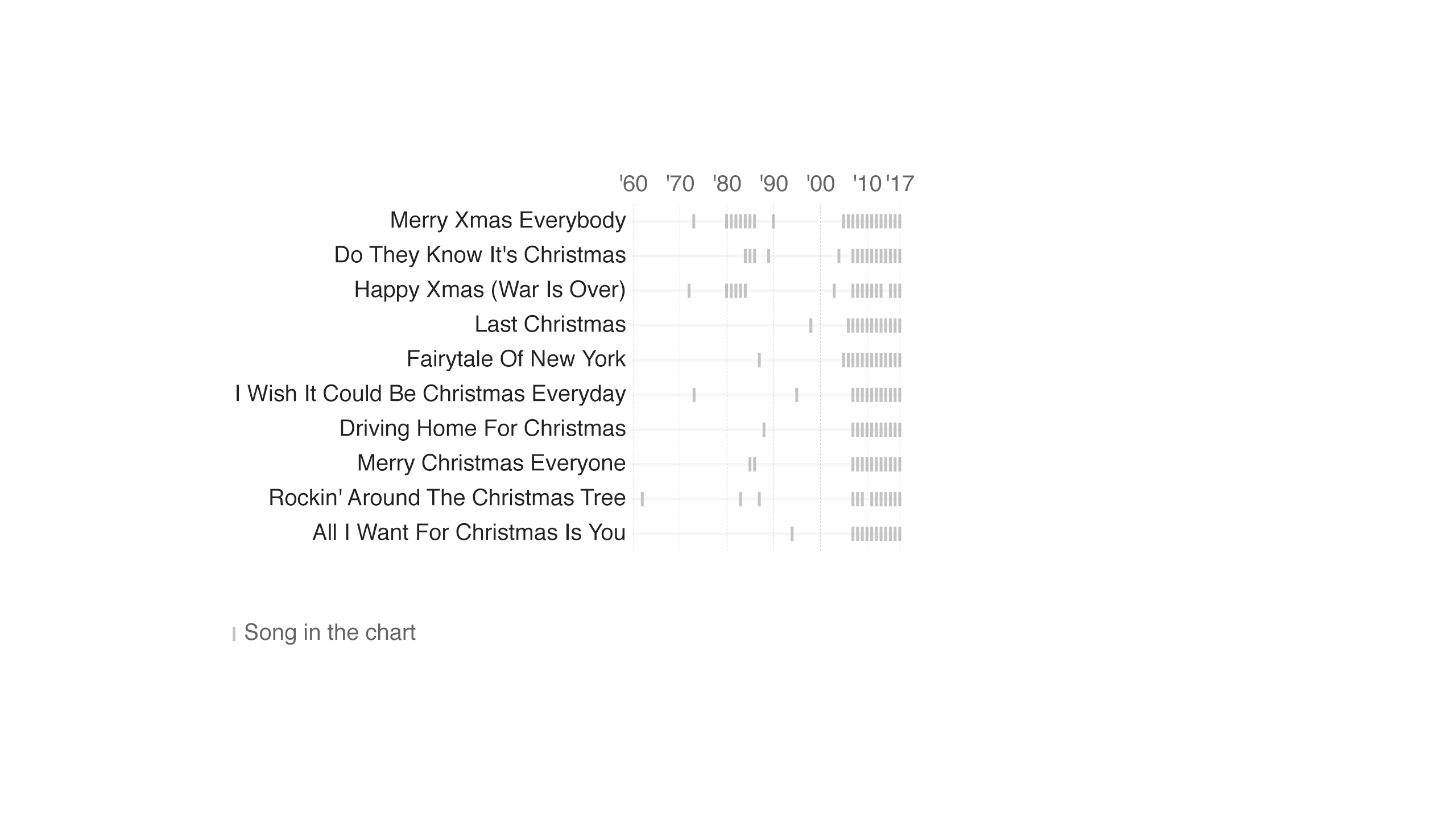 These are the
songs that hit the
chart most times -
and the years in
which they did it.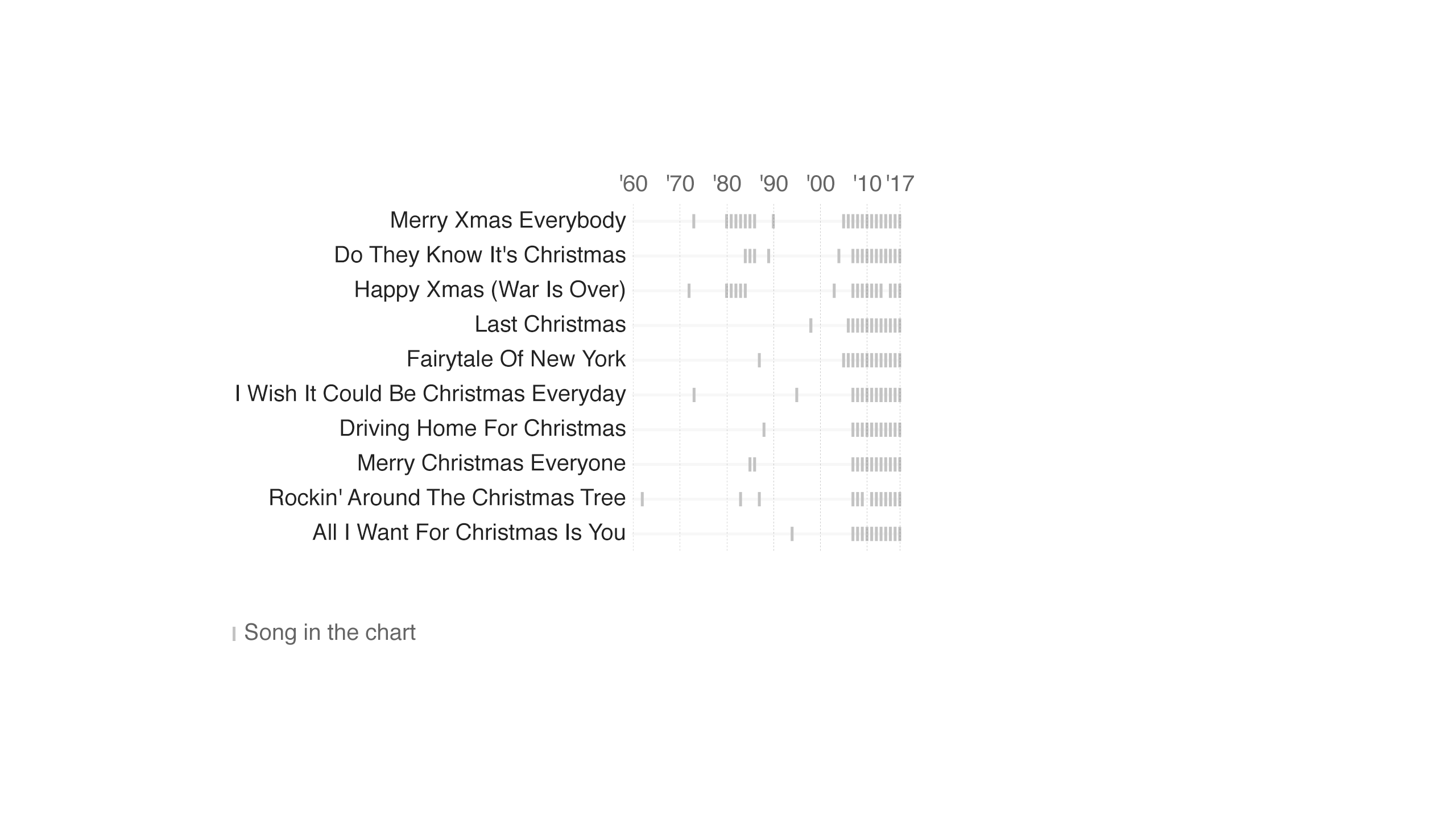 These are the
songs that made
it to a top spot.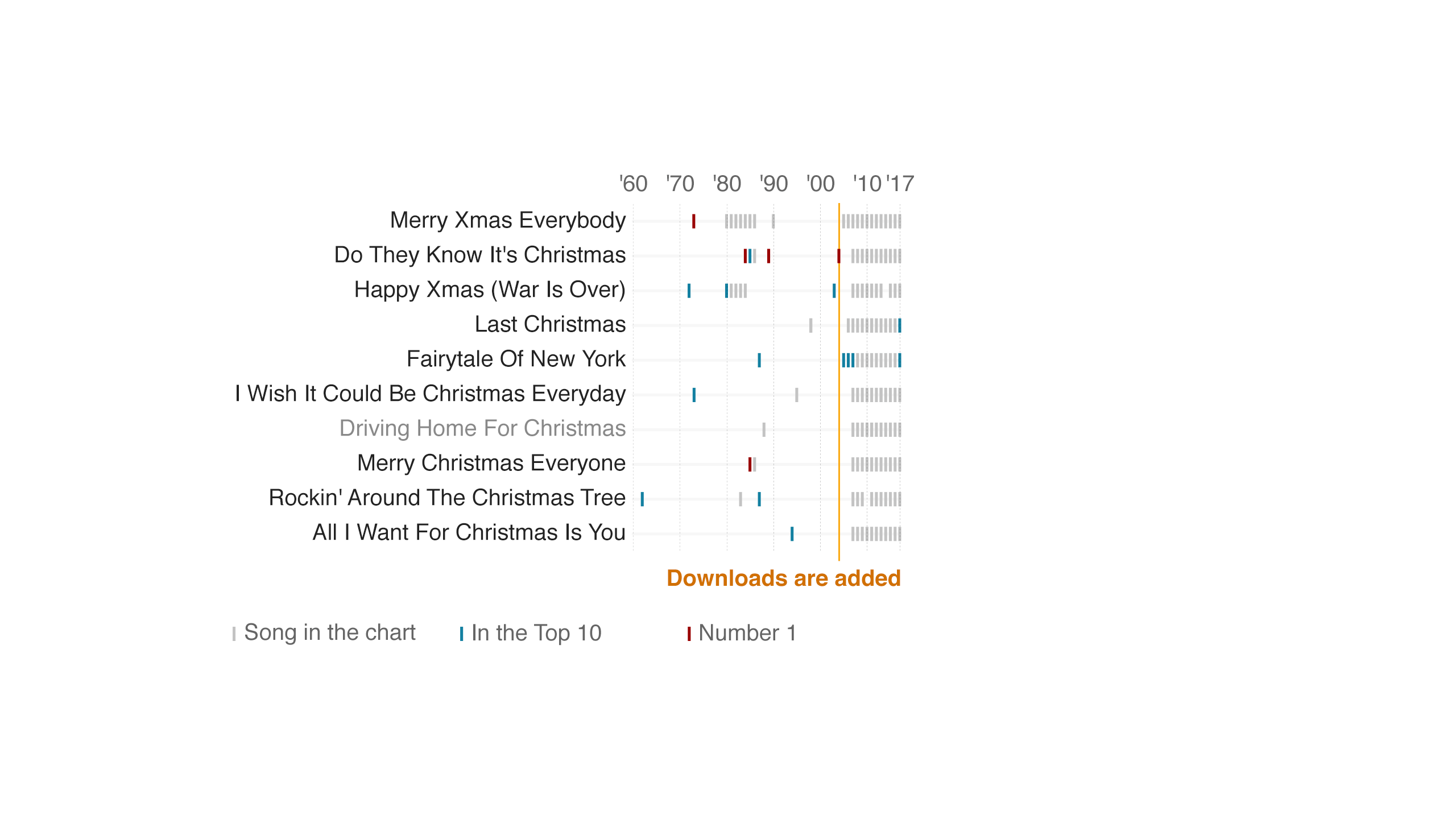 Only 10 Christmas songs have ever made the coveted number one spot.

But Band Aid's Do They Know it's Christmas? has managed it three times.

So if Christmas
songs aren't
hitting the
number one
spot...

Who is?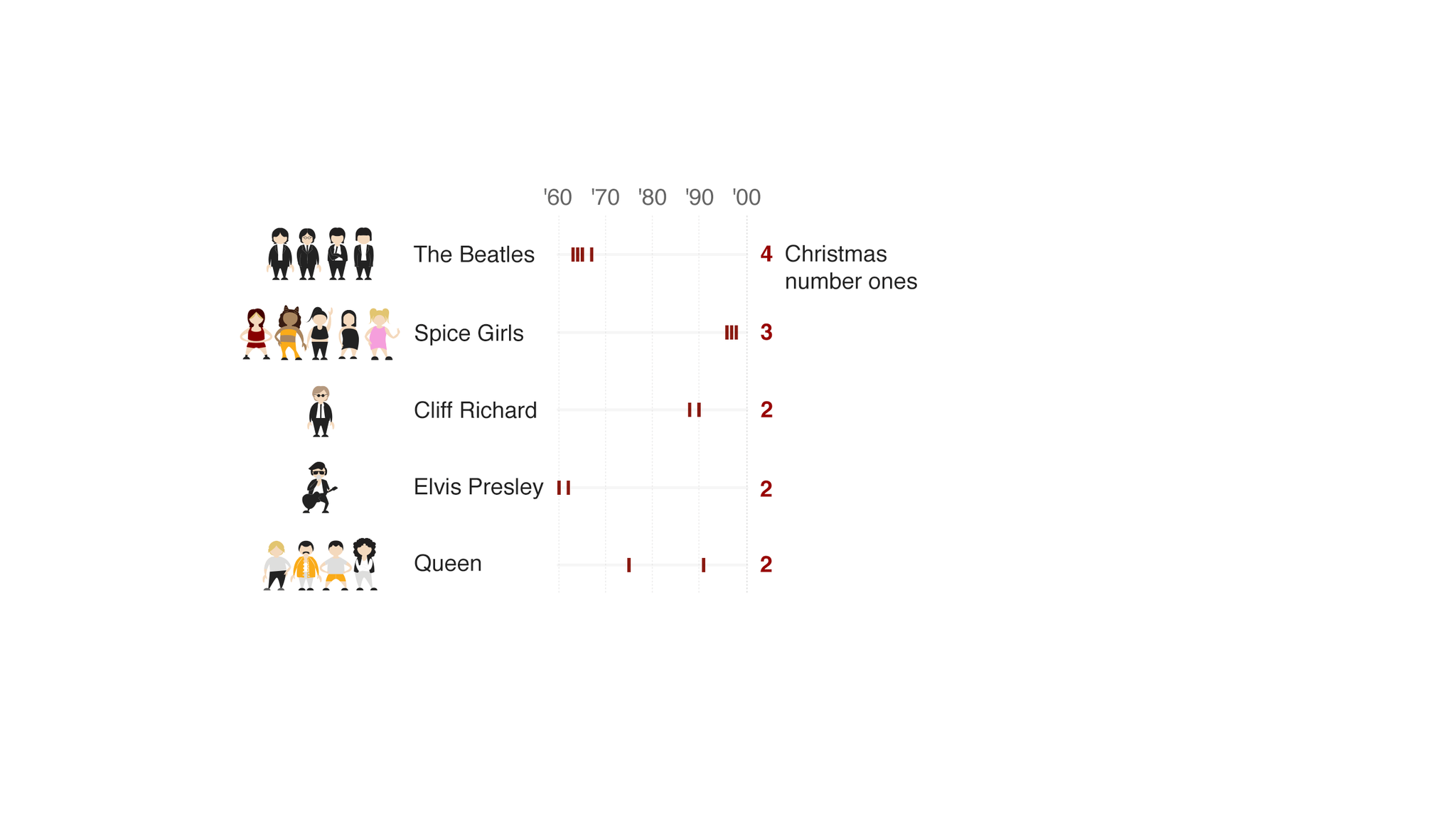 These are the artists
with most Christmas
number ones.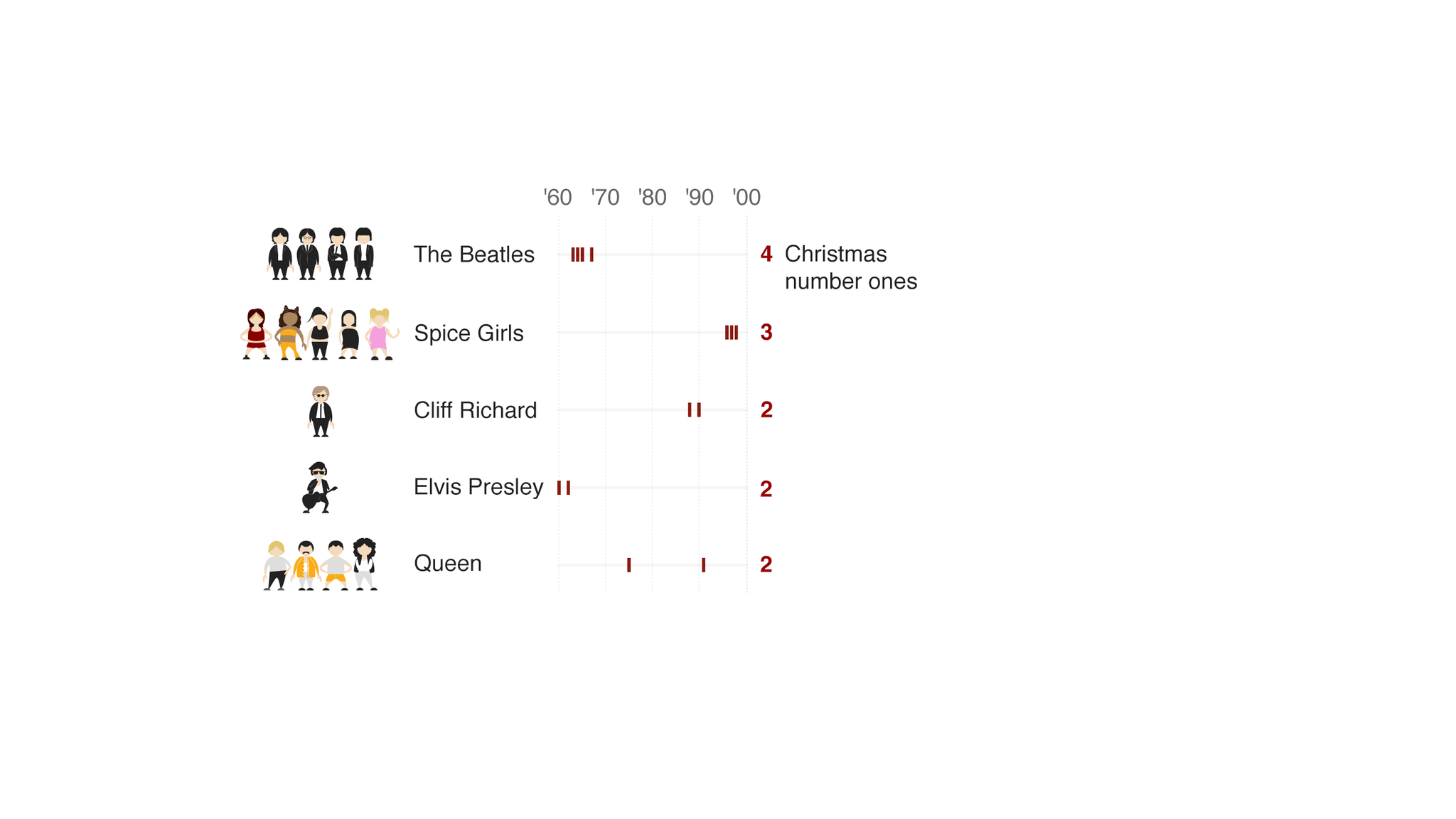 The Beatles and
the Spice Girls are
the only artists to
have had Christmas
number ones three
years in a row.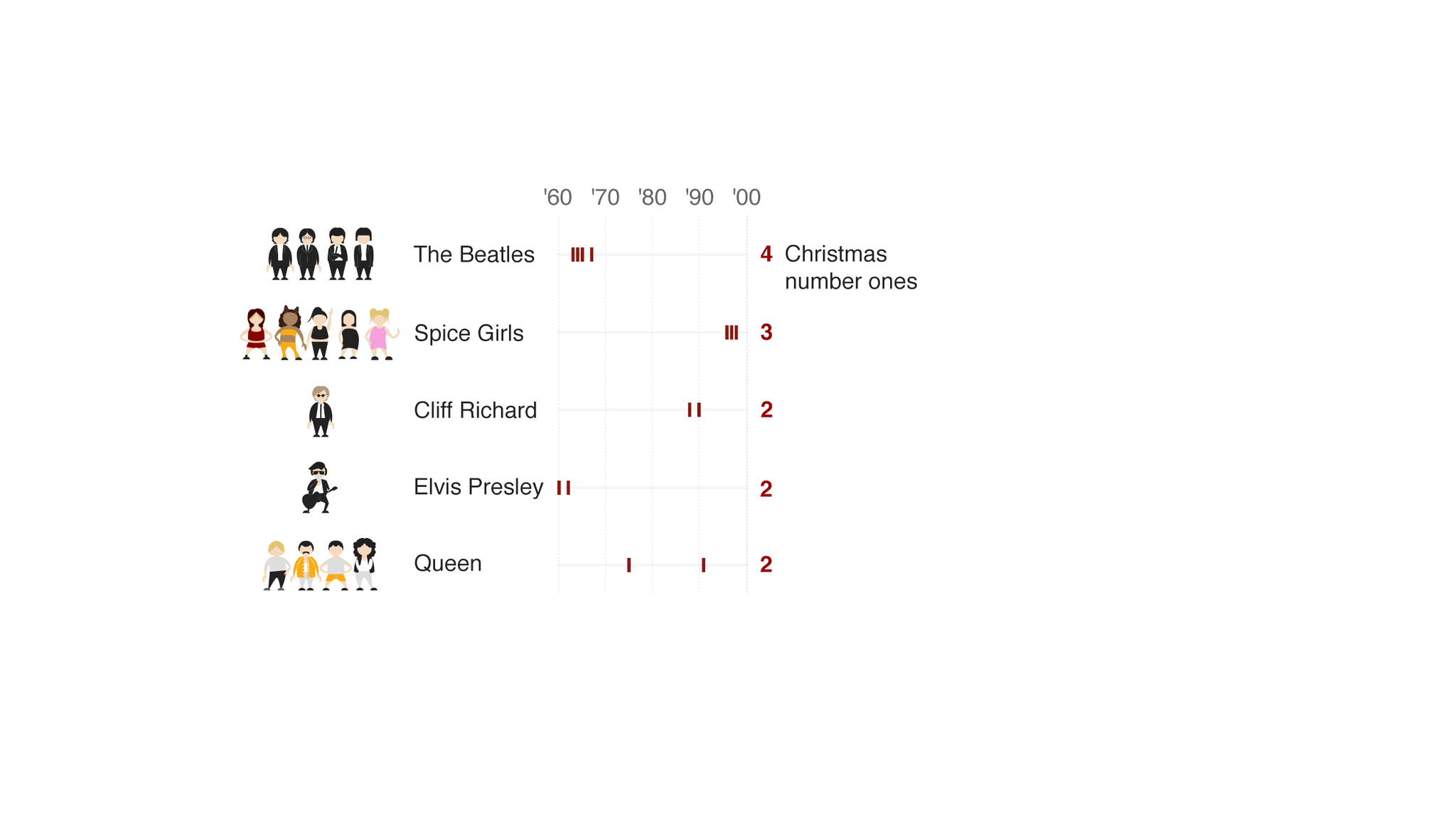 The X Factor influence is smaller
than you might think:

Only four of the last 10 Christmas number ones have been X Factor winners.

Is there a recipe for a Christmas song?
Spotify's algorithms think so: the streaming company has taken all the songs in their catalogue and classified them by metrics such as how loud or happy they are.
This is used to auto-recommend new music, but for us, it also comes in handy to analyse the sound of a Christmas song.
Based on this data, the typical Christmas song has indeed changed since the 1950s.
They sound much happier - and also louder - in recent decades.
For instance, a quintessentially 1950s Christmas song is Bing Crosby's White Christmas, whereas you can find a more modern sound in Wham's Last Christmas or Ariana Grande's Santa Tell Me.
For this analysis, we've looked at four separate elements: energy, loudness, acousticness and happiness.
Energetic tracks feel fast and noisy - a death metal song would rank highly here, for instance.
A track's loudness is measured in decibels, while acousticness tots up a song's acoustic sounds, like acoustic guitar, against how many electronic sounds, like synthesizer or drum machine, it has.
A song's happiness, at least as Spotify calculates it, is based purely on the musical sound, disregarding the lyrics entirely.
What about the key? Is there a sound that says 'Christmas' more than the rest?
The data would suggest yes.
Perhaps unsurprisingly, festive favourites are overwhelmingly in a major key, giving them a brighter sound.
Just over one in nine of all the Christmas songs that have made the UK charts since 1952 has been in a minor key.
Music in minor keys tends to sound darker and more melancholy than a major chord.
The most common keys for a Christmas song by far are A major, C major and G major.
These are all among the most common keys for all music in Spotify's catalogue, but they are especially popular for Christmas songs.
Nearly half of all the Christmas songs that have been on the charts since 1952 have been in one of those three keys.
A Christmas song is nearly three times as likely as any other song to be in A major, based on an analysis of all music on Spotify.
When should you
release a song
for it to be a
hit at Christmas?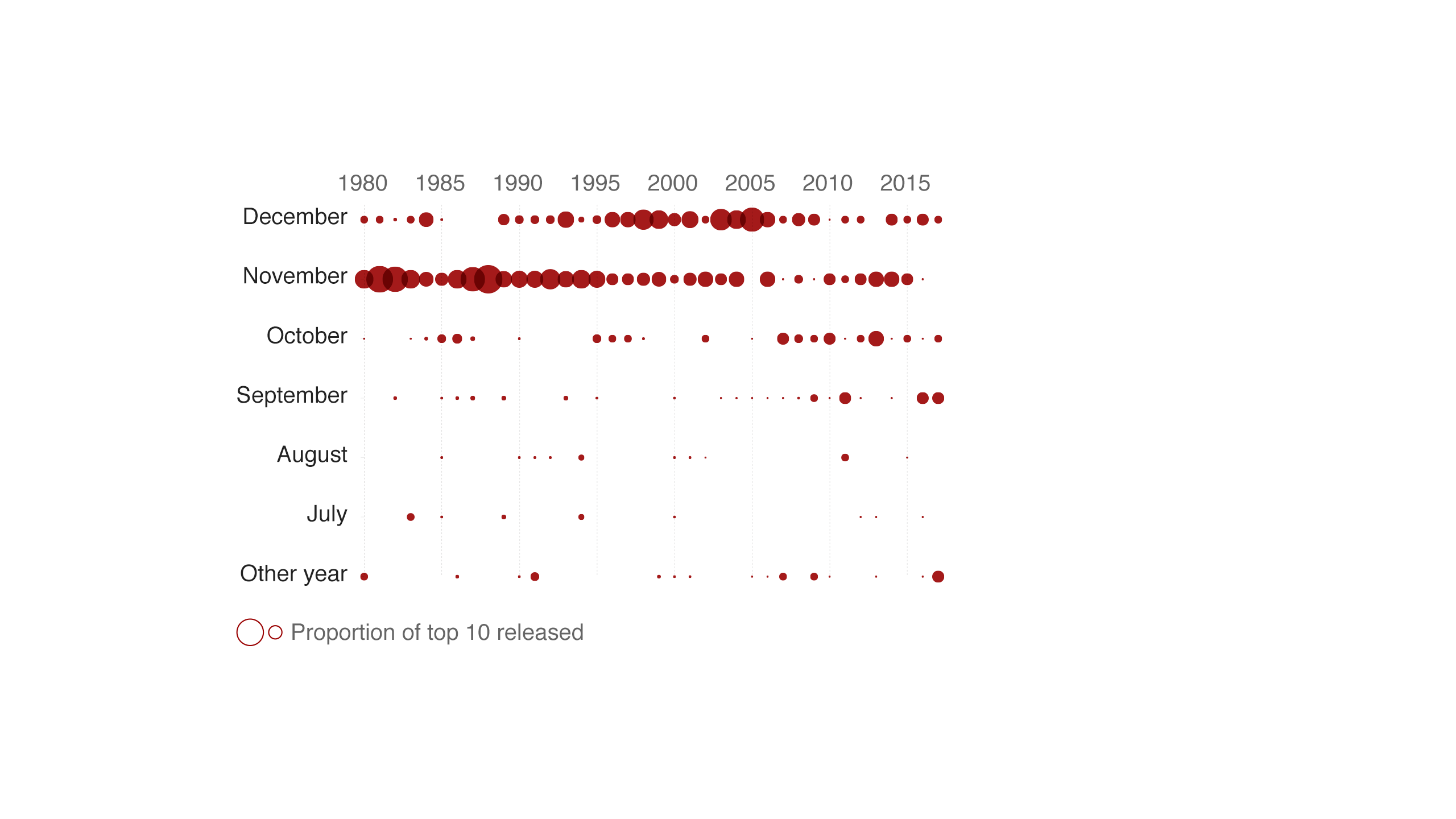 Almost all songs
that made the
Christmas top 10
used to be released
in November.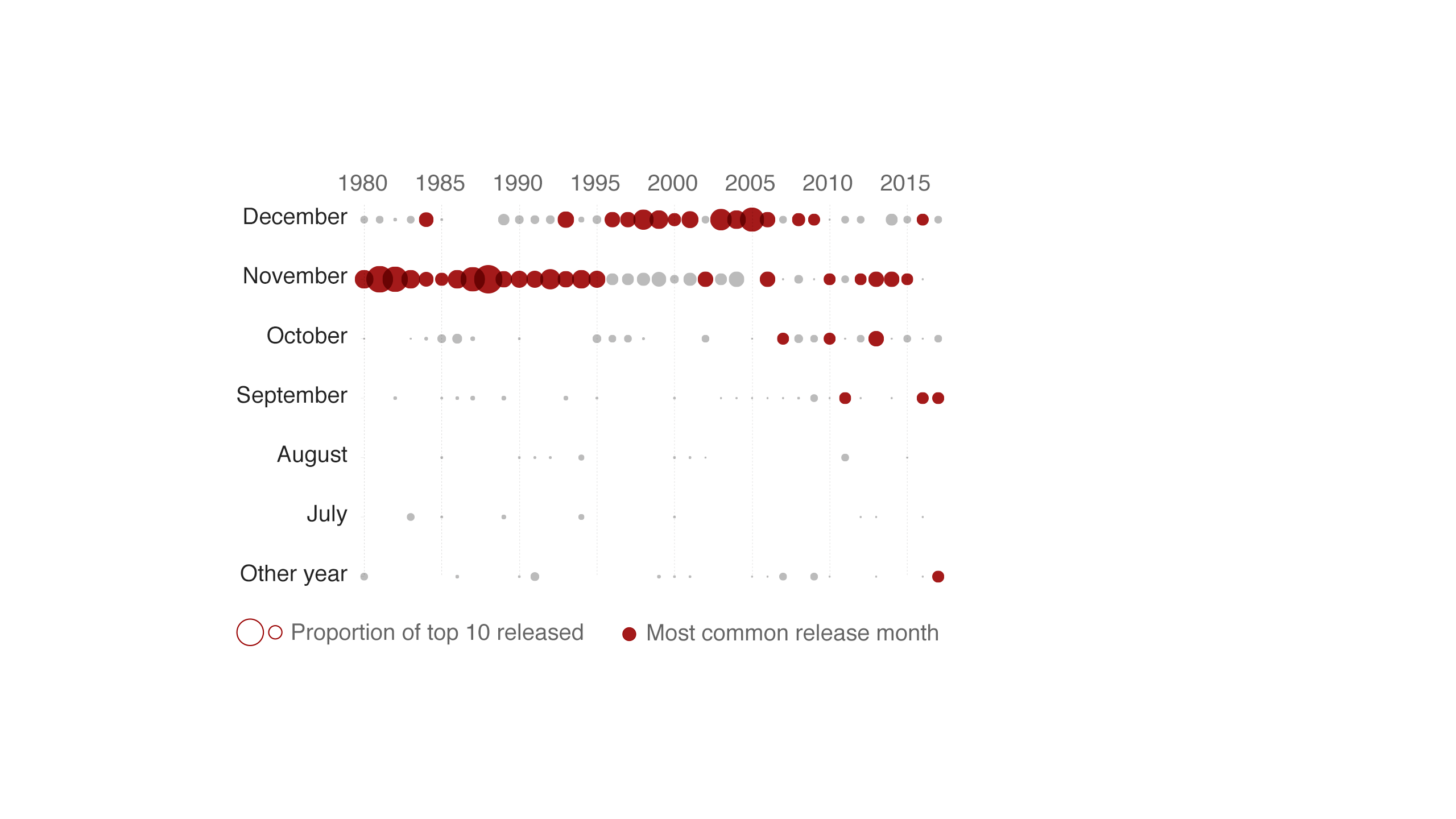 But since downloads
were added, release
dates have become
much more diverse.