Going to the wedding
1,200 public invitations to the grounds of Windsor Castle.
66 million Britons to choose from.
Meet three who made the guest list.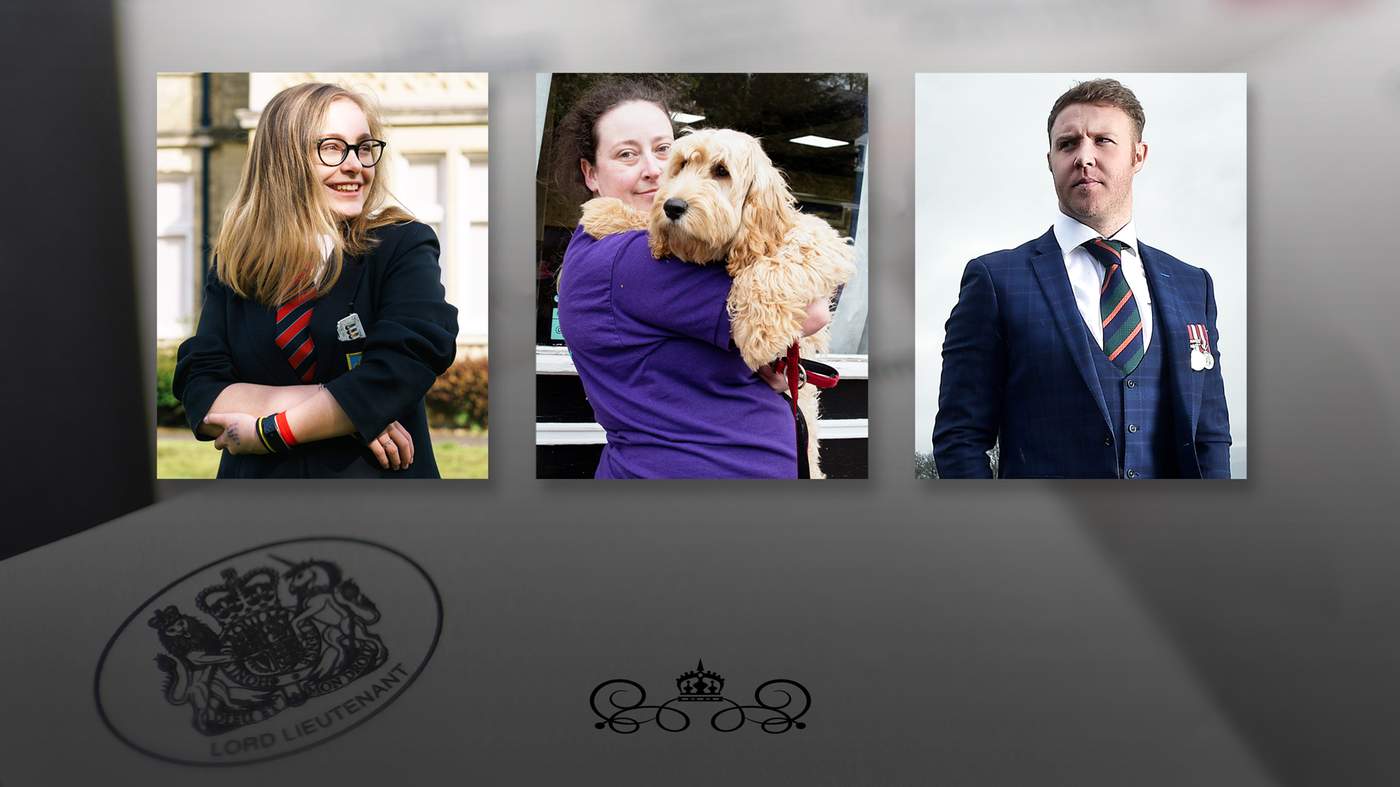 'Prince Harry likes to look after the veterans.
He's a good guy in my book.'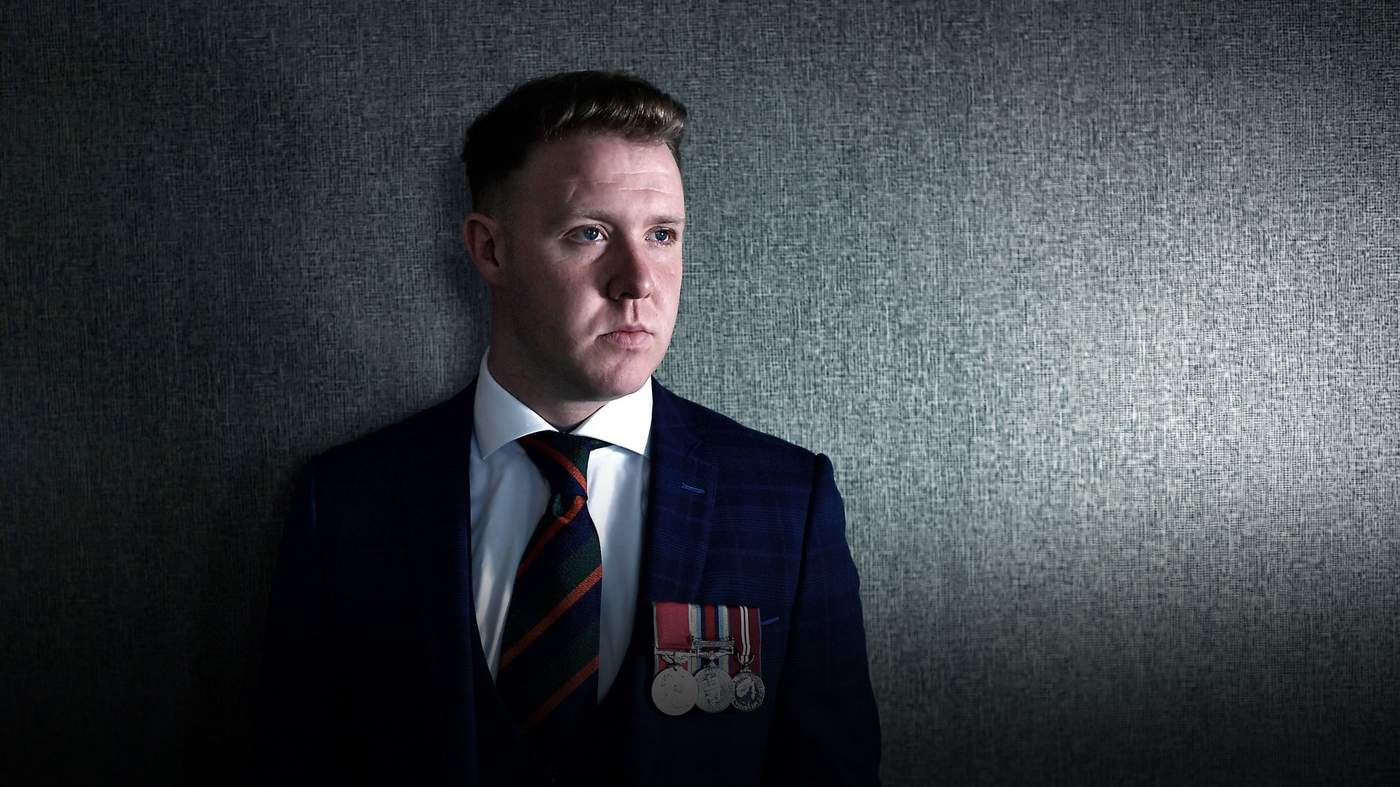 Philip Gillespie
County Antrim
Philip has a plan.
The day before the wedding his barber will give him a trim and a wet shave.
He'll wear his blue three-piece suit - only worn once before at a friend's wedding - with brown shoes, a regimental red-and-green striped tie and his medals.
It will be the first time Philip, 30, has worn them since he was discharged from the Army in 2013.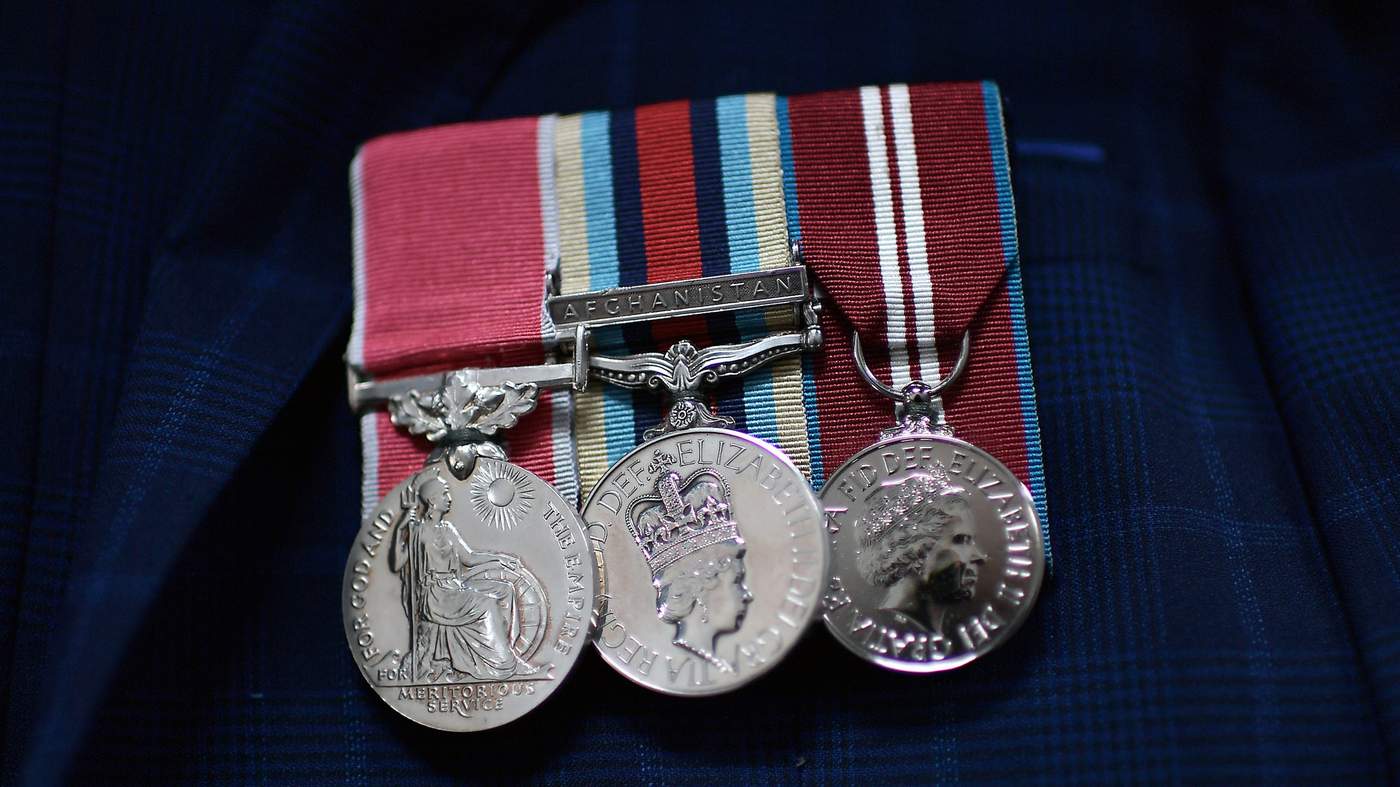 Leaving was one of the hardest things he's done.
More so, perhaps, than what came before, he says.
Philip - or Barney to friends - was on his third tour of Afghanistan.
It had been the best so far - the infrastructure in a country torn apart by war was improving and there'd been less fighting than in previous years.
But on 9 January 2011, while on foot patrol in Helmand province, he stepped on a roadside bomb.
It blew off his right leg and caused multiple fractures to his left.
He stayed conscious while medics worked on him, before being taken by helicopter to an army hospital.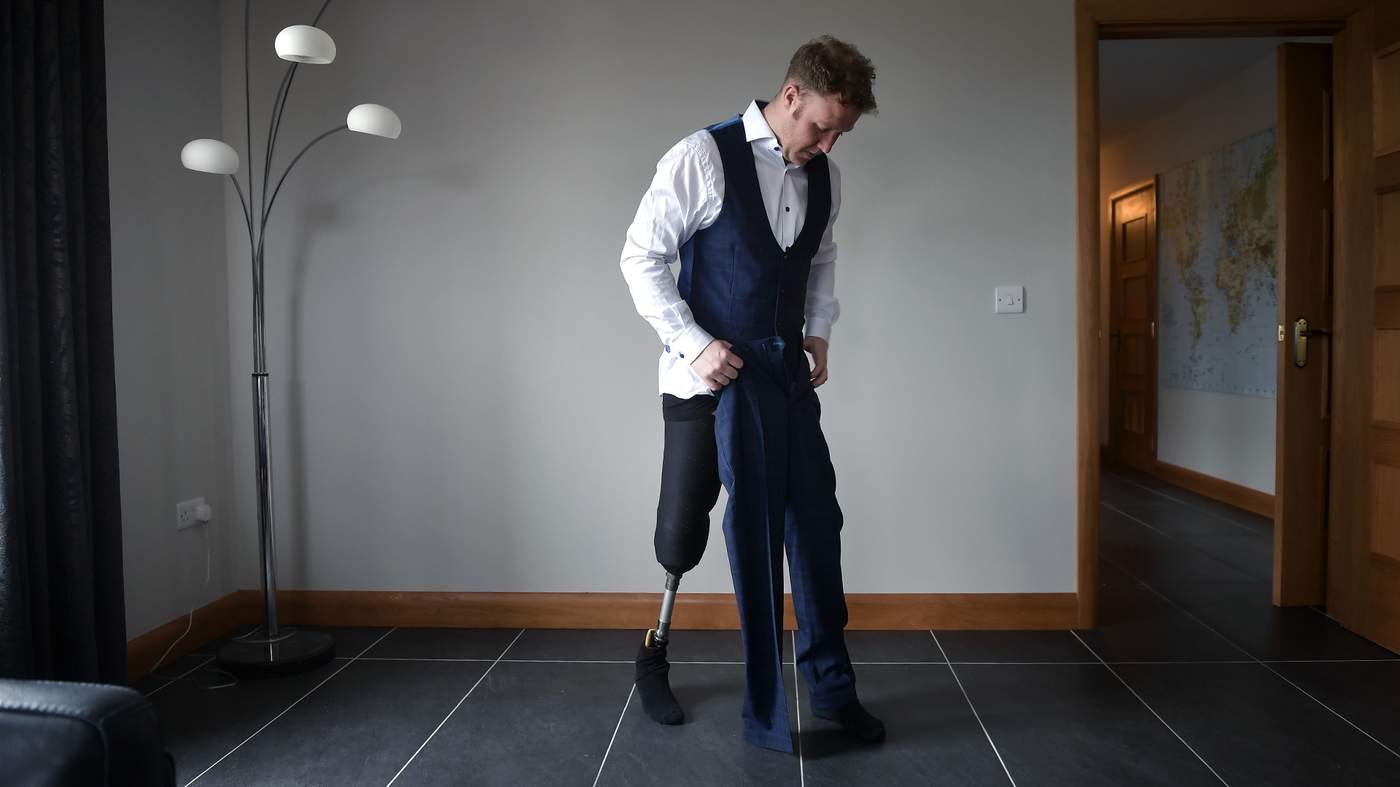 There's little emotion in Philip's voice as he recounts the life-changing moment.
"I find it quite easy to talk about it," he says.
"I accepted it within the first few months and moved past it."
"The Taliban took a leg, I wouldn't want them to take my life," he explains.
"If I stopped living my life, they might as well have taken it."
There were painful, emotional times in the weeks that followed for Philip and his loved ones.
The knock on his dad's door to tell him his son had lost a leg, and a bedside reunion at Birmingham's Queen Elizabeth Hospital.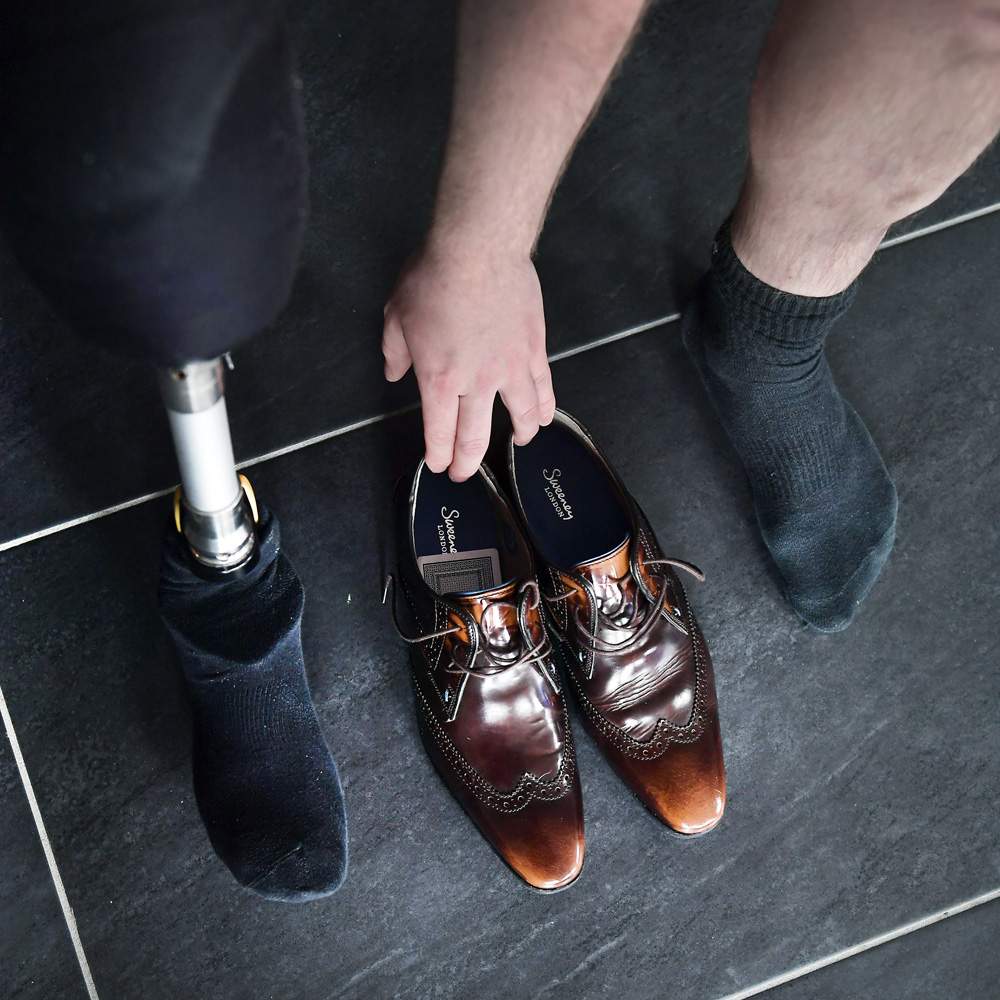 "You don't want to cry in front of your father so you hold it all back," says Philip.
But there were surprisingly good times too.
Like the time he met his returning comrades off the bus.
It was less than two months since the bomb went off but he'd been fitted with a prosthetic leg and was able to stand using crutches.
"They got a huge surprise. The last time they'd seen me, I was lying in the dust with my leg blown off."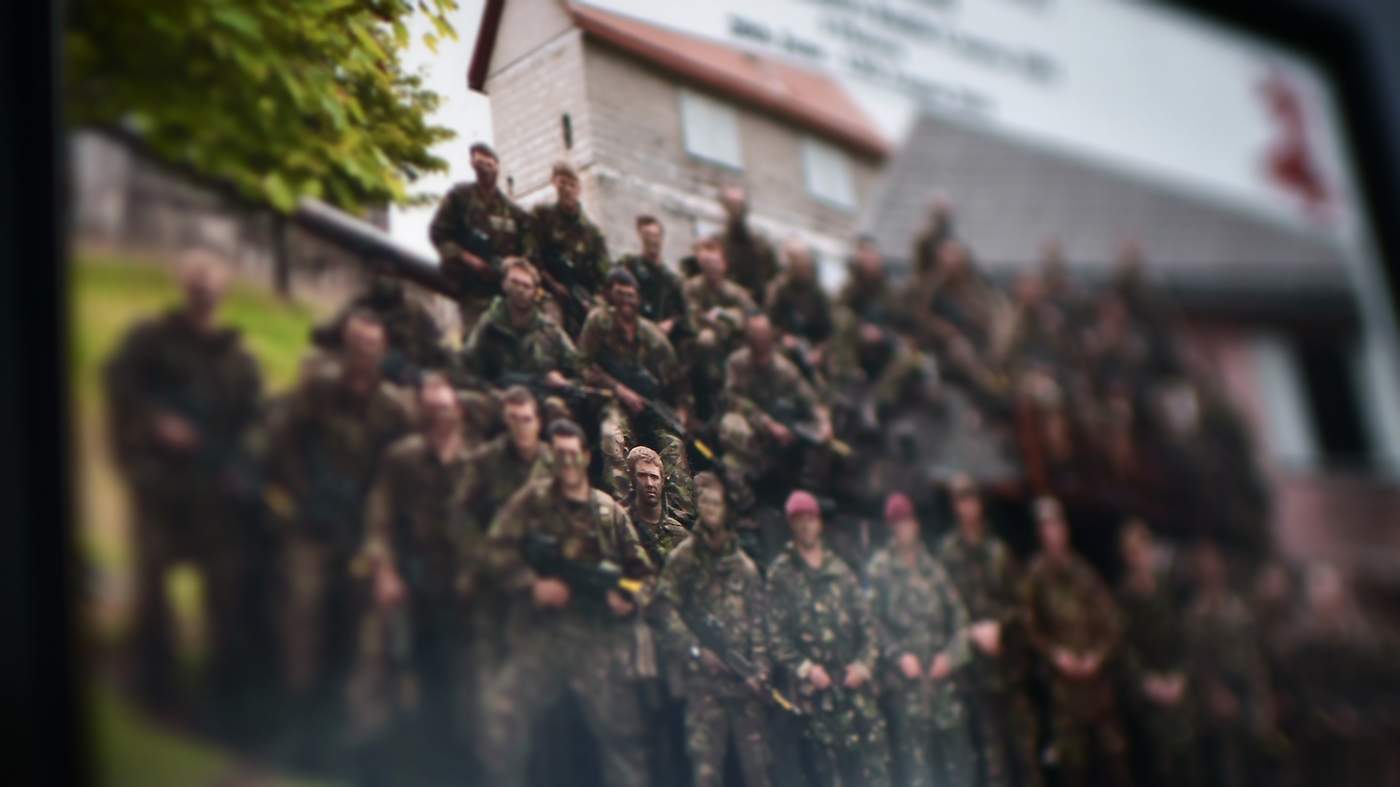 He says he clung to the hope that he'd recover sufficiently to return to the Army, but that wasn't the case.
It was as much about losing part of his identity as losing a job, he says.
That's when he first came into contact with the soldiers' charity, ABF.
They paid for his girlfriend, Kirsty Crawford, to visit him in hospital. They also laid slabs on his driveway at home in Ballymena - and installed a shower room with a seat.
These things won't make the front pages of newspapers, he says, but they are small things that make a big difference.
The charity helped him until he was discharged from the Army in 2013 - since then, he has been helping them as an ambassador.
We do some sums and work out he's raised at least £50,000 in five years with black-tie dinners, a Five Peaks Challenge and climbing Kilimanjaro.
Keeping fit has been part of his approach to life out of the Army.
He's worked as an outdoor instructor and recently started volunteering with the Army cadet force.
"I can't run 15 miles any more but I can do a little bit," he says.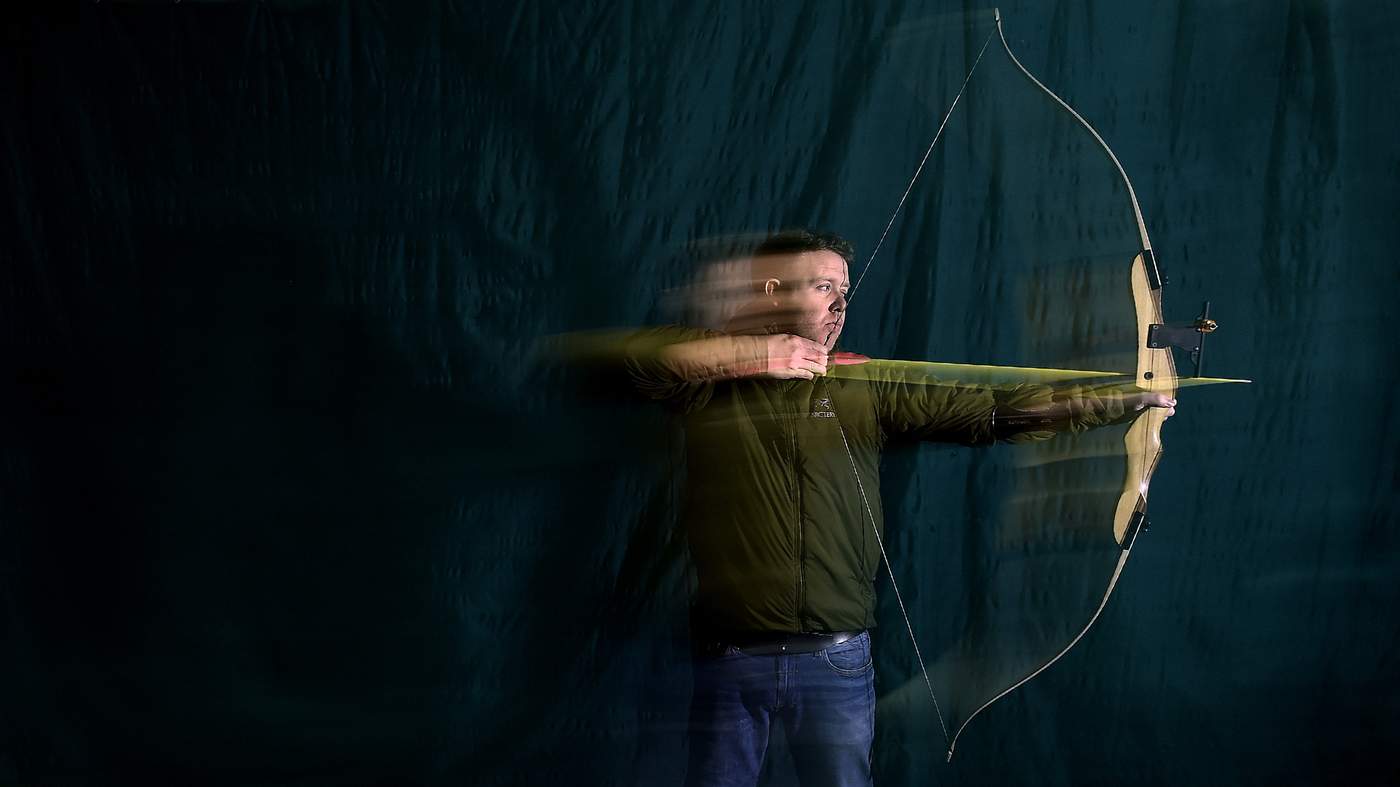 With that "little bit", he hopes to get himself a place on the British team to compete in archery and rowing at the Invictus Games in Sydney this October.
"It would be really nice to represent my country, to don the Union Jack colours," he says.
There is a quiet patriotism that comes across as we talk.
"I've got a lot of time for the Royal Family," he says.
"You sign an oath to the Queen when you join the Army."
He knows soldiers who've met Prince Harry who say he's down to earth and genuine.
"He likes to look after the veterans. He's a good guy in my book."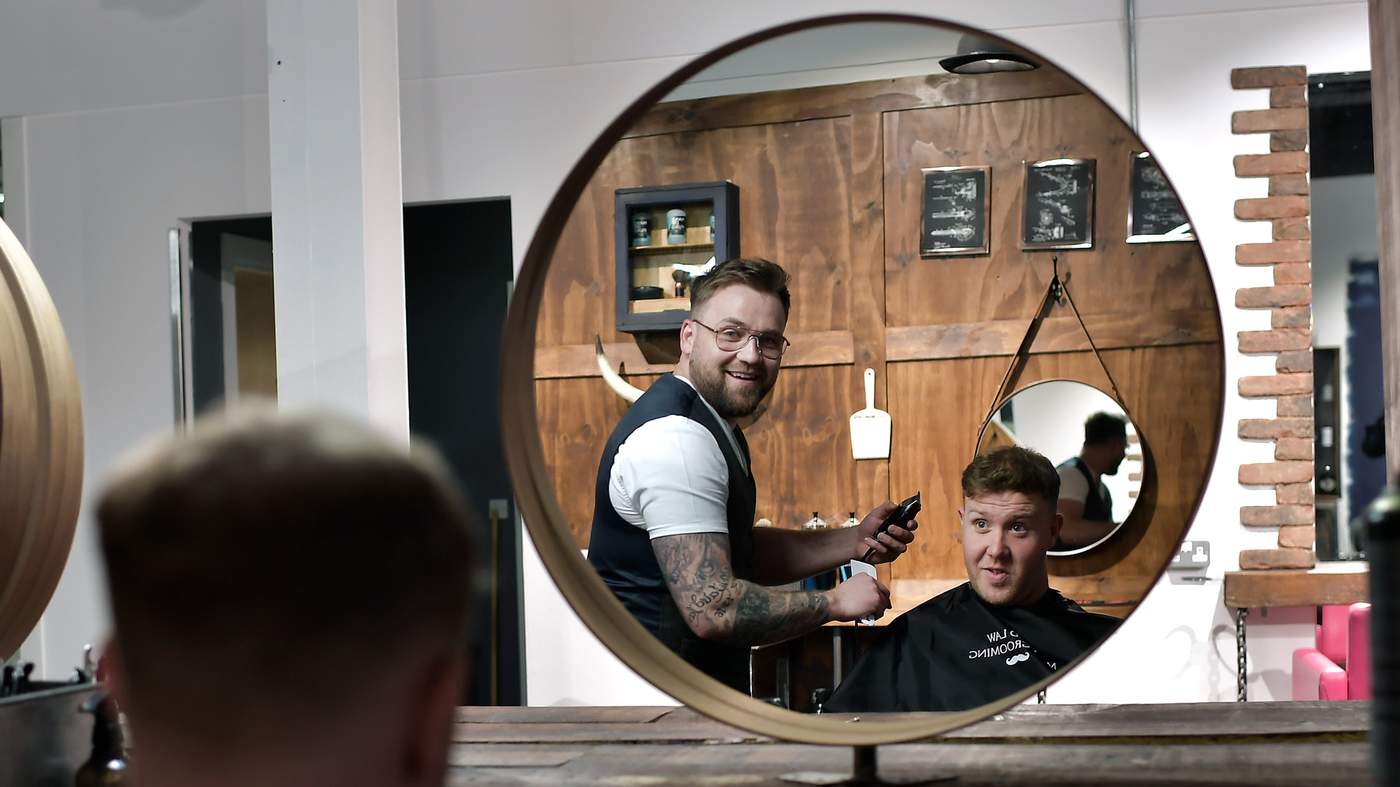 While Philip has a plan, his girlfriend Kirsty is still formulating hers.
With little more than a fortnight to go, she's looked around the shops and has a shortlist of dresses.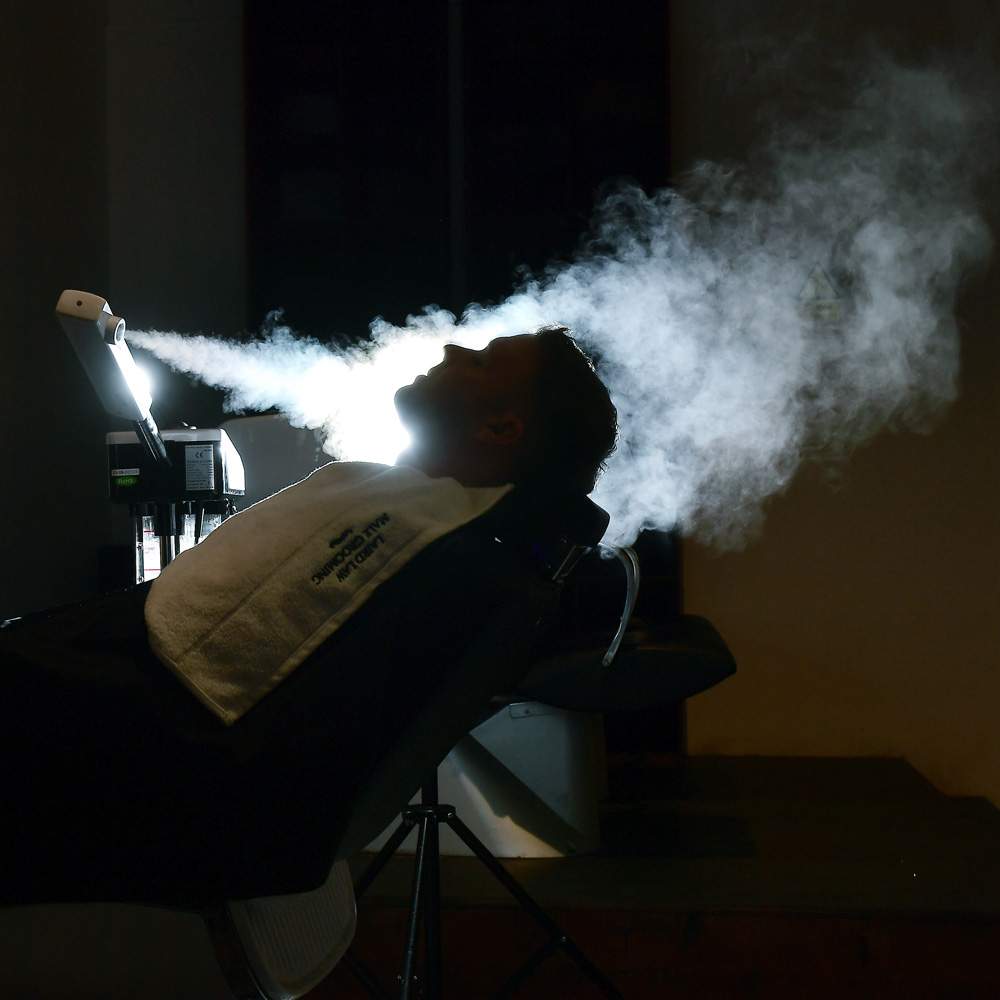 The couple will travel to the wedding with friends who've also been invited.
The four will share a picnic and a couple of glasses of prosecco.
Harry and Meghan will tie the knot after less than two years together, so it begs the question will Philip and Kirsty, together for nine years, be following them down the aisle any time soon?
Philip laughs. "I get asked that a lot. It is something we'll be talking about in the near future."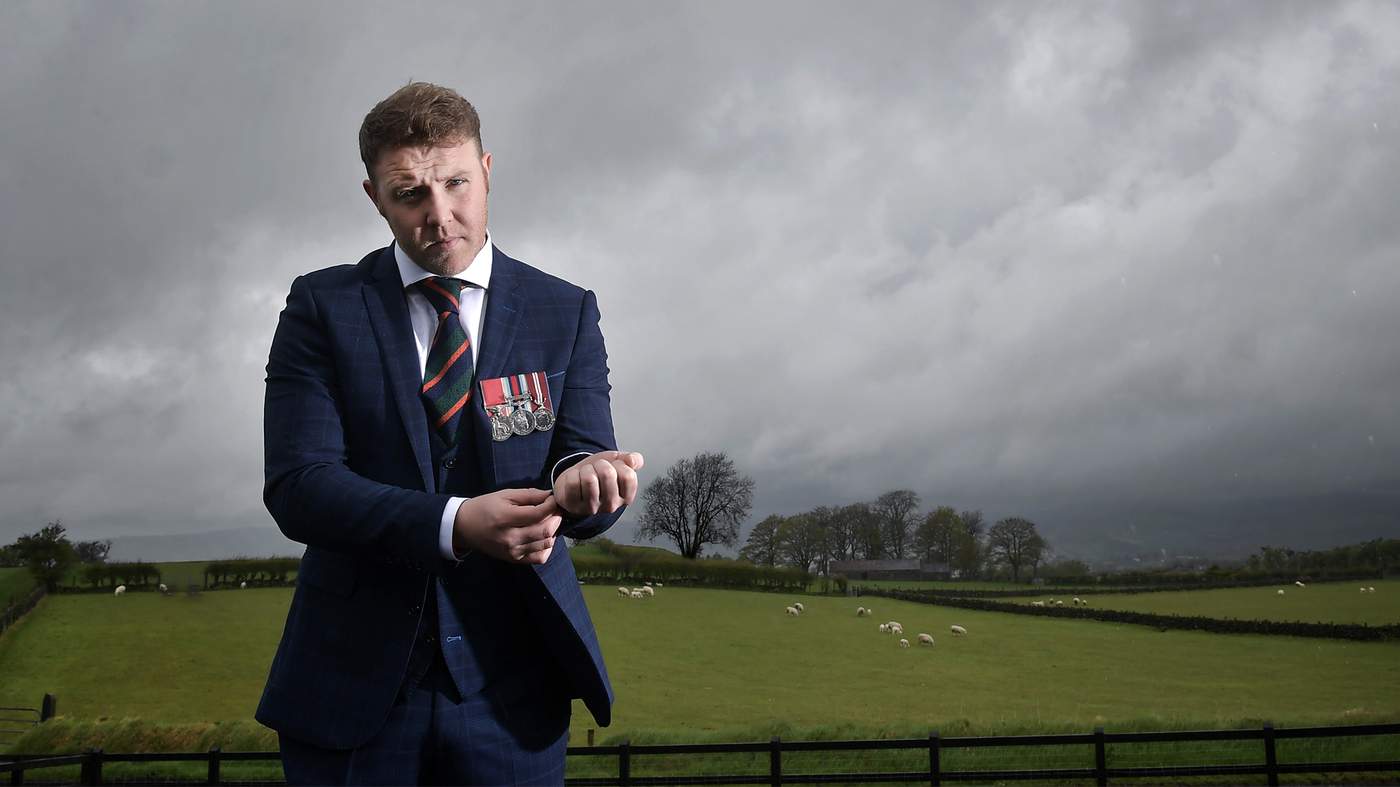 'I get to go and Donald Trump doesn't.'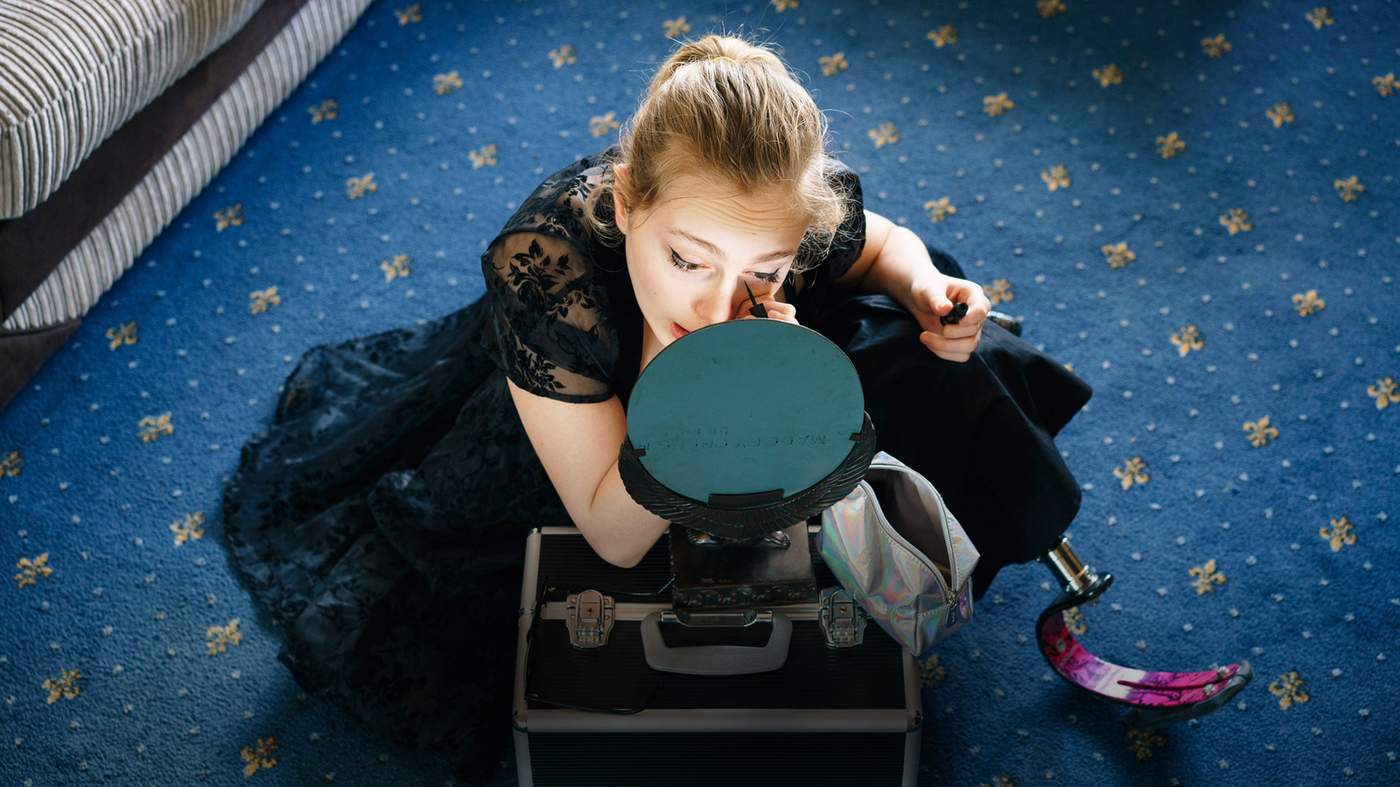 Jorja Furze
Cambridgeshire
Twelve-year-old Jorja is back home from school. She tugs off her school tie and slumps on the sofa.
Budgerigars squawk and the family's six dogs bark and yap as Jorja recalls the moment her mum sat her down and told her she was invited to the royal wedding.
"I think I may have woken the neighbours up with my screaming," she says.
"I wasn't allowed to tell anyone for five days but I did tell my best friend," she confesses.
Her first thought was the dress. After 10 hours searching online, she found The One, her mum, Gabrielle, jokes.
Jorja will wear a black dress with a sweetheart neckline, one sparkly mid-heel shoe and a deep pink-coloured blade.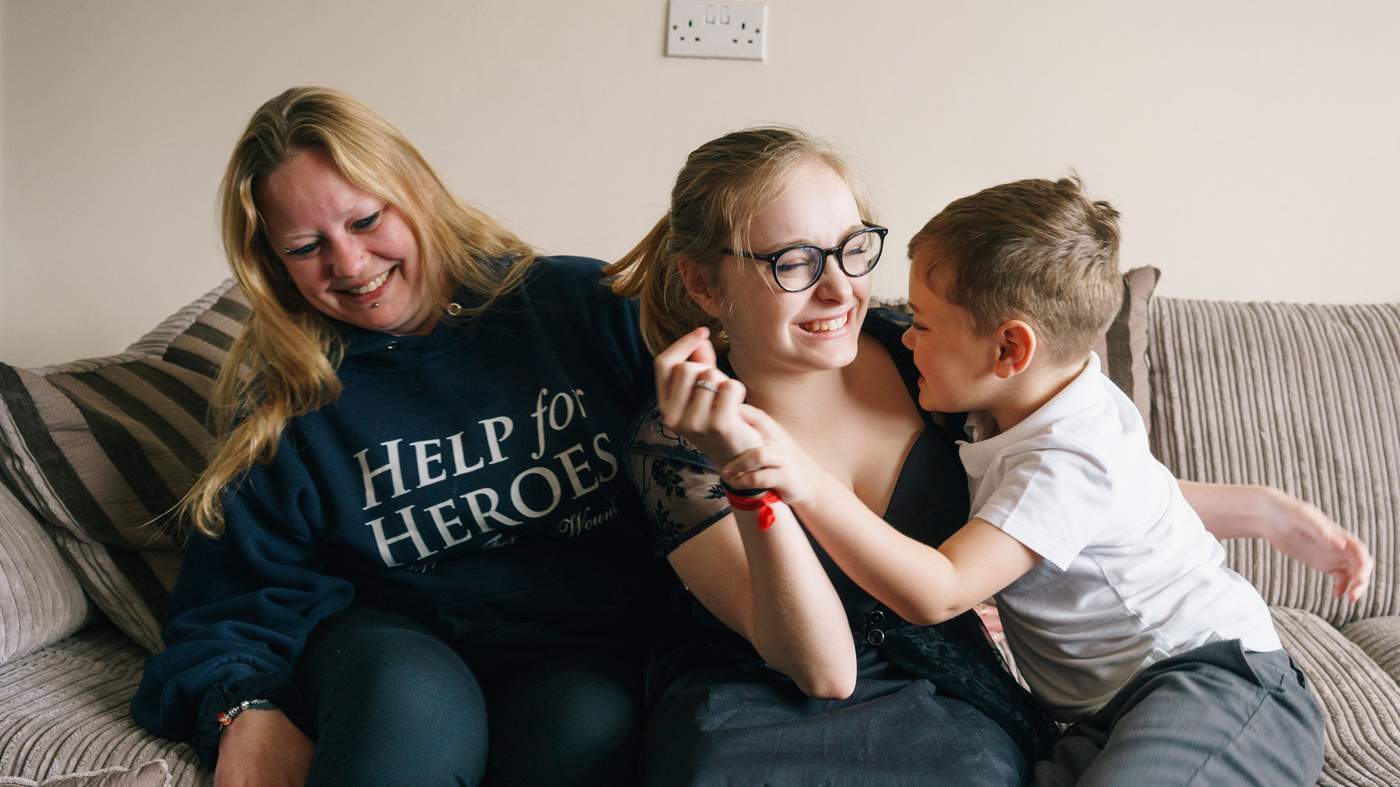 An amputee from birth, Jorja has been in and out of hospital ever since, averaging about two operations a year.
"It's probably not something to be proud of but I sort of am," she says.
Amniotic band syndrome is a rare condition in which strands of tissue wrap around the unborn baby's limbs and cut off blood flow.
At her 20-week pregnancy scan, Gabrielle was told Jorja was missing a leg.
It was not until she was born that they saw some of her fingers and toes were twisted or stumps.
At the age of one, Jorja was fitted with her first prosthetic leg and quickly learned to walk.
But, as she grew older, some of the usual milestones of childhood were never reached.
"She can't run," says Gabrielle.
"And children's prosthetic feet don't bend. There's no riding a bike."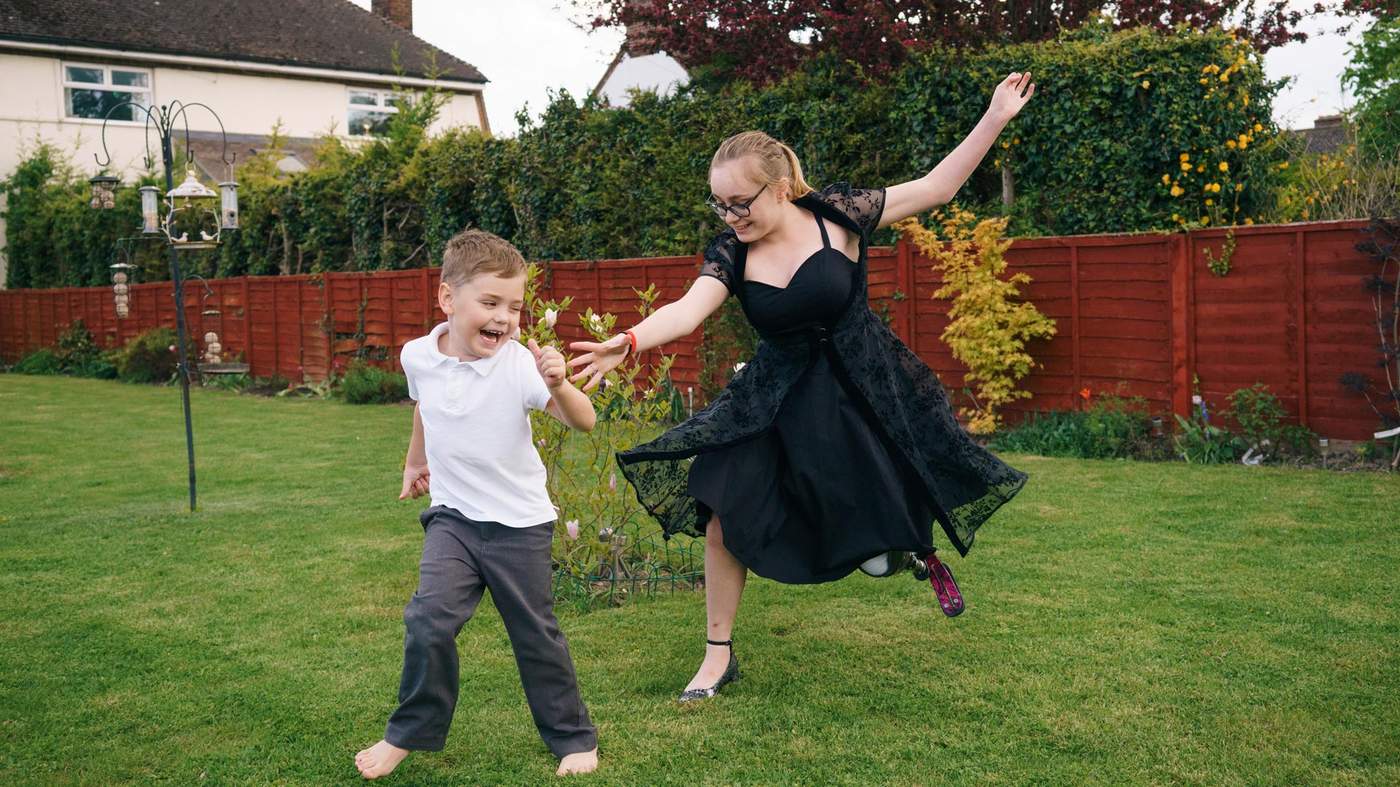 There are times when the pain around her stump is so bad she needs morphine every day.
And she has been tormented by bullies, young and old.
"Muttering under their breath. People calling me things. It's hard," she says.
Her ballet teacher told her she'd never pirouette because she couldn't point her foot.
"Is it bad that I once threw my leg at her?" asks Jorja, mischievously.

A couple of years ago, Gabrielle and Jorja met a family whose dad was an amputee at their local park.
They began talking about how unusual it was to meet other amputees.
Out of that meeting, a germ of an idea formed which led to the creation of a support group for amputees and their families.
Steel Bones was born. And Jorja became its youth ambassador.
Her role involves lending an ear to new amputees and giving advice.
Recently, she helped a 15-year-old boy and his mum who were worried he'd be bullied when he returned to school after an amputation.
She told him bluntly he probably would.
"Someone is going to say something to try to bring you down," she said, but followed it up with advice on how to handle the bullies.
"I try my best to help," she says, explaining that talking to other amputees and their families "feels like it makes you a better person".
"I don't know where she gets her compassion from," says Gabrielle.
"If it were me, I would feel 'Why me?' - Jorja thinks 'Why not me?'"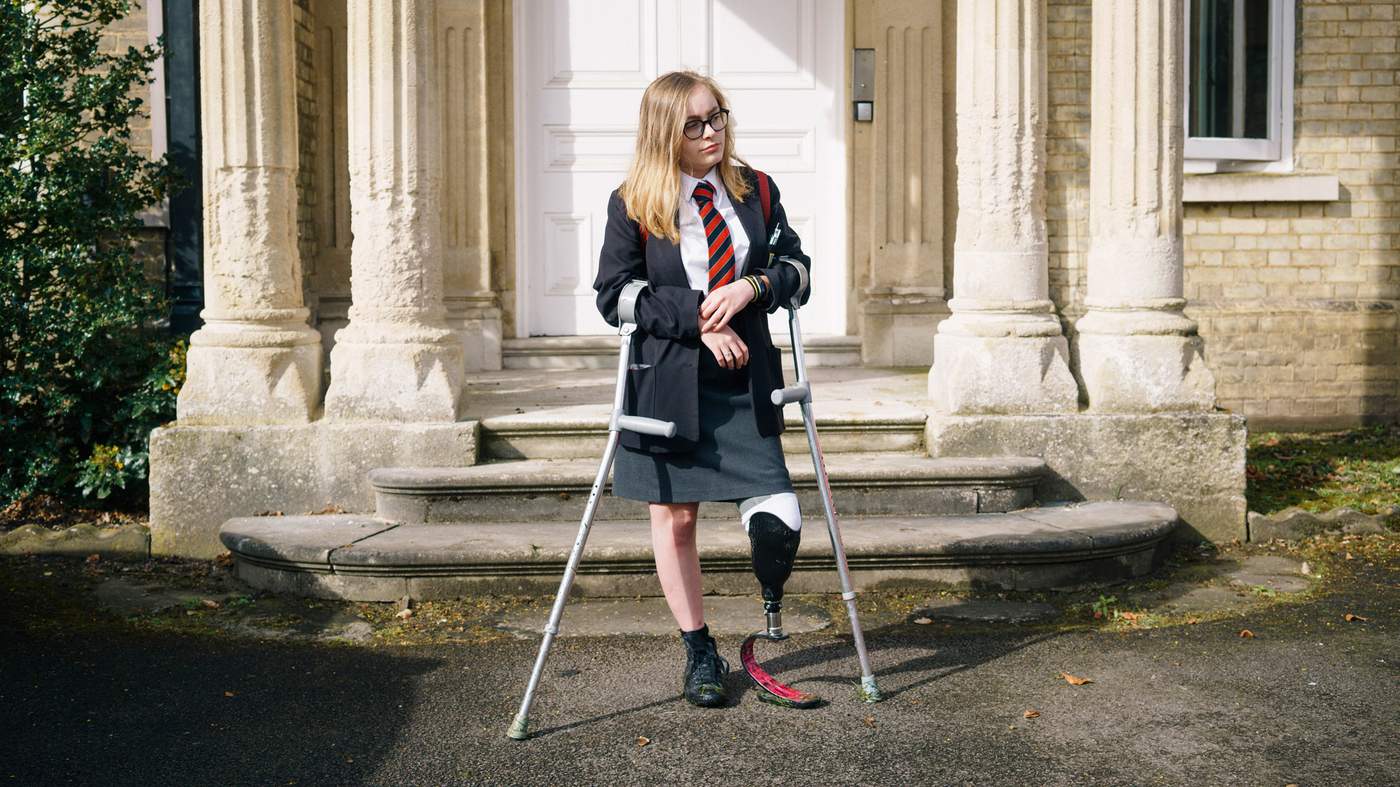 Jorja's other role is fundraising. Steel Bones is the chosen charity for her house at school.
On a sunny day in May, Soham Village College swaps morning assembly for a fundraiser on the tennis courts.
Cheers go up as students hear they've raised £574.06 for Jorja's charity by saving their loose change.
With it, they spell out Steel Bones on the courts, send a drone into the blue sky and film their endeavours.
Jorja, an aspiring actor, is chatty and funny with a natural confidence not usually found in 12-year-olds.
She's determined that in the future we should see a more realistic portrayal of disabled people on our screens.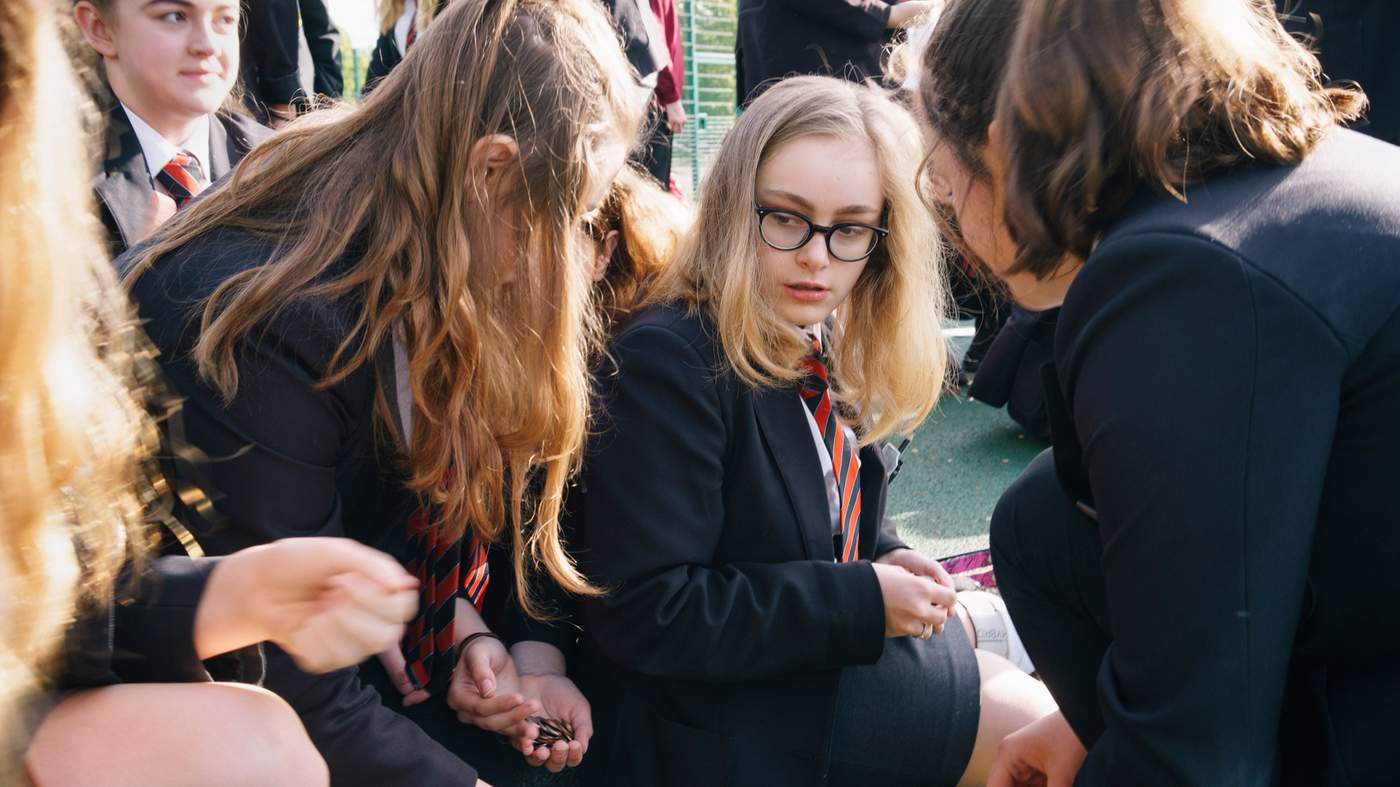 As we chat at her home in Isleham village, near Cambridge, her mum brings in an official-looking envelope addressed to Jorja which arrived that morning.
It's a cheque from Cambridgeshire's Lord Lieutenant's Office for £150 to help Jorja and Gabrielle enjoy the big day.
Gabrielle suggests Jorja buys some birthstone earrings she's fallen for.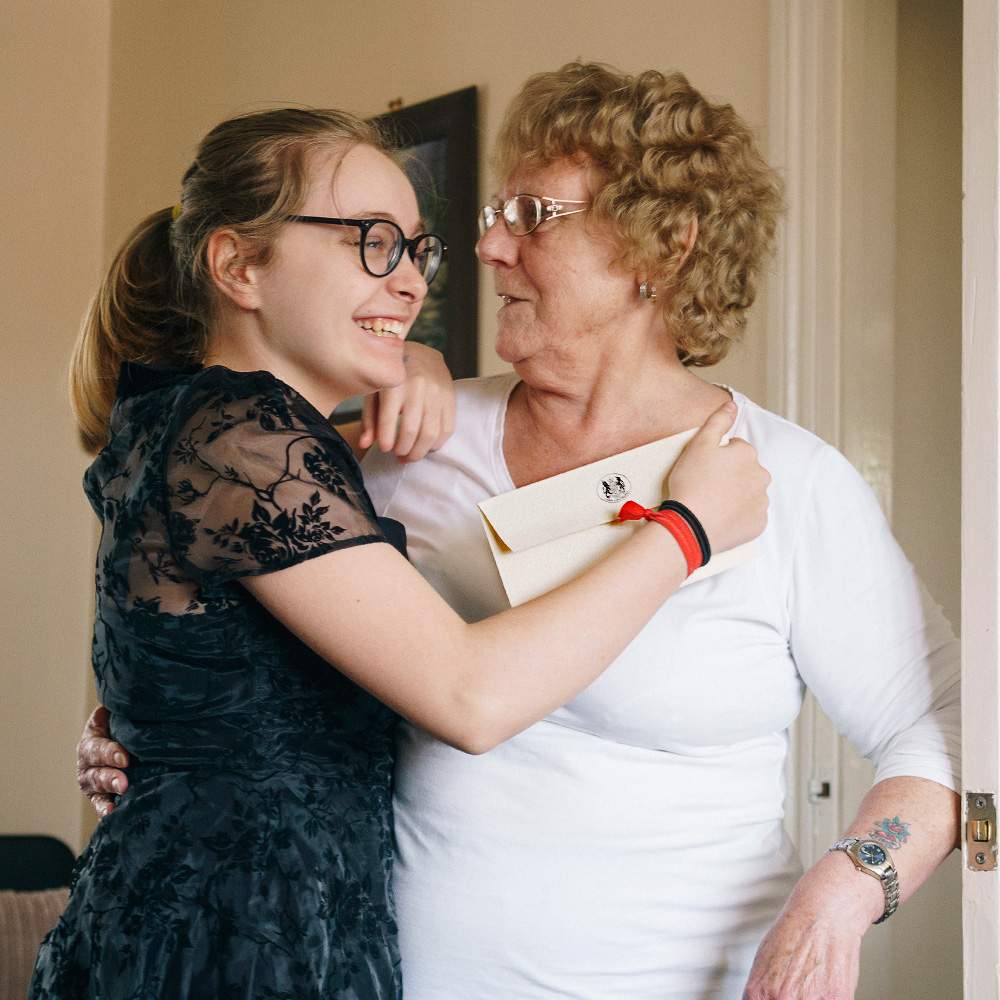 But Jorja has other ideas - she wants to get something for her Nanny and a toy for her little brother.
As Lucian, five, playfights with his big sister, German TV are on the phone trying to get an interview with Jorja.
There's been interest from French TV, Good Morning America and CNN too.
Is she feeling famous? Maybe, she replies, midway through a make-up rehearsal.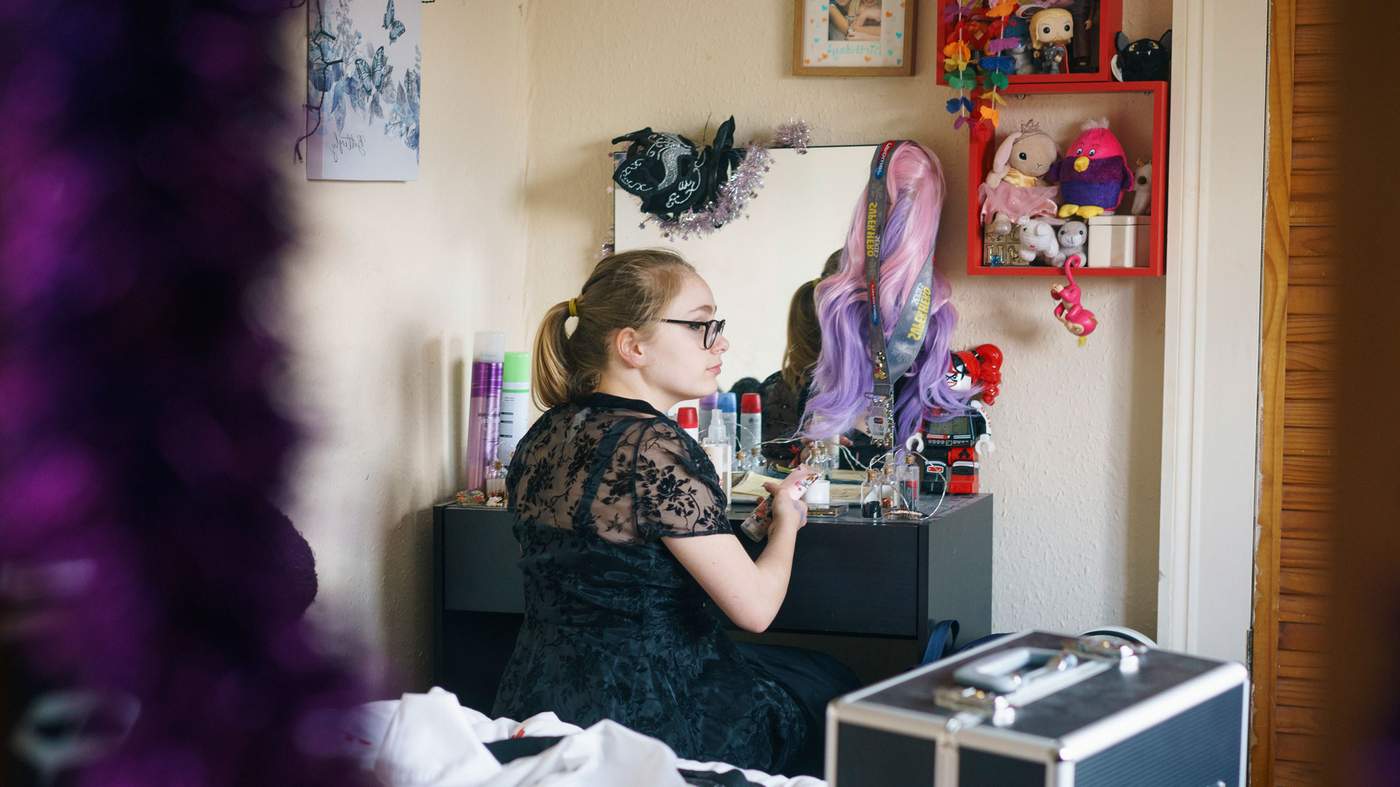 Gabby predicts Jorja will be up at 3am on the day of the wedding to perfect her look.
They joke about preparing a picnic of cucumber sandwiches - "If it's not posh enough, security won't let us in."
Jorja's favourite royal is Prince Harry and she's looking forward to seeing what Meghan will be wearing.
"I think it's good that they're not just inviting politicians, and I get to go and Donald Trump doesn't," she says, twirling around the lounge in her wedding make-up and dress.

'I don't want to take attention away from Meghan.'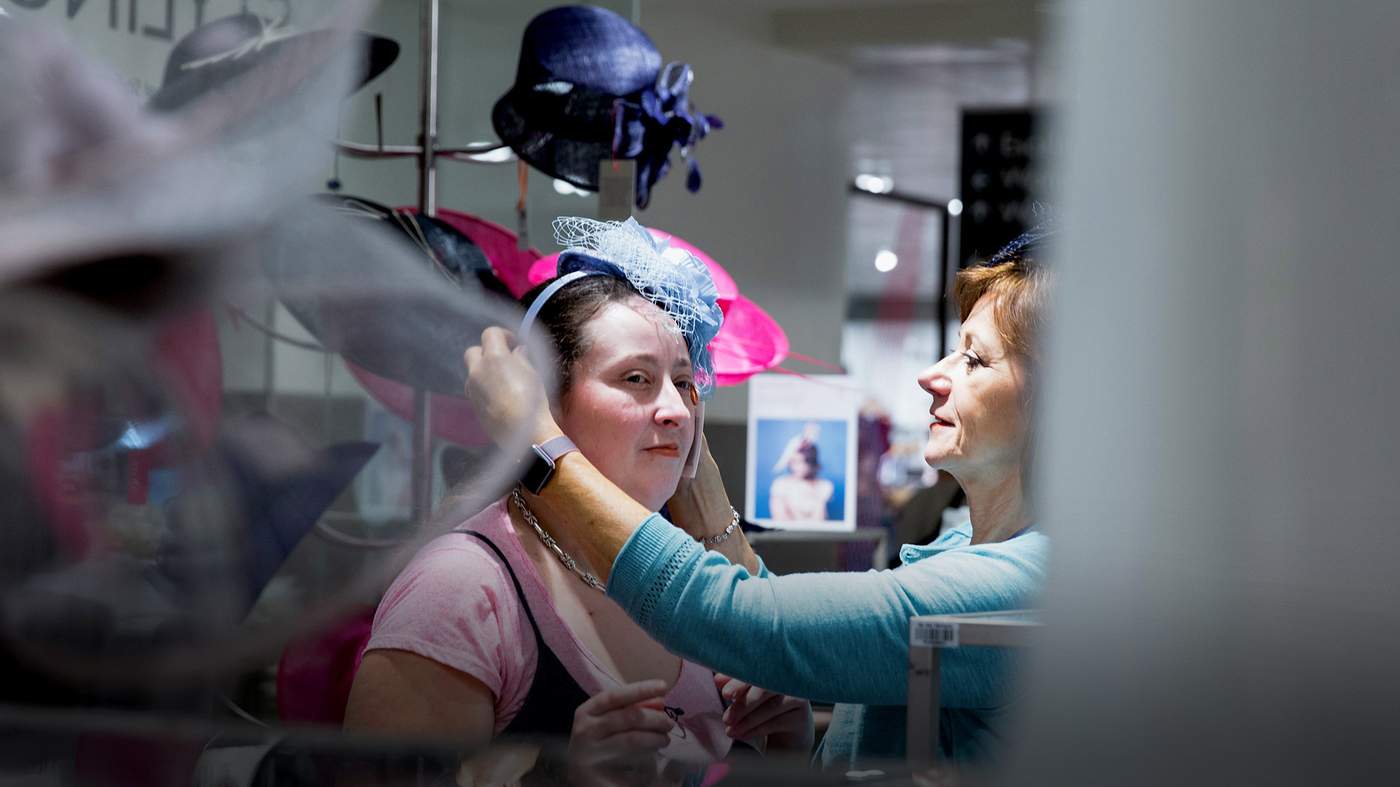 Laura Gill
Worcestershire
Laura and her mum, Helen, are on a shopping trip in London's West End in search of the perfect outfit.
With a TV crew in tow, they pore over the rails - their stylist for the day casting aside anything that's not "autumn" colours.
Laura, who will turn 31 in the days before the royal wedding, is adamant she won't wear a dress.
"I want trousers. I've always been a tomboy."
She's given the matter a lot of thought as she has weddings on her mind - and not just Harry and Meghan's.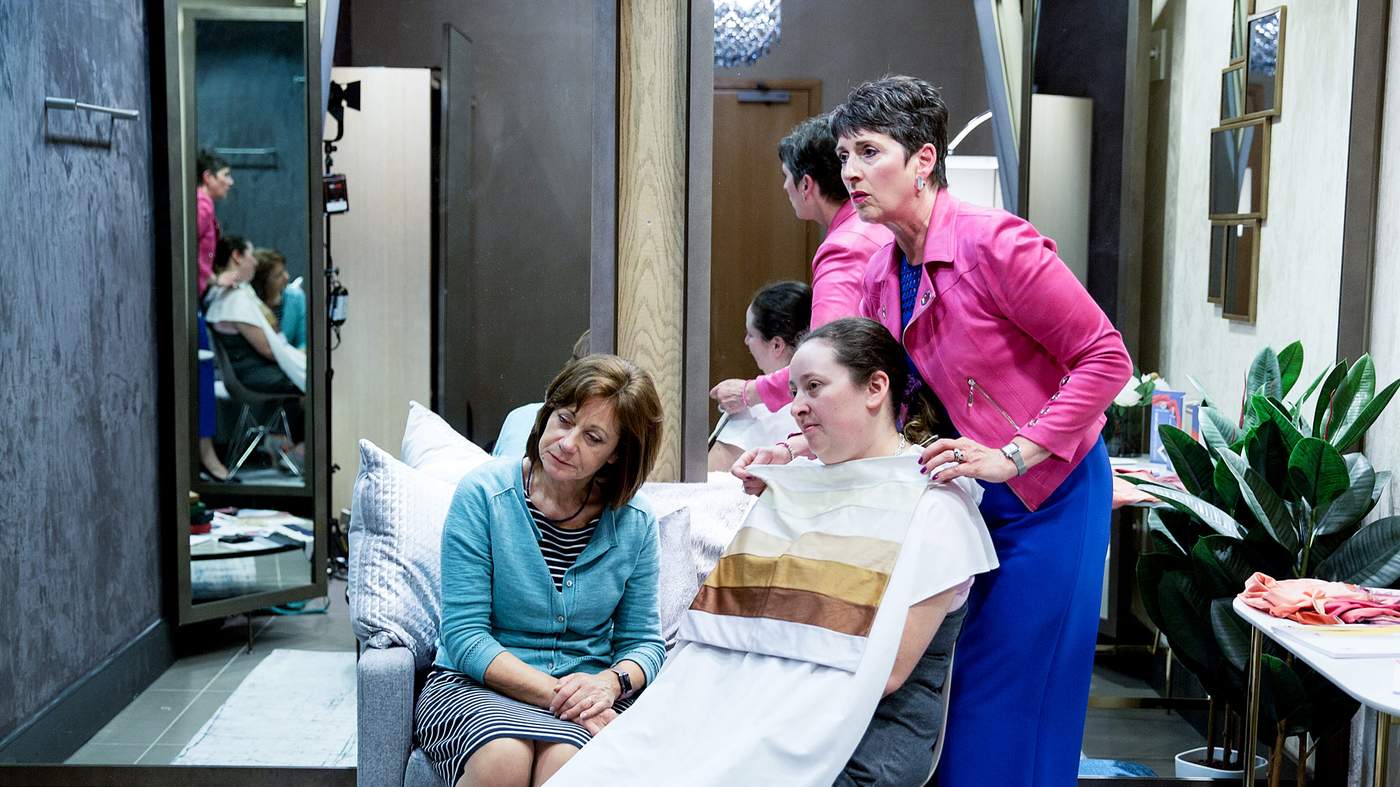 Laura and her boyfriend, Ray, have been dating for six months and recently got engaged. They plan to marry next year.
"The only day I'll wear a dress is on the day of my wedding," she says.
"Then it'll be leggings with a [detachable] skirt that I'll whip off after the first dance."
Finding an outfit will not be the only challenge for Laura who has autism and learning disabilities.
In a London square, she squints against the bright sunshine at a bank of grass dotted with daisies.
"I see a different picture," she explains. "When I look at loads of flowers, I will take twice as long to realise what they are."
The wedding, she admits, will be difficult but her mum will be by her side.
New things are scary for her but Helen says she'll do all she can to reduce Laura's anxiety by travelling to Berkshire the day before and having the journey well-planned.
Both worry how Laura will cope with the queues - she's not good in queues.
However, Laura is looking forward to celebrity-spotting and chatting with the "other commoners" in the castle grounds.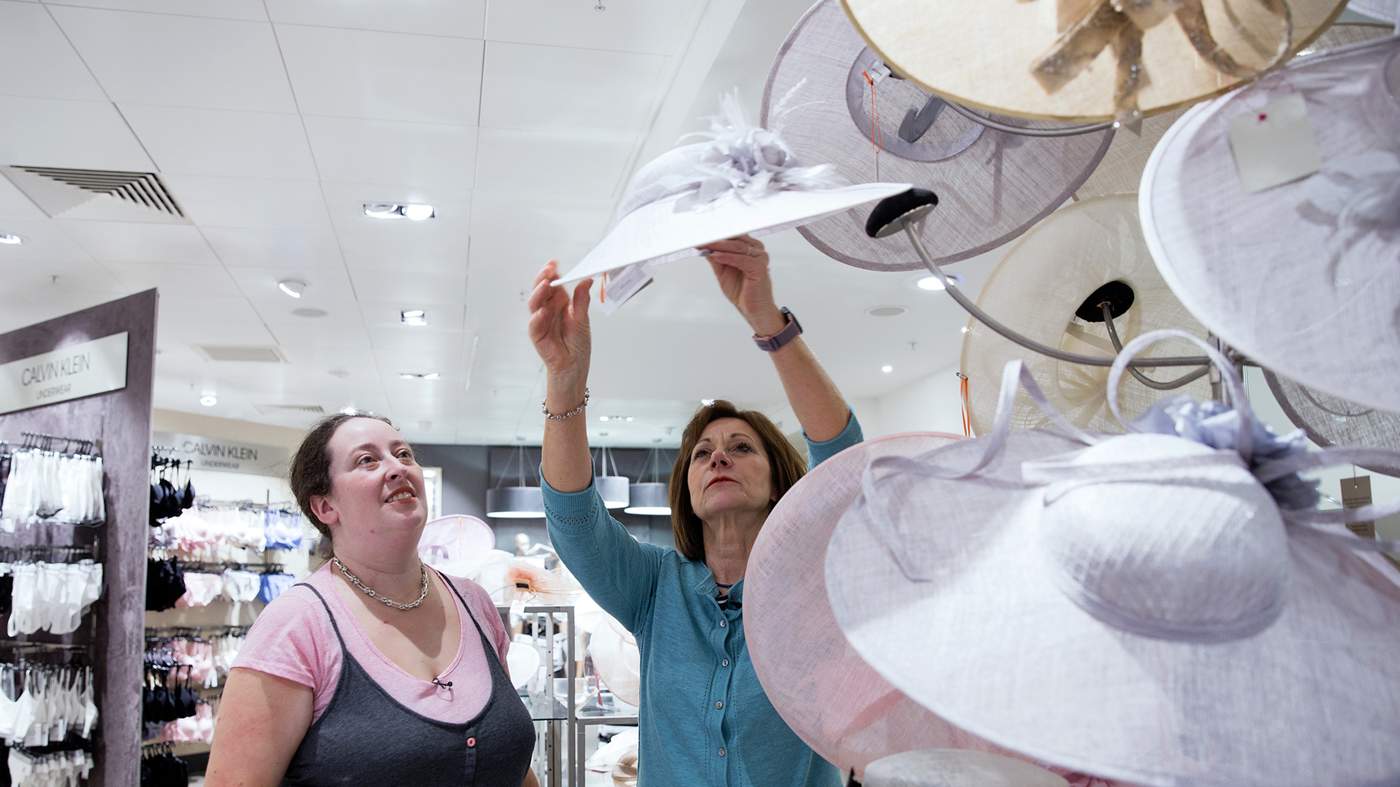 They'll take their own picnic (chicken and mayo for Laura, and a celebratory chocolate bar), a rug and some comfy shoes.
"It's a nice feeling that they've invited us," she reflects, looking across at her mum.
"It was hard to believe - it's the first time I've been to a royal wedding."
She was chosen, she says, because of all her charity work - "I'm non-stop".
For six years, Laura has made sure young people with learning disabilities in Worcester have a safe but buzzing place to get together, make friends and have fun.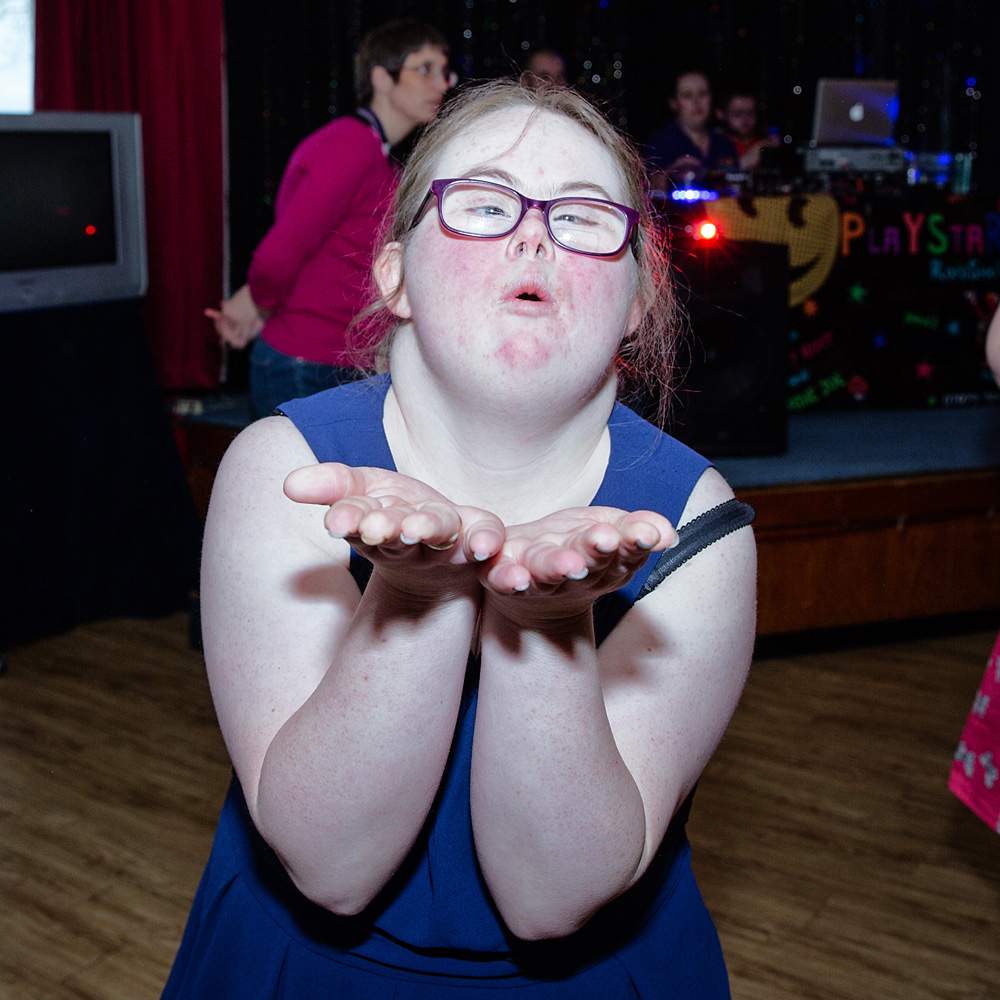 The Monday Night Club was launched in the years after Laura left college when she found her social life slipping away, like many others with learning disabilities.
It's not a problem she has any more.
Now, on Monday nights 100 or more clubbers pack out the venue to "sing like Elvis and dance like Michael Jackson".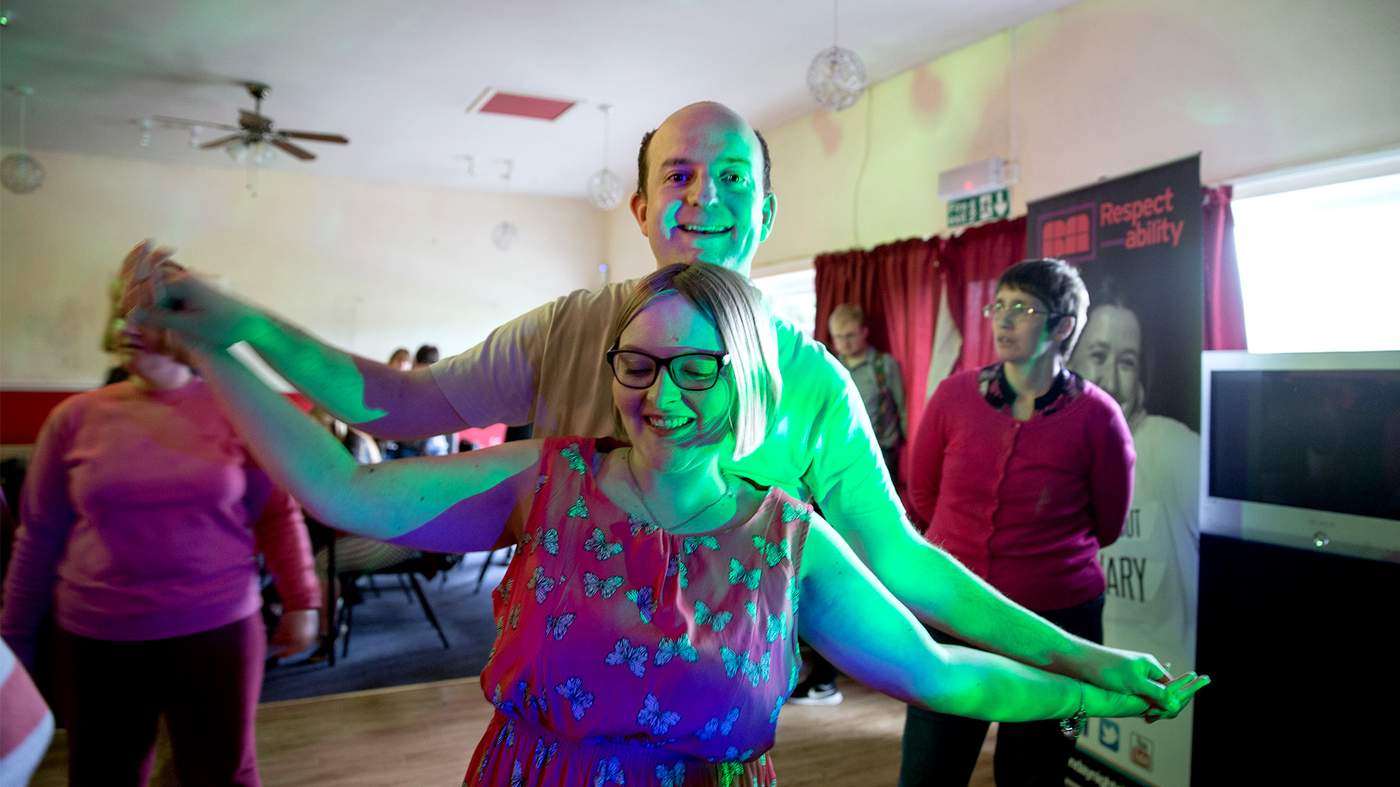 Laura, who often DJs, keeps regulars on the dancefloor with pop, RnB and even the Neighbours theme tune, if that's their thing.
She's also chair of Worcestershire's People's Parliament, which presses for change to improve the lives of people with learning disabilities.
The group has introduced a travel wallet, with space for a bus pass and cards saying "Speak slowly" and "Can you tell me when I arrive at my stop?"
They are looking to get tenancy agreements printed in Easy Read, which would cut down long, complex documents into plain English with helpful illustrations.
Laura also squeezes football coaching into her busy weeks.
Again, it's about giving people with learning and physical disabilities something they can't get anywhere else.
"They're allowed to break the rules, shout, have a paddy - we don't mind," says Helen.
It's now 18 months since Laura moved into a place of her own.
She's also bringing up Prince, a Cockapoo puppy, who's being trained to become a learning assistance dog.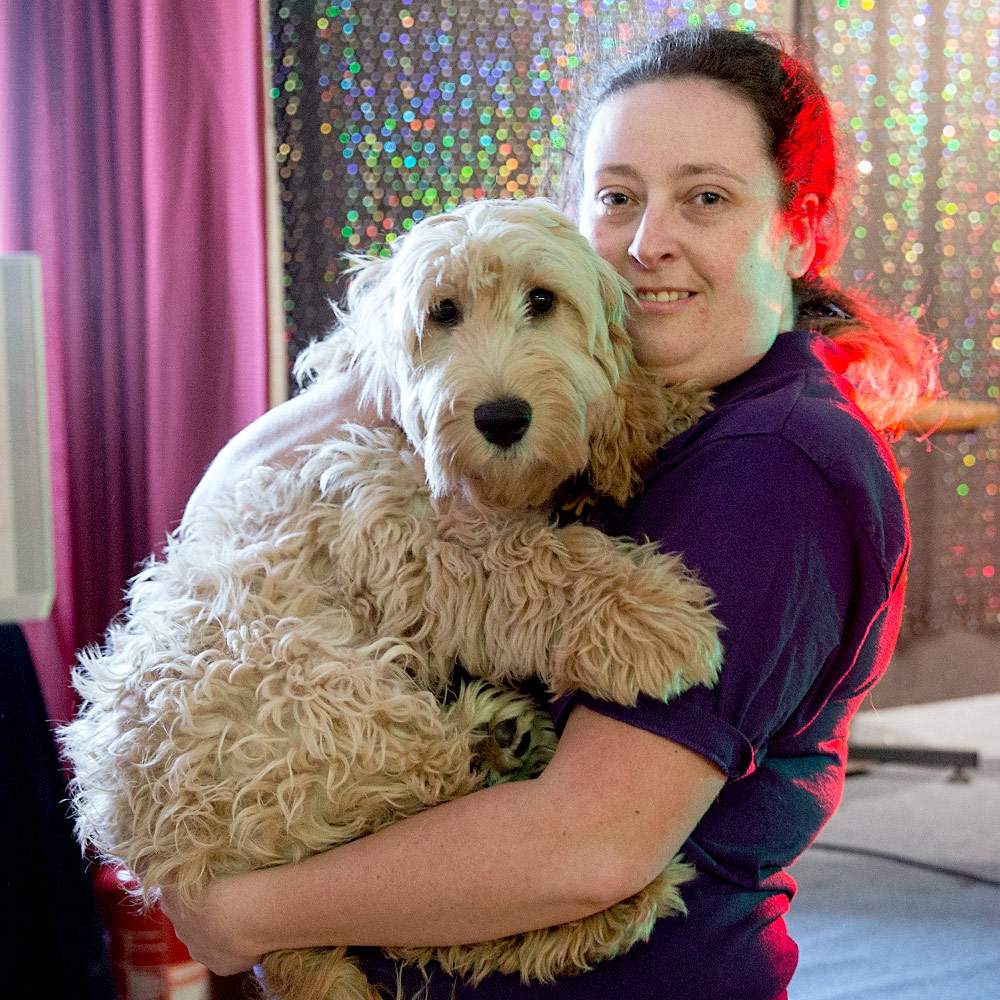 The other day someone said to me "This girl's got it going on", says Laura.
Her mum puts it another way. "She works so hard and so many people benefit from what she does," says Helen.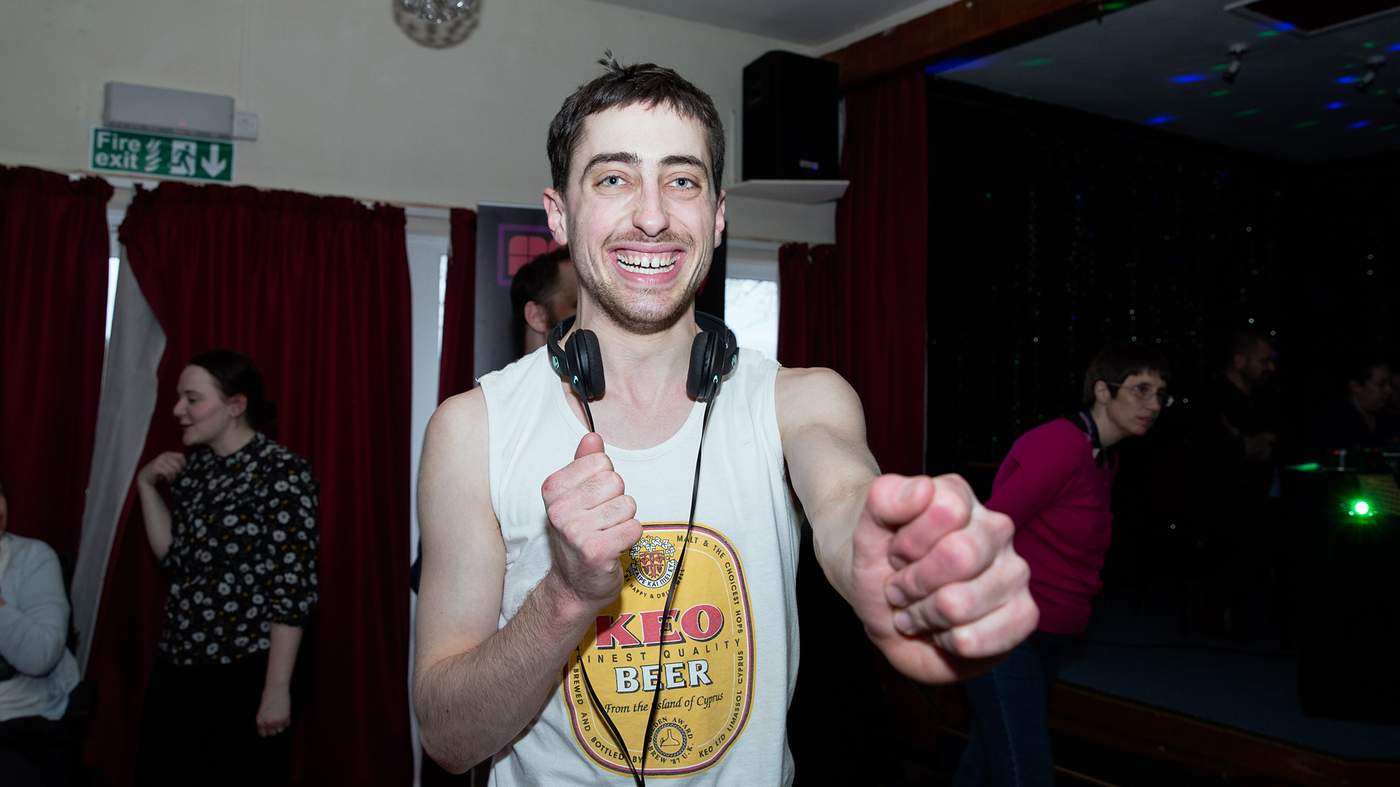 It's an unseasonably hot day in April when Laura and Helen are given VIP treatment at one of Oxford Street's biggest department stores.
Laura tries on a sequinned fascinator, drawing oohs from her small retinue.
"Is this it, Mum?" she asks. It's handmade and costs £300.
"No," says Helen firmly.
The stylist holds up an orange tropical print jumpsuit.
"It's too much," says Laura.
"I don't want to take attention away from Meghan."