Celebrating
mixed-race identity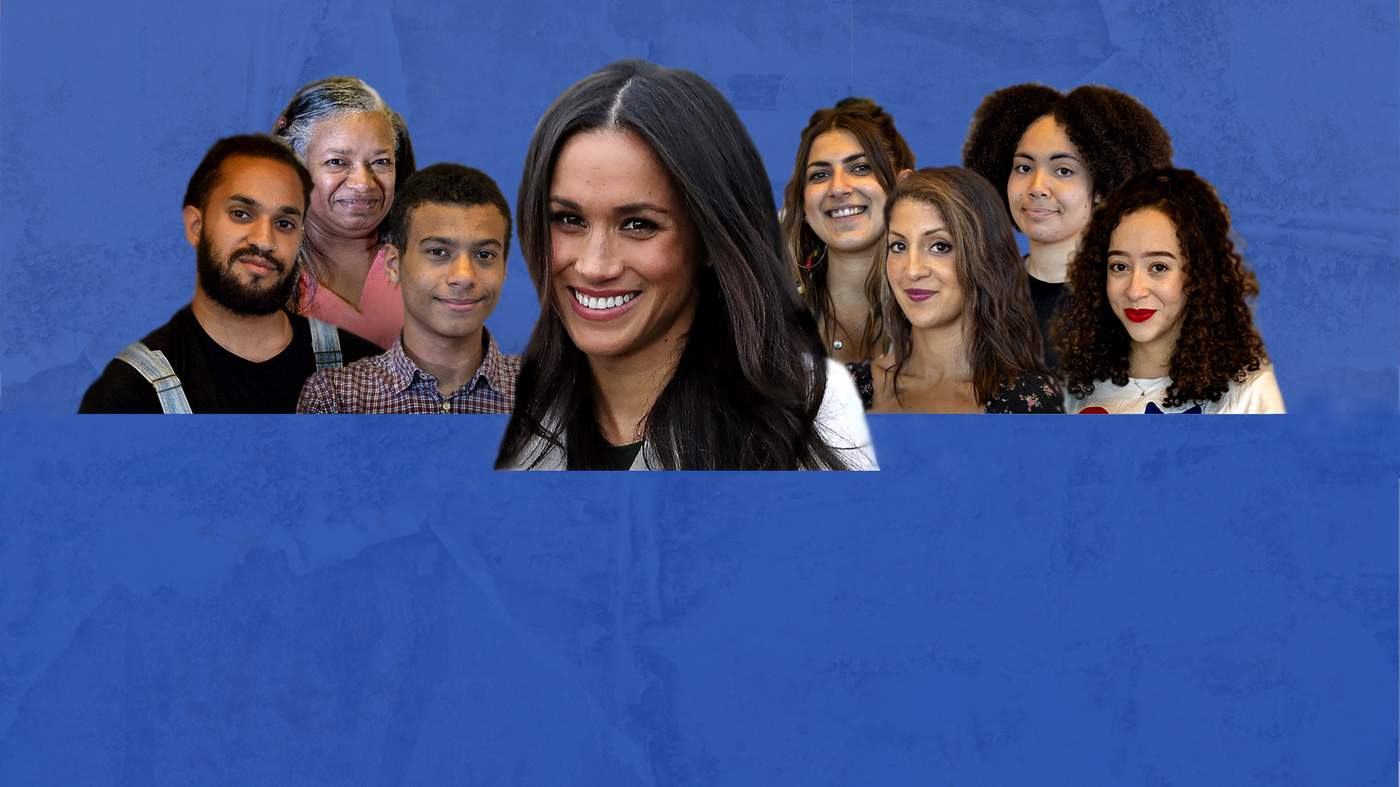 Meghan Markle is set to become the first dual-heritage member of the Royal Family. She's spoken of the difficulties of defining her ethnicity. Here, seven people from mixed backgrounds pick out objects that define them.

My name is Nora Fakim and I was born and raised in a leafy suburb of London.
My mum is from Morocco and my dad was from Mauritius, of Indian descent.
I've had the question "Where are you from?" my whole life - not only in the UK but also in Morocco and Mauritius.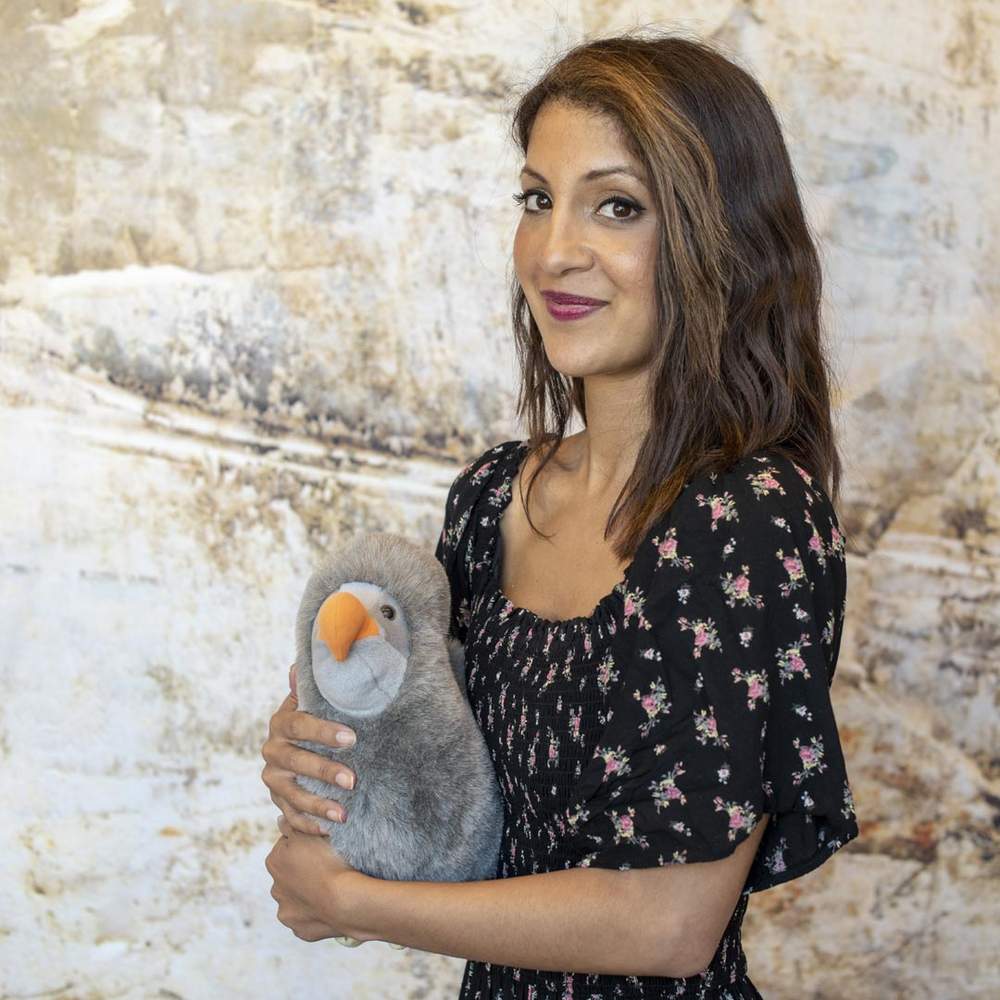 Often people just can't place me. They can't figure out if I am African, Arab or British.
They wonder if I am kind of Asian and why I speak fluent French.
And then the name Nora doesn't help.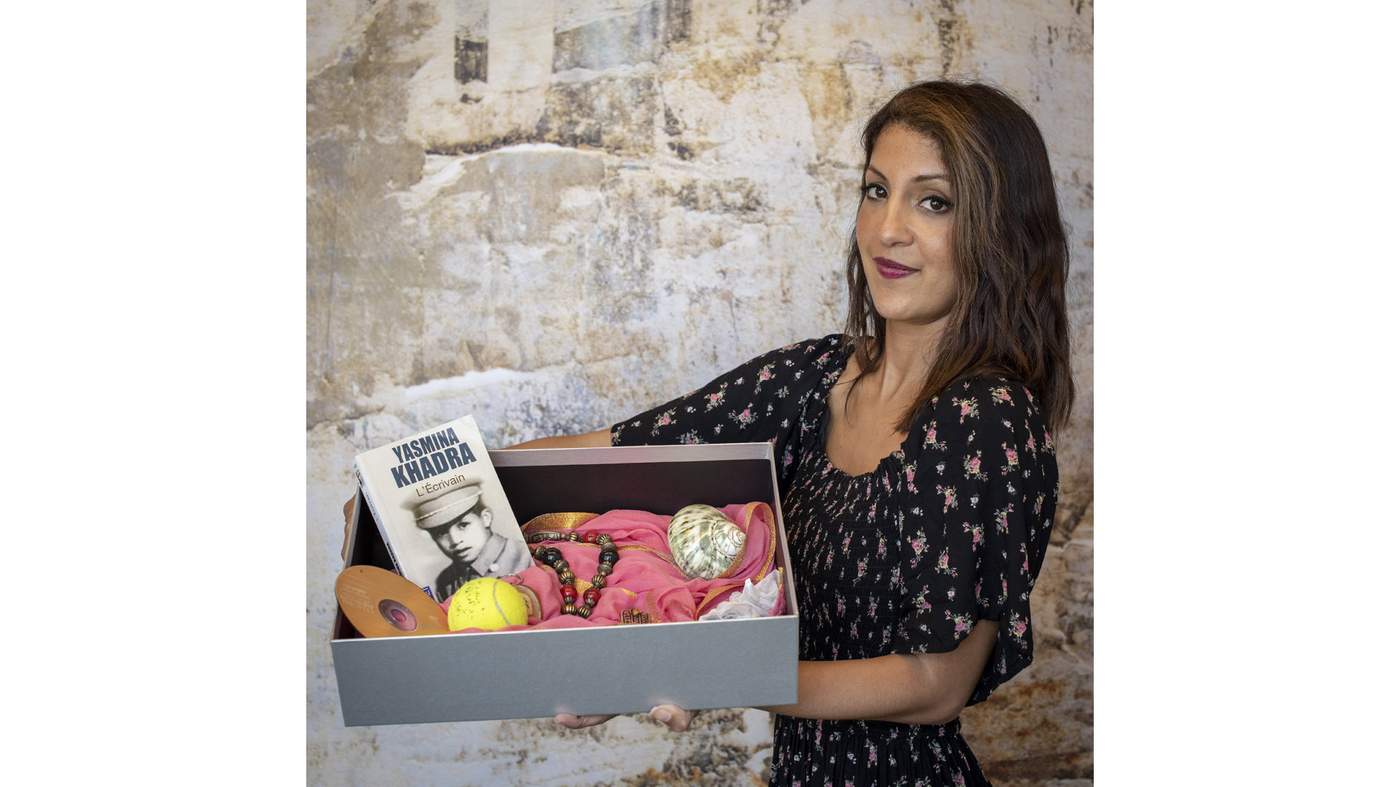 As a reporter, I've been speaking to lots of people of mixed heritage who, like myself, have been trying to figure out how they straddle their different cultures and fit into a particular community.
Many of them say that one of the most frustrating things is defining their ethnic group. When it comes to filling out official forms, for example, there doesn't seem to be a box that they feel truly represents their identity.


On the census form, I tend to tick "mixed other" - otherwise known as "moth" - which I don't think really sums me up.
Meghan Markle - whose mother is African-American and father Dutch-Irish - has spoken of leaving her identity box blank when she was in school. Her father suggested that she should draw her own box.
Take a look at the box I've created, along with six other people, to celebrate where we come from.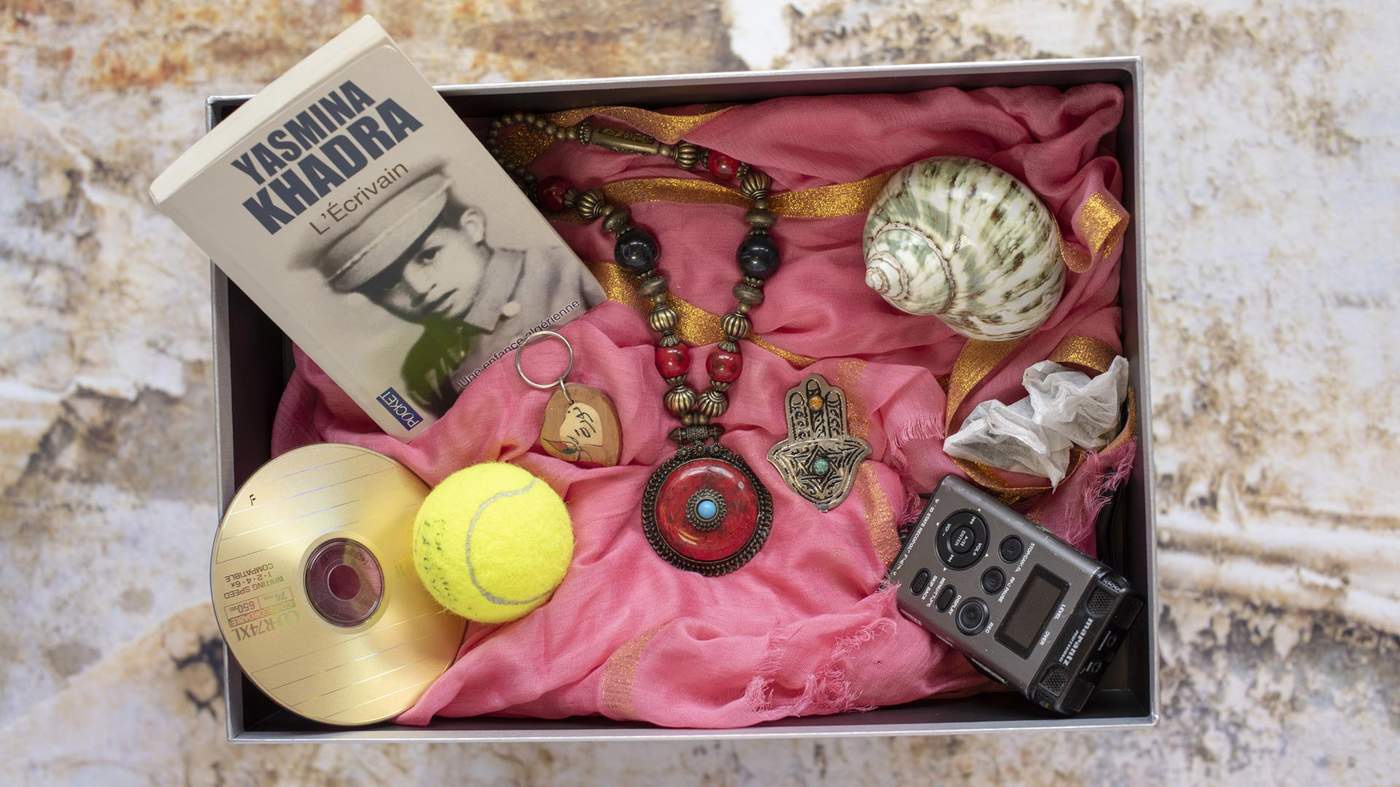 The dodo I'm pictured with is too big to fit in the box. The bird is a symbol of Mauritius and became extinct in the 17th Century. Mauritius is a multicultural society with a deep history and mixture of cultures.
The seashell belonged to my dad, as he used to collect shells when the beaches on the island were once full of them.
The pink Indian shawl represents the Indian influence in Mauritius - and my roots.
The Hand of Fatima was given to me by my Moroccan cousin and goes with me everywhere. It's for protection from the "evil eye".
The key ring has my name written in Arabic. My mother taught me Moroccan Arabic when I was a child. It was a way for her to complain about my dad to me since he couldn't understand a word!
The book is by Algerian writer Yasmina Khadra. When I was younger, I enjoyed learning about the French influence in North Africa and understanding why my Moroccan mother spoke better French than Arabic. But it also disturbed me that many North Africans, who spoke better French than their own Arabic language, were in some way losing their identity.
The Berber necklace represents the indigenous Moroccans and shows how diverse Morocco is as a country.
The CD is filled with French hip-hop music. Since my parents came from French-speaking countries, I grew up speaking French as well as English.
Now for my British side. I used to play tennis for my county so have included my tennis ball. And, of course, I've included the English teabags I use every day.
The Marantz audio recorder represents my passion for journalism and recording different stories from the people I meet on a regular basis.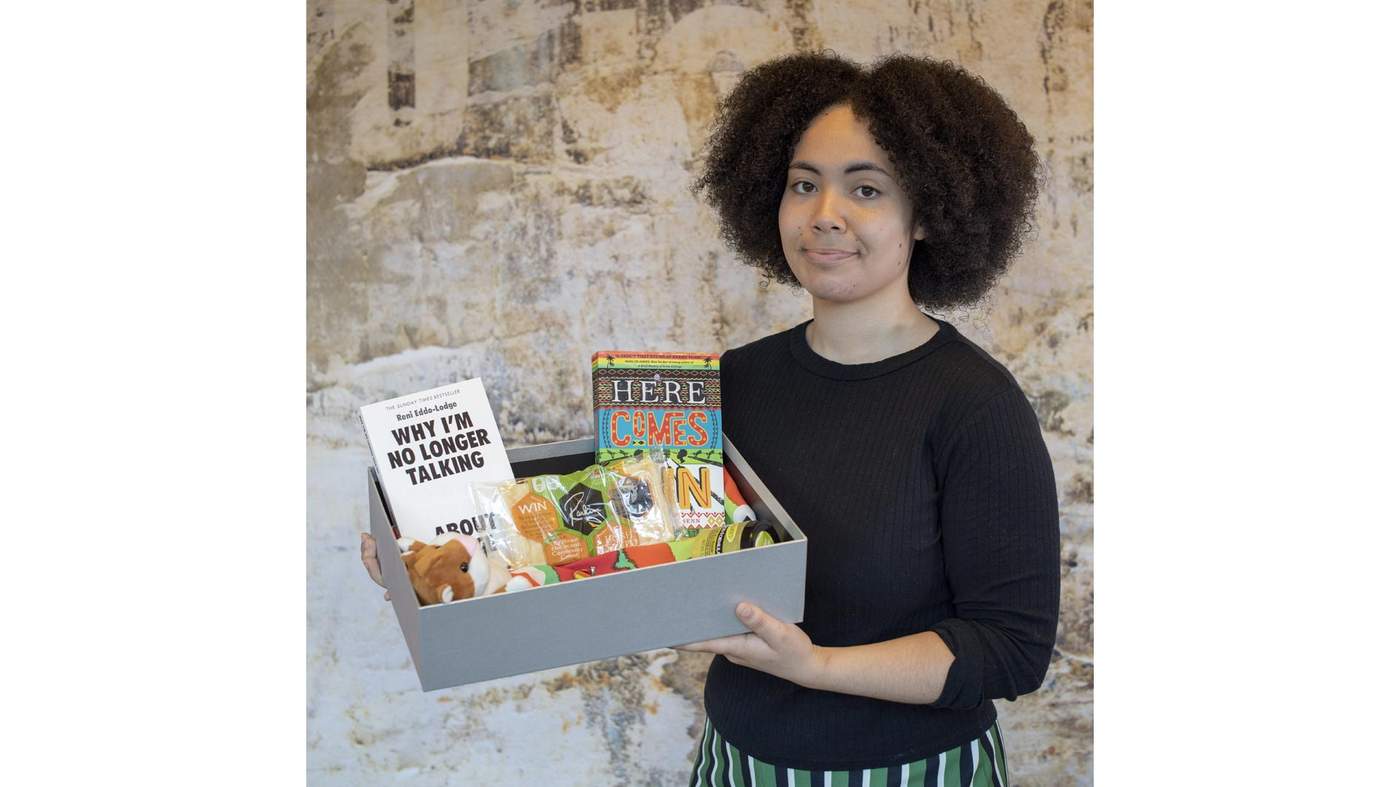 Jessica Diamond
Half Irish, half Jamaican
My items demonstrate the quirks and the colours of my identity. They tell part of my story, and being mixed race is just one of them.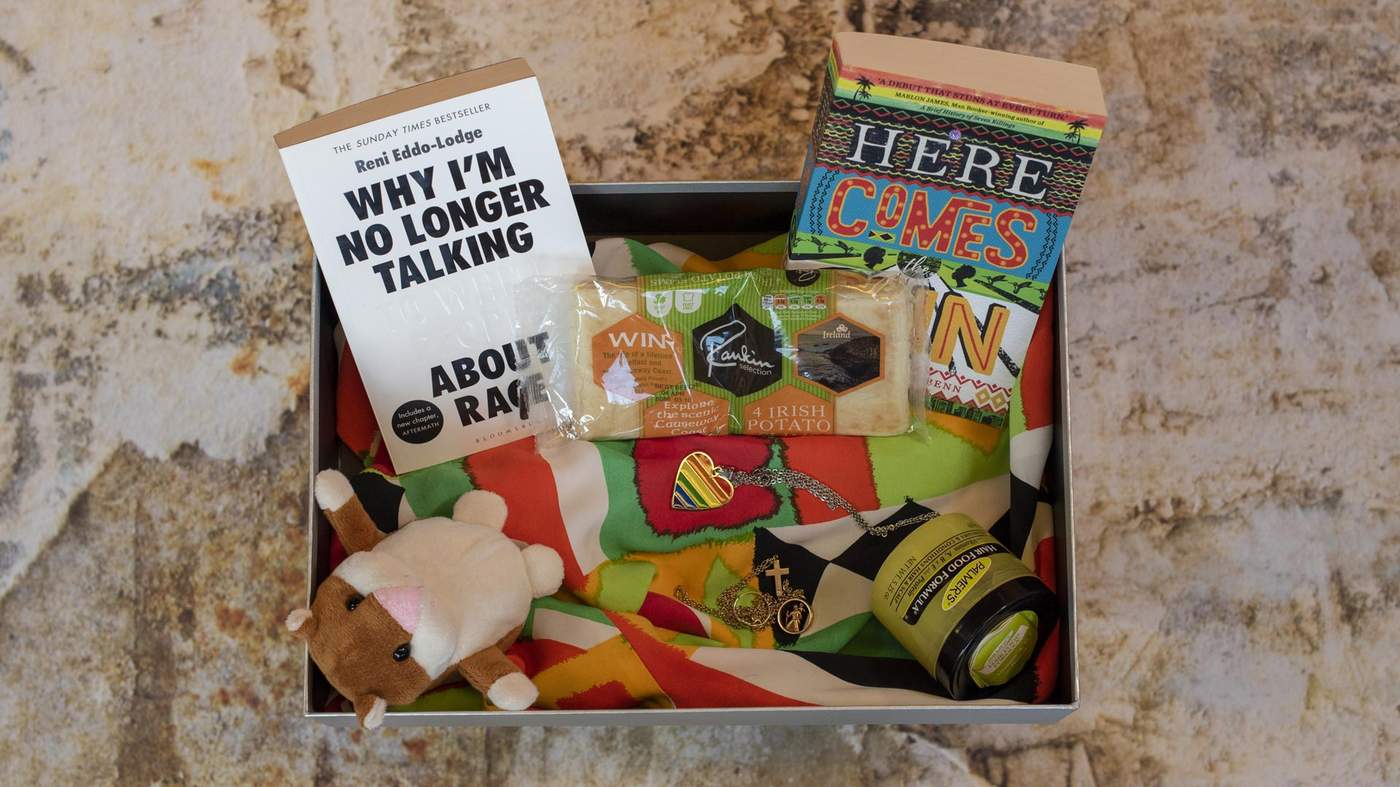 Anyone with afro hair will know how important it is to find the right hair products. Many weekends growing up were dedicated to hair care. When I was two, my mum learnt to put my hair in cane rows and I have her to thank for teaching me to love and embrace my natural hair. It's a large part of my identity. It may come as a surprise, but some white mums - like mine - can do black hair.
The St Christopher, which I carry with me on all my travels, was passed down to me by my Irish grandma when her mother passed away.
The Claddagh ring - with hands holding a heart - was given to me on my 21st birthday by my mum. Other than being a beautiful symbol of my Celtic origins, it's also a subtle way to keep those who insist on questioning my Irish roots at bay - although my favourite response is usually, "Póg mo thóin!" It's almost as if my love of potato farls isn't convincing enough.
I'm a real bookworm and the books in my box are provocative in their exploration of some of the pertinent issues I face on a daily basis. Why I'm No Longer Talking to White People About Race explores the realities Black British people face through a socio-cultural and historical lens in a clear and unapologetic manner. This belongs on the bookshelves of every British household.
Here Comes the Sun and my pride necklace are linked because I'm bisexual. The book, which is set in Jamaica, shows the realities of life for queer people in the Caribbean.
Finally, I've included the toy hamster, because I currently have six real hamsters, some of which I've adopted from across London and other parts of the country.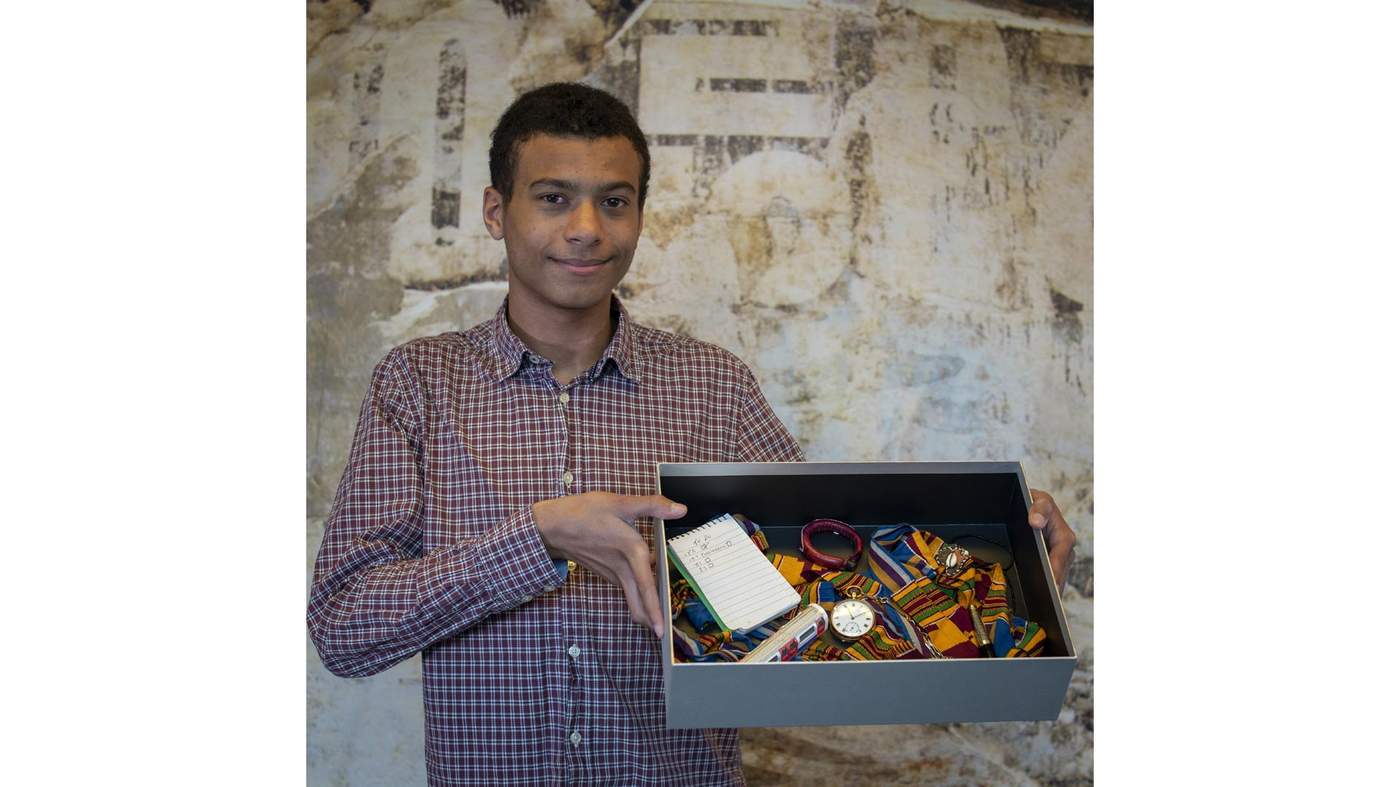 Ethan Boachie-Barrance
Half white English, half Ghanaian
When it comes to race and identity, I believe the problem is that we as a society worry about it too much.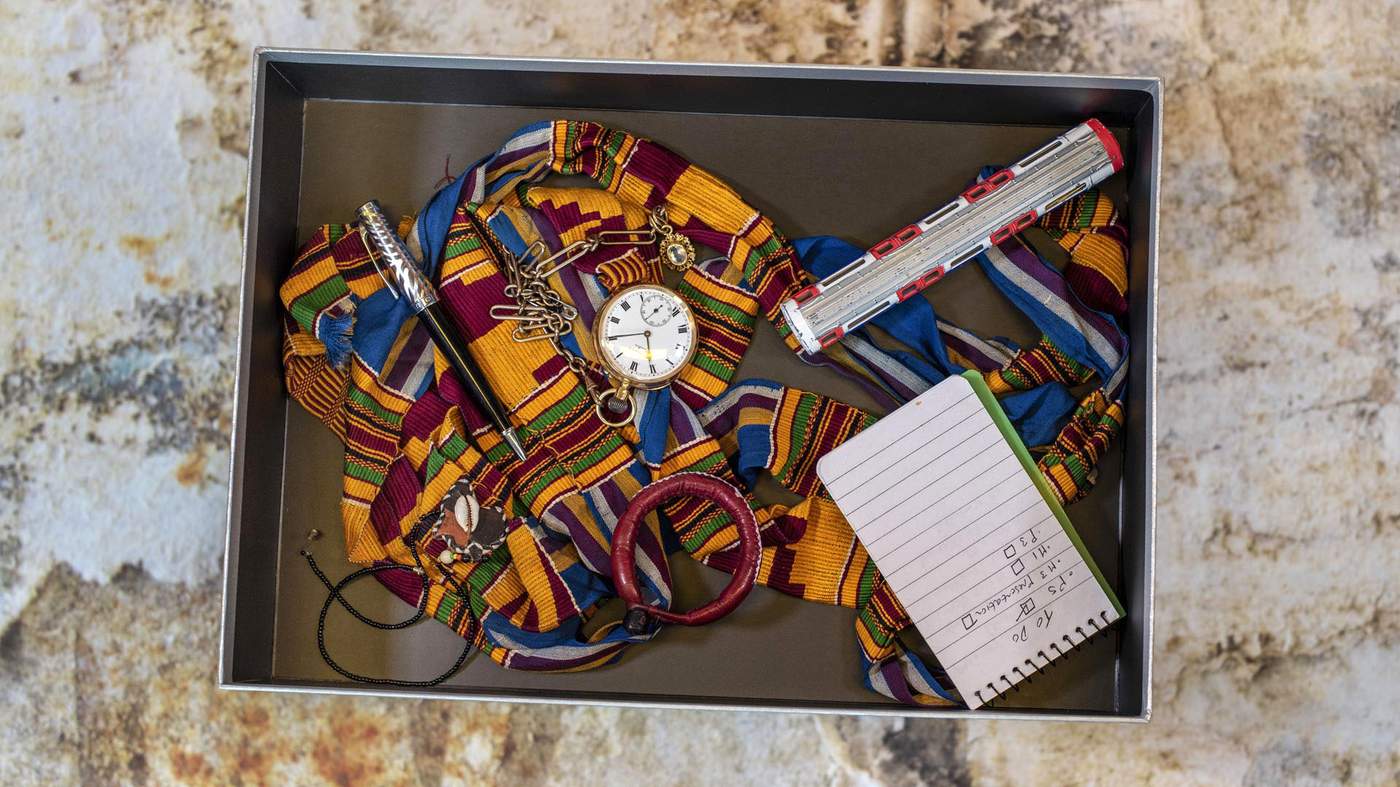 I have included a plastic tube train, which was bought in Wolverhampton where I lived as a child before moving to London. Now I catch the tube to school every day.
My great-great-grandfather was given the pocket watch by police officers in Tower Bridge where he worked as an assistant commander during World War One.
The kente cloth was my great-grandmother's - she raised my grandmother and looked after my mum for a short time. It's a symbol of family and my Ghanaian heritage. The necklace also represents that side of me. It has a cowry shell on it, which was once used as money in West Africa.
My pen was given to me by my Ghanaian grandmother when I moved back to London last summer. Since then, I've used it every day.
My notepad - of which I've had several - is both a literal and metaphorical way of showing that I have much more to do. That, and my aspiration to write.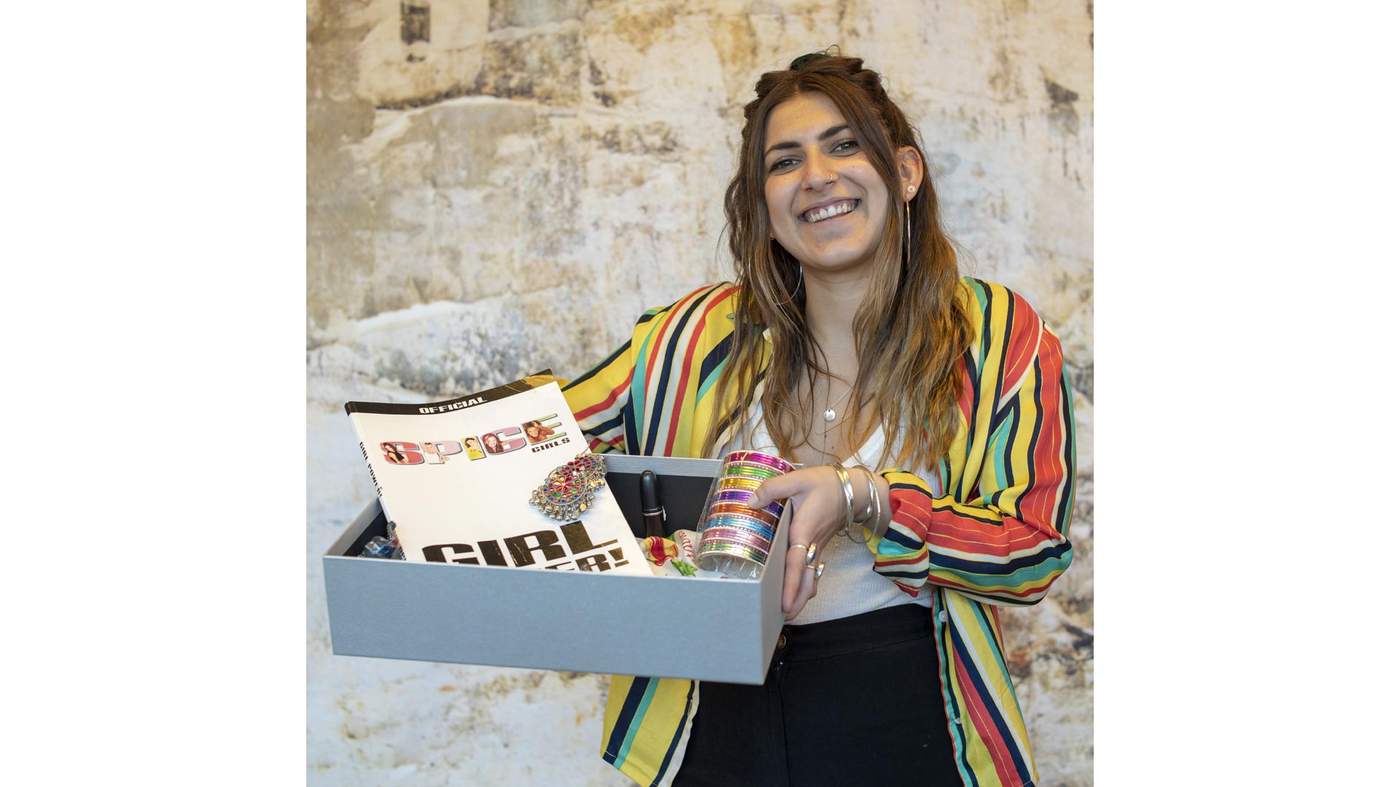 Devon Fisher-Aziz
Half white English, half Pakistani
As I grow older, I feel closer and closer to my Pakistani culture. But having grown up in London my whole life, I remain close to my English culture too.
I feel so lucky to have both.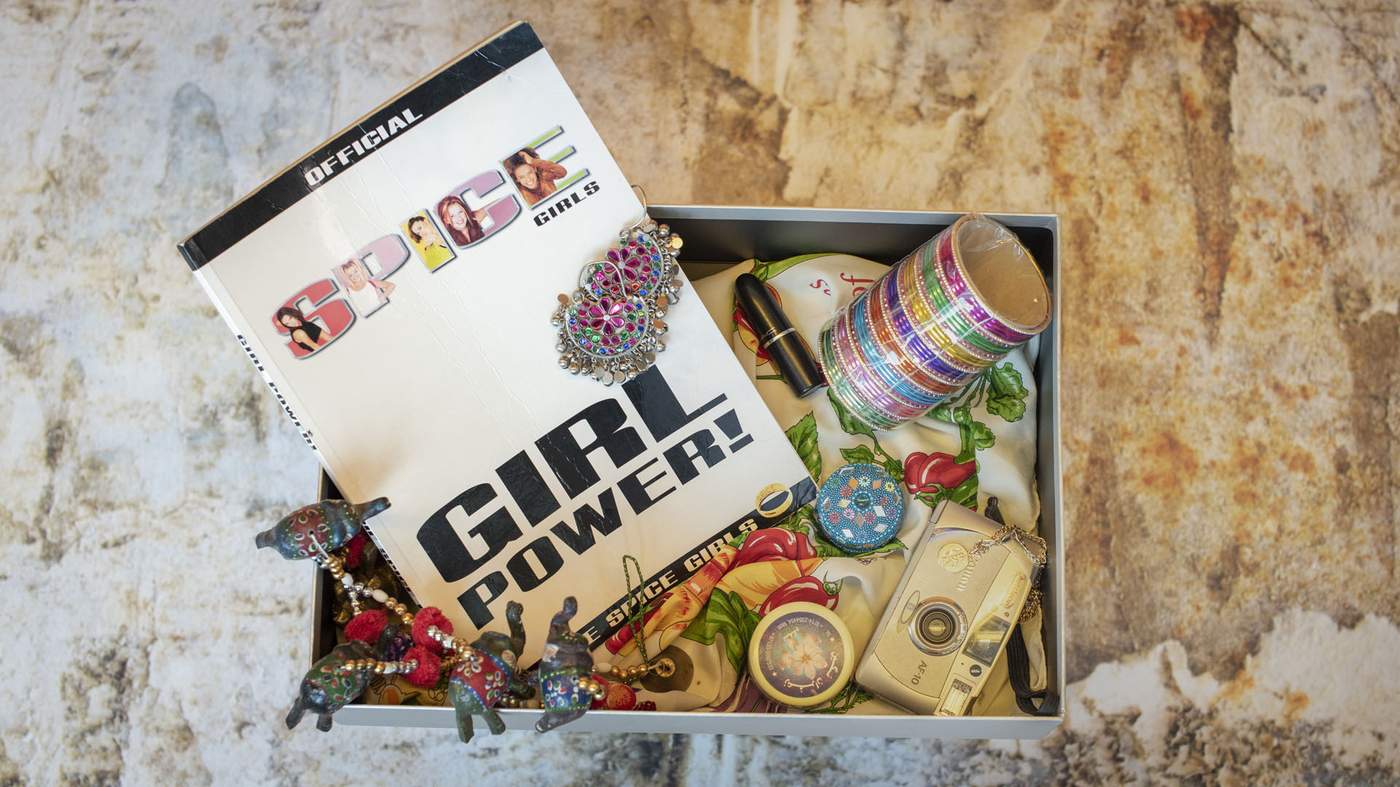 The gold St Christopher necklace was given to me by my English grandparents. All of my cousins got one when we were born and I've worn it throughout my life. I'm very connected to my English cousins, they are like my brothers and sisters. The represents that unity.
The Spice Girls were a huge part of my fashion choices and role models growing up. I wrote my final year dissertation on the Spice Girls and the "candy bubble gum feminism" they represent. I identify hugely with the Girl Power movement.
The elephants represent the way in which I feel the most close to Pakistan, through the vibrancy and colourfulness of the culture and fashion. I've always had "Pakistani taste" according to my family and it's something I love.
Earrings - I adore Pakistani jewellery and combining it with my more English/London style. It always feels special when people compliment my jewellery to say that I got it in Karachi.
Taking pictures has always been a huge part of both of my families, so I've included the camera. In Pakistan and England capturing moments has always been hugely important.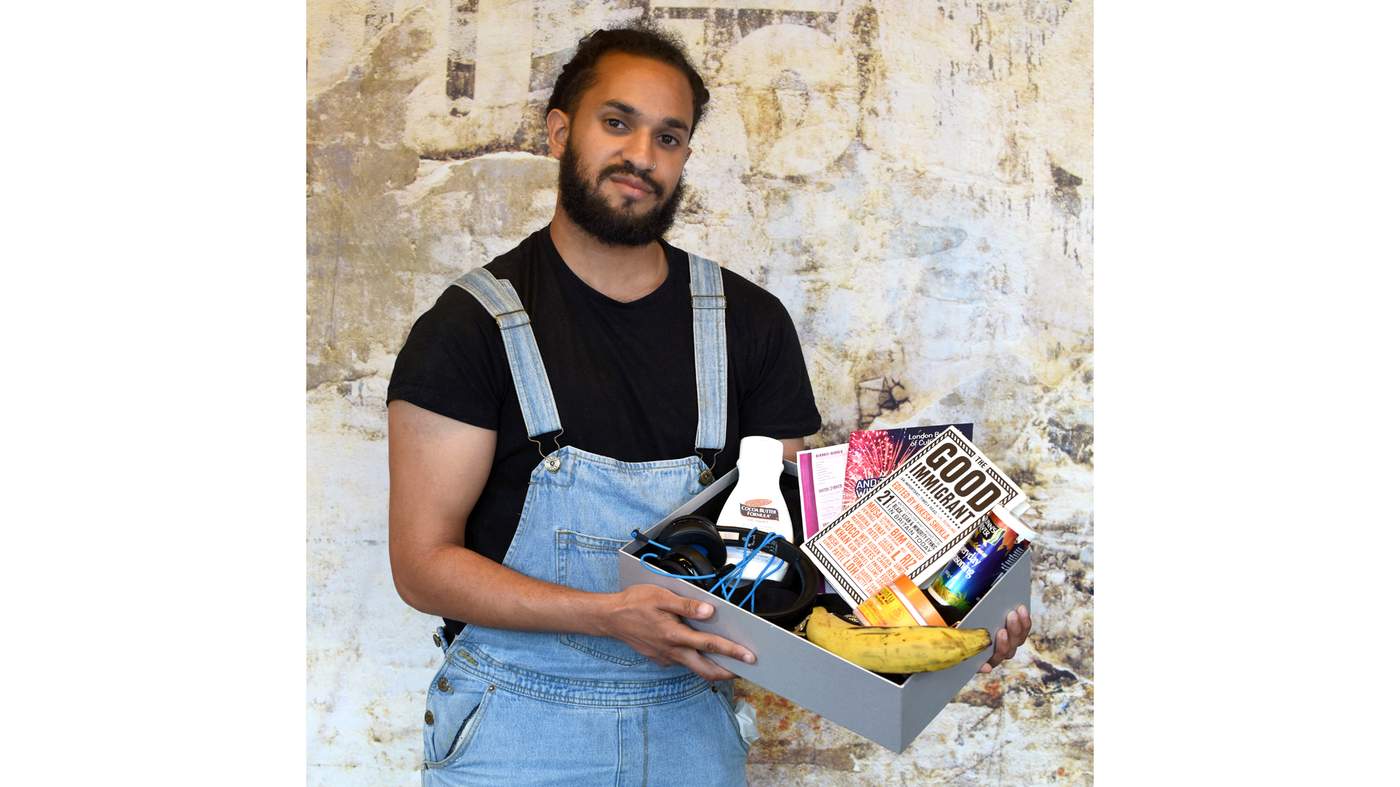 Bilal Khan
Half black Asian mixed Jamaican, half Kenyan of Indian descent
As Britain is becoming increasingly diverse, we need to give spaces to the stories of people who represent the changing face of the nation. The fast-growing mixed-race population is no longer just mixed black and white - it's broader than that, it's also the people who are officially defined as "mixed other" on a document.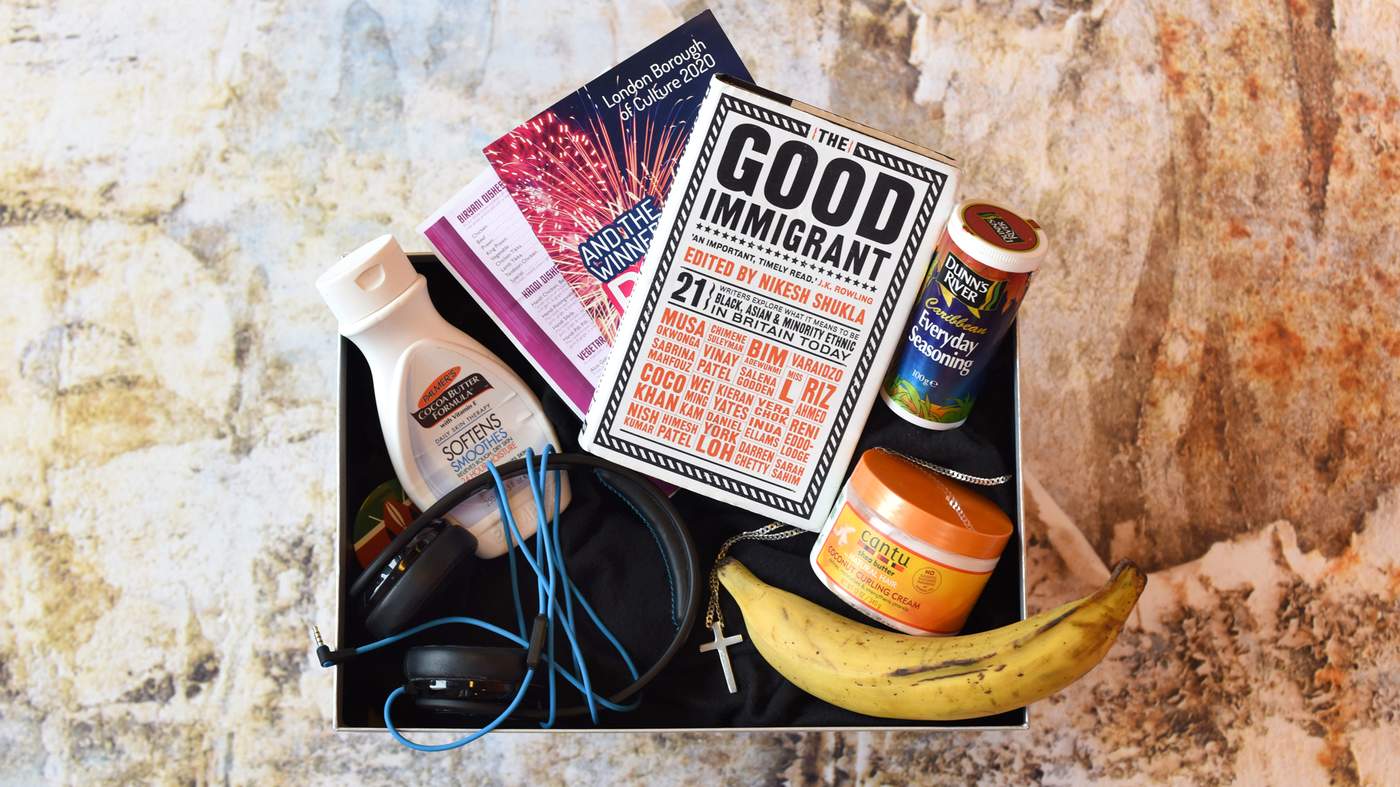 Most of my friends at secondary school were Asian but I remember once someone referred to me as the "black guy", even though I'm only a quarter black. Clearly I didn't fit neatly into the "Asian box".
The objects in my box still don't represent my full story, but here they are.
Plantain and seasoning represents my Jamaican heritage. I use coconut curling cream every day. I have very long hair and that's an important part of my identity. I also use cocoa-butter daily on my skin.
Growing up, I was very much involved in the church, and there's a strong Christian background in my family. I've included my cross to show that.
My dad is Kenyan of Indian descent, so I included a Kenyan fridge magnet. There is a menu for an Indian takeaway. I don't really associate with my Indian identity because I don't know it that well, and the only time I eat Indian food is when I get a takeaway.
I've included a Brent flyer to show where I grew up - it's supposed to be London borough of culture in 2020.
The Good Immigrant book represents me as it talks about immigrants in the UK.
Finally, my headphones are there because I'm always listening to garage music.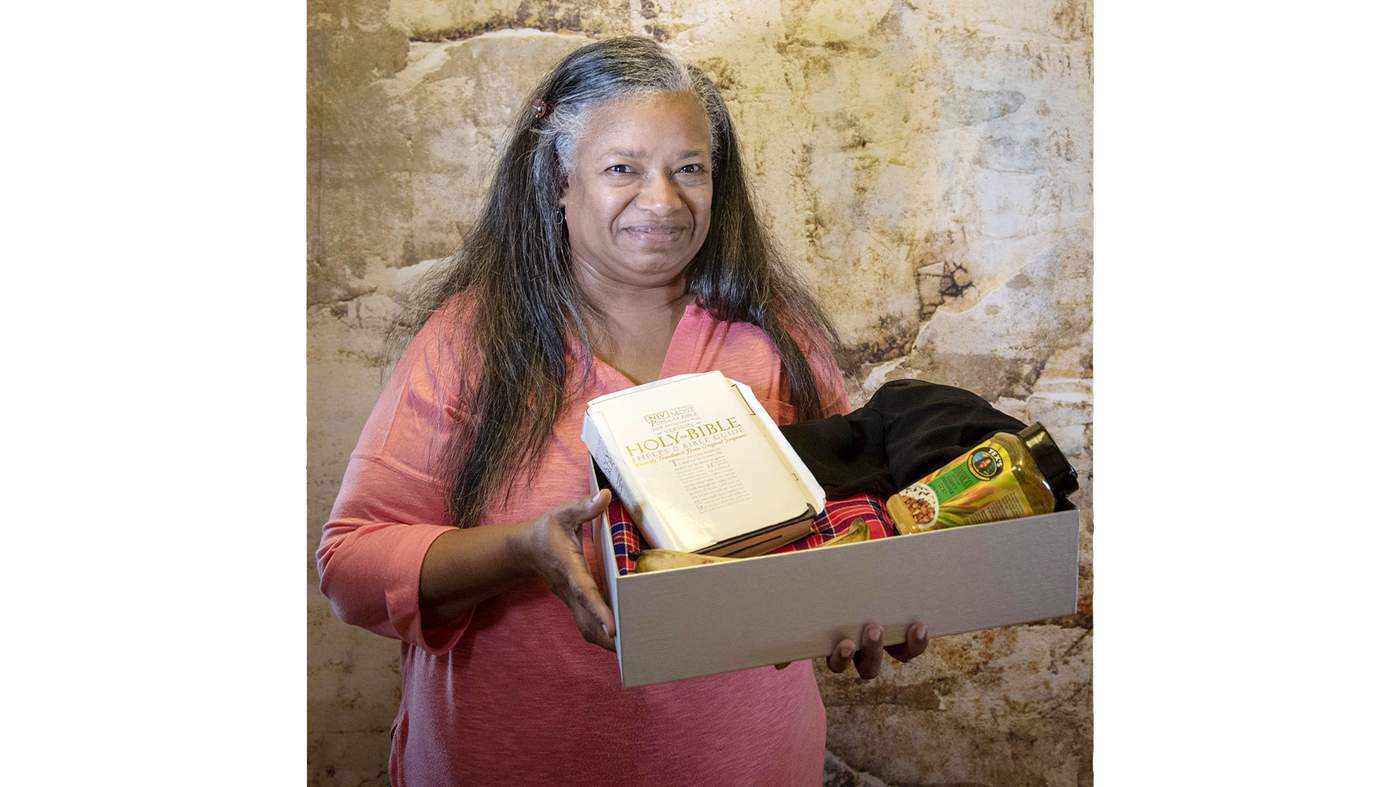 Colleen Khan
Bilal's mother - mixed black, Asian and Jamaican
Being of mixed heritage is a positive thing for me. I get the insight into both cultures. It enriches my life and as Bob Marley once said: "If you know your history, then you would know where you're coming from."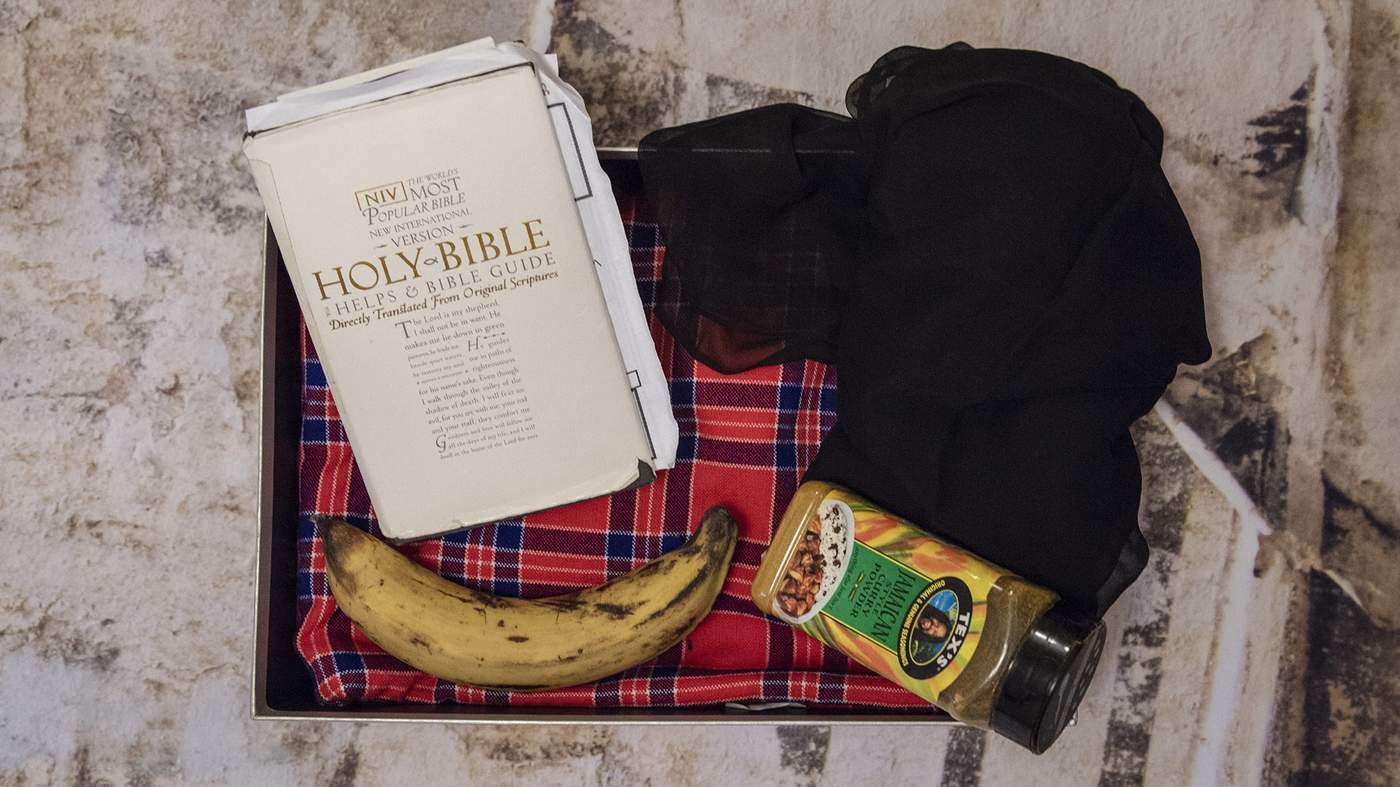 I chose plantain because it reminds me of Jamaica.
The Jamaican curry powder is a typical traditional spice in my heritage because when the indentured Indians went to Jamaica, their food influenced the island. It is also blended with Jamaican-grown spices. And that is how much I am blended!
I have included the scarf I use to cover my head when I am with my husband's Muslim family - it also protects my neck from the cold English weather.
The Bible is the centre of my identity. My beliefs and values are traditionally Christian, however I go a step further to have a moral compass centred on the teachings of Jesus and live my life accordingly.
The kanga cloth from Kenya is part of my identity, with Africa being in my DNA. Even though I have roots predominantly from West Africa, I am 9% Kenyan. I love the Kanga because it is so versatile - just like me.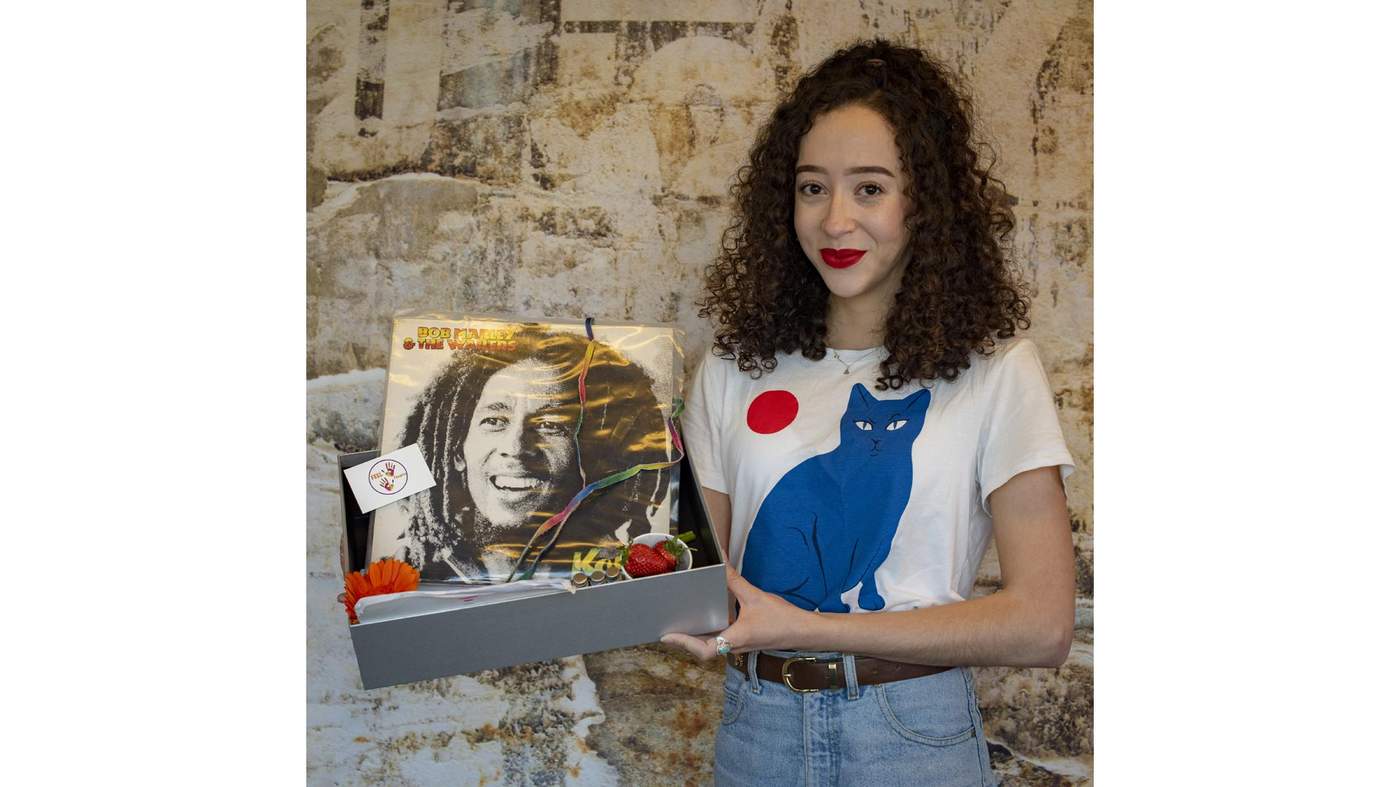 Natalya Martin
Half white English, half black Jamaican - with some Cuban
I used to try to put myself into a box to make other people feel more at ease with who I am. It's only recently that I've made the conscious decision to delve into what makes me, me. I am proud of who I am.
I had enough confused looks from people trying to figure out where I'm "from" - the people who tell me I am not really black and not really white. Then there are people who say I'm too light skinned to be a black mixed-race female. The list goes on.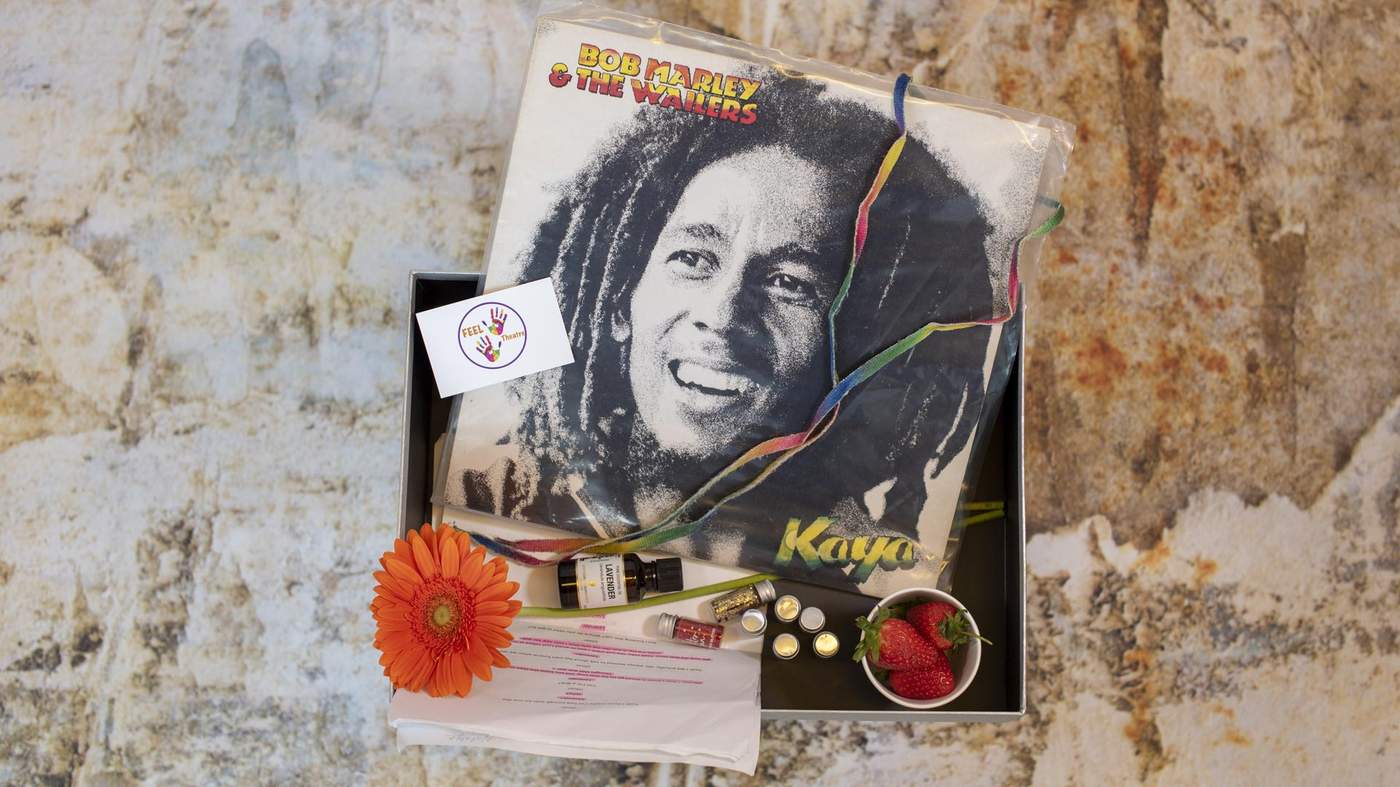 I spent most of my late teens obsessively listening to my Bob Marley vinyl. Not only does it summarise one of my favourite genres of music, but it represents half of who I am, and half of my heritage.
I wanted to put a sunflower in the box, but it's not sunflower season so a gerbera was the next best thing. The flower represents my love of nature and the outdoors - the sunflower specifically is my favourite flower and a few of my friends suggested a sunflower sums me up as a person.
Glitter represents my fun, childlike and artistic side and this particular glitter is eco glitter, which means its biodegradable. This also represents my passion for the environment.
Lavender oil represents my need to look after my mental well being and health. I use it if I can't sleep or if I feel nervous or anxious. I use it on my skin and sometimes mix it with water to hydrate my hair. It's definitely my go-to problem solver - plus it smells amazing.
I am an actor, so I've included a script. It also represents my frustrations over the lack of diversity within the industry. Some progress has been made, but there is still a long way to go.
It's wonderful that there are more parts being cast for minority actors. But for me personally, I still find it hard to be cast even as a mixed-race character because I don't appear to look like the "commercial stereotype" of a mixed-race female. Apparently I'm too light-skinned.
The FEEL Theatre business card represents the other side of the work I do. I co-run my own theatre company working with children and young people with disabilities. My younger sister has autism and is the inspiration for the work I do.
England gained a reputation for its strawberries in the early 19th Century, so I've included the fruit to represent that part of me.
My trainer wouldn't fit in the box, so I opted for my shoelace instead. I live my life in my trainers and I am always on the go, The rainbow shoelaces are also actually child shoelaces so I supposed you could say that represents the fact I am still just a big kid at heart.