The women who risk their lives for others' rights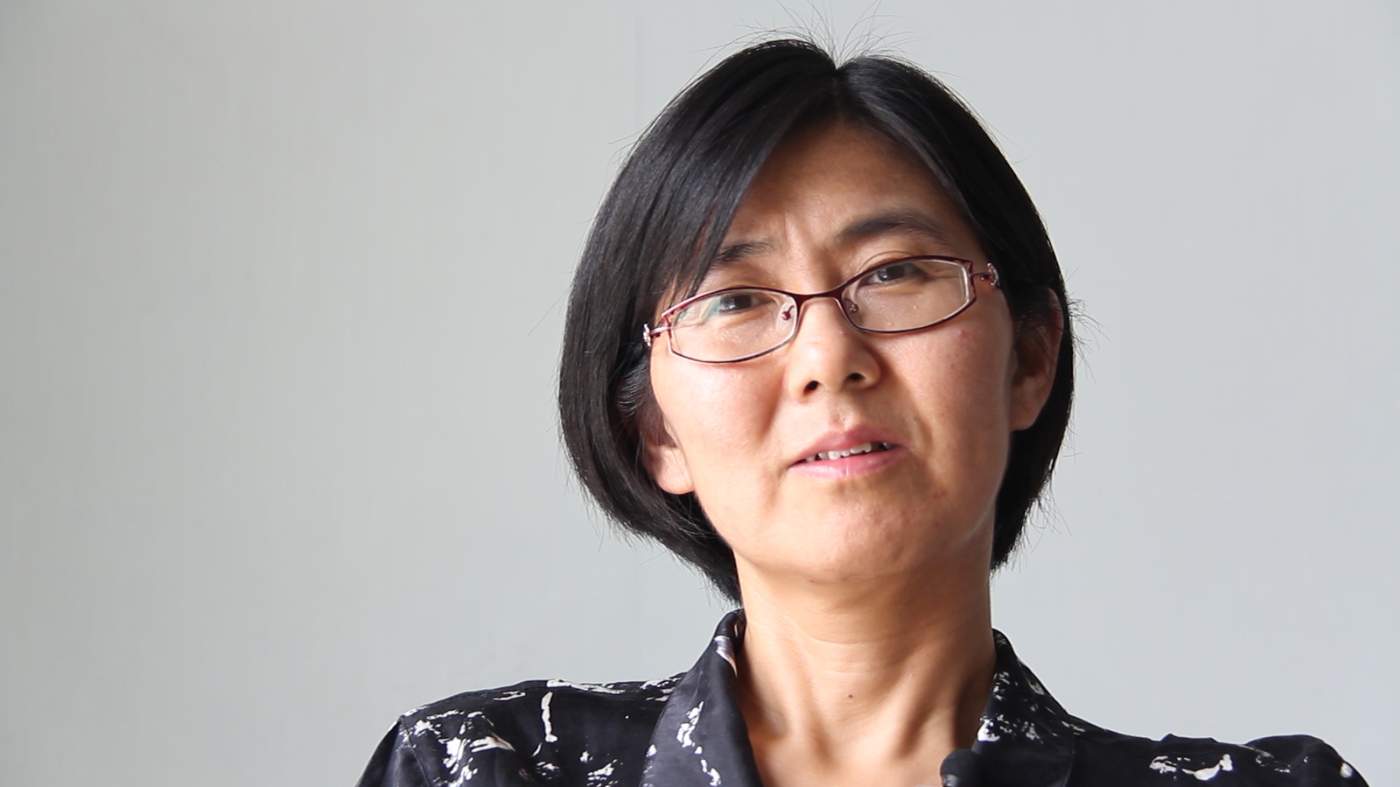 East Asian countries rank among some of the most dangerous in the world for human rights activists.
We spoke to five courageous women from the region who attract additional harassment by flouting traditional gender roles, and have suffered everything from solitary confinement to psychological torture as a result of their work.
Perhaps the most chilling experience is that of Chinese lawyer Wang Yu.
It was after 1 o'clock in the morning but Wang Yu couldn't sleep. She was worried. Why hadn't they called?
Her husband and 16-year-old son were on the way to a Beijing airport to board a plane to Australia where her son planned to finish his schooling.
They should have passed immigration by now. But despite repeated attempts to make contact she couldn't get through.
She anxiously messaged friends who tried to reassure her.
But it was when the electricity cut out and the wifi failed that she knew something was seriously wrong. Then she heard the sound of men outside her front door. "Who's there?" she cried out.
It was only a matter of time before they burst in, she thought, but then the noises stopped.
Maybe they were just trying to intimidate her, as had happened so many times before.
"Many nights, even when I wake up from the nightmare, I still feel trapped in it."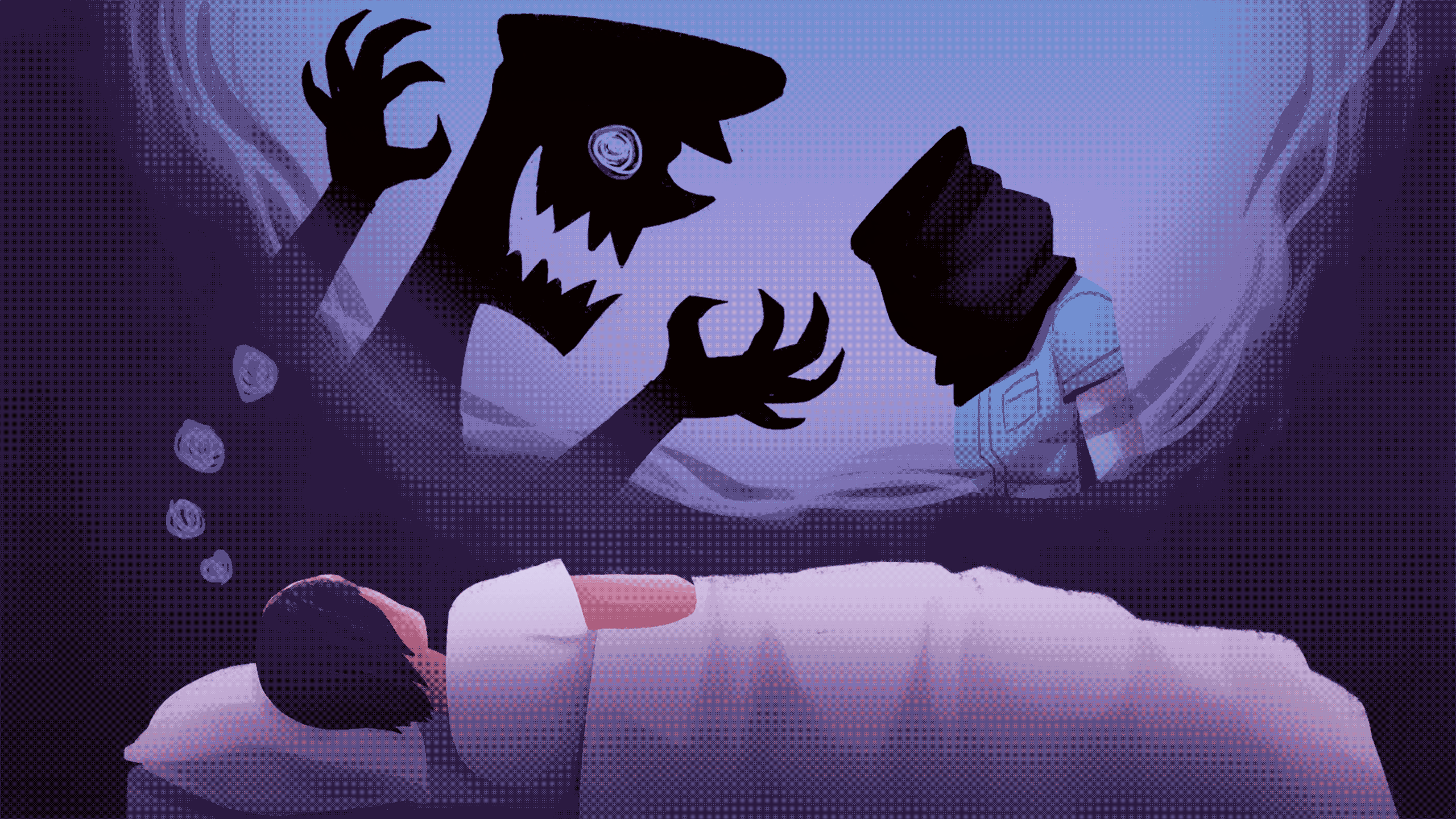 Wang Yu, now 46, was and remains a controversial figure in the eyes of the government. As a human rights lawyer she had represented clients ranging from the high profile campaign group known as the "feminist five", members of the banned spiritual movement Falun Gong, and Ilham Tohti, an outspoken scholar of China's Uighur ethnic minority.
She hadn't always been a human rights lawyer. She had begun work in commercial law, but an incident at Tianjin Railway Station in 2008 had radically altered her perspective.
She had been stopped by a railway guard from seeing her friend off at the platform, accused of not having the right platform ticket for that particular train. She lodged a complaint about his behaviour, but instead of being cleared, a court charged her with intentionally wounding the guard - which she denies - and sentenced her to two and a half years in prison.
"During that time I started to think about China: the unbridled power of the government. Many human rights lawyers helped me fight for my rights. So I decided to use my legal knowledge to help disadvantaged groups," she says.
The security forces' recent tussles with Wang Yu had been designed simply to intimidate, so perhaps the noises outside her door were purely to alarm her. But an hour later she heard the piercing sound of a power drill. More than a dozen members of Beijing's formidable Public Security Bureau (PSB) burst into her house, handcuffed and hooded her, and hauled her into a waiting van.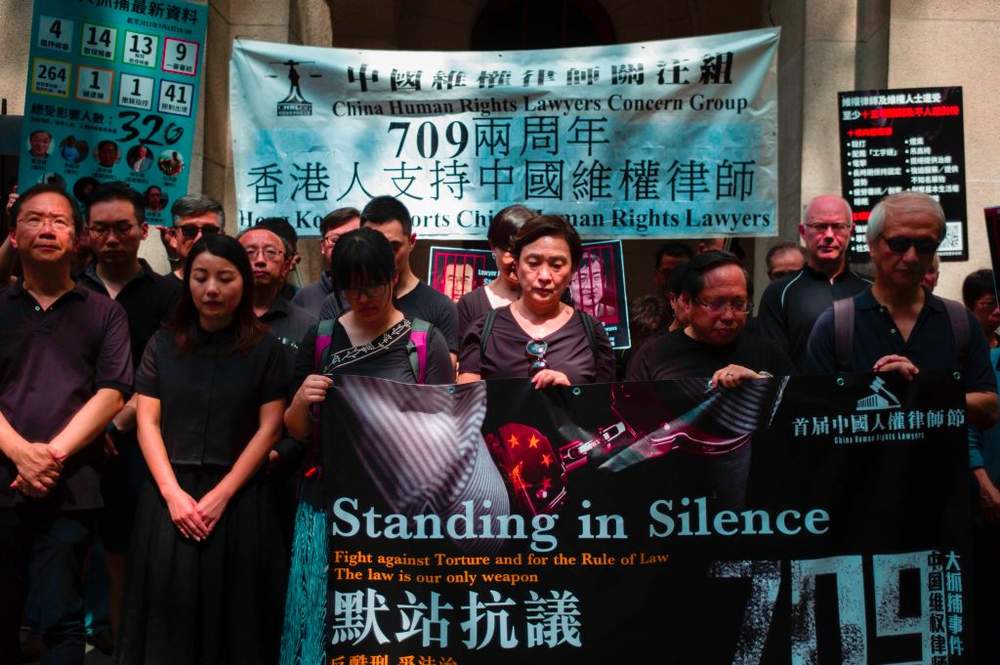 The lawyer's disappearance and subsequent detention marked the beginning of a widespread crackdown on lawyers and activists in China. It later became known as the "709" - a reference to 9 July 2015, the date Wang Yu was taken from her home. Under President Xi Jinping such enforced 'disappearances' have been legalised. Police have the authority to hold individuals under residential surveillance at a specific location for six months.
The first week in detention was the worst. Wang Yu had to spend her days sitting handcuffed in a small square her captors had painted in red on the floor. She was slapped by the guards if her limbs moved even fractionally outside her painted prison.

"Yes, I thought they might kill me, and I didn't know whether I could get out of there alive," she says.
She remembers the humiliating moment she was told to strip naked by two of the female guards. Even today, Wang Yu can't comprehend such cruelty. "How could these women treat another woman this way?"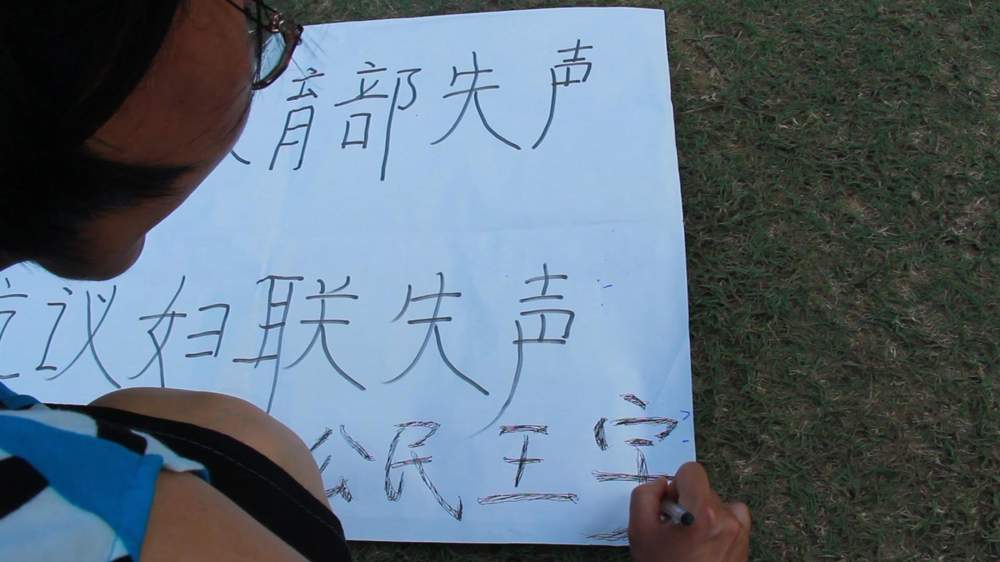 These techniques were all designed to force her to talk about her work and her clients. Finally, after several days of psychological torture and agonising interrogation, she gave in and began to share details.
When six months was up, Wang Yu was formally arrested and charged with "state subversion" - a sweeping charge which is often levelled at detained critics of China's one-party rule.
A statement from the Ministry of Public Security accused the Beijing-based law firm at which she worked of illegally hiring protesters in order to sway court decisions that they didn't feel were just.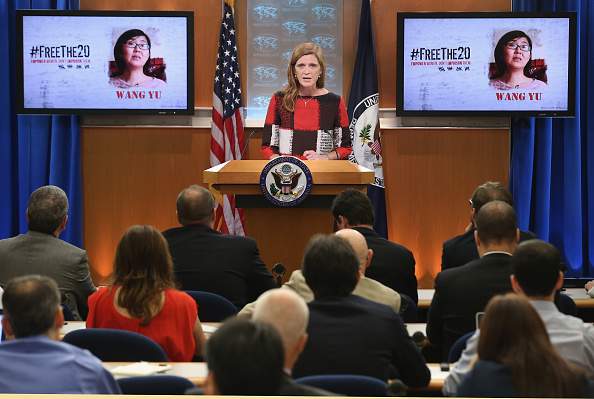 After more than a year in detention, on a hot summer's day in July 2016, Wang Yu appeared by video on various state run media platforms renouncing her legal work and blaming "foreign forces" for using her law firm to undermine the Chinese government. Speaking from an outside location and wearing a crisp white t-shirt, her relaxed exterior was hiding the torment she felt inside.
"I was forced to agree to go on TV," she says. "I felt extremely sad, in fact I think anyone can tell that it's fake…"
The next month she was released on bail. But there was no welcome party. Her family hadn't been told she was being released, and in fact, had suffered their own ordeal.
Her son Bao Zhuoxuan had never made it to Australia. He had been forced to move to Inner Mongolia to stay with relatives while he was monitored. And her husband had only recently been released from his own year-long detention - charged with "inciting state subversion".
Wang Yu was now ostensibly free. And yet her nightmare continued. For another year, she and her family were forced to live in a rented house opposite a PSB building in Inner Mongolia with round the clock surveillance.
At least 10 members of the PSB took turns monitoring the family on a daily basis. Facial recognition equipment was installed so they could track visitors.
At least two PSB officers accompanied Wang Yu on her errands, and her son to school.
Three cameras were trained on Bao Zhuoxuan as he studied in class.
"Yes, I thought they might kill me, and I didn't know whether I could get out of there alive."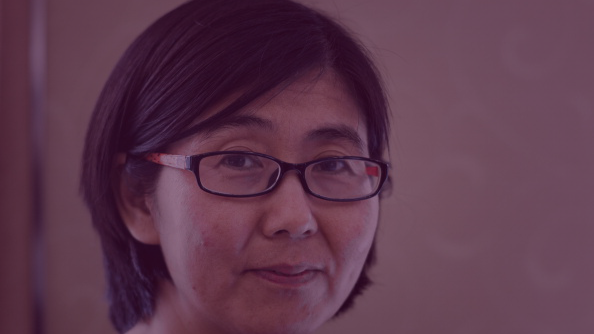 Over the last five years the Chinese government has sought to tighten its grip on power, escalating the crackdown on dissenting voices, including those of human rights lawyers and activists, analysts say.
"If women woke up, they could play a big role in the promotion of human rights. The government does not want this to happen, so they suppress the feminist movement," says Wang Yu.
And President Xi further strengthened his hold on the state this March when China's legislature scrapped the 10-year limit on the presidency, effectively allowing him to remain in power for life.
According to William Nee, China analyst at Amnesty International: "Wang Yu's case epitomises many of the most troubling human rights trends we see in China today: violent abduction by state security agents, the use of incommunicado detention and torture, demonisation in the media, forced TV confessions, and collective punishment of family members."
"Most alarmingly the government is using an array of new technologies: facial recognition technology, big data analytics and algorithms, and DNA databases in its pursuit of neutralising human rights defenders.
"Chinese companies with close links to the state security apparatus are becoming global leaders in these emerging industries, so the world needs to pay attention to what is happening China, not just for the sake of activists, but to ensure that these technologies and tactics are not deployed in their own countries," he says.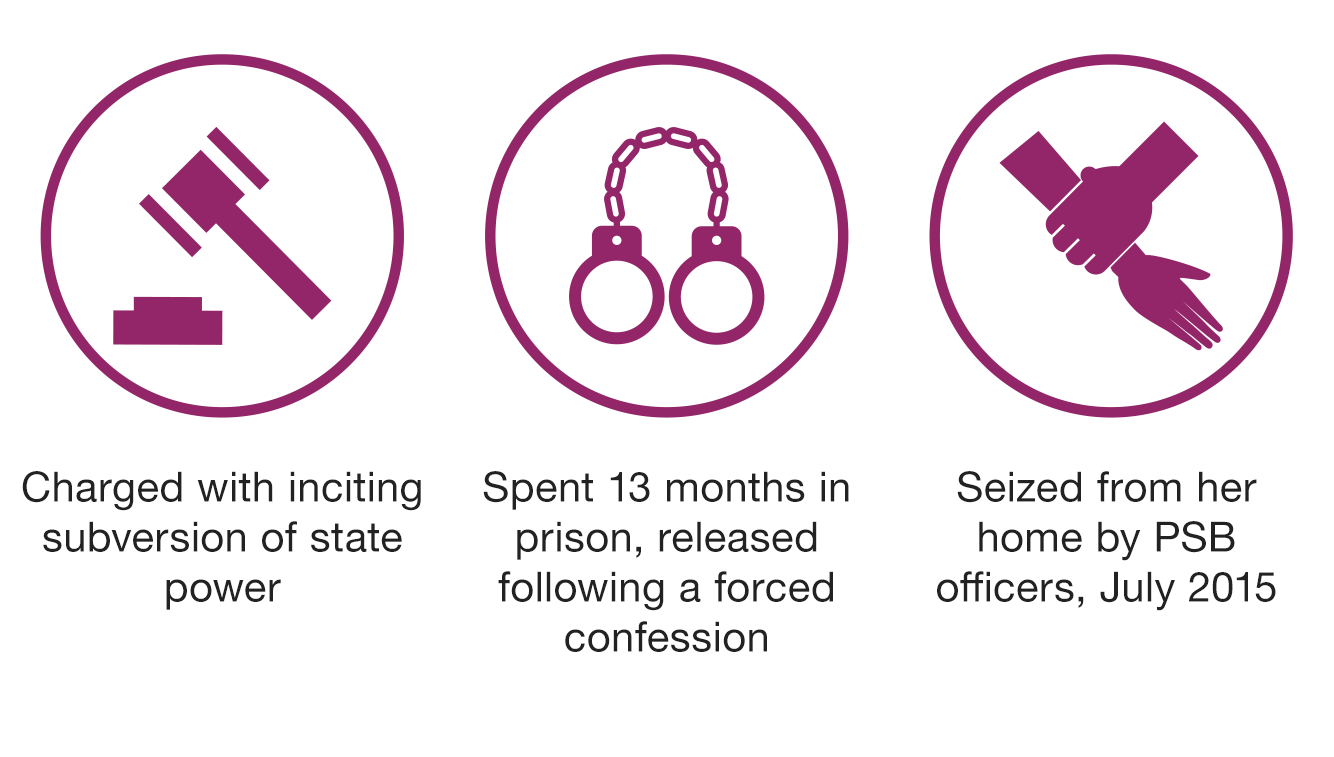 Wang Yu is now back home in Beijing, but feels life is still far from normal. She suspects that trips outside the house are often secretly tracked. She says she feels too restricted by the authorities to continue working, and as relationships with some friends and family are compromised by her precarious status, she feels lonely and isolated. And her health, both physical and mental, is still affected.
"I have problems with my heart, and my memory fails me," she says. "I still haven't learnt how to heal my trauma."
Her hope lies with her son, who this year was finally allowed to pass immigration to leave China and study abroad.
"I hope by the time he is my age China will have become a democratic and free country," she says hopefully.
"If women woke up, they could play a big role in the promotion of human rights."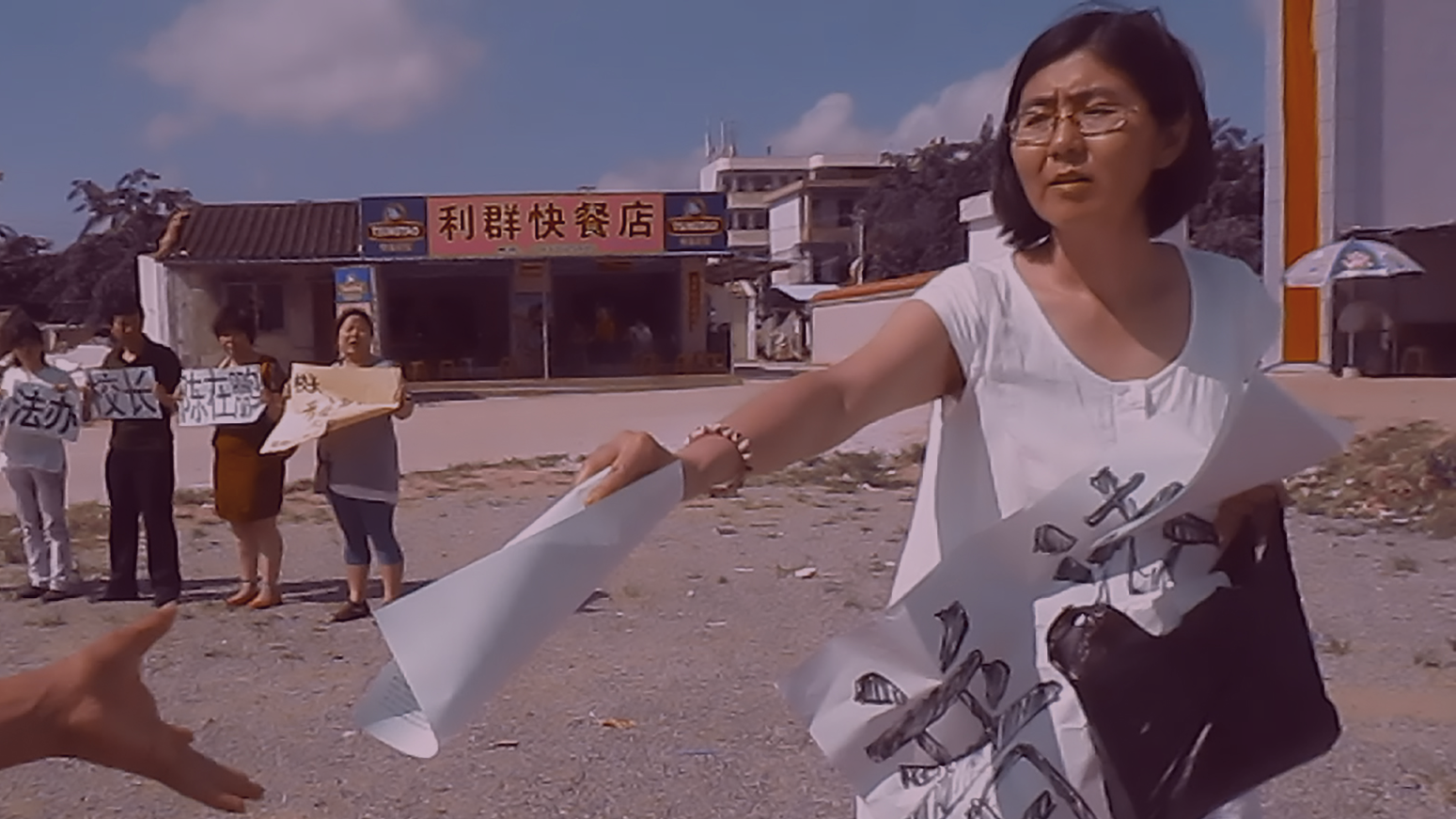 Wang Yu's story is shocking, but throughout East Asia there are many stories of women struggling for justice and equality.
Read on to find out more.
"Young women should definitely get involved."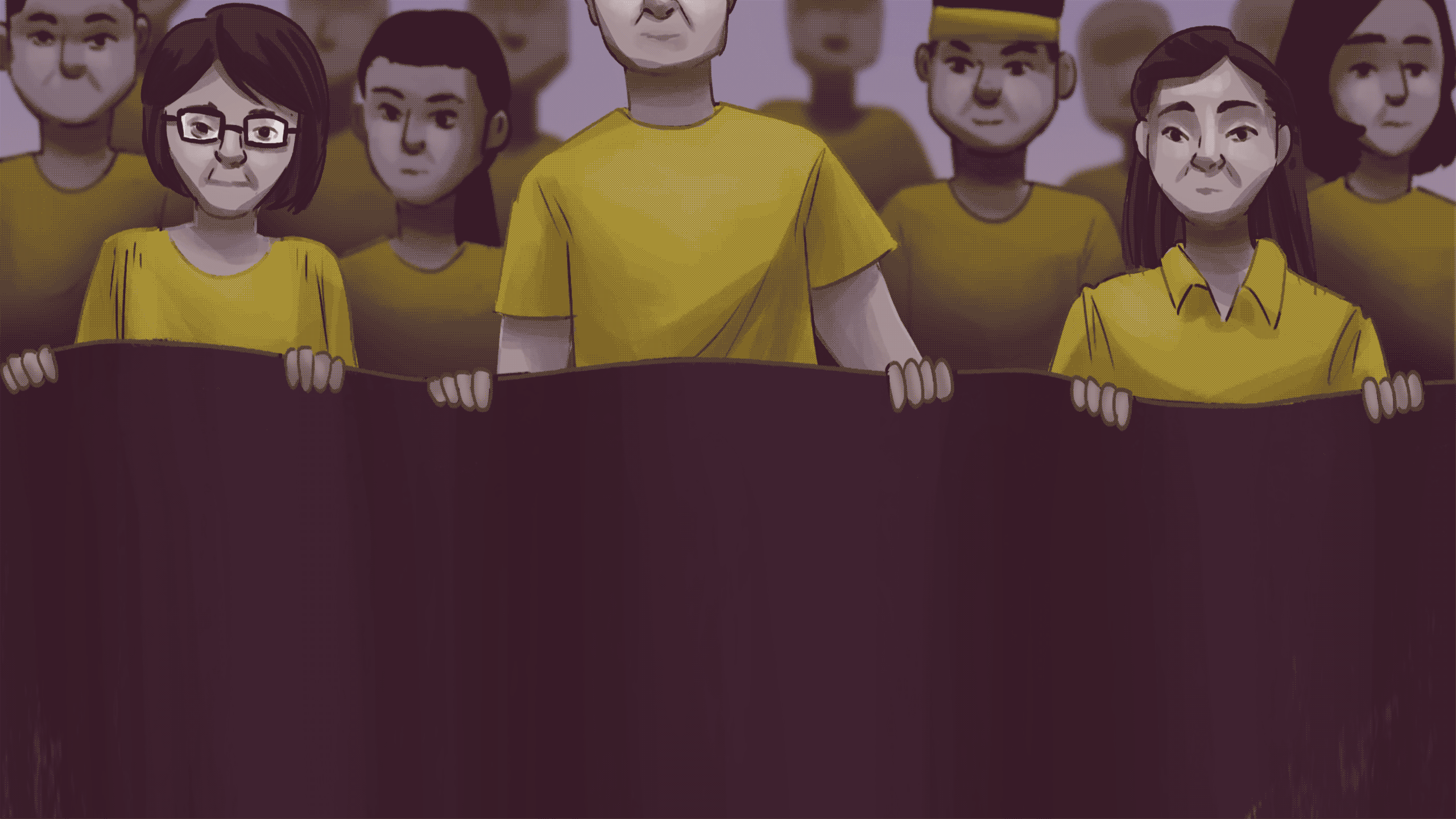 With nothing but a prison uniform and a book on post-modern feminism, Maria Chin Abdullah was thrown into 10 days of solitary confinement. The cell was windowless, and the lights were on all day and all night.
Her only respite from the cell was eight-hour interrogations on an almost daily basis.
Ms Chin is one of Malaysia's best known pro-democracy campaigners, and until this year chaired Bersih 2.0, an organisation that campaigns for free and fair elections and holds rallies attracting tens of thousands of supporters.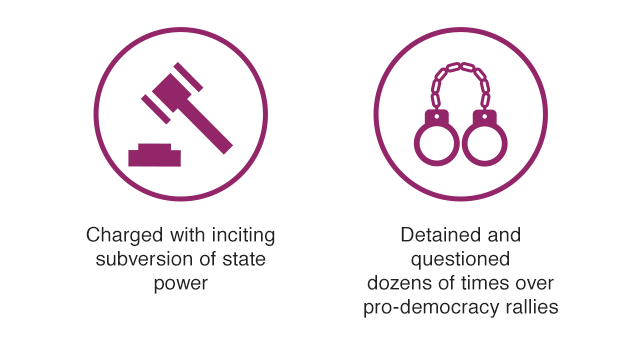 She was arrested on 18 November 2016, a day before a large demonstration was due to be held that she helped organise against alleged leadership corruption.
"To this day, I don't know where I was being held because they blindfolded me when they took me anywhere," she says in an interview with the BBC.
Ms Chin was held under Sosma, an anti-terrorism law that allows for suspects to be held without trial for up to 28 days.
With so many young people taking to the streets in Malaysia in recent years, due to the government crackdown on civil liberties and restrictions on freedom of speech, she believes now is the moment for change.
"Young women should definitely get involved," she says.
"What we see today, what we enjoy, are foundations set up by women who fought for our independence and for our equality."
Ms Chin announced earlier this year that she would try and influence political decisions from the other side as an independent candidate under the four-party opposition alliance Pakatan Harpan.
On 10 May the opposition scored a historic victory in the general election, with Ms Chin winning her seat to become the Petaling Jaya MP.
"We have the chance to have meaningful and altruistic lives, by taking risks."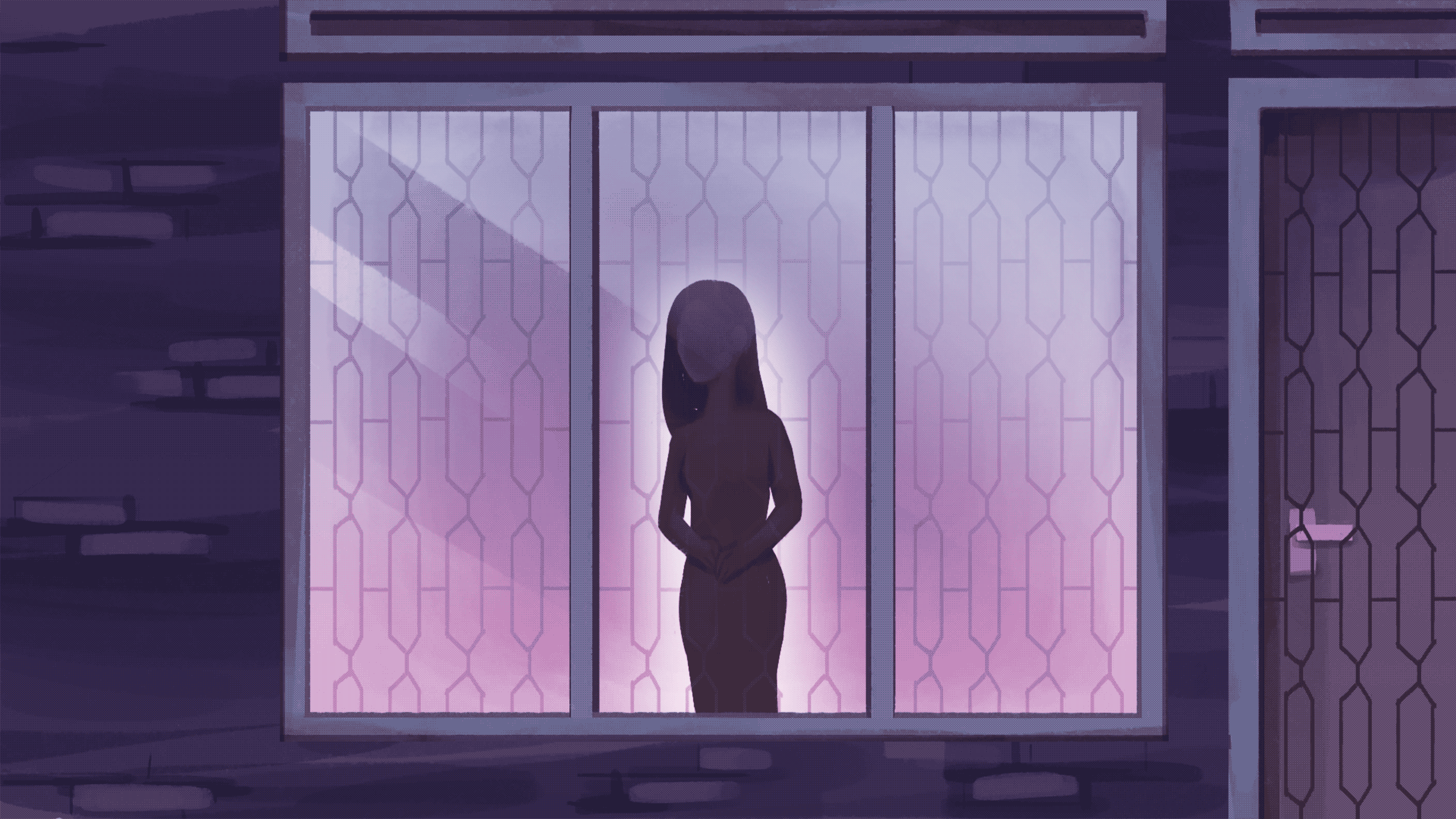 In Vietnam's climate of heavy media and online censorship, Huynh Thuc Vy takes great pride in giving a voice to the country's other human rights activists as head of Vietnamese Women for Human Rights.
She regularly blogs about rights abuses and the persecution of ethnic minorities, following in the footsteps of her father, Huynh Ngoc Tuan, who was sentenced to 10 years in jail in 1993 for criticising the Vietnamese government for his blogs.
Police surveillance, intimidation and interrogation are now so familiar to her that they've almost become a way of life.
Her most terrifying ordeal took place in 2012, in response to her demonstration against Vietnam's territorial dispute with China in the South China Sea.
Security officers drove her across the country to her hometown, where they interrogated her for 12 hours before abandoning her at night at a petrol station.
Despite the unrelenting scrutiny of the authorities, Huynh Thuc Vy refuses to stay silent.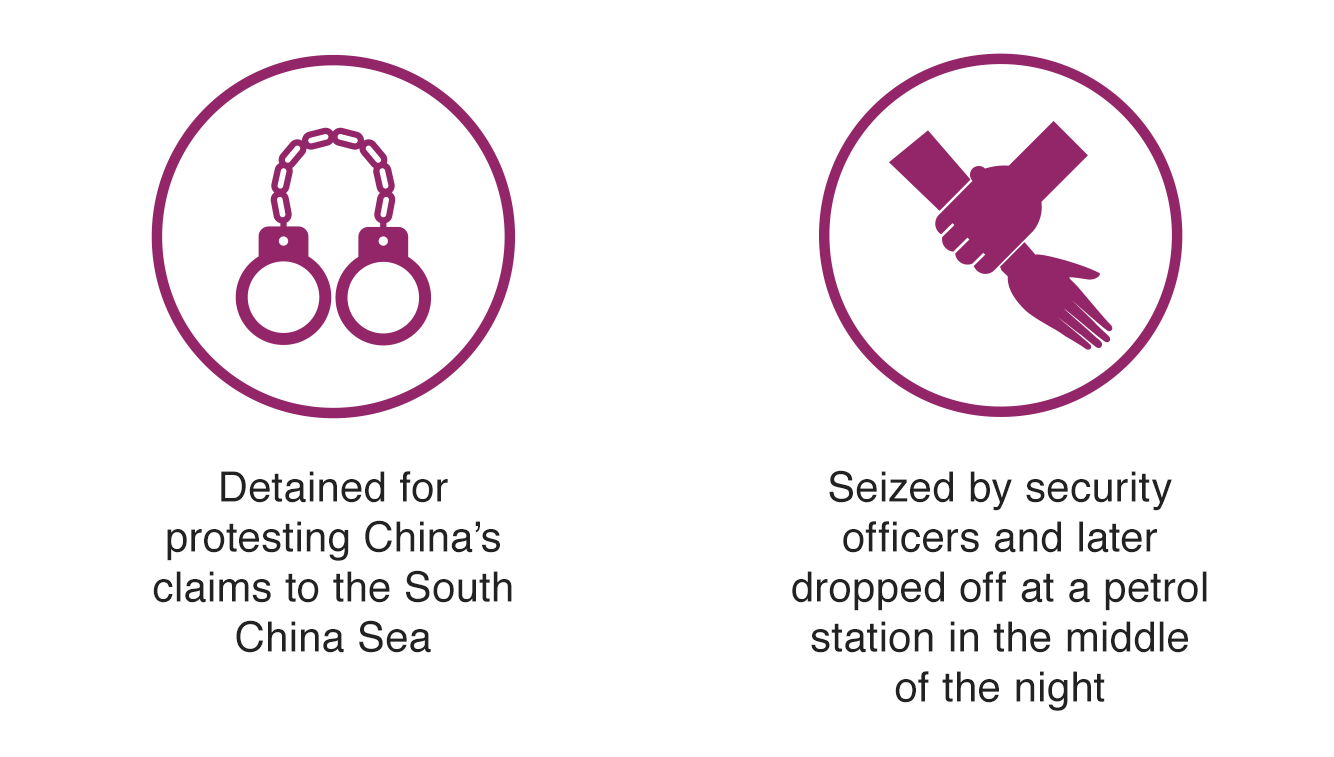 "Even though the imprisonment of my father and the repeated harassment towards our whole family has made us so tired, we have the chance to have meaningful and altruistic lives, by taking risks, acting on behalf of vulnerable people and facing the authorities," she told the BBC recently.
"If we do not play a role in activism now, we will never be able to demand gender equality later."
Describing Vietnam as a country where women have been "marginalised from politics, economics and the education system for centuries", she argues that activism is one way women can shape a better future for their country and push for progress.
"I often get derogatory comments and people asking why I'm not married yet."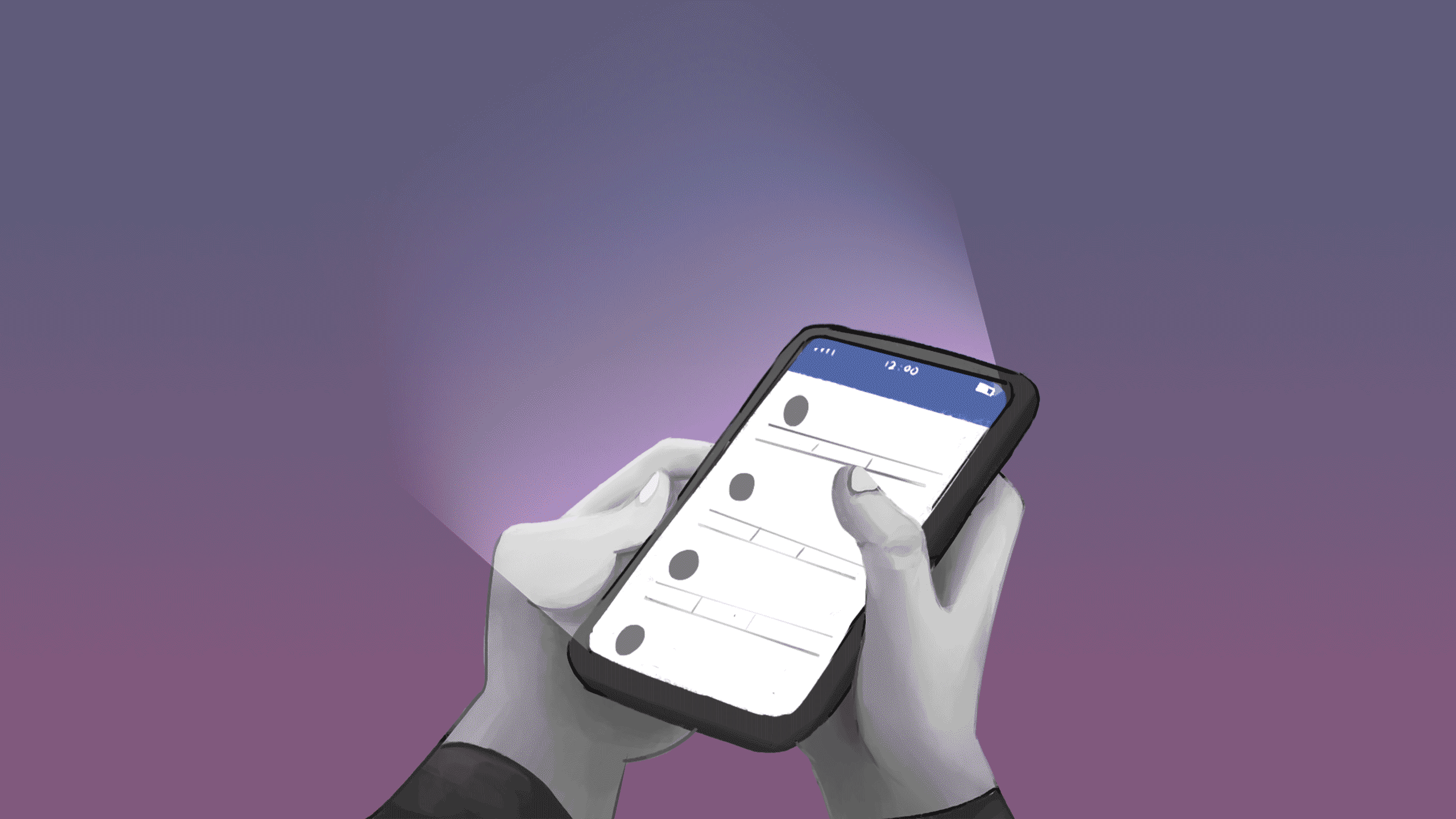 Being vocal about the military's strong-arm tactics and loopholes in Thailand's judicial system comes with consequences.
Anchana Heemina gets frequently harassed online, sometimes even receiving death threats, and she believes her harassers belong to the military and the police.
She first became involved with activism while trying to seek legal aid for her brother-in law. He was detained by the security forces in 2008 for his alleged involvement with insurgents in Thailand's Muslim majority southern provinces.
He was eventually acquitted, but together with her sister, Ms Heemina set up Duay Jai Group in 2010, helping those imprisoned for crimes related to the insurgency, as well as their families.
Duay Jai and three other NGOs published a damning report containing details of detainees allegedly being mentally and physically tortured at military camps in the south. Army spokesman Pramote Prom-in dismissed the torture allegations as "imaginary" and Ms Heemina was charged with criminal defamation.
The charges were eventually dropped and an investigation launched to examine the torture allegations.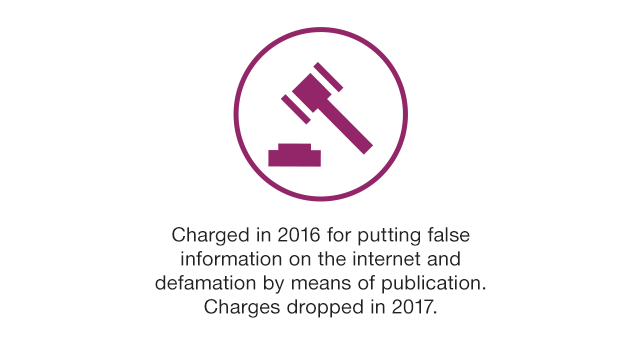 She continues to get harassed for her activism, facing offensive online comments, cartoons and Facebook posts on a regular basis.
"I often get derogatory comments and people asking why I'm not married yet," she says. "The challenge is for women to find new ways of fighting for our cause that does not have a detrimental effect."
"Building the country back up starts with educational reform."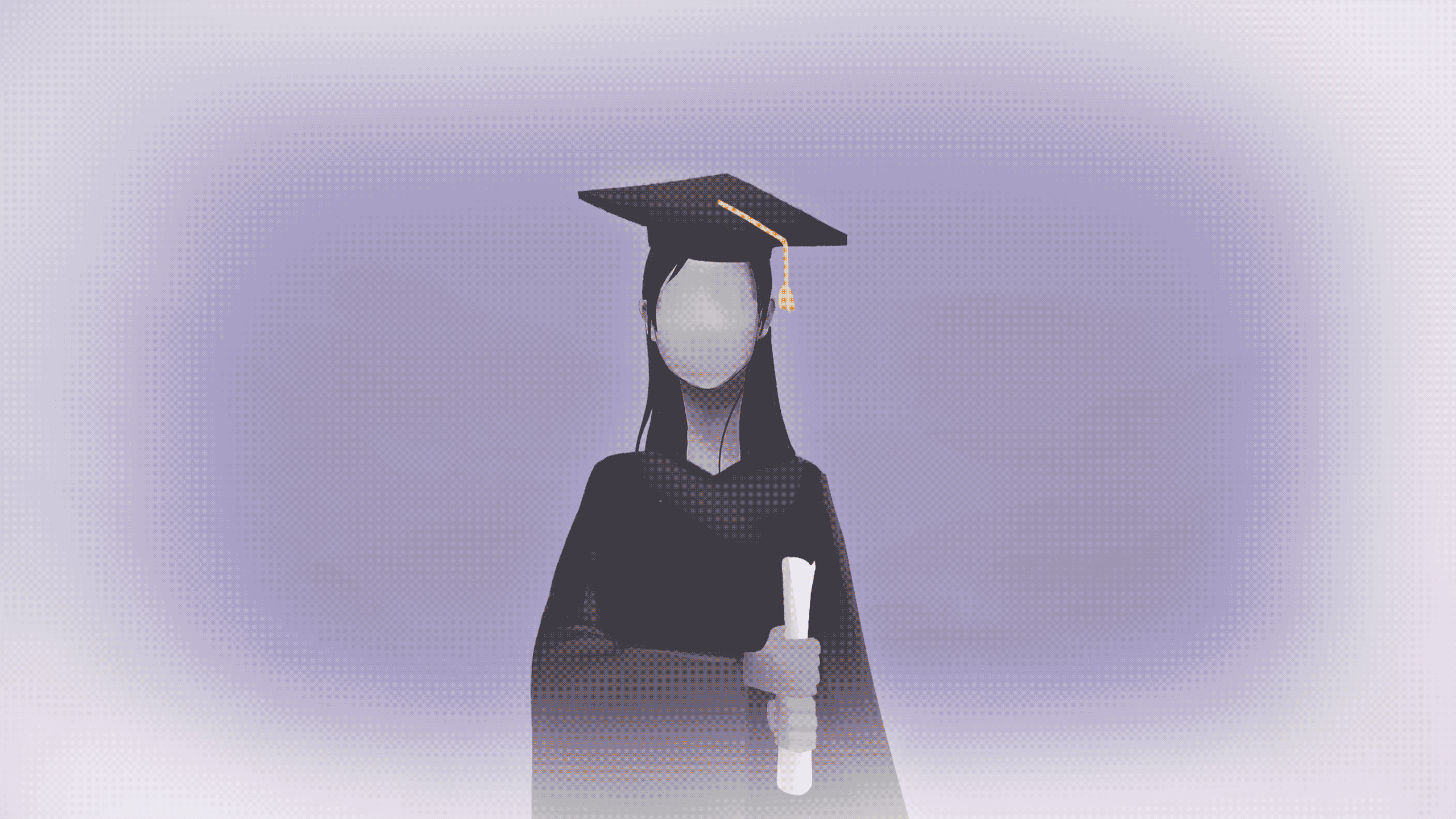 The inside of a prison cell is a familiar sight for Phyoe Phyoe Aung. She has been arrested three times and twice handed a prison sentence.
Her history of activism means that at 17 she was already in hiding, wanted by the then military government for her involvement in the Saffron Revolution - a protest to express civil and political discontent in Myanmar.
But the sight of scattered corpses following Cyclone Nargis in 2008 was too potent for Ms Phyoe to ignore. She came out of hiding to help bury the unclaimed corpses and was arrested by the authorities, leading to a four-year prison sentence.
In 2015, she was detained again, now in her capacity as head of one of Myanmar's largest student unions for protesting against the newly-adopted national education law, which she felt limited free speech in the education system.
"There were numerous ways they suppressed us in prison; restricting the types of books we read or intercepting the mail we sent to our families," Ms Phyoe recalls.
On 8 April 2016, under the administration of Aung San Suu Kyi, a court dropped charges against her.
Now out of prison Ms Phyoe says: "Some say things are changing in Myanmar, but whether the country is on track for democracy is a contentious issue.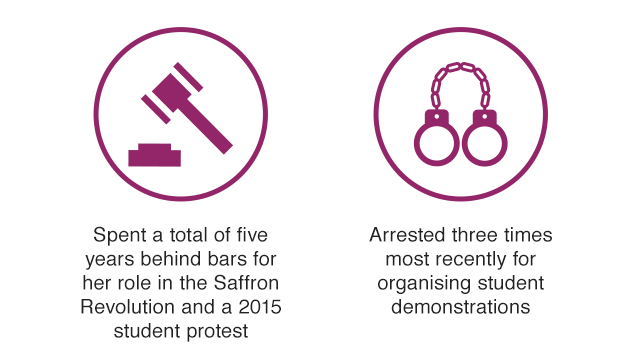 "The law is not just, it's like an elastic rubber band which can be shrunk or expanded on a whim."
At home with a young child she has recently taken a back seat, working for an NGO rather than on the activism frontline.
She urges the new generation of students to be responsible citizens.
"Building the country back up starts with educational reform," she says.