The surfers of Tynemouth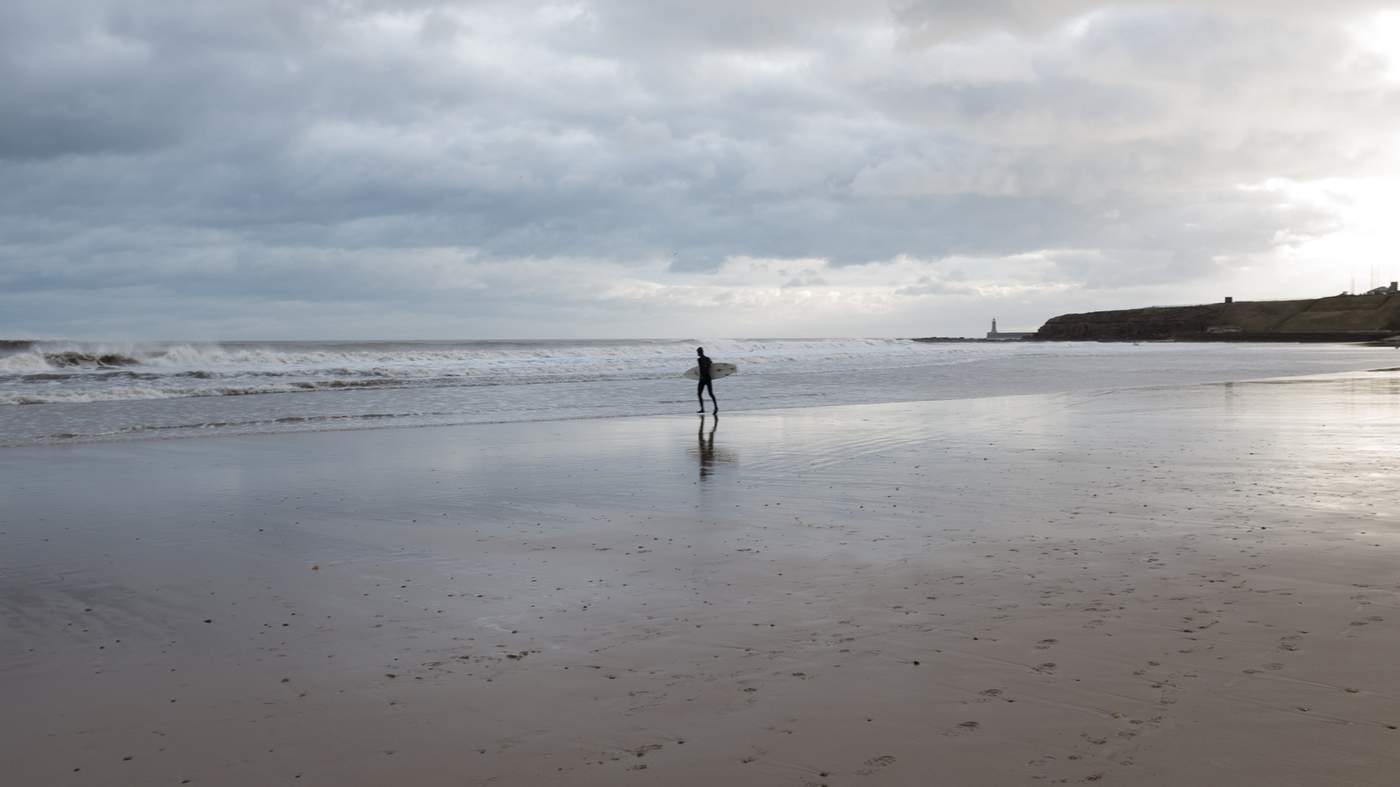 If you stand under the Tyne Bridge, in Newcastle, and look up you'll see the kittiwakes nested between the steel and the rivets. These cliff-dwelling sea-birds have also made a home on the city's Baltic Centre for Contemporary Art - their presence is a constant reminder that Newcastle Gateshead is a city region connected to the sea.
On the Tyne and Wear Metro, a line runs from Monument station in Newcastle, along the River Tyne to where the estuary meets the sea, at Tynemouth, then up to Whitley Bay before looping back to the city centre - a yellow ring taking city dwellers to the coast and back by train.
The beach, Tynemouth Longsands, is a wide arc that takes the full force of the North Sea. At one end, snug among the rocks like a shipwreck, is the disused lido and at the other stands St George's church, its spire reflected in the wet sand. The beach is a hub for surfing in England's North East.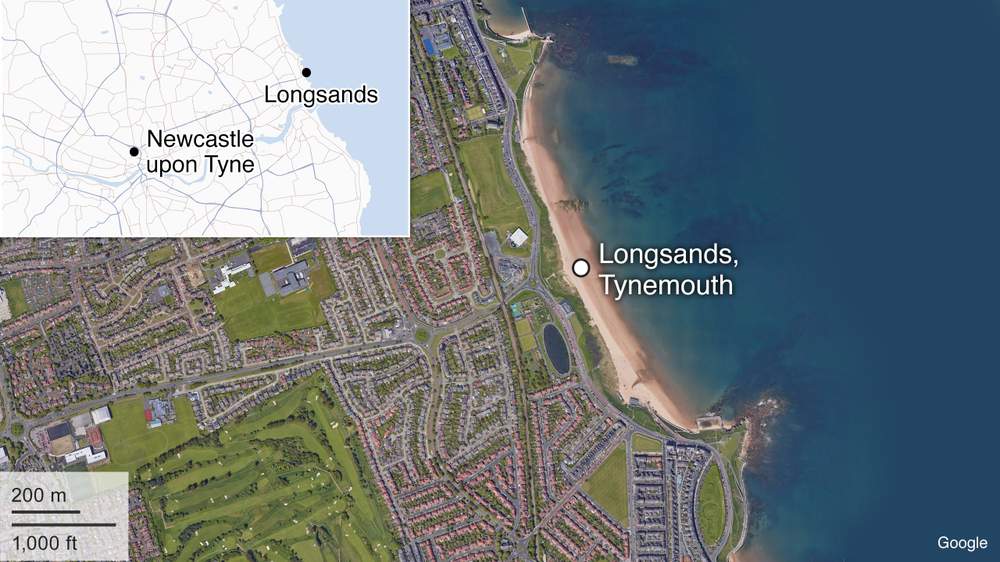 Tynemouth has produced some well known British surfers, including four-time British surf champion Gabe Davies and Nigel Veitch, the original North East pro surfer. The special thing about Tynemouth is the mix of people, of all abilities, using the same beach.
Craig Sloane
Craig, a bricklayer, and his partner, Helen Marley (pictured), a food blogger, are from Durham and drive to Tynemouth to surf as often as the weather allows.

"We got into it when we went to St Ives, in Cornwall, and took surf lessons and then bought our own boards. That was two-and-half years ago.
"It's not just a lone thing, it's social. I like togetherness and being able to chat with people, so I've set up a 'meet up' group to go surfing with others.
"I've tried to get my mates to go with me but they aren't interested. They'll say, 'There's no way I'm going in the North Sea.' They just prefer to go to the pub and watch the football and that's OK too.
"They don't understand that you have to wait for the weather. It's not just about the temperature, it's about the waves.
"I'd like to start a YouTube channel to share my experiences and ideas and make things more accessible."
Benjamin Berry
Benjamin, a school teacher, is carrying his orange board along the beach. It's a Saturday afternoon in January.

"I'm originally from Bude, in Cornwall, but I prefer surfing up here as it's more mellow. My dad was a surfer. Somehow I'm a glutton for punishment as I like going out in the worst possible conditions.
"I think the North East is the way Cornwall was 30 or 40 years ago. When I was a kid, I used to watch Sam Lamiroy, a pro surfer from Tynemouth, and I knew I'd end up here - that and football. I support Newcastle. It's often a Newcastle FC family in the water too. We can talk about the pain of football while out in the water.
"My father-in-law goes out on to the beach every morning at 06:00 and does a beach sweep - he has his own bin. This is typical. People use the beach here and they don't feel shut out from it.
"The thing is that the beach is connected to the city - a few stops along [on the Metro] and you can be in some of the most deprived parts of the country.
"I moved here 10 years ago. I'm a teacher in a secondary school on the coast. Often I'll try and get a surf in before school. The only time it is difficult is when you want to go in again and your wet suit is on the washing-line and it hasn't dried in time.
"Dawn is the best time, especially at this time of the year. If you can get in at 07:30 - that's the whole North Sea thing. It's elemental, it's dark, it's not fashionable is it?"
Sandy Kerr
Quiet and thoughtful, Sandy grew up yards from the beach. Committed and now riding professionally, he is, in the words of local surfer and photographer Lewis Arnold, one of the most interesting surfers to come through in years.

"My mum and dad had a cafe on the beach. It was a greasy spoon really, not like it is now. So I've always been on the beach. I grew up in an old lifeboat worker's house in Tynemouth. It's largely as it was, open fires in all the rooms.
"It looks out over Tynemouth Priory and the mouth of the river Tyne. From the beach, I'd notice the surfers.
"In the North East, we have to be patient and watch the weather all the time. We are always talking to one another about where and when we should surf. I've lost track of the number of WhatsApp groups I'm in.
"We have the best waves here but they are infrequent so we have to make hay whilst the sun shines. When I go away from here, to places where they have surf every day, I always tire myself out in the first few days - I see the waves and I immediately want to make the most of them.
"As it's unpredictable here, we have to find ways to make it work. We take jobs that are as flexible as possible. Many times I've felt I had to get in the water so I just say the car broke down and that's why I'm late. Once I tried to dry my hair on the heater in the car so it didn't look like I'd been in the water."
Mykaela Dodds
On the beach heading out to sea, it's the beginning of January and Mykaela has a smile on her face.

"My dad is a boatman in the Sunderland boatyards and my granddad worked there too, so there's always been a connection to the water for me.
"I got into surfing when I was at university in Leeds. We'd drive out to the north-east coast, Scarborough or Tynemouth. I prefer the winter in Tynemouth. It's quieter. It's peaceful when you're in the water, just you.
"It's good for your mental health - 100%. I see it as a privilege to be able to be out there but also to be able to do this not far from where I'm from.
"When surfing, you're by yourself out in the water, You only have your own company. You look around at your surroundings and there's a sense of freedom - no worries, no sense of time and no phone.
"You are self-reliant and independent. It's made me more aware of my environment. When you are involved with the sea, it makes you think about lifestyle choices. You could shout this from the rooftops and nobody would understand. You have to be in it to experience it."
Josh Hodgson
Josh, a student, lives one mile outside Newcastle. When the weather forecast is favourable, he meets his friends in the pub the night before to make plans together, ideally to be able to get into the sea early enough for a dawn session.

"I'm originally from Manchester but got into surfing when I went to university in Northumbria. It takes only 20 minutes to get to the sea. You sometimes see people on the Metro with surfboards. With a shortboard, it's OK - but with a longboard not so much, as they are a bit big.
"At Tynemouth, it helps that it's a beach break and not a reef, as generally, it's quite safe. I always think that you can tell which people have been using a particular weather forecasting app by looking at who is in the water.
"It's good to know someone local who's on the beach as they can tell you what it's like by simply having a look. Tynemouth Surf Co has a webcam, so I can be logged on in the city with my eyes on the water.
"I bought my girlfriend a surfboard this Christmas. There's a community in surfing. At Tynemouth, there is space for everyone. It doesn't really suffer from the localism often associated with surfing. Also, Geordies are really friendly people."
Louis Hudson
The former captain of the British junior surfing team runs the Tynemouth Surf Co, one of two surf schools on the beach. Louis's shop, set up by his dad, local surfing legend Stephen Hudson, is something of a focal spot for the local surf scene, with its webcam trained on the beach.

"I was born in Tynemouth and started surfing at five years old. Tynemouth has a close-knit community. You're pretty much guaranteed to know someone when you paddle out. I think everyone always looks for one another in the water as well.
"Through the summer months, a lot of the guys are lifeguarding and hanging out together - surfing and working together.
"I think the community in Newcastle as a whole is pretty friendly. I guess the North East's communities are quite welcoming.
"Surfing is getting more popular. It's coming up to making its debut in the 2020 Summer Olympics and that's making people want to try it out.
"In winter, it totally changes here and it's fully hardcore - it's very, very cold on some days.
"When you go for a surf, it clears your head. It's just something about surfing that makes you feel really good. You're riding energy, natural energy. If the waves are breaking on the point here, you feel more in nature."
Emily
Emily got into surfing while working in Australia. The job was inland and with horses but one day she drove out to the sea and was hooked. Not long after that she bought her first surfboard.

"I became a maths teacher. I like it but now I want my life to be about surfing. I've been counting down the time, waiting for days to get longer, so that I can get into the sea. From next week, I'll be able to get down after work and be in the sea for an hour or so.
"Sometimes, as a woman, it can be a bit isolating, as I'll be the only woman surfing, especially in the lesser-known spots. Occasionally, I'm not treated equally, as surfing can be male-dominated. If I miss a wave, I can be given advice or patronised.
"I go to Devon and Cornwall quite a lot. I drive down in my little van. Most weekends I'm on the move. I also go to Thurso, in Scotland. Just the other day, I spotted a guy I'd met elsewhere in the water, in Thurso, so I'm starting to build connections.
"People from Devon and Cornwall don't think of coming up to the North East to surf. They will head to Scotland but not here. They think there's no surf and that it's flat. It's colder, the water isn't so clear and you have to really wait for the waves to make the most it.
"Before I started surfing, I was planning a lot. Now I'm more accepting of things not working out. Surfing has helped me become more accepting."