Benefits and bulgur wheat
Inside the UK's food banks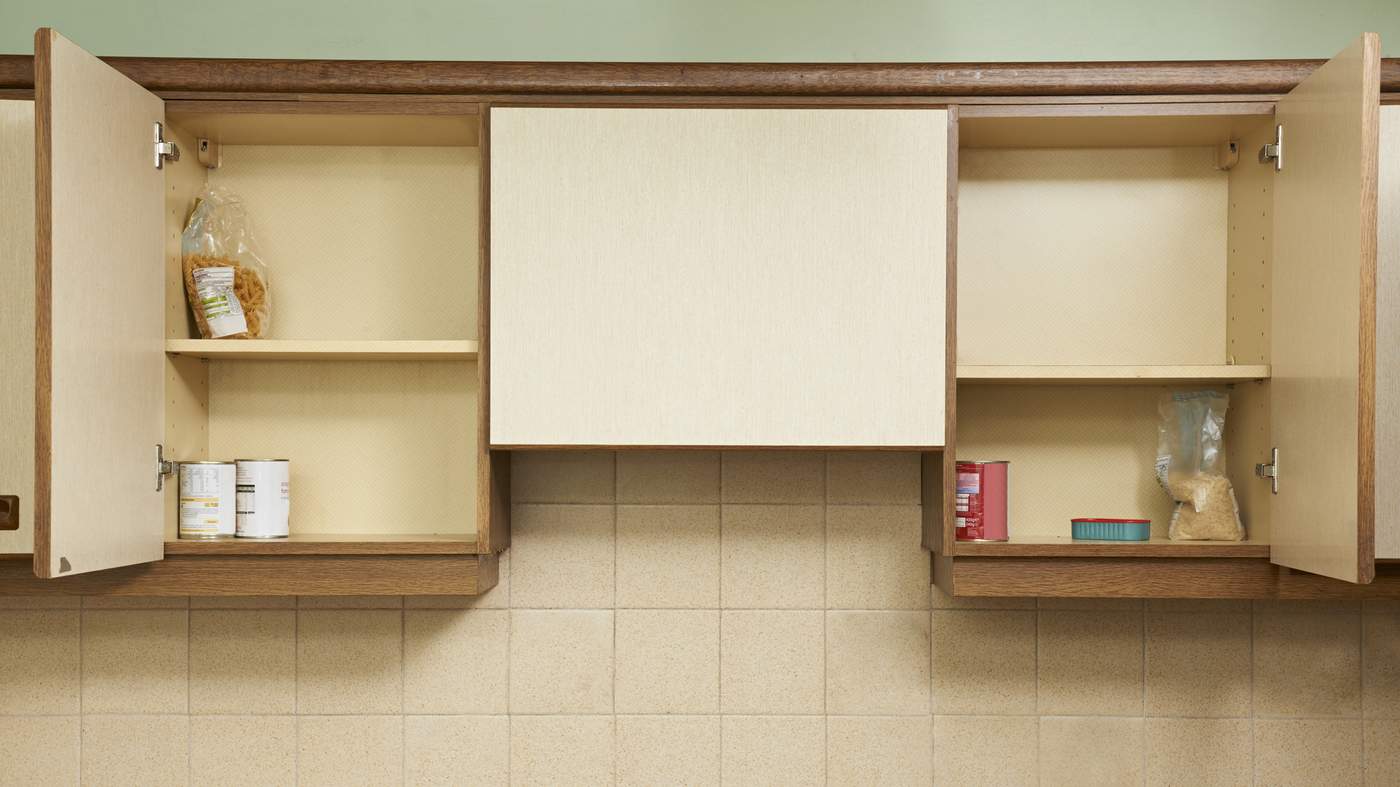 As new figures suggest food bank use in the UK is at a record high, who are the people struggling to afford the basics?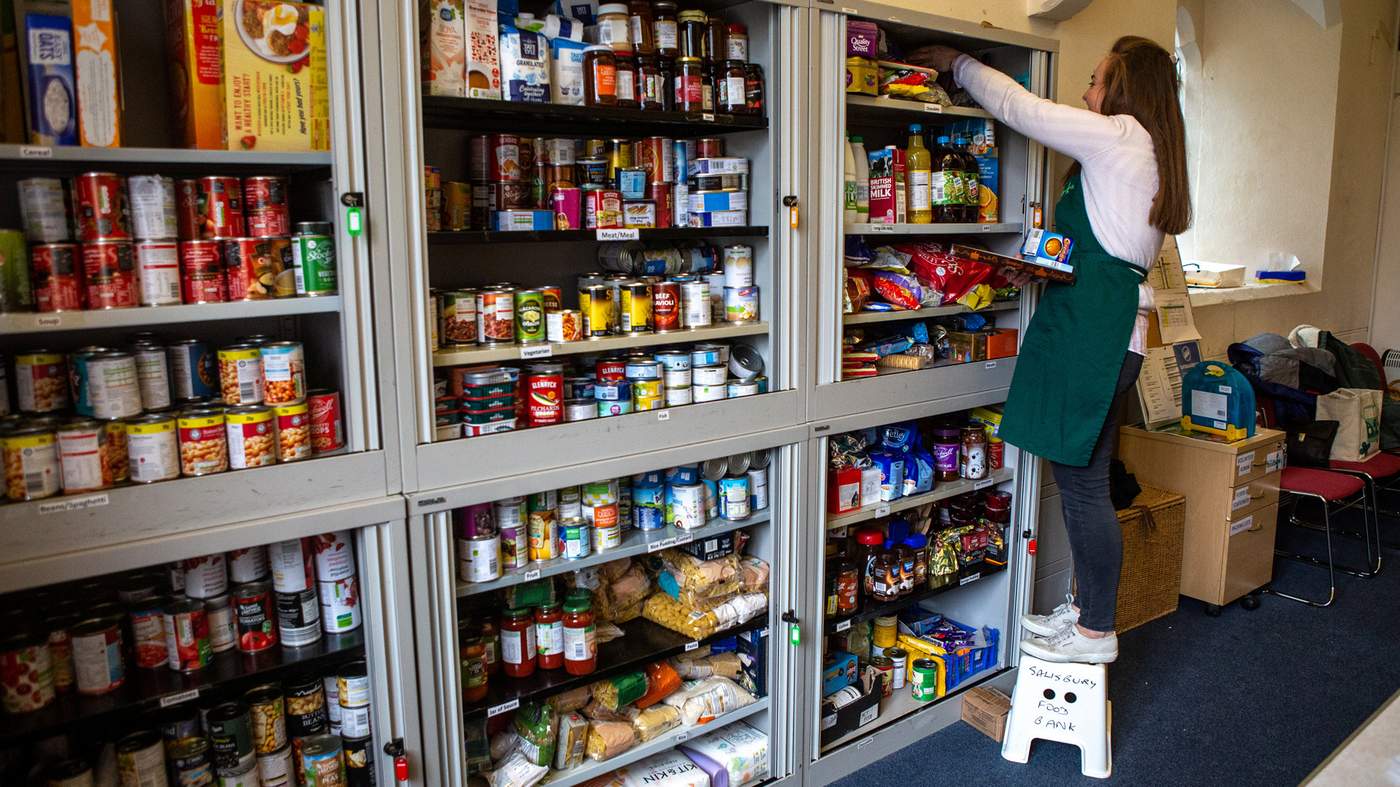 Marvin never imagined he would have to use a food bank.
At first, he was embarrassed to ask for free food.
"You go to work and pay your bills," he says. "It's not me. Nobody wants to do it."
But after injuring his back and contracting septicemia he was medically retired from his job as a hospital security guard.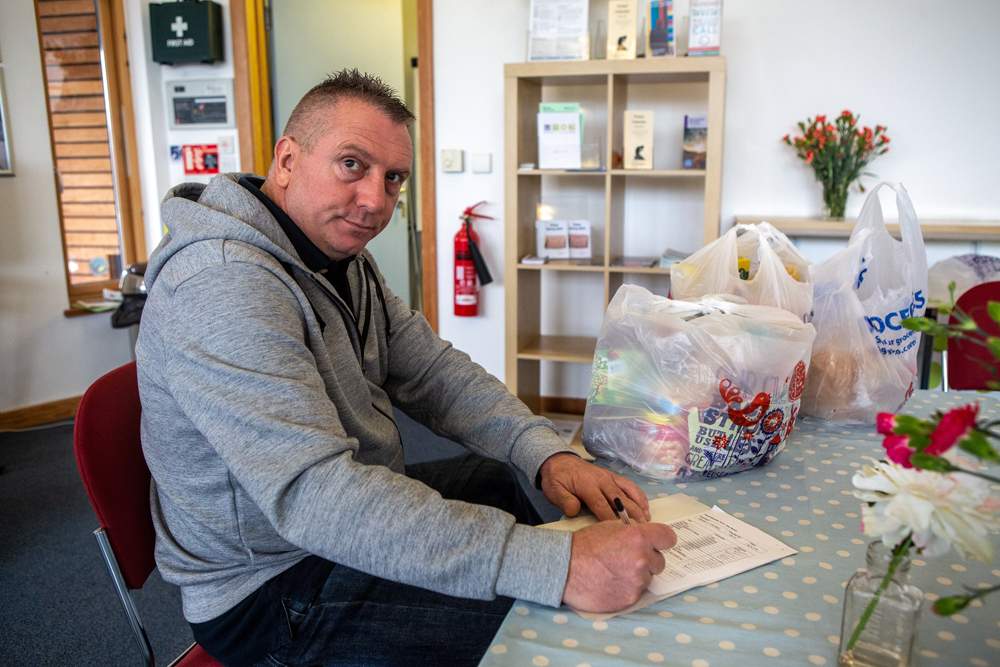 The 47-year-old says he started struggling to make his mortgage payments after moving on to universal credit - the government's new benefits system.
So he turned to the food bank. This is the third time he's visited the one in Salisbury. He's with his eight-month-old daughter.
"I did get really down and depressed at one point," he says. "But I just look at my daughter and I know I can't give up."
Volunteers at the food bank have been "fantastic", he says. "I wouldn't like to think what would have happened without this place."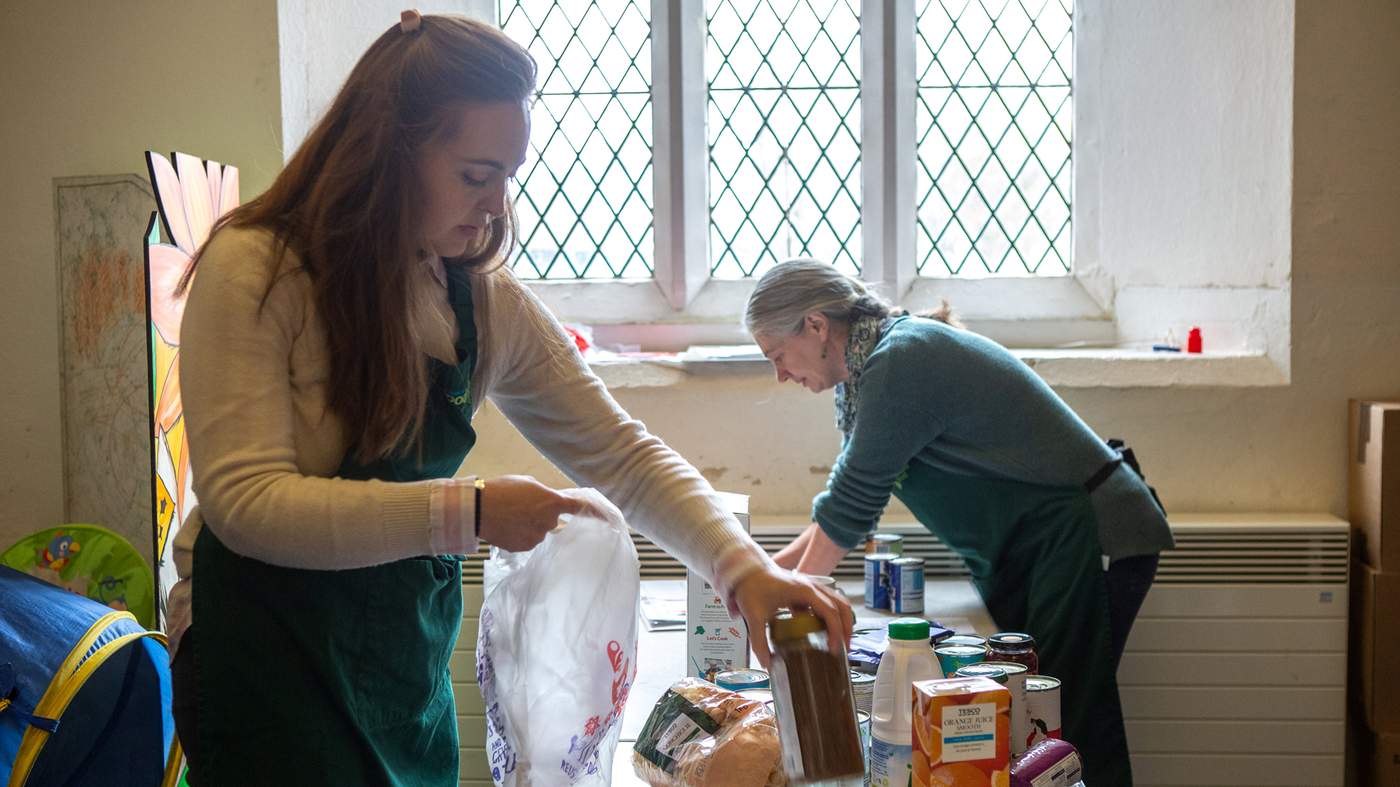 At first, there are few clues the food bank is open.
It is based at St Paul's Church, which sits near a busy ring road just a short walk across the River Avon from the picturesque, prosperous, city of Salisbury.
Inside the community centre which shares the site, the set-up looks like any ordinary church hall. A few people sit around tables, chatting.
But in a next-door room, there are shelves lined with food. Tins of Heinz tomato soup, corned beef, pineapple, Weetabix, jars of bolognese sauce, cartons of UHT milk. All long-lasting, all ready to be packed by volunteers.
When most people arrive, they look nervous. But the atmosphere inside is friendly and relaxed.
First, visitors are asked for their food bank voucher. These are given out by agencies and professionals such as Citizens Advice, social workers and doctors, to ensure help reaches those who are most in need.
They can then have a cup of tea and a toastie while they wait for their food to be packed. Many stay longer, chatting to the volunteers. They look relieved at the chance to offload their worries.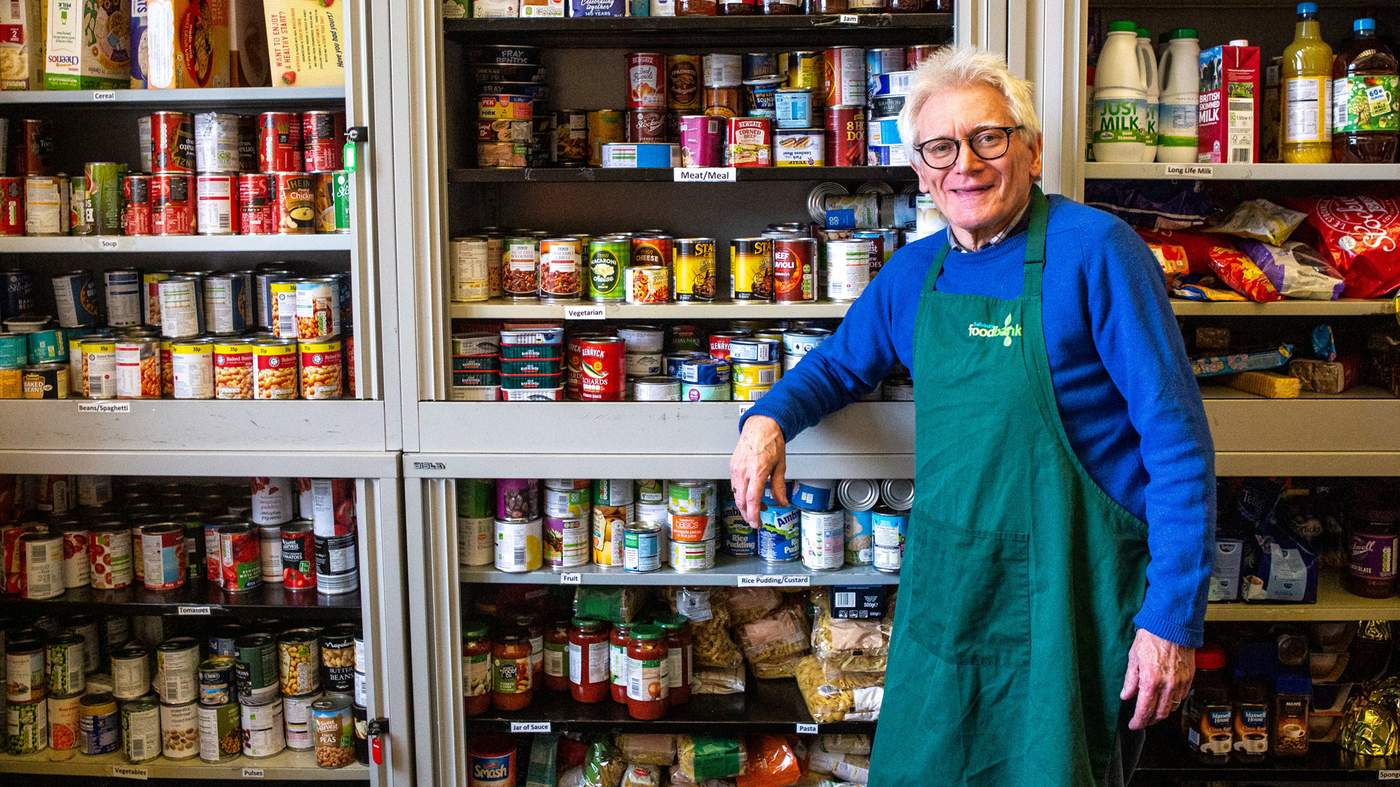 "We want people to leave feeling better than when they came in, that's the aim," says Peter, 70, who has volunteered at the food bank for more than five years.
"We try and make them as welcome as possible."
But he knows that using a food bank is often a difficult experience.
"Most people are a bit battered when they arrive – they've probably been through the benefits system, to the job centre," he says.
"It's a big step to admit you can't feed yourself."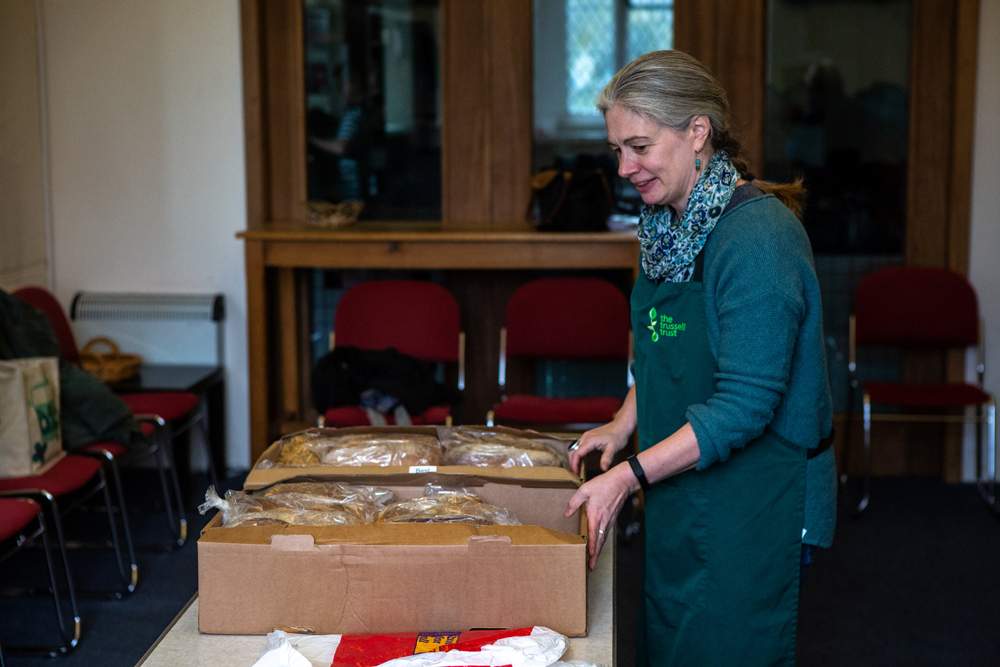 A standard food parcel is designed to last a household for three days. People can also choose extra items, like sanitary towels, nappies, pet food, and fresh fruit and vegetables.
All the items are packed into High Street supermarket shopping bags to appear as discreet as possible.
After he gets his bags of food, Marvin is approached by one of the volunteers to discuss what further help he needs to get back on his feet.
Volunteers can direct people to local organisations providing longer-term support on issues ranging from budgeting and debt to housing and addiction.
The aim is to help address any underlying problems so they will not need to use the food bank more than three times in a six-month period.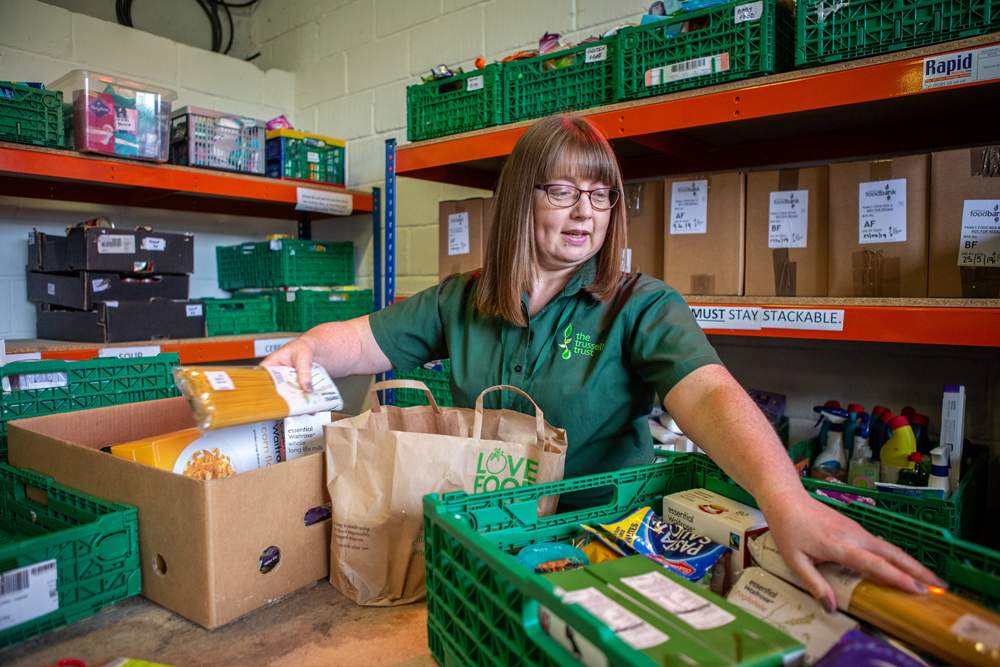 Some critics of foodbanks warn they could lead to a reliance on handouts - while others argue they do not tackle the root causes of poverty.
But Lucy Duffy, who manages Salisbury Food Bank – which is part of the Trussell Trust network - stresses they are there to help in a crisis and are not supposed to be a long-term solution.
Nevertheless, she says more people are finding themselves in that position.  
"On the face of  it, Salisbury comes across as quite a wealthy area," she says. "But unfortunately it's a city of two extremes.
"We do have wealthy residents - but we also have people who go unnoticed and are struggling.
"Property prices are so high in this area and there's not a massive amount of employment unless you're in the military or medical professions."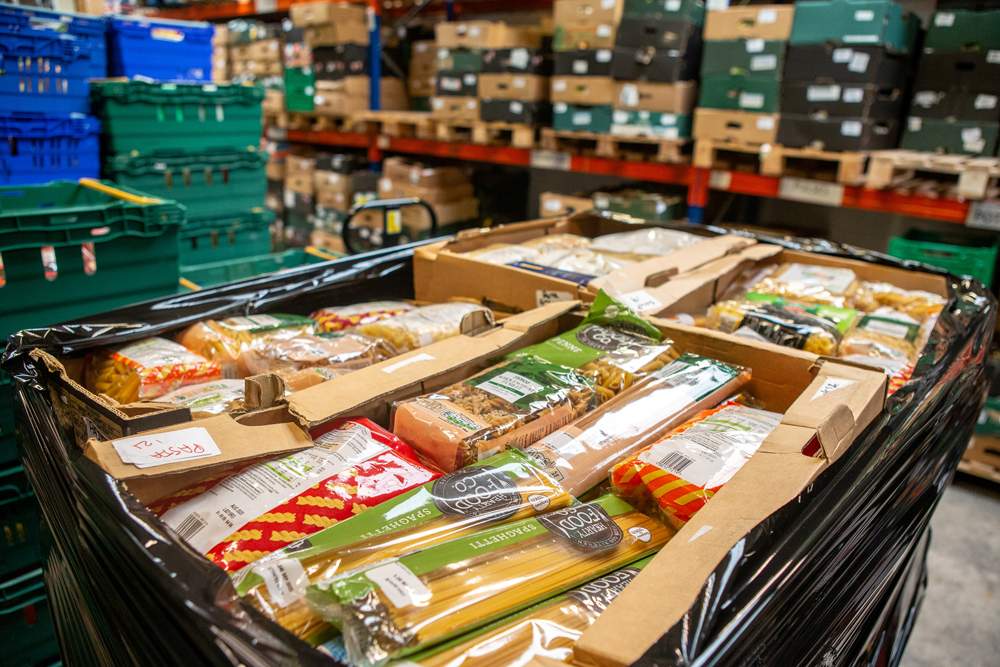 Salisbury is the birthplace of the Trussell Trust's first food bank - which the charity's founders opened nearly 20 years ago in a garden shed. 
Last year the charity gave out more than 3,800 food parcels across three locations in and around Salisbury, as well as providing emergency boxes at cafes and community centres. 
"Benefits are just not matching up to the cost of living. And there are a lot of insecure contracts out there so people can find themselves out of work all of a sudden," says Lucy. 
"A lot of people just don't have enough to manage day-to-day living costs."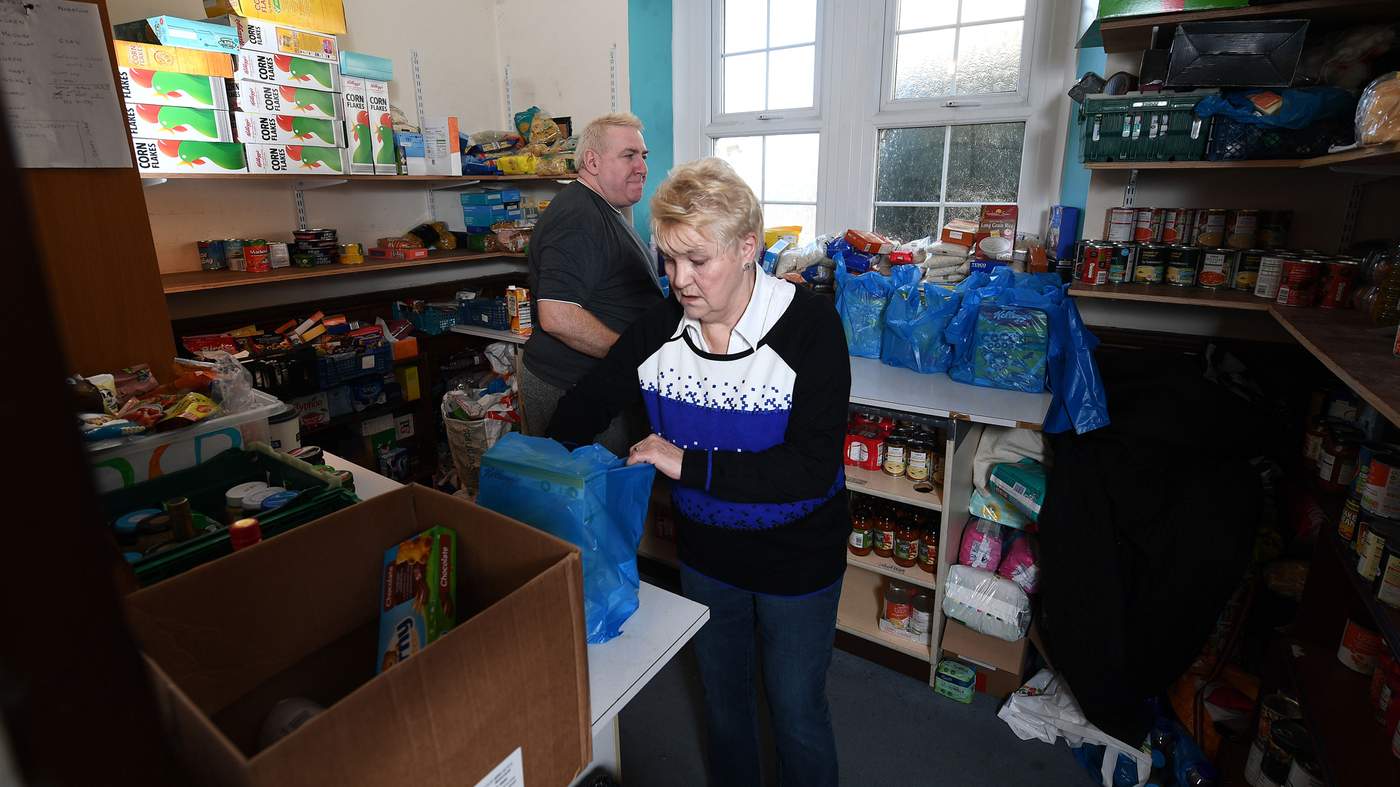 Eighty miles away at an independent food bank in Newport, south Wales, people are facing many of the same challenges.
"There is a lot of unemployment in Newport, has been for a long time," says Mike Scott, who manages the food bank.
"The steel mills have closed, the coal mines have closed, the docks have closed. By the time you do that to a town you've hit it really hard."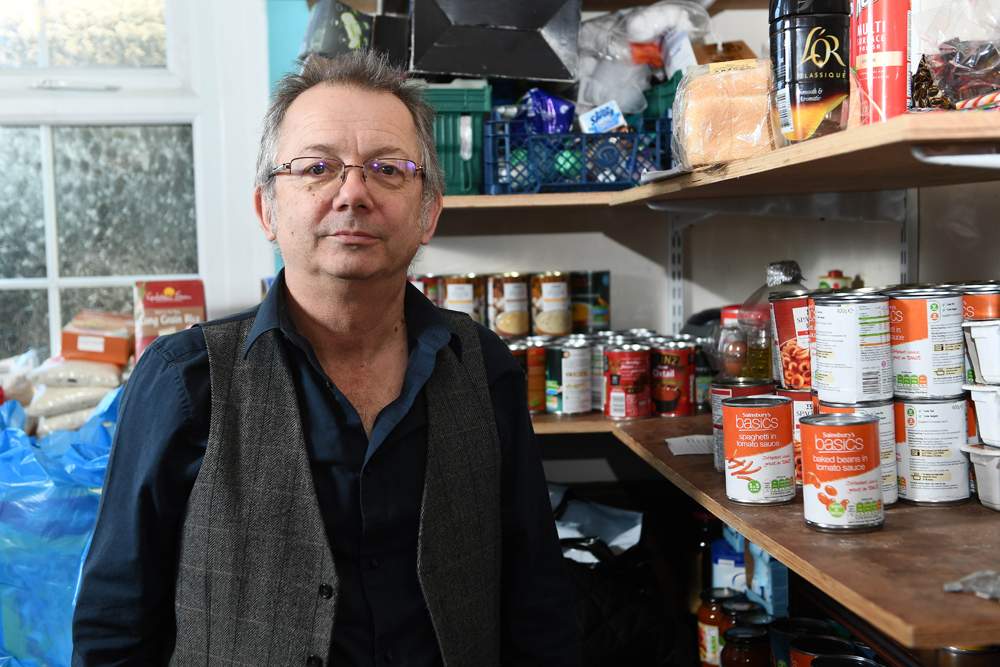 Wages are below the national average and the city has a higher proportion of people out of work because of long-term health problems. Most of the people who use the food bank are on benefits.
Charlotte, 43, is unable to work because of mental health problems. She says she struggles to manage on her benefits.
"The first time I used the food bank I felt a bit needy like people would think I just couldn't budget properly," she says.
"But it can be tough when things come up which you have to pay for which you aren't expecting." This month, Charlotte needs to buy a new pair of glasses but has to wait until her benefits come in.
She says the food bank means she knows she can get something to eat if she is struggling. "I don't have family in Newport," she says. "I'd be stuck without this place."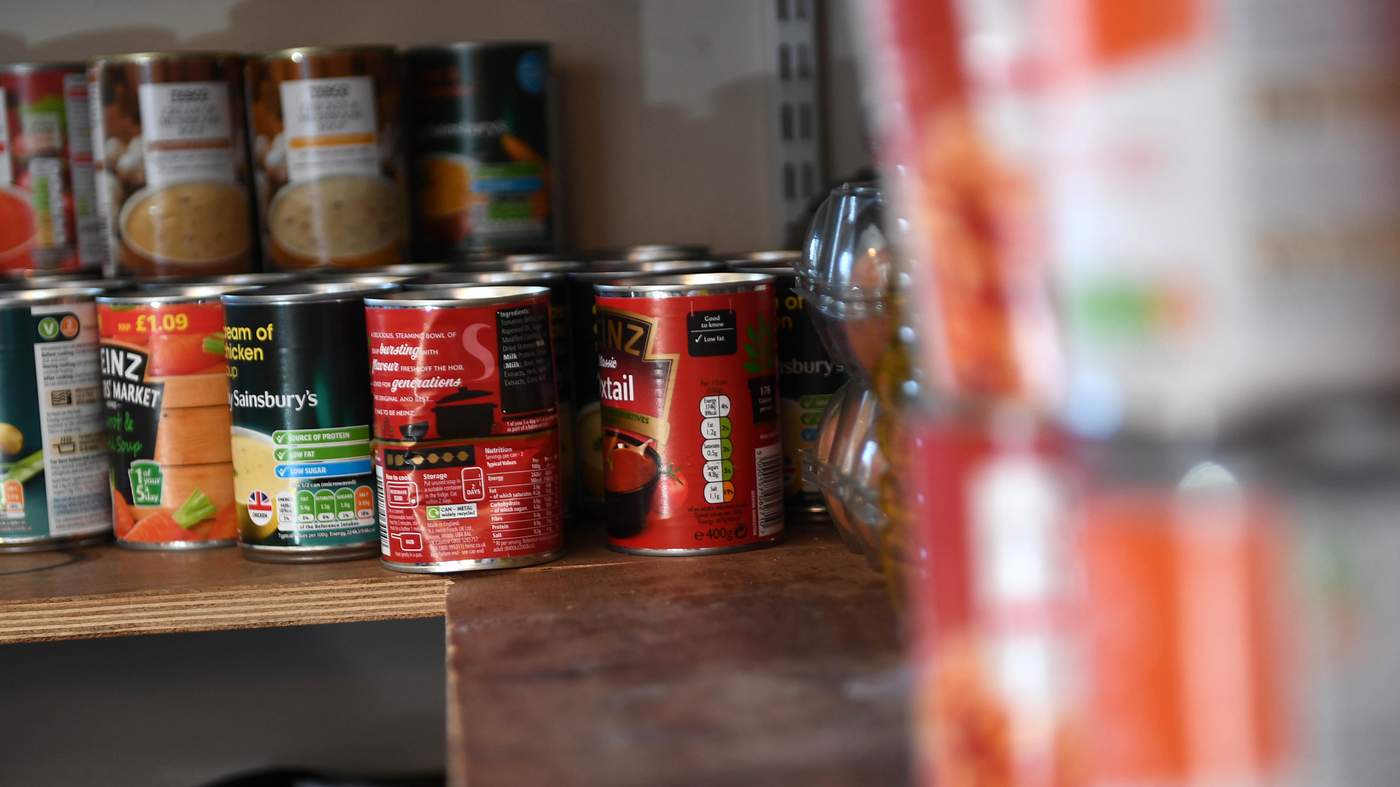 The food bank has a steady stream of people in the two hours it is open in the afternoon. Mike says the centre gives out more than 150 food parcels a week - and that demand is rising.
"We're probably providing twice as much as we did two years ago," he says.
The food bank is based in a bustling church community centre which also hosts a coffee shop, weekend breakfasts and courses ranging from sewing to budgeting.
Today there is a cooking class. Several people sit in the cafe enjoying the meal they have just made.
One of them is Sam, who just over a year ago was struggling with drugs and sleeping in a tent. The 34-year-old became homeless after losing the flat she had been renting with her partner.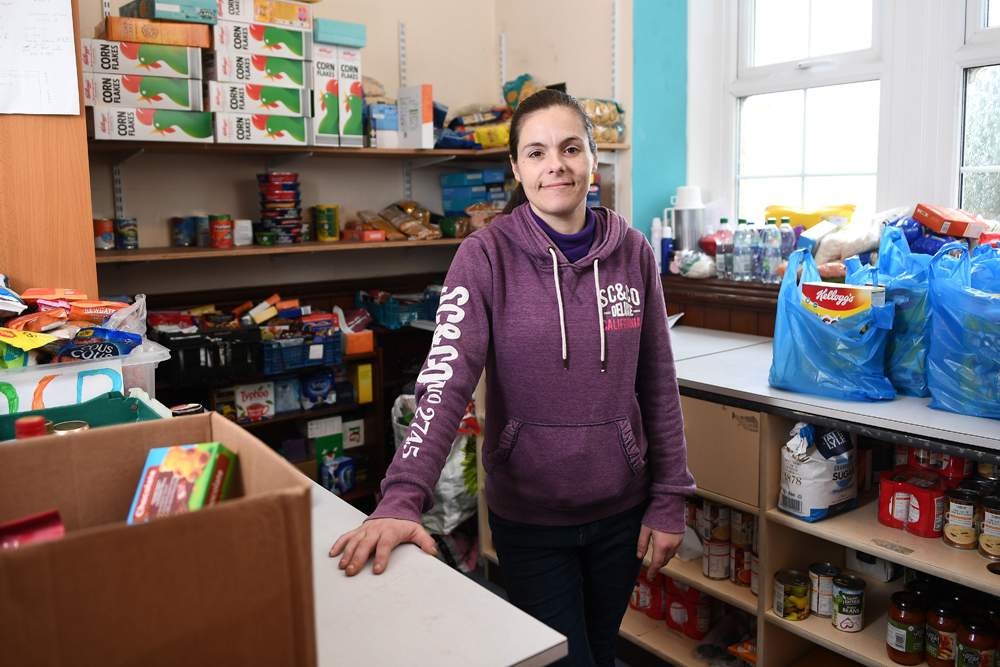 "If I hadn't had this place, I don't think I'd be alive today," she says. "I don't know where I would have eaten – my family wouldn't give me money because they knew I would spend it on drugs."
Sam says the food bank didn't just feed her. It also helped get her life on track.
The centre runs a training scheme in digital printing to help people into work, which she was invited to join. She is now in temporary accommodation and rarely needs to use the food bank.
"I'm well proud of myself," she says. "I've been clean for the last year and I'm planning on starting an apprenticeship."
And, say the volunteers, the help works both ways. Some food bank users donate to the centre, once they're back on their feet.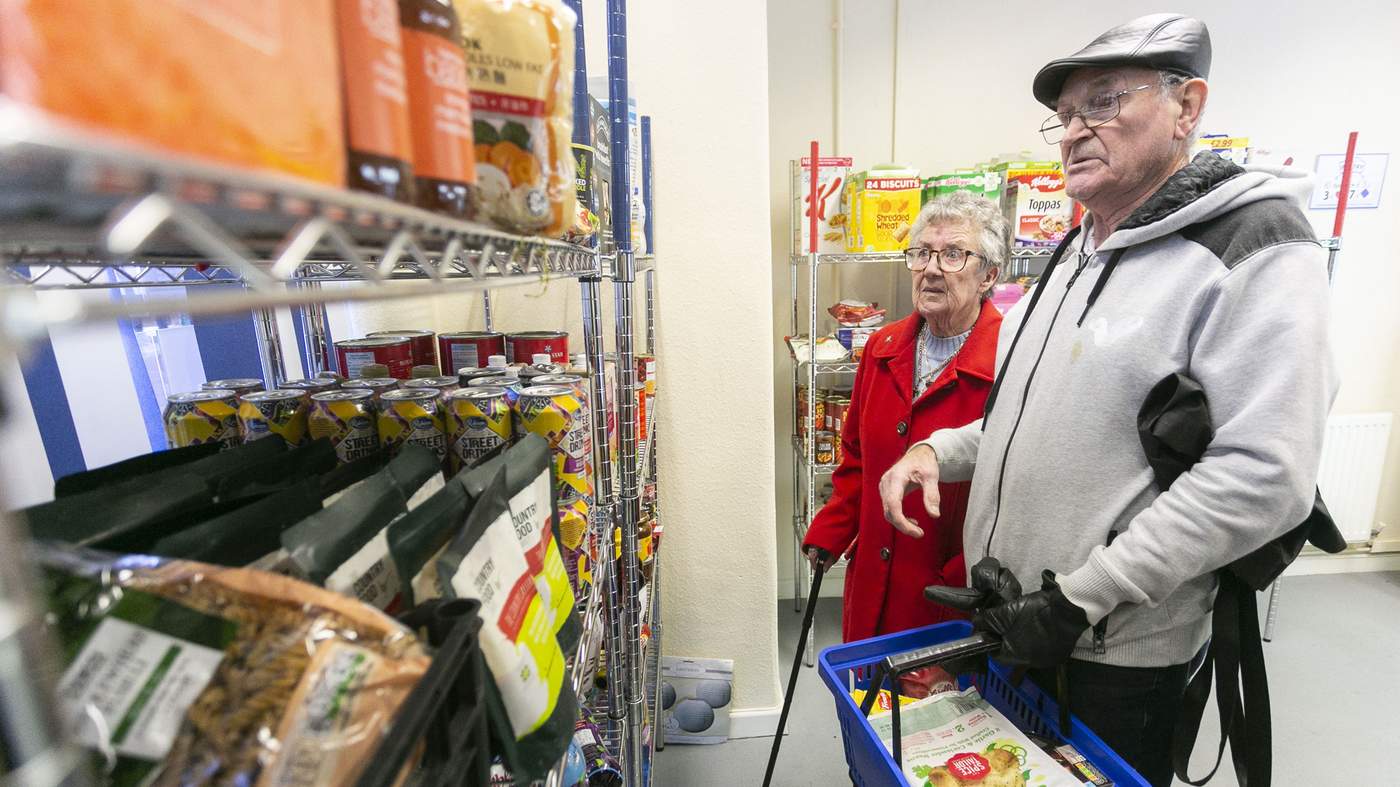 In Stockport, Greater Manchester, one project has taken a different approach to tackling food poverty.
Stockport Homes runs four community food stores, known as pantries. They aim to help local people save money by providing heavily subsidised groceries.
"We noticed a growing number of our residents were struggling after the benefit changes introduced in 2013, but pride was stopping some of them using food banks," says Anna Jones, a community food officer for Stockport Homes.
The pantries proved to be popular. The newest opened in 2016 within a council estate in Bridgehall, one of the most deprived areas in Stockport.
"It's quite isolated from the rest of Stockport. There's only one bus that goes around the estate and into the town centre," says Anna.
"It is limited what people can access if they don't have a car. There are no big supermarkets in walking distance, so there aren't really any affordable shopping options nearby."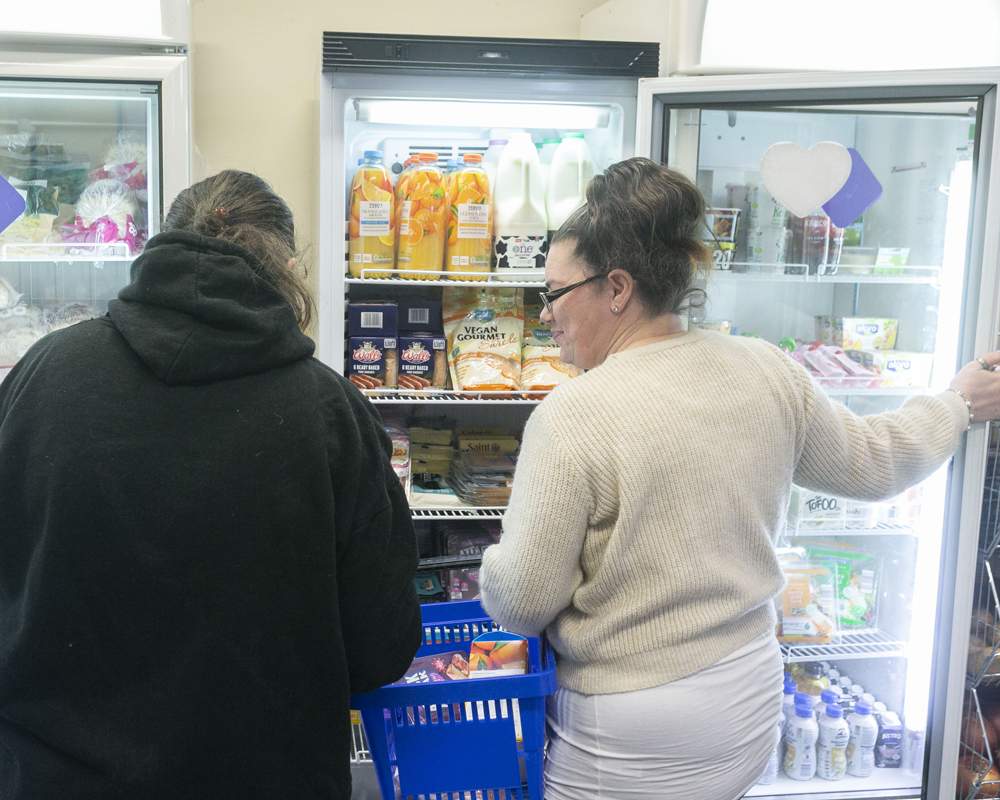 The pantry shelves are packed with basics like pasta, rice, milk and cereal, as well as meat such as chicken breasts and beef mince.
There are also more unusual ingredients, which vary depending on what has been provided by suppliers: butternut squash, aubergines, pearl barley, even bulgur wheat.
The pantry also gives out recipe cards based on the food available.
Members pay £3.50 a week for about £15 worth of food and can choose at least 10 items. Food that is close to its sell-by date is given for free.
Most of the food is supplied by FareShare, a charity that distributes surplus produce from supermarkets. The money from membership is also reinvested to buy additional stock.
Outside the pantry, a queue of people is forming even before it opens. They range from young parents to pensioners, all keen to get the best choice.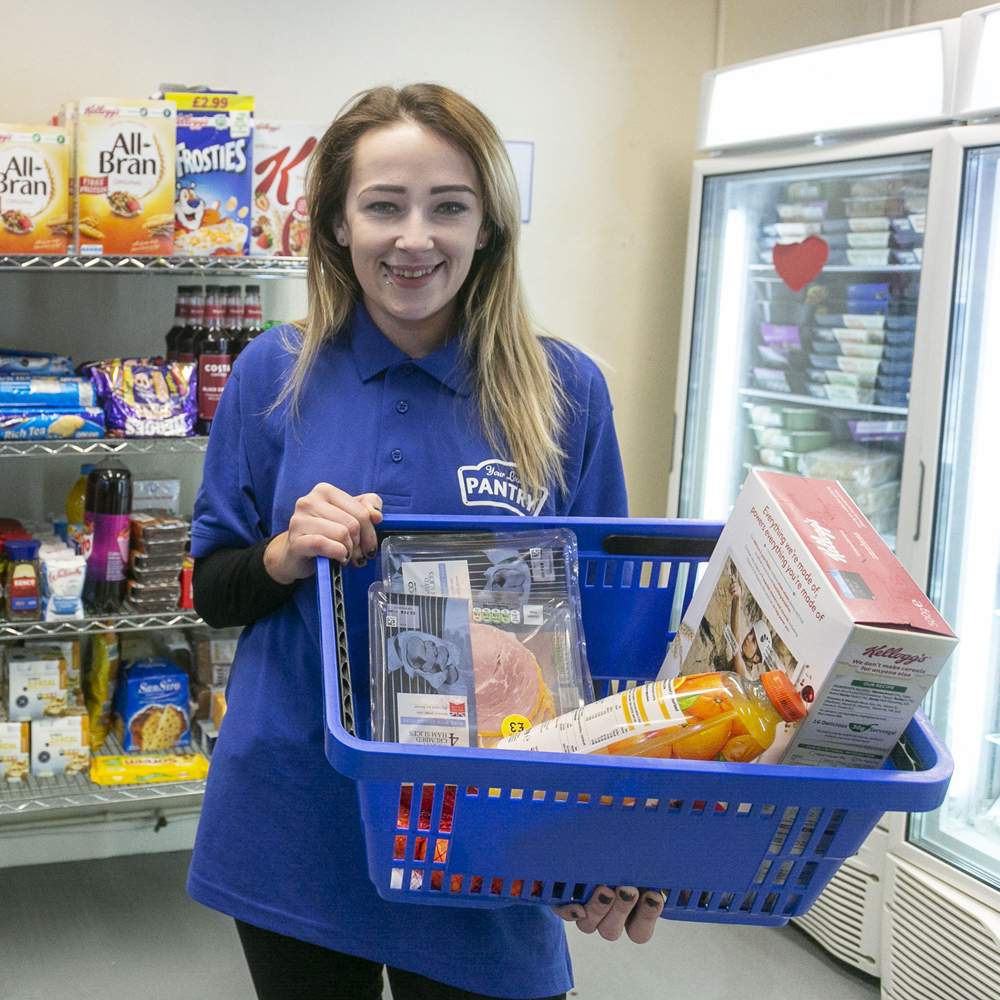 Shannon, one of the volunteers, says it has made a real difference to the local community.
"I don't think I realised how important it was until we shut for two weeks over Christmas," the 25-year-old says.
"It wasn't just the food people missed, it was the conversations."
Vera, who is 78 and lives on her own, is one of the pantry's customers. "I see people I wouldn't see otherwise and we'll have a chat - it brings the estate together," she says.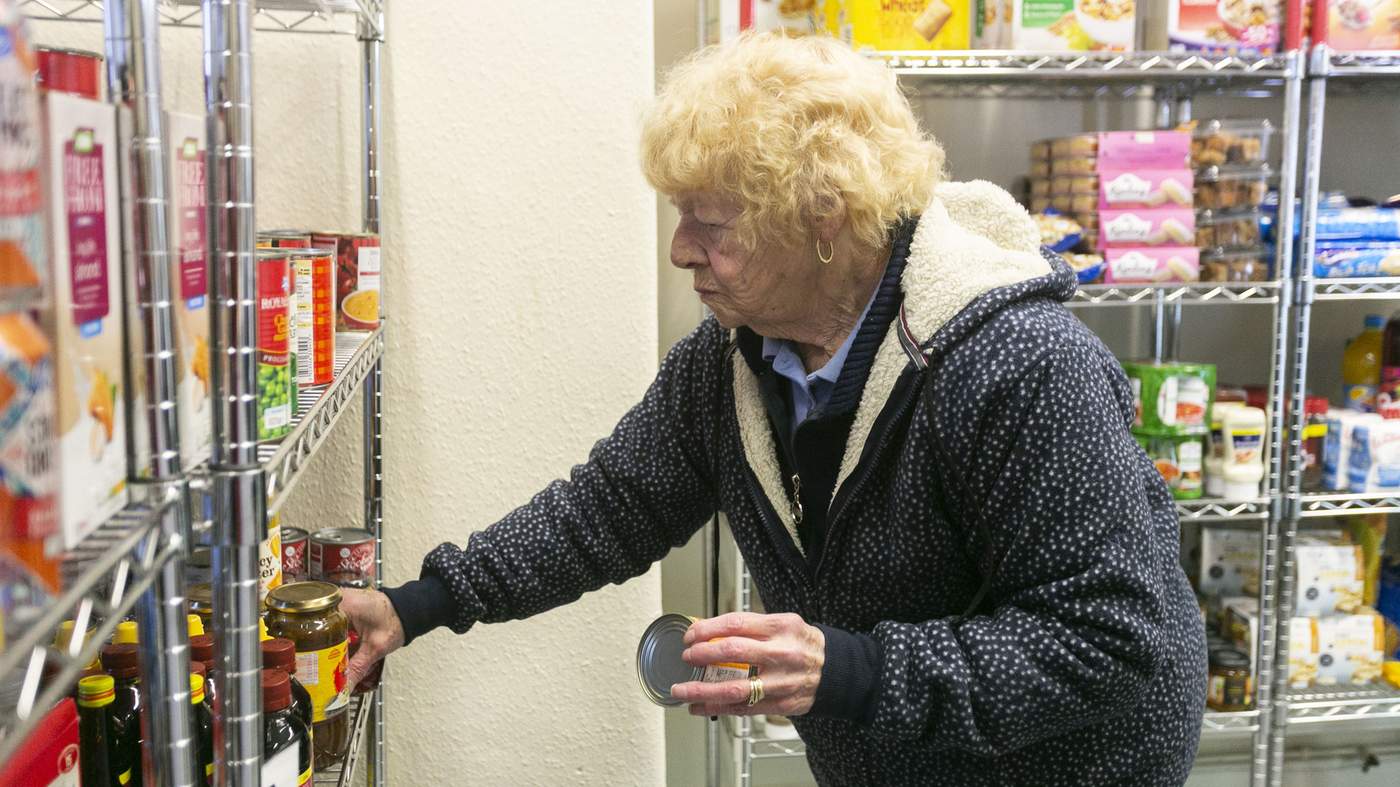 For some members, the pantry can help ease the squeeze on household budgets. For others, it is a lifeline.
Carole started using the pantry after her husband died. She gave up her job to look after him and has health problems herself, so is struggling to get back into work.
"The government doesn't give you enough to live on," she says. For her, the pantry is vital. "I can eat," she says. "I couldn't cope without it."
And, she feels, there is less stigma using the pantry, compared with a food bank.
"You are paying for it so it doesn't feel like you're just getting a handout," she says. "For people who are struggling it's nice to be able to get a bit of help without feeling totally dependent."
For Gina, a primary school teaching assistant who lives with her husband and three children, money can also be tight.
Her family has been forced to use food banks in the past – even though both she and her husband were working – while waiting for their first payment after moving on to universal credit.
Gina says she prefers the pantry because it has a wider variety of food to choose from.
"If you haven't got that much left until you get paid you know you can get enough food here to make a few meals," she says.
"We try and budget as well as we can but this helps."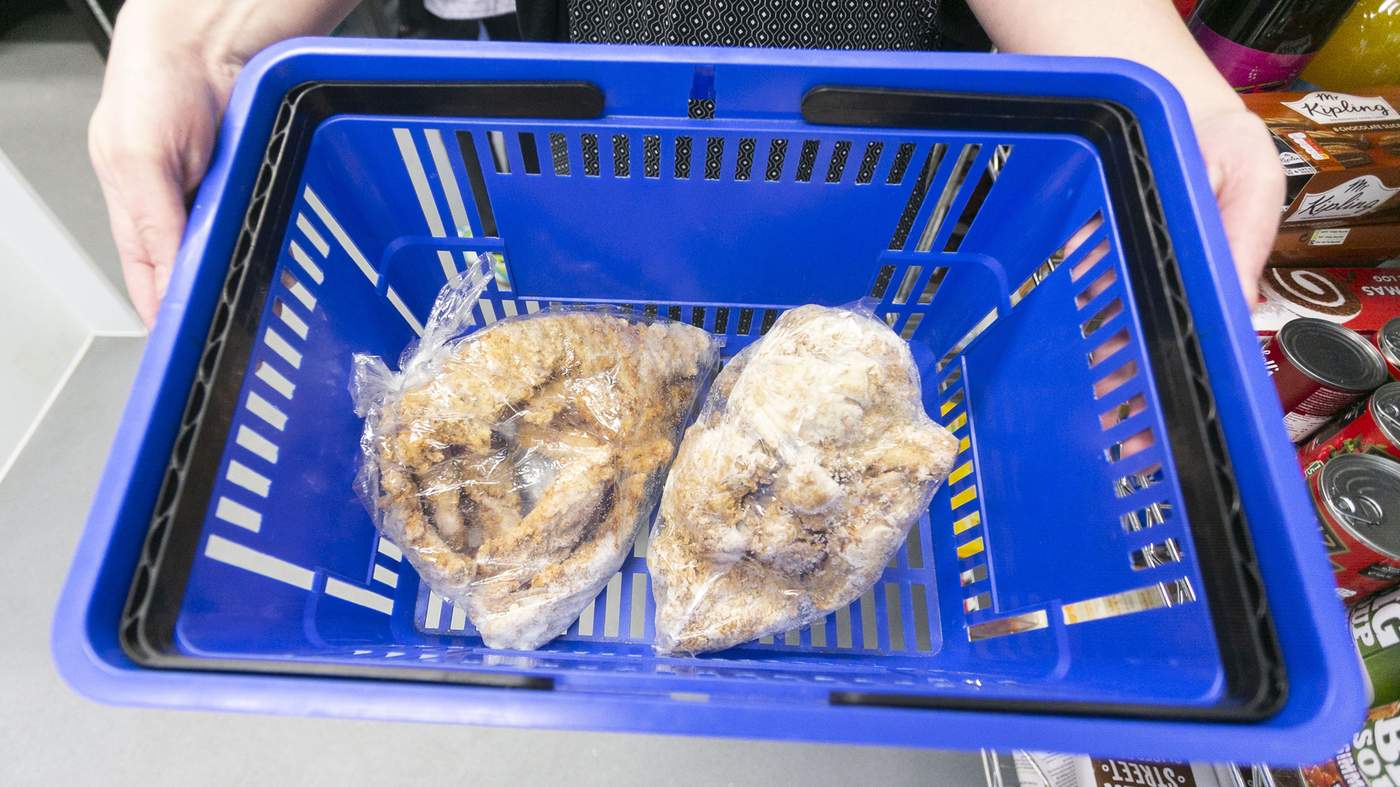 A common problem raised by volunteers and users in all three areas is universal credit.
The rollout of the new system – which merges six benefits into one monthly payment – began in 2013.
It was designed to simplify the benefits system and help people move into work.
However, the Trussell Trust says problems with universal credit - and a wait of at least five weeks before receiving the first payment - are a key driver of food bank use.
Benefits not covering the cost of living - and delays in benefits being paid - were the most common reasons for people using food banks, according to its latest figures.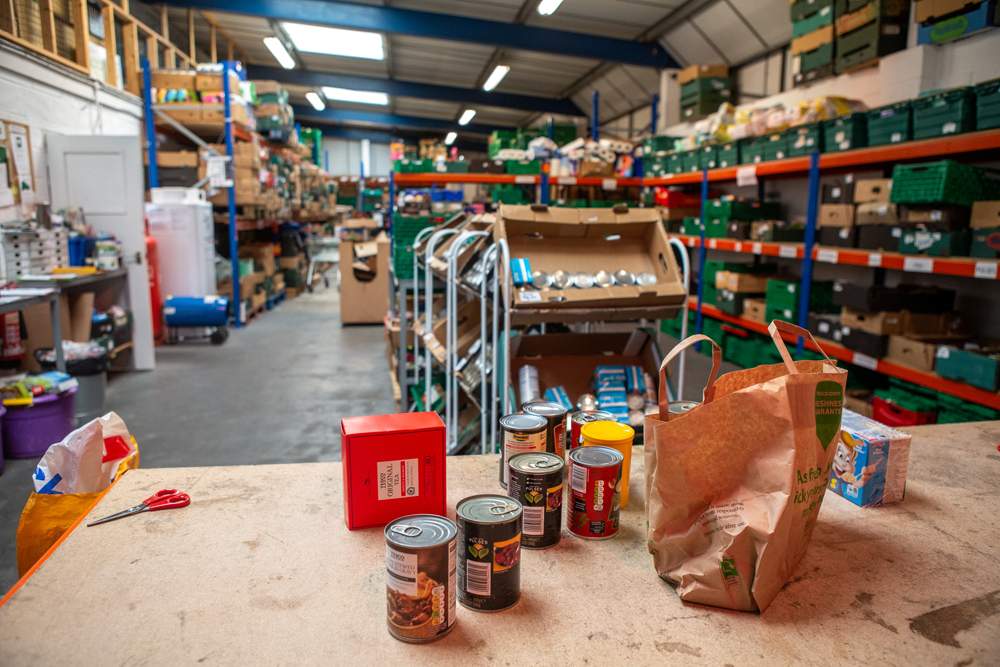 Research by the charity from 2018 also found a 52% increase in food bank use in areas that have had universal credit for at least 12 months, compared with 13% in areas that have not.
The Department for Work and Pensions (DWP) said there were many reasons for people needing food banks and denied that universal credit was driving use.
A spokesperson said universal credit was a "force for good" which was providing support to more than 1.7 million people. They also said the department continued to make improvements where needed.
But the Trussell Trust says ending the five-week wait should be the government's first priority.
In February, Work and Pensions Secretary Amber Rudd said accessing money on time was "one of the causes" of the rise in food bank use.
She said the government had introduced changes, including advances for those who do not have enough to live on while they wait for their first payment.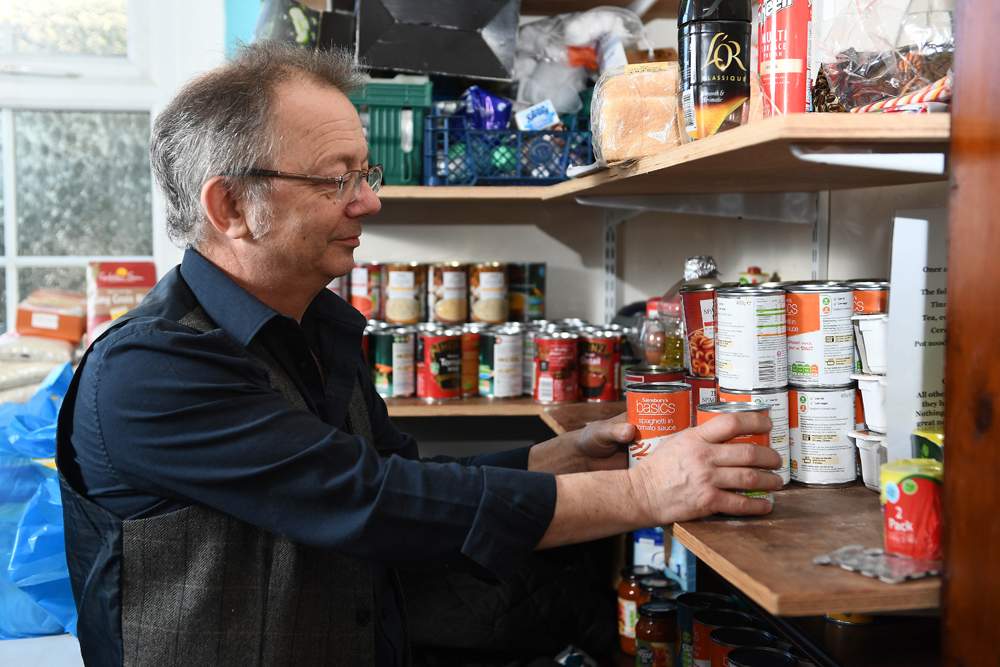 In Newport, Mike is sure that the five-week wait is causing problems. "If you're someone that's got no money in the bank to start off with, you're in real trouble," he says.
"It can be a heck of a long time before people are really back on their feet."
So is there a typical food bank user? In Salisbury, Lucy says low incomes, insecure jobs and problems with benefits mean there isn't.
"We've seen people shocked themselves that they're having to rely on food banks," she says.
"If you're hit by an unexpected crisis, every one of us could be that person."