Covid-19 in Africa: Fighting fake news about coronavirus
To combat what the WHO has called an "infodemic" around Covid-19, BBC News Africa has launched a searchable library of fact-checks debunking popular myths and misinformation about coronavirus in Africa.Explore our top stories on this theme by using the arrows.Then search our library of fact-checks below.

To share Covid-19 misinformation you've spotted, you can email us here.
Top stories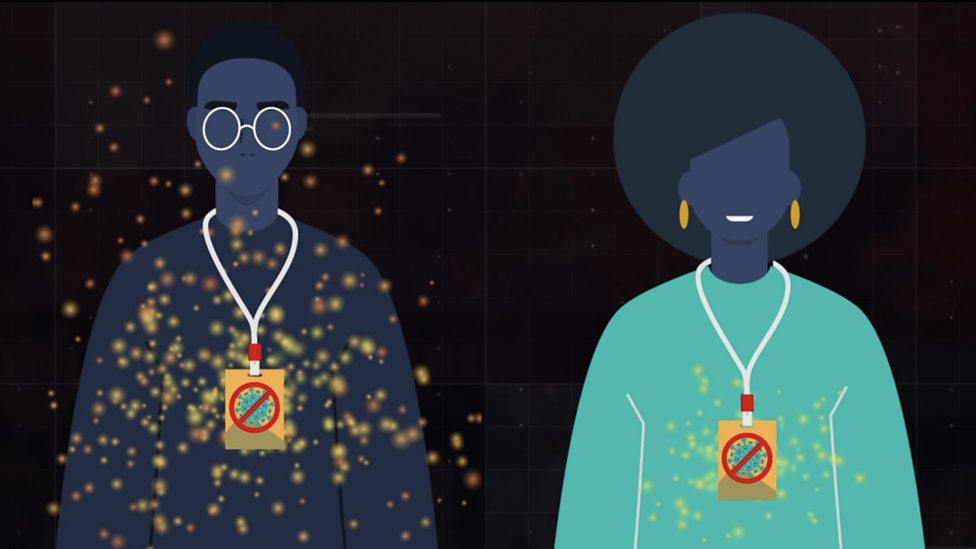 The Covid 'virus blockers' that don't do anything
15 September, 2020
The Covid 'virus blockers' that don't do anything
15 September, 2020
As scientists around the world race to find treatments and a vaccine for coronavirus, dozens of unproven cures are being promoted on and offline.

Politicians in Nigeria and Sudan, as well as other countries outside Africa, have been spotted wearing so-called "protective badges". They're being marketed as "virus blockers" or "virus stoppers" and are being sold around the world.

These badges claim to kill viruses and bacteria by releasing a type of bleaching agent, but experts say they do not work and could cause real harm.

BBC Africa's Yemisi Adegoke explains.

Video producer: Joshua Akinyemi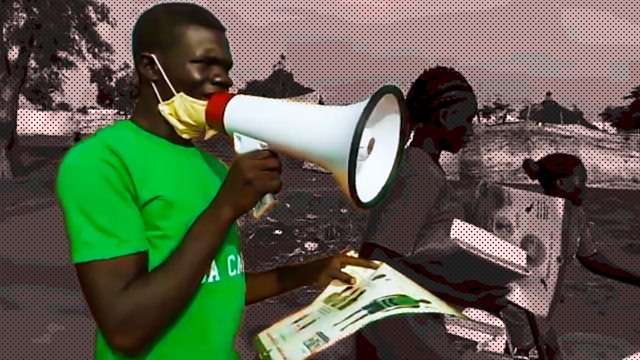 Fighting fake Covid news in a refugee camp
17 August, 2020
Fighting fake Covid news in a refugee camp
17 August, 2020
False beliefs about coronavirus are especially dangerous at South Sudan's Yida refugee camp, which is ill-equipped for any virus outbreak.

"They haven't even got the tools to take temperature," says Raga Gabreel, director of Green Kordofan Charity.

More than 46,000 people live in the Yida camp, most of them young people displaced by war in neighbouring Sudan.

But some of the young refugees are doing their best to fight the myths and accurately inform the camp's residents.

Video producer: Georgina Pearce for BBC My World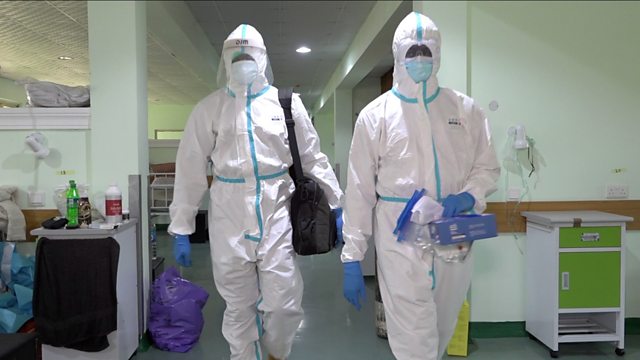 The fight to prove Covid is real in Nigeria
8 July, 2020
The fight to prove Covid is real in Nigeria
8 July, 2020
Cases of coronavirus are on the rise across Africa.

But in some countries, people don't believe the pandemic is real.

The hospitals of Nigeria's biggest city, Lagos, tell a different story, as BBC Africa's Yemisi Adegoke reports.

Filmed by Joshua Akinyemi

Produced by Charlotte Pamment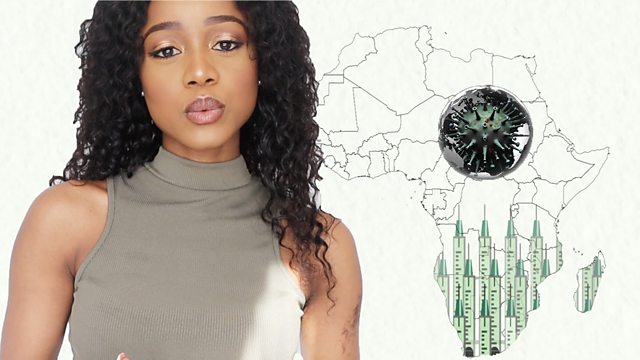 Vaccine trials in Africa: What you need to know
24 June, 2020
Vaccine trials in Africa: What you need to know
24 June, 2020
With the start of the first human vaccine trials in South Africa, Africa has now officially joined the race to find a Covid-19 vaccine.

The large-scale trial of the vaccine developed by Oxford University is being conducted in South Africa, the UK and Brazil.

Experts say a vaccine is the one thing that will help bring life back to normal, but trials have to take place in many different settings before there is one which is safe to use.

Scientists say that it is vital that Africans take part in these trials, arguing that not doing so could jeopardise efforts to find a vaccine that works worldwide - and not just for richer nations.

But critics cite a history of Western exploitation of Africa and unethical drug trials in the past as a reason not to participate.

BBC Africa's Joice Etutu reports on why vaccine trials in Africa are such a sensitive topic and whether things have changed.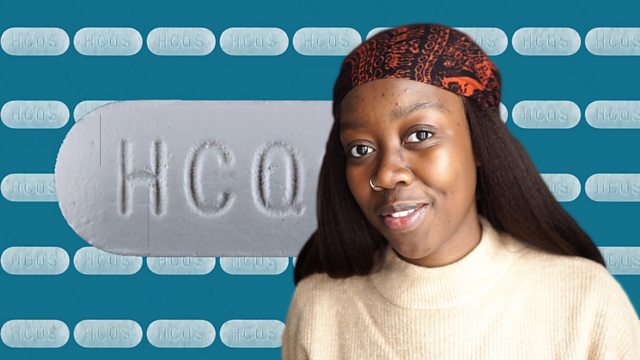 Hydroxychloroquine and coronavirus: The story so far
27 June, 2020
Hydroxychloroquine and coronavirus: The story so far
27 June, 2020
For months, hydroxychloroquine, has been at the centre of much interest as potential preventative measure and for treating patients with Covid-19.

The anti-malarial drug has been promoted by Brazil's President Jair Bolsonaro and his by his US counterpart Donald Trump who even took it himself for a while to ward off infection.

The ongoing interest in the drug has led shortages and rising prices which directly impacted those taking the drug already for autoimmune conditions like lupus and rheumatoid arthritis.

While recent large scale trials have shown that hydroxychloroquine is not effective as a treatment some countries have continued to promote its use within their healthcare systems.

With so many twist and turns, the question is where do we stand now with hydroxychloroquine?

Produced, edited and presented by Jameisha Prescod

Executive producers: Miriam Quansah and Marko Zoric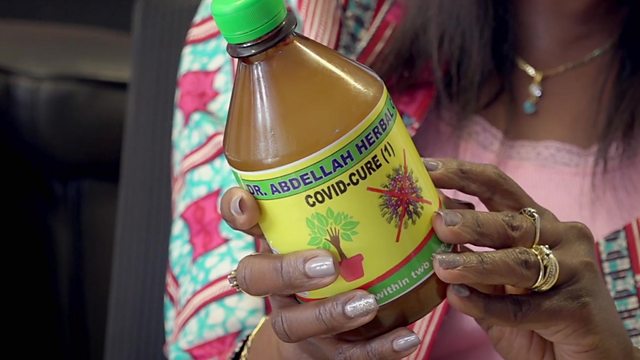 Ghana 'quack doctors' selling 'Covid cure'
29 June, 2020
Ghana 'quack doctors' selling 'Covid cure'
29 June, 2020
An underworld of quack doctors and conmen have been exploiting the coronavirus pandemic and making money selling fake coronavirus cures.

Investigative reporter Anas Aremeyaw Anas goes undercover in Ghana, exposing a Covid-19 scam said to be worth thousands of dollars.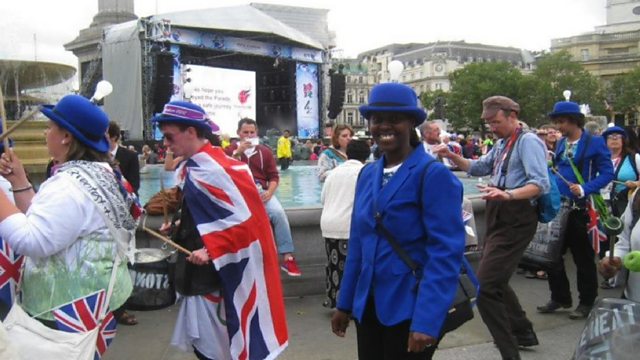 Fake coronavirus WhatsApp message 'killed me off'
17 April 2020
Fake coronavirus WhatsApp message 'killed me off'
17 April 2020
Elsie Kibue was in bed when her husband showed her a WhatsApp message he'd received from a friend.

It claimed to give information about the death of Uganda's fourth coronavirus victim, but the picture used in the post was of Elsie, a Kenyan woman living in London.

Video producers: Joshua Akinyemi and Yemisi Adegoke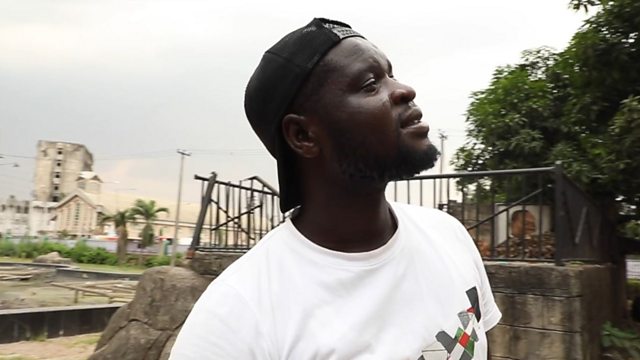 Coronavirus fake news 'almost made me take my life'
20 March 2020
Coronavirus fake news 'almost made me take my life'
20 March 2020
Days after Nigeria recorded its first positive coronavirus case, a story went viral on social media.

It claimed the taxi driver who had picked up the patient was demanding money not to spread the disease, sparking outrage among Nigerians.

The story was fake, but the impact on Jude Ikuenobe, the man whose photo was used in the post and who is an anti-trafficking campaigner, has been very real. He no longer feels safe going out alone and has received death threats.

His story is just one example of dozens of pieces of misinformation that have spread across Nigeria since the coronavirus outbreak.

Video producers: Joshua Akinyemi and Yemisi Adegoke
Fact-check library
Pick a country or select a category button
No evidence elephant dung can cure Covid-19

20 August 2020

Unproven claims that elephant dung can cure Covid-19 have been circulating on social media in Namibia, leading to an increase in demand for the dung.

Claim rating:

NO EVIDENCE

Elephant dung is used by traditional healers in Namibia to ward off evil spirits and to treat ailments such as nose bleeds, headaches, blocked sinuses, toothaches and other types of pains.

People usually burn the dung and inhale the resulting smoke while others use it for herbal concoctions.

Some people have been falsely claiming that it can also cure Covid-19, increasing demand and the price.

The environment ministry says it has observed increased interest in the dung and it is becoming harder to find.

The government says people are not restricted from collecting the dung outside national parks, but it is prohibited inside the parks which are restricted areas where elephants are protected.

Namibia's Health Minister Kalumbi Shangula has dismissed the claims saying those promoting the dung as a cure are preying on the ignorance of others.

"So far there is no cure for Covid-19. If anybody claims as such, it must be treated as a false claim," he is quoted by The Namibian newspaper as saying.

The World Health Organization says there is currently no proven cure for Covid-19.

Fact-checked by: BBC Reality Check

Ghana's president did NOT endorse a conspiracy theory

9 August 2020

A voice recording endorsing various false conspiracies about the coronavirus pandemic has been falsely attributed to the President of Ghana.

The message makes various unsubstantiated claims about the origins of the virus, including the widely-shared false notion that the pandemic was a planned event, a so-called 'plandemic'.

It also features false claims about mandatory vaccinations and the involvement of Bill Gates in manipulating events.

Different versions of the clip have been circulated in Europe, North America and Africa.

The voice of the man speaking has a West African accent, but it is definitely not President Nana Akufo-Addo.

Ghana's Information Minister has confirmed that the voice was not the president's and said the claim was "obviously false".

One version, posted on a Nigerian YouTube channel, has clocked up more than 400,000 views.

The man who runs a Nigerian YouTube channel where the video has clocked more than 400,000 views says he changed the title of the video after people in the comments pointed out it inaccurately named the Ghanaian president.

The title now reads "Africa Leader...Exposes Bill Gates Deadly Vaccine For Africa".

Video on reaction to alcohol ban in South Africa is satire

9 August 2020

A satirical video of a man's reaction to the re-imposition of an alcohol sale ban in South Africa on a TV news channel has been taken by some as real.

It has been viewed thousands of times on Facebook and is also circulating on WhatsApp.

The comedian Thandokwakhe Mseleku posted the video of his television appearance on Instagram and YouTube.

In the video, he says: "Sanitiser has got 70% alcohol, so if you are drinking alcohol, it is like you are sanitizing your inside."

Judging by some of the comments to the video, people clearly thought it was real.

The original video is available on the South African Broadcasting Corporation's YouTube channel.

The comedian later also labelled his videos as 'parody'.

We reached out to Thandokwakhe Mseleku and SABC for a comment.

Eating high-alkaline foods will NOT eliminate the virus

9 August 2020

A poster falsely claiming that eating alkaline foods can eliminate the coronavirus has been circulating on social media.

The poster is being passed off as advice from inside isolation hospitals on what to do to be protected from the virus.

It claims falsely that the 'acidity' of the virus can be eliminated by consuming high-alkaline foods, and lists a variety of fruits with their apparent pH levels.

Some of the values in the shared poster are way off this scale: Avocados register 15.6 and Watercress 22.7. This is simply incorrect.

Different parts of the body have different natural pHs which are naturally kept in balance and can't be changed through diet. For example, blood is very slightly alkaline, your stomach is acidic.

So eating certain foods would not have an effect on the pH level inside cells.

"Given that it would be impossible to increase the pH of your cells, then it's a bit of a pointless argument to determine if high pH would inhibit the virus", says Connor Bamford, a virologist at Queen's University Belfast.

A coronavirus vaccine trial in Africa has NOT led to the death of two children

9 August 2020

A London-based vlogger falsely claims that vaccine trials for Covid-19 were already under way in Guinea in April, and also falsely claims that two children died as a result.

The video was uploaded first as part of the reaction to two French doctors who controversially suggested on French TV in April that early vaccine trials should be conducted in Africa.

Their comments caused an uproar, including among some in the African diaspora.

The video was illustrated with what was claimed to be a local news report showing unrest on the streets and interviews with sick children.

The claims in the video first surfaced in May and were debunked at the time, but they have continued to circulate on Facebook and closed WhatsApp groups, and have been watched around 25,000 times on YouTube.

The news report was from March 2019, before the coronavirus outbreak began, and the incident was not related to a vaccine.

The Guinean health ministry also put out a statement at the time which explained some people had experienced side-effects after being given an anti-parasitic drug treatment, not a vaccine.

According to officials interviewed in the report itself and local articles, there were no deaths reported from this treatment.

Prolonged mask wearing does NOT cause CO2 intoxication or oxygen deficiency

25 June 2020

The WHO and other health experts have dismissed this claim. The breathable materials recommended for face masks worn properly will not inhibit your breathing.

A misleading article being shared on social media claims the prolonged wearing of masks is dangerous to health.

An article containing the claim on a Nigerian news site was shared more than 55,000 times on Facebook.

The article claims prolonged breathing while wearing masks leads to inhalation of carbon dioxide, which makes people dizzy and also deprives the body of oxygen.

Dr Richard Mihigo, of the World Health Organization, told the BBC that the claims are not true.

"Non-medical and medical masks are made from woven fabric that has high breathability. The masks should allow you to breathe normally and prevent particles from passing through," he said.

There have been lots of posts alerting people to a potentially harmful side-effect - called hypercapnia - where there's too much carbon dioxide in the blood.

But it's highly unlikely you'll suffer it wearing a cloth or gauze face mask.

"This simply won't happen unless there is an air-tight fit and you rebreathe your air," says Prof Keith Neal, an infectious disease expert at the UK's Nottingham University.

Carbon dioxide molecules are tiny - far smaller than droplets containing coronavirus which the masks are designed to stop - and won't be trapped by a breathable material, particularly during relatively short periods like a bus journey.

When you breathe out, the carbon dioxide will go through and round the mask.

Surgeons regularly wear much heavier-duty face coverings all day without coming to harm.

"There have been reports of some medics developing headaches linked to wearing personal protective equipment for long periods of time, but it's still highly unlikely they would suffer from some of the more extreme effects of carbon dioxide toxicity," says Rachel Schraer, BBC Health reporter.

There are some people for whom face masks are not advised, for example children under two whose lungs haven't fully developed and people with respiratory conditions who may struggle to breathe.

People should also not wear masks when exercising, according to the WHO.

We consulted an expert from the World Health Organization, who dismissed the claim.

The WHO has debunked this claim on its Myth Busters page, saying:

"The prolonged use of medical masks can be uncomfortable. However, it does not lead to CO2 intoxication nor oxygen deficiency. While wearing a medical mask, make sure it fits properly and that it is tight enough to allow you to breathe normally."


NO evidence Madagascar has found a cure for Covid-19

25 June, 2020

The country's president claims the Covid-Organics herbal drink has cured people, but there is no scientific evidence.

Madagascar's President Andry Rajoelina has claimed that the locally produced Covid-Organics herbal tonic cures, and can prevent, Covid-19 after a week.

"Tests have been carried out - two people have now been cured by this treatment," Mr Rajoelina said at the launch in April 2020 of Covid-Organics at the Malagasy Institute of Applied Research (Imra), which developed the tonic.

"This herbal tea gives results in seven days," said the president, who also urged people to use it as a preventative measure.

But the World Health Organization is clear in its advice that there is no medicine currently available that can prevent or cure Covid-19.

The UN's health agency has said that it supports "scientifically-proven" traditional medicine, but that Africans "deserve to use medicines tested to the same standards as people in the rest of the world".

The herbal tonic is derived from artemisia - a plant which contains an ingredient used to treat malaria - along with other plants sourced within the country.

It was being marketed in a bottle as a herbal tea after being tested on fewer than 20 people over a period of three weeks, the president's chief of staff Lova Hasinirina Ranoromaro told the BBC.

Online rumours that the African Union and the WHO have both validated the use of Covid-Organics as a cure or preventative treatment for Covid-19 are false.

Claims that Madagascar has left the AU as a result of a row over Covid-Organics are also false.

Scientists who have been testing extracts from artemisia annua plants in Germany say they showed some effectiveness against the coronavirus in a lab setting.

Human clinical trials however need to be conducted to determine whether the extracts can be used for treatment of COVID-19 infections in patients.

The trials are set to begin at the University of Kentucky.

There is currently no proven cure for Covid-19, as publicly stated by the World Health Organization.

In response to the launch of Covid-Organics, the WHO said, in a statement sent to the BBC, that the global organisation did not recommend "self-medication with any medicines... as a prevention or cure for Covid-19".

It reiterated earlier comments by WHO head Tedros Adhanom Ghebreyesus that there were "no short-cuts" to finding effective mediation to fight coronavirus.

Madagascar's national medical academy (Anamem) has also cast doubt on the efficacy of the president's touted prevention and remedy.

It said it had the potential to damage people's health as its "scientific evidence had not been established".

There has been no peer-reviewed research into the effectiveness of Covid-Organics against Covid-19.

Consuming alcohol does NOT protect you against Covid-19

24 April 2020

A Kenyan politician made this false claim to explain why cognac was included in relief packages for some Nairobi residents.

In April the governor of Kenya's capital, Nairobi, was criticised for misleading remarks about alcohol and the coronavirus.

Mike Sonko said he had included bottles of Hennessy cognac in food supplies for vulnerable people in the city, saying they would serve as a "throat sanitiser".

"From the research which has been conducted by World Health Organization (WHO) and various health organisations it has been revealed that alcohol plays a very major role in killing the coronavirus, or any sort of virus," he said.

He appears to have misinterpreted WHO health advice. It says drinking alcohol does not protect you against the coronavirus, but it does refer to the efficacy of alcohol-based gel to clean your hands.

The WHO advice adds that alcohol consumption "is likely to increase the health risks if a person becomes infected with the virus".

Hennessy, the manufacturers of Hennessy cognac, have also cautioned Kenyans against consuming alcohol with the belief that it will offer protection.

The WHO says drinking alcohol does not protect against Covid-19.

It does however recommend using alcohol-based hand sanitiser.

Tanzania's president did NOT ban wearing masks in public

06 June 2020

Misleading messages have been spreading on social media claiming that Tanzania's President John Magufuli has banned the wearing of masks in public.

These posts claim the president had said wearing masks would spread fear, and send the wrong message to foreign visitors once international travel and tourism resume.

The president's spokesperson has called on people to disregard the claim.

The Tanzanian government encourages citizens to wear masks in public, and to practice social distancing.

However, the authorities are not releasing regular data on the coronavirus outbreak, and there are concerns that the president is downplaying the impact of the virus.

The posts use a screenshot of a tweet purportedly posted by the president, but it is fake and doesn't appear in the president's Twitter feed.

There is also a fabricated press statement circulating, which is dated and signed from his hometown, Chato.

However, when we checked, we found that President Magufuli was in the city of Dodoma at that time.

South Sudan's bogus badges against the virus

06 June 2020

South Sudan President Salva Kiir and other senior officials have used so-called "protective" badges that claim to repel viruses, but which don't work.

Claim rating:

NO EVIDENCE

Photos posted on Facebook by the president's press unit show him and other officials wearing what look very similar to two kinds of badges that can be bought online - called "Air Doctor" and "Virus Shut Out".

But there's no evidence that these can ward off viruses and bacteria.

When contacted by the BBC, a South Sudan government spokesperson said they'd been supplied to them by someone who said they were working on behalf of the Japanese government.

But they added they'd stopped wearing them "as they are not approved by the WHO". The Japanese Embassy in South Sudan has denied any link to them.

Similar devices are being sold around the world and have been spotted being used by members of the Russian parliament.

We consulted Dr Wayne Carter, a biochemist and associate professor at Nottingham University, who confirmed that the badges could not prevent coronavirus infection.

The substance released by such cards or badges - the bleaching agent chlorine dioxide - is potentially harmful, and the subject of a warning from the US drug regulator, the FDA.

Children did NOT die in Senegal from "Covid-19 vaccination"

1 July 2020

Claims that seven children died after a mass Covid-19 vaccination programme in Senegal are false

A Facebook post shared over 7,000 times claims the children "died on the spot" after being given jabs as part of a mass vaccination programme in Senegal.

Some versions of this false claim feature a a video with a French voiceover saying the children "died on the spot", but this voiceover appears to have been added later.

Ngoné Ngom, a spokesperson at Senegal's ministry of health confirmed to BBC News Africa that the story was "fake news".

A spokesman for Senegal's Armed Forces told AFP news agency that the man was in fact a door-to-door cosmetic salesman.

In the original version of the video, the language spoken is Wolof, and there is no mention of children dying.

There was no Covid-19 mass vaccination programme in Senegal at the time the post went viral.

There is still no approved vaccine for Covid-19, according to the World Health Organization.

No evidence coronavirus lasts up to a month on surfaces

3 July 2020

There is no evidence that coronavirus can survive on surfaces for up to one month if they are not cleaned properly.

Claim rating:

NO EVIDENCE

Some "precautionary" messages on Covid-19 shared on social platforms say coronavirus could last up to a month on hard surfaces if they are not cleaned with disinfectant or soap and water.

But there is no evidence for this.

The World Health Organization says: "Studies have shown that the COVID-19 virus can survive for up to 72 hours on plastic and stainless steel, less than 4 hours on copper and less than 24 hours on cardboard."

It says that "people can become infected by touching these objects or surfaces, then touching their eyes, nose or mouth", but that the main way the disease spreads is from person to person.



The US' leading public health body, the Centers for Disease Control and Prevention (CDC), also says that "touching a surface or object that has the virus on it... isn't thought to be the main way the virus spreads".

But it does still advise that people should "routinely clean and disinfect frequently touched surfaces" in order to slow the spread of the virus.

A study on Covid-19 published in March in the New England Journal of Medicine found that "viable virus" was detected on plastic and stainless steel surfaces after 72 hours.

But commenting on the study and media coverage around it, Professor Caroline Machaber, an expert in coronaviruses at Johns Hopkins University in the US, said:

"That sounds really scary. But what's more important is the amount of the virus that remains. It's less than 0.1% of the starting virus material. Infection is theoretically possible but unlikely at the levels remaining after a few days."



Fact-checked by: BBC News Africa

This South Sudanese minister did NOT die from coronavirus

30 June 2020

South Sudan's Minister of Cabinet Affairs came out to deny he had died from coronavirus

In a statement South Sudan's Minister of Cabinet Affairs Dr Martin Elia Lomuro dismissed rumours that he had been hospitalised or even died due to Covid-19.

Dr Lomuro said he had tested negative for Covid-19 and warned citizens against spreading fake news.

On 25 May, South Sudan's President Salva Kiir also publicly dismissed rumours that he had been evacuated to the Egyptian capital Cairo after contracting the coronavirus, BBC Monitoring reports.

The rumours appeared to escalate after the country's Information Minister Michael Makuei confirmed on 22 May that 10 ministers, including himself, had tested positive for Covid-19.

Dr Lomuro denied rumours of his death in a statement aired on national broadcaster SSBC.

Fact-checked by: BBC News Africa

Inhaling steam does NOT cure coronavirus

30 June 2020

Inhaling very hot steam does not cure Covid-19 and could be harmful, according to health experts.

This false claim has been widely shared in Africa and even received an endorsement from Tanzanian President John Magufuli.

People do inhale steam to deal with symptoms like a blocked nose, but there's no evidence that it works as a treatment for coronavirus.

High-temperature steam-cleaning of surfaces in hospitals and elsewhere does destroy the coronavirus (as well as other types of viruses) says Prof Keith Neal, a specialist in the study of the spread of infectious diseases at the University of Nottingham in the UK.

However, any attempt to inhale steam at this temperature, would be extremely dangerous and risk burns.

Your body's cooling system would kick in to limit the rise in temperature, says Prof Neal, and your lungs would certainly be irreparably damaged before reaching a temperature high enough to deactivate the virus.

Also, water vapour rising from a boiling pan would be quickly cooled as it enters the body and not be hot enough to have an effect against the virus.

BBC Reality Check spoke to Keith Neal, a specialist in the spread of infectious diseases at the University of Nottingham in the UK, who confirmed there was no evidence inhaling hot steam cures Covid-19.

There are no specific treatments or vaccines for Covid-19. The World Health Organization, the UN's health agency, says: "While some western, traditional or home remedies may provide comfort and alleviate symptoms of mild Covid-19, there are no medicines that have been shown to prevent or cure the disease."

Putting disinfectant into your body will NOT protect you from Covid-19 and can be dangerous

30 June 2020

President Trump's suggestion this might help treat Covid-19 is false and has been widely denounced by medical experts.

In April, US President Donald Trump suggested injecting patients with disinfectants might help treat coronavirus.

Using a disinfectant can kill viruses on surfaces, but this is crucially only about infected objects and surfaces - not about what happens once the virus is inside your body.

Not only does consuming or injecting disinfectant risk poisoning and death, it's not even likely to be effective.

Online searches for "disinfectant" across several African countries surged after Mr Trump made the comments at a White House coronavirus briefing on 23 April.

Doctors have appealed to people not to ingest or inject disinfectant, as there are concerns people will think this is a good idea and die.

"Injecting bleach or disinfectant at the dose required to neutralise viruses in the circulating blood would likely result in significant, irreversible harm and probably a very unpleasant death," says Rob Chilcott, professor of toxicology at the University of Hertfordshire.

He adds that it would also "not have much effect on viral particles within the cells".

Mr Trump has subsequently defended his comments claiming "I was asking a question sarcastically to reporters."

The World Health Organization says that "spraying or introducing bleach or another disinfectant into your body will not protect you against Covid-19 and can be dangerous".

Applying menthol gel to the nostrils or drinking hot water do NOT prevent coronavirus

9 April 2020

This is what Guinea's President Alpha Condé recommended but it is not backed by any scientific evidence.

President Condé advised Guineans to wash their hands regularly and maintain social distancing, but he also suggested they apply mentholated gel in their nostrils and drink hot water to prevent coronavirus.

The WHO recommends washing your hands regularly and thoroughly and practising social distancing as key ways to protect yourself from Covid-19.

It does not recommend drinking hot water or using mentholated gel as a preventative measure.

Fact-checked by: BBC News Africa

Home-made hand sanitisers made with vodka do NOT prevent Covid-19

30 June 2020

Home-made hand sanitiser recipes using vodka do not contain enough alcohol to kill the virus.

Some blogs have published recipes for home-made hand sanitiser using aloe vera gel and vodka as a substitute for isopropyl or rubbing alcohol.

Vodka does not contain enough alcohol to kill the virus.

Furthermore, some medical experts are concerned that conditions at home where these homemade sanitisers are produced may not be sterile.

The US CDC recommends that a hand sanitiser should contain at least 60% alcohol. To achieve this, you need an alcohol base of over 90% during production.

Commercially available vodka is generally 40% alcohol, or lower.

This video does NOT show Africans under attack in China

30 June 2020

The footage is actually from New York city not from China, despite false claims made in social media posts sharing the video.

In April, videos were trending online claiming to show Africans being attacked in the street in China.

This comes as African communities in China have reported being accused of spreading the virus.

A Kenyan blogger on Twitter, and others on YouTube and Facebook, shared one with the caption: "Kenyan couple exchange blows with a Chinese couple in the streets of Wuhan.... it's survival for the fittest."

Clips from the video were also used by a leading TV station in Kenya.

The only problem is that the video is taken in New York, not China.

On Twitter, the post tags nearby places in New York in a caption to the video, including St Barnabas Hospital and Fordham Road. And on Instagram, it tags Oriental House - a Chinese restaurant in New York - as the location.

By using Google Street View, you can locate a cash-point and the hospital, both of which are visible in the video of the street brawl.

Fact-checked by: BBC Reality Check

There's NO evidence the BCG vaccine protects against coronavirus

30 June 2020

The World Health Organization (WHO) says there is no evidence to support this widely shared claim.

Claim rating:

NO EVIDENCE

WhatsApp messages claiming that the BCG vaccine prevents coronavirus are inaccurate.

The BCG jab, which is used to fight tuberculosis, has been given to children around the world.

It is recommended by the World Health Organization in countries with a high incidence of TB, many of which are in Africa.

However, the UN health body says there is no evidence the vaccine protects people from coronavirus.

There are two clinical trials to assess this question under way, and when completed, their findings will be evaluated by the WHO, the agency says.

The WHO is concerned that increased demand for the vaccine means there'll be less of it available to inoculate children against tuberculosis.

Globally, an estimated 1.5 million people died from TB in 2018.

The UN's health agency the WHO has publicly stated there is no evidence to prove the claim that the BCG vaccine protects people against Covid-19.

Blue facemasks are NOT contaminated

30 June 2020

Social posts urging Africans not to wear blue masks contain fabricated quotes from public figures and are false.

Two posts on Facebook, which have been urging Africans not to wear blue face masks amid claims they are contaminated with toxins, have been widely shared.

The first post claims to be quoting Amazon founder Jeff Bezos and a supposed scheme to distribute contaminated masks.

"Dear Africans, avoid wearing the blue masks that are made in America and Europe because these masks contain suicidal toxic [sic]" the post reads. It doesn't explain what toxins they are supposed to contain.

Amazon says the quotes have been fabricated.

A post on another page - this time falsely quoting the head of the World Health Organization - also urges people not to wear blue masks.

Mary Stephen, from the WHO regional office for Africa, told the BBC the organisation hasn't received any reports of contaminated masks.

"Countries are sourcing their masks from different sources, and we are not aware of any contamination," she says.

Both of the main sources quoted in the viral posts have denied saying anything about blue masks being contaminated.

No evidence has been offered to support the claims.

Fact-checked by: BBC Reality Check

There's NO evidence HIV research is to blame for coronavirus

April 25th 2020

There's no link between work on an HIV vaccine and Covid-19, despite claims by a Nobel prize winner.

Claim rating:

NO EVIDENCE

An interview in which Nobel-Prize winning scientist Luc Montagnier suggested the coronavirus was created in a laboratory has been widely shared on Facebook.

Luc Montagnier, the co-discoverer of HIV, said on French TV that the virus contained elements of HIV.

In another interview he said it was accidentally released from a lab in Wuhan. The virus, he said, was the result of research into an HIV vaccine.

However, despite rampant online speculation, "there is no evidence of any kind that the Sars-CoV-2 virus (which causes Covid-19) was released accidentally from a lab", says BBC science editor Paul Rincon.

Peer-reviewed scientific analysis of the evidence suggests coronavirus came from animals.

Mr Montagnier may have been describing things which are common to many viruses.

Coronavirus does NOT only affect the rich

9 June 2020

Early cases outside China were among the well-travelled, but the virus isn't connected to wealth.

As the virus originated in China, the initial cases in Africa were from those who had been overseas.

These people tended to be wealthy which led some to believe that the virus only affected the rich.

It has also been seen by some as a punishment for those affluent people who are not interested in poverty alleviation programmes.

But the virus makes no distinction between who has money and who does not.

Coronavirus is a respiratory disease and is mainly transmitted through droplets from an infected person.
These can enter the lungs of anyone, regardless of social class, age or wealth.

The WHO advises people of all ages to take steps to protect themselves from coronavirus.

Fact-checked by: BBC News Africa

This Japanese Nobel Prize-winner did NOT say Covid-19 was manufactured

May 2nd 2020

Prof Tasuku Honjo denies making the claim. Scientific evidence shows the virus came from animals and was not man-made.

A viral message attributed to Japanese Nobel Prize laureate Tasuku Honjo claims he believes the new coronavirus was "manufactured" in a lab in the Chinese city of Wuhan.

But he says he never made this claim.

In a statement published on the website of Kyoto University, Prof Honjo, the 2018 winner of the Nobel Prize for physiology or medicine, said he was "greatly saddened" that his name had been used to spread "false accusations and misinformation".

The claim is believed to have first been posted in India before spreading to Nigeria, where it went viral.

Nigerian politician Femi Fani Kayode posted the message on his Facebook page, which led to a further 5,000 shares.

The BBC's science editor, Paul Rincon, says "there's currently no evidence that any research institute in Wuhan was the source of Sars-CoV-2" (the virus which causes Covid-19).

A peer-reviewed study in March found no evidence the coronavirus had been engineered, stating that "it is improbable that SARS-CoV-2 emerged through laboratory manipulation".

Professor Honjo has publicly denied ever making the claim.

According to scientists, genome sequencing shows the novel coronavirus came from animals and was not man-made.

This video does NOT show Chinese-owned businesses being burned down in Nigeria

June 3 2020

The video of a fire at a Nigerian market is real, but the claim that the fire shows attacks on Chinese-owned businesses, is false.

The claim that this viral video shows Chinese-owned businesses in Nigeria being destroyed due to anger over reported attacks on Africans in China, is false.

The images actually show shops on fire at a popular market area in Ibadan in south-west Nigeria, a story which was covered by local media in April 2020.

The video, which has been viewed more than a million times, was later pulled by Twitter because they said "it violated Twitter rules".

The Punch newspaper in Nigeria reported on the fire and refers to Nigerian traders with no mention of Chinese businesses.

Nigeria's Vanguard newspaper also suggests that the fire was accidental and not arson, reporting that "a spark from a welder's shop had ignited the fire which quickly spread to other shops in the market".

One of the Facebook pages that originally shared the video with the false caption, gaining more than 400,000 views, has now issued a correction.

A list of Nigerian donors for a Covid-19 fund is fake

June 9 2020

A letter claiming to show a list of donors to a Covid-19 relief fund in Nigeria is fake, the finance ministry says.

The letter, which purported to be from a secretary at the Ministry of Finance, named prominent Nigerians such as Aliko Dangote as donors.

In a statement debunking the letter, the ministry called it a "scam" and said it had not requested any donations.

Some of the individuals named in the letter have pledged donations through their own foundations.

Fact-checked by: BBC News Africa

This video does NOT show Nigerian security officials violently enforcing lockdown

The video has been circulating online since 2013 and is from Ghana, not Nigeria.

The video has been circulated on WhatsApp, with the suggestion that it shows Nigerian security officers violently enforcing an anti-coronavirus lockdown and social distancing measures in Nigeria in April 2020.

The video also surfaced on Facebook and on Instagram under the hashtag #Buhari, referring to Nigeria's president.

If you search images from the video they appear online in 2013, seven years before the Covid-19 pandemic and subsequent lockdowns.

Ghana's police service confirmed on its official Twitter account that the video is misleading because it is unrelated to its Covid-19 operations and dates back to 2013.


The Ghana Police Service confirmed to BBC News Africa that the incident took place at Josif Broz Tito Avenue in the capital Accra.

Fact-checked by: BBC News Africa

A Chinese doctor in Nigeria did NOT test positive for coronavirus

June 1 2020

The Nigerian Centre for Disease Control denies that a Chinese doctor has tested positive for coronavirus in Nigeria.

The post was shared on Twitter but was quickly debunked by the Nigerian Centre for Disease Control (NCDC).

Some Nigerians were concerned when the Minister for Health announced a medical team from China were to assist "with testing and management of Covid-19" cases.

Some people, including doctors, said the government should focus on supporting Nigerian doctors, while others feared the team had been exposed to the virus and would spread it in Nigeria.

Fact-checked by: BBC News Africa

The Nigeria Centre for Disease Control is NOT offering dream interpretation services

June 2 2020

The NCDC says a poster saying the agency is offering dream interpretation services is false.

The Nigerian Centre for Disease control has debunked a flyer that claimed it was offering 'dream interpretation' services to prevent Covid-19.

The agency also warned against unauthorised use of its logo.

Fact-checked by: BBC News Africa

Black skin is NOT resistant to Covid-19

29 June 2020

There is no scientific evidence for this widely shared claim. Many black people have tested positive for Covid-19.

Rumours that people with dark skin may be immune to Covid-19 started circulating on social media in late January 2020.

The speculation was apparently initially fuelled by the comparatively fewer number of coronavirus cases identified in Africa and media reports of the recovery in China of a Cameroonian student infected with the virus, according to BBC Monitoring.

Several posts circulated on Facebook in mid-February claiming that the 21-year-old had been cured of the disease "because of his black skin".

But there is no evidence that his recovery had anything to do with his complexion.

Nonetheless, the inaccurate claims were picked up by several English-language news websites and spread on social media in a number of African states, including Nigeria, Kenya, Uganda and Zambia.

On 13 March, the Kenyan health minister dismissed the rumours that "those with black skin cannot get coronavirus".

We spoke to Professor Thumbi Ndung'u from the Nelson R Mandela School of Medicine in Durban, who said: "There is absolutely no evidence to back up the idea - and indeed, we know that people with black skin are getting infected."

By the start of June 2020, more than 100,000 people in sub-Saharan Africa had tested positive for Covid-19.

Fact-checked by: BBC Reality Check

Masks do NOT guarantee protection from Covid-19

9 June 2020

Masks can help protect you but need to be used alongside other precautions, such as frequent hand-washing and social distancing.

A regional governor in Nigeria was criticised after implying that wearing a mask guarantees protection from the virus and that if wearing them, social distancing is unnecessary.

Ben Ayade, the governor of Cross River state, was launching a "No Mask, No Movement" campaign in the regional capital Calabar to raise awareness about masks.

But he makes incorrect claims about the benefit of wearing masks.

A video circulating online shows him saying: "Because I'm a professor of science and I know how this virus moves, I know that once you put on this mask, you already have been protected."

He then goes on to say you don't need to follow social distancing measures once you have a mask.

The state's health commissioner, Dr Betta Edu, told the BBC that the governor was trying to emphasise the importance of masks, but clarified that you do need to take other precautions as well.

Nigeria Centre for Disease Control (NCDC) says: "Wearing a mask alone will NOT protect you from #COVID19."

The World Health Organization (WHO) says masks should be worn in public where social distancing is not possible to help stop the spread of coronavirus.

The WHO stresses that face masks are just one of a range of tools that can be used to reduce the risk of transmission - and that they should not give people a false sense of protection.

"Masks on their own will not protect you from Covid-19," WHO director-general Dr Tedros Adhanom Ghebreyesus has said.

Fact-checked by: BBC Reality Check

5G technology did NOT cause hundreds of deaths in Kano

9 June 2020

There is no evidence that 5G is harmful to your health and there is also no 5G network in Nigeria at the moment.

Broadcast messages shared on Whatsapp warned Lagos residents to stay indoors, claiming that the state was planning to start testing 5G, which it said was responsible for hundreds of deaths in the northern state of Kano. Both claims are false.

Nigeria's health minister said that more than half of the nearly 1,000 deaths in Kano in April "may have been triggered or due to Covid-19".

He was announcing the findings of an investigation into a rise in "unexplained deaths" in Kano. He made no mention of 5G.

There is no evidence that wireless technologies, of which 5G is one, are harmful to your health.

In addition, the claims of a link between 5G and Covid-19 have been condemned as false by the scientific community and branded "complete rubbish".

There is also no 5G network in Nigeria at the moment, nor was there in April when the deaths were reported.

A three-month trial of 5G in Nigeria did start in November 2019, but the trial "has been concluded and the installation decommissioned", the Nigerian Communication Commission confirmed in a statement.


The World Health Organization says that coronavirus cannot spread over mobile/data networks.

The Nigerian Communication Commission released a statement saying 5G has not been deployed in Nigeria.

Fact-checked by: BBC News Africa and BBC Reality Check

Tanzania's health minister did not tweet that she had tested positive for Covid-19

6 June 2020

Claims that Health Minister Ummy Mwalimu had confirmed the news in a tweet, are false.

An online article claiming Tanzania's Health Minister, Ummy Mwalimu, had tested positive for coronavirus, was shared on Twitter by, among others, a prominent journalist.

The basis of the story was a screenshot of a tweet, which the author claimed was posted by the minister.

The translation for the Swahili-language tweet reads: "It is unfortunate that I have tested positive for coronavirus. But I'll continue to serve my nation remotely as if I was on the frontline until things get better".

The tweet doesn't appear in the minister's Twitter feed.

The minister and the Ministry of Health have both dismissed the report as fake.

You do NOT need to shave your beard to protect against Covid-19

16 June 2020

This graphic predates Covid-19 and was intended for "workers who wear tight-fitting respirators", says the US Centres for Disease Control. Claims it shows advice on beards and Covid-19 prevention are false.

An old graphic created by the US health authorities about facial hair and respirators has been used incorrectly to suggest men should shave off their beards to avoid catching the coronavirus.

The Nigerian Punch newspaper's headline said: ""To be safe from coronavirus, shave your beard, CDC warns"".

The US Centers for Disease Control (CDC) image shows dozens of examples of facial hair and which ones to avoid when wearing a respirator mask.

Beard styles such as Side Whiskers and the Zappa are approved but the Garibaldi and French Fork can interfere with the valve and prevent the respirator working properly.

The graphic is genuine - but it was created in 2017 (well before the coronavirus outbreak) for workers who wear tight-fitting respirators. Contrary to what's been reported, the CDC has not published it recently and it does not recommend that people shave off their beards.

Similar headlines have appeared in other countries, generating thousands of shares. Australian news outlet 7News posted on Twitter: ""How your beard may unknowingly increase your risk of coronavirus."

The CDC has added a warning to the original blogpost that featured the graphic, pointing out that it comes from 2017 and the advice on beards is only intended for people who wear respirators at work.

The CDC does recommend the wearing of cloth face coverings in some public settings, but these are not the same as surgical masks or respirators.

Nobel laureate dismisses fake news about Covid-19 role

19 June, 2020

Congolese Nobel laureate Dr Dénis Mukwege has dismissed a false claim that he resigned from a Covid-19 task force because he had been ordered to inflate case numbers. In fact, he resigned because of inadequate testing capacity.

A post has been circulating falsely claiming that Dr Dénis Mukwege resigned from Covid-19 response teams in DR Congo because he had been ordered to declare illnesses and deaths to be coronavirus-related even when they were not.

He has resigned but not for the reasons being claimed.

The false post was published on Facebook on 16 June and was widely shared, with a screenshot being shared on WhatsApp too.

"I cannot in any case dirty my Nobel Peace Prize for money, we had been ordered to declare any illness to be coronavirus and any death," the post claims he said.

Dr Mukwege has been serving in two teams set up to coordinate the response to the Covid-19 pandemic in the South Kivu province in eastern DR Congo for the past two months.

He announced his resignation on 10 June saying lack of laboratories for testing for the virus had frustrated his work.

He also cited a lax attitude to social distancing or other measures among the population, porous borders, and the return of thousands of DR Congo citizens from neighbouring countries without having been quarantined. He said that decreased the effectiveness of the team's strategy.

Dr Mukwege said he was resigning to devote himself to treating an influx of patients at the Panzi Hospital which is run by his foundation.

In the statement, he also indicates coronavirus cases could be on the rise in Bukavu saying there has been an influx of patients to hospitals in the city.

A spokesperson for Dr Mukwege told the BBC any statement not appearing on his official social media pages and websites was fake.

Nowhere in his resignation statement does Dr Mukwege mention having been forced to declare negative coronavirus cases to be positive.

Fact-checked by: BBC Reality Check

Mosquitos do NOT transmit coronavirus

25 June 2020

Rumours that you can get Covid-19 from a mosquito bite are false, according to the World Health Organization.

There were rumours that the coronavirus could spread through mosquitoes, after biting someone infected with the virus.

But the WHO says there is no evidence for this claim.

However, mosquitos can spread some viruses like Dengue, yellow fever, chikungunya, and Zika.

They can also transmit malaria, which is caused by a parasite.

The WHO has debunked this claim on its Covid-19 Myth busters page.

It says that Covid-19 "spreads primarily through droplets generated when an infected person coughs or sneezes, or through droplets of saliva or discharge from the nose."



Fact-checked by: BBC News Africa

Tanzanian preacher wrong on 5G and Covid-19

3 July 2020

Popular preacher Josephat Gwajima has falsely claimed that 5G technology and the spread of the coronavirus are linked, a conspiracy theory strongly dismissed by scientists.

Popular Tanzanian evangelical preacher Josephat Gwajima has been falsely claiming the push for 5G technology is behind the spread of coronavirus.

The claims of a link between 5G and Covid-19 have been condemned as false by the scientific community and branded "complete rubbish".

The founder and head of Glory of Christ Tanzania Church urges Tanzania not to install the 5G technology and also not to accept any vaccine against coronavirus.

Videos of his sermons are available in Swahili on Instagram and YouTube.

The preacher, who has hundreds of thousands of followers on social media, claims the outbreak in Wuhan started when China started operating a 5G network, saying radiation from the masts was to blame.

He alleges that all countries that were badly affected were using 5G technology.

"All who have been badly affected have 5G, here [Tanzania] we don't have. My advice is that Tanzania doesn't install 5G now," he says.

The alleged connection between the current epidemic and 5G technologies has been widely debunked, although this hasn't stopped the conspiracy from spreading.

The World Health Organization says viruses cannot travel on radio waves or mobile networks.

And in China, the city of Wuhan had 5G technology operating as far back as April 2018 - well before coronavirus was detected at the end of last year.

What's more, Covid-19 is spreading in many countries that do not even have 5G mobile networks.

There is no evidence that wireless technologies, of which 5G is one, are harmful to your health.

Fact-checked by: BBC Reality Check

Covid-19 trackers have NOT been secretly added to iPhone and Android handsets

30 July 2020

Covid-19 tracing software has been added to the phones, but the tool is switched off by default and there's nothing secret about it, despite social media claims.

A misleading claim widely shared on social media suggests "Covid-19 trackers" were covertly added to iPhone and Android handsets during unspecified "phone disruptions" in June.

A post by British-Ghanaian actress Adjoa Andoh containing the claim, was retweeted more than 1,000 times, with the same wording also appearing in many other social media posts.

It is true that a Covid-19 tracing software tool has appeared in the settings of both Android phones and iPhones as part of an update of their operating systems.

But the "exposure notification" tool is switched off by default, and is not a tracing app itself.

It enables an app to run in the background while still using Bluetooth.

This lets the app measure the distance between two handsets - and then alert the phone owner if someone near them later tests positive for Covid-19.

The update has caused some confusion, with people querying the new addition to their handsets on social media.

"This is not a new app but is an extra element added to the phones' operating systems to enable approved developers to build apps that can potentially warn of proximity to infected individuals," said computer scientist Prof Alan Woodward, of Surrey University.


It's not a secret plot because Apple and Google publicly announced their partnership in April to work together on contact tracing technology to fight the spread of Covid-19.

"Each user will have to make an explicit choice to turn on the technology", according to official documentation for the project.

The bluetooth technology being used does not collect information about your location.

There's no evidence that the update containing the new software had any link to network disruptions.

Fact-checked by: BBC News Africa and BBC Reality Check

No evidence Ghanaian president flew to London for Covid-19 treatment

17 July 2020

A newspaper report claimed Ghanaian President Nana Akufo-Addo was flown to London for Covid-19 treatment but there is no evidence he travelled out of the country.

Claim rating:

NO EVIDENCE

The report on 5 July by the Herald news website quoted unnamed sources as saying the president had tested positive for coronavirus and had been flown out of the country.

The president's spokesperson later issued a statement saying the Ghanaian leader was isolating at the presidential palace in the capital, Accra, as a precaution, and was not outside the country.

"Kindly disregard the false story... It is clearly a figment of the author's imagination," Eugene Arhin says in a statement posted on Facebook, which has an undated photo showing the president with others including the first lady.

Mr Akufo-Addo had gone into a 14-day period of self-isolation after being exposed to someone who later tested positive for Covid-19.

It is not known whether the person who tested positive was a member of his family or staff.

Information Minister Kojo Oppong-Nkrumah said on 4 July that the president had tested negative for the virus.

In addition to the spokesperson's statement, Mr Akufo-Addo some few days later held virtual meetings from the presidential palace in Accra and photos and video were posted online.

Footage and photos released on social media 12 July showed President Akufo-Addo looking physically fit and chairing a virtual campaign communication strategy meeting and later on 14 July he shared a virtual cabinet meeting from his office at the presidential villa, reports the BBC's Ghana correspondent Thomas Naadi.

Fact-checked by: BBC News Africa

No evidence hydroxychloroquine can treat Covid-19

29 July 2020

Online users, including Nairobi's governor Mike Sonko, have been sharing videos and social media posts claiming the anti-malaria drug hydroxychloroquine can cure Covid-19. But there is no evidence so far that the drug is effective.

Claim rating:

NO EVIDENCE

Claims that hydroxychloroquine could be effective have intensified online after members of the group America's Frontline Doctors promoted it as a preventative measure and as a cure for Covid-19 at a press conference held in the US.

US president Donald Trump, who shared the video of the doctors' address, has been supporting the use of the drug, although the US drug regulator has warned against it as a treatment.

Social media companies have been pulling down the videos, although versions keep resurfacing.

There is no evidence the drug is effective as a treatment, and regulators warn it may cause heart problems.

Nairobi's governor Mike Sonko was among those who shared the video and said he had been using the drug. He also claimed a relative had been cured after being treated with hydroxychloroquine.

"This is the reason why no Kenyan should die of Covid-19. I have tried the preventive part of it which seems to be working for me," he tweeted.

"My own cousin who works for KPA (Kenya Ports Authority) was infected with Covid but got cured after she was put under the same medication."

The World Health Organization (WHO) says "there is currently no proof" that hydroxychloroquine is effective as a treatment or prevents coronavirus.

It warns that "the misuse of hydroxychloroquine can cause serious side effects and illness and even lead to death."

In July, the US Food and Drug Administration (FDA) warned against the use of the drug outside a hospital setting because of possible risks to the heart from taking it.

Its effectiveness when used early on during treatment is still being studied, as is its use as a preventative measure.

Fact-checked by: BBC Reality Check

No, your grave isn't ready. Fake text message is NOT from SA government

27 July 2020

Alarming text messages, supposedly sent to South Africans by the government informing them that their grave is ready should they die from Covid-19, are false.

"Due to excessive increment of Corona Cases we would like to inform you that your Grave number is …

People in South Africa have been sharing screenshots of this alarming text message, supposedly sent by the government, on Facebook since 9 July 2020.

"We apologised to send you this message but atleast your Grave has been prepared and you don t have to be cremated without your approval," it says.

It's signed "SA.Gov".

Each version seems to give the recipient's name, and has a different "grave number".

The message has understandably angered and upset many people.

At the time it was being shared, South Africa had the world's eighth-highest number of confirmed Covid-19 cases.

But is the government really advising people, alive and possibly healthy, that their graves are ready? No, the message is a hoax.

Graves are being prepared for Covid-19 deaths, but a lively debate has broken out about how many are being dug and how many the country might need.

Africa Check found reports that a million graves were being prepared in Gauteng province alone were incorrect.

The Gauteng government clarified that the province's municipalities had a total capacity for a million graves, but that wasn't the number being prepared.

And a national minister said the government was not "expecting and preparing for 1 million Covid-19 related deaths".

But that did not stop the hashtag #1MillionGraves from trending on Twitter, with some users also referencing the text message.

The message is a hoax. This was confirmed by Athi Geleba, head of digital communications for South Africa's presidency.

She tweeted two versions of the message with "FAKE" written across them.

But there are more immediate signs that the message isn't what it claims to be.

The first clue is that the message is poorly written, full of grammar and spelling mistakes – "we apologised to send you", "atleast", "don t".

It would be unusual for the government to send out an official communication with this many errors. And bad writing is often a sign of disinformation.

The next sign is "SA.Gov", the way the message is signed. Smartphones would interpret this as a web address, and it looks like one, but according to WhoIs.com, the site sa.gov does not exist.

The address of the real South African government website is gov.za, and most national government websites end with .gov.za. Any government communication will be clearly labelled as such, and will only direct you to official websites.

The message is fake. Don't be alarmed, and ignore it.

The head of digital communications for South Africa's presidency tweeted two versions of the message with "FAKE" written across them.

The website sa.gov does not also exist, according to a database of domain names.
None of our fact-checks match [[search-term]]
Make sure all the words are spelt correctly
Try using a different keyword
Try a different category
No results for the selected filter(s)
*A note on this partnership:
Some of the factchecks on this page are provided by the independent fact-checking organisation Africa Check Trust. All Africa Check factchecks will be clearly labelled "Factchecked by: Africa Check".
Credits
Produced by Olawale Malomo and Yemisi Adegoke. Edited by Hugo Williams. Design by Olaniyi Adebimpe and Sean Willmott. Development by Olawale Malomo and Purity Birir. Contributors: Sally Morales, Adam Allen, Peter Mwai, Aaron Akinyemi, Nkechi Ogbonna, Muthoni Muchiri, Jack Goodman, Joice Etutu and Jameisha Prescod.