Social media rumours in India: counting the dead
Across India mob attacks are on the rise, fuelled by false rumours on WhatsApp and social media. According to a BBC analysis of millions of English language reports, at least 31 people have been killed in the past two years and dozens more injured. These are the numbers verified by the BBC. Many more incidents have been reported.
Many of the false rumours warn people that there are child abductors in their towns, driving locals to target innocent men who are not known to the community. A total of 25 men, 4 women, and two people of unknown gender have died. Here is a timeline of those incidents the BBC has verified.
The WhatsApp video driving people to murder
In one striking example, a video clip shared on WhatsApp went viral in India in June 2018, with tragic consequences. In the clip, a man on a motorbike appears to be kidnapping a child from the street. The messages that accompanied the video as it was shared from phone to phone alleged that the incident had occurred in Bangalore and warned the community to be on the lookout for "potential child-lifters". Vigilante mobs formed and killed an estimated 10 people.
But the outrage overshadowed the true story.
The clip was in fact part of a safety video produced by a child welfare group in Pakistan. At the end of the original video, the supposed "kidnapper" returns the child to his friends and holds up a sign that reads "It takes only a moment to kidnap a child from the streets of Karachi." This was edited out in the viral version.
Many of the victims of these attacks can only be found guilty of being outsiders - they are commonly foreign visitors or members of socially ostracised groups. Earlier this year in Assam, two victims identified as Nilotpal Das and Abijeet Nath, both residents of Guwahati, the largest city in Assam, were attacked when they stopped at a village to ask for directions. Police say that residents believed the unknown men to be the "kidnappers" who they had been warned about via WhatsApp. The BBC travelled to Assam to report in detail on what happened to Nilotpal and Abijeet.
The rise of fatal rumours
The BBC's analysis identified a sharp increase in the number of fatal attacks in 2018. 31 people died in 23 incidents over two years. 20 of these violent mob attacks occurred between April and July 2018.
And deaths have not been restricted by geography. Social media rumours have driven fatal violence in 12 states.
Compare states
WhatsApp in particular has become a breeding ground for fake videos, distorted messages and disinformation, thanks to its complex system of anonymity. The ability to forward messages easily has allowed for the rapid spread of information, often without its original content and always without a link to the original author. Users often receive messages from friends, family members or trusted networks through WhatsApp groups, making them less likely to second-guess the veracity of the information they receive.
At present, the platform has 200 million active users. It is projected that WhatsApp users in India will reach 450 million by the year 2020.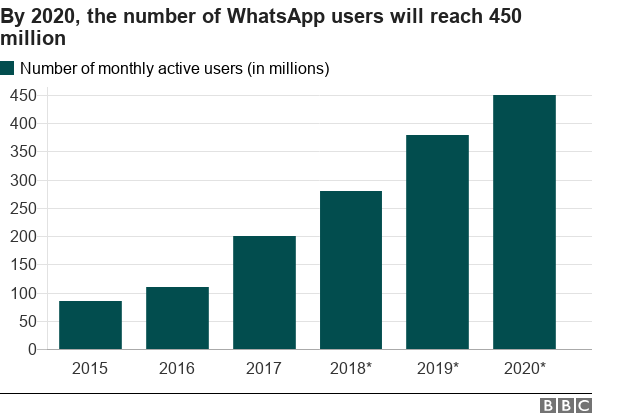 WhatsApp has introduced new features designed at limiting the spread of misinformation, including a label to let users know posts have been forwarded, and a limit on how many groups a message can be sent to at once. The company told the BBC it "cares deeply about the safety of its users".
Methodology
More than 30 million English-language news articles (in print and online) published between February 2014 and July 2018 were analysed for this research.
Articles were scanned for specific keywords and filtered down to 6,000 key incidents, which were then manually cross-checked with reports from at least two further reputable sources – one news website and one wire agency.
If no article from a wire agency was available, at least three news website sources were identified. The final analysis reported here focuses solely on the number of fatalities found as a result of this research.