Spanish beach body ad: Women 'not buying' government's explanation
By Charlotte Simpson
Newsbeat reporter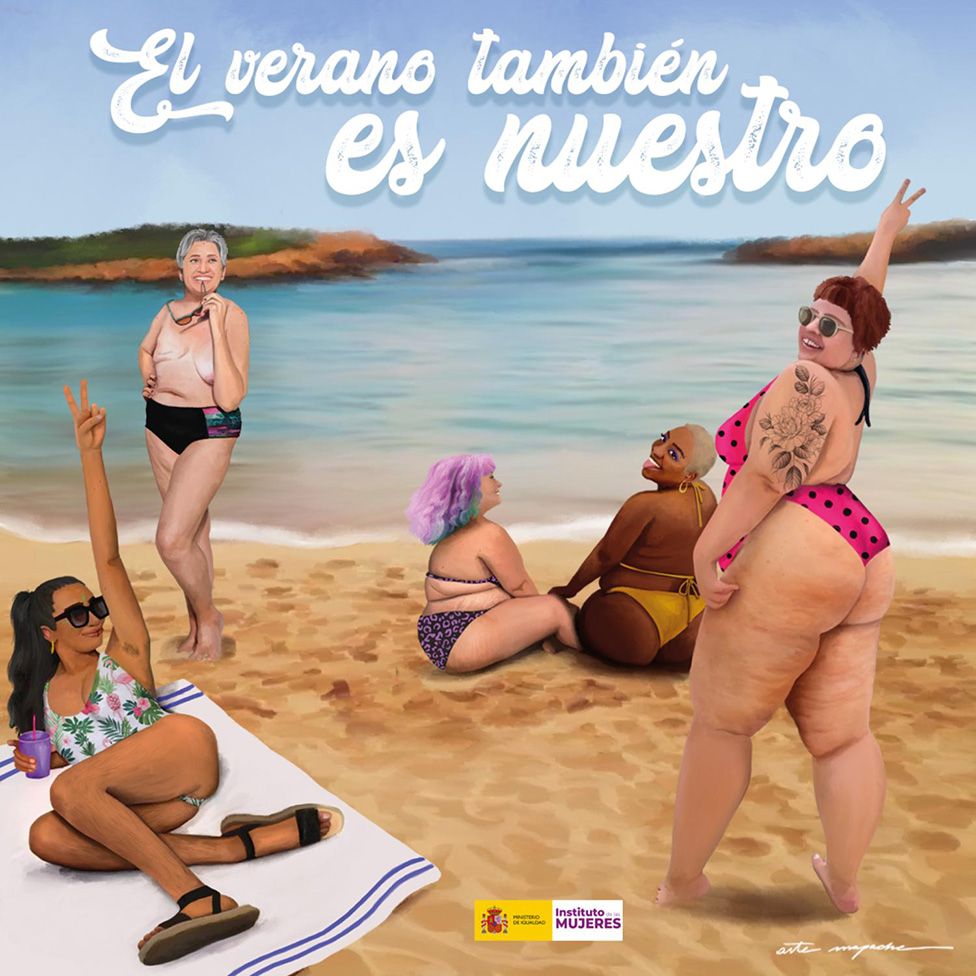 Women whose pictures were used without permission in a "beach body" ad campaign have criticised the Spanish government's explanation that it didn't know they were "real people".
The Spain's Women's Institute campaign uses an image of five diverse women of different shapes and sizes.
But three women have since said they've not consented to images being used.
Sian Green-Lord, whose prosthetic leg was edited out of the image, says she's "not buying it - not at all".
The Spanish government, which hadn't commented until now, has told Radio 1 Newsbeat: "We would like to make it clear that at no point was it aware that the women in the images were actual real people.
"The work contracted was for an illustration without the use of any models.
"Therefore, the Women's Institute, as a concerned party, have been in touch with the models to clarify the situation, and is waiting for the illustrator and the models to reach an agreement."
Since the ad was released three British women have come forward to say they haven't consented to their images being used.
Two of them, Sian and Nyome Nicholas-Williams, say they don't accept the government's explanation.
"It feels like they're just shifting the blame onto the illustrator but it was the government who hired them," says Nyome, who lives in London.
"The campaign could have been great if they invited us to Spain, did the photoshoot and paid us but they decided to put my head on someone else and erase Sian's leg."
Sian adds: "I'm speechless, it's actually wild, I can't believe they're digging themselves into this bigger hole.
"They haven't even said sorry - it's comical. We need to take this as far as we can. I just want justice with us all, because this has caused so much upset."
Sian and Nyome weren't the only women to come forward over the campaign.
Cancer survivor Juliet FitzPatrick, who has had a mastectomy, thinks a woman in the advert may have been based on her.
She told the BBC the body in the poster was not hers as the woman had one breast while she had a double mastectomy.
Copyright laws that apply in the UK and Spain say that a photo, or part of it, can't be used or copied without the owner's permission - even if it's posted on a site like Instagram.
The Spanish government has apologised to Juliet but hasn't said sorry to Nyome or Sian.
But the campaign's creator, Arte Mapache, has issued an apology.
"Given the - justified - controversy over the image rights in the illustration, I have decided that the best way to make amends for the damages that may have resulted from my actions is to share out the money I received for the work and give equal parts to the people in the poster," the artist said.