Cost of living: I avoid meals so my daughter can eat
By Manish Pandey and Rachel Stonehouse
Newsbeat reporters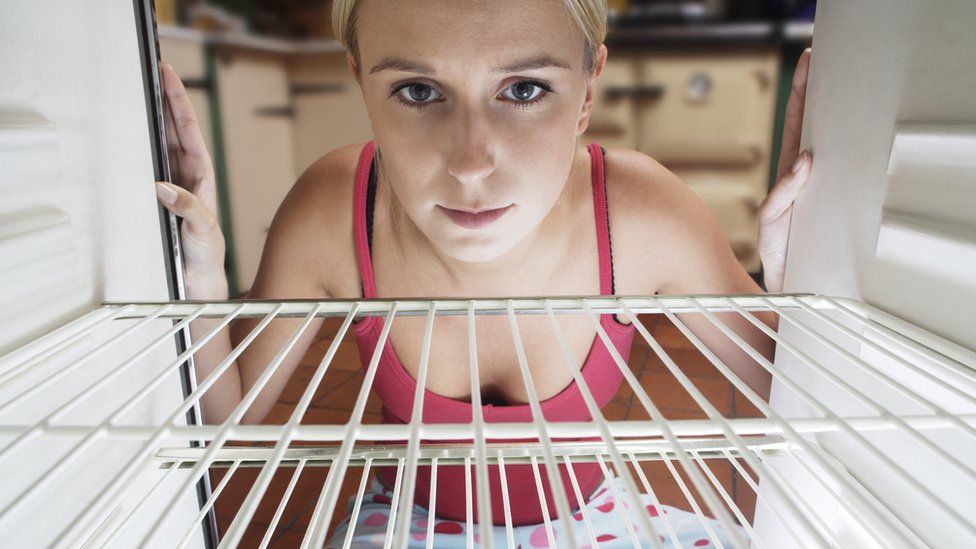 "I normally just have a packet of crisps, trying to save for my daughter."
Tasha lives with her partner and two-year-old daughter, working full-time, but still struggling with the cost of living.
When she gets home from work, it's usually late and there's not much to eat, so she gives priority to her daughter.
"She's still young and needs nutrition".
But she admits she finds the situation "depressing".
"I feel like I'm trying my best for my daughter, but at the same time it feels like I'm failing," the 25-year-old from Derby tells Radio 1 Newsbeat.
Prices are continuing to rise at their fastest rate for more than 40 years, driven by higher petrol and food costs.
"The whole reason I got back into work was to help support my family. But it doesn't feel like me working is even doing anything any more," says Tasha.
New research by youth homelessness charity Centrepoint has found 177 of the 2,000 people aged 16-25 that they surveyed said they had often gone without food in order to feed someone else.
Being hungry and "starving for three days straight" is a feeling 22-year-old Zahraa, from West Yorkshire, recalls all too clearly.
"I still remember that two nights, I woke up in the middle of night and I was crying, sitting on a bed. It was dark and I didn't even turn on the light," she says.
Of the 2,000 people aged 16-25 surveyed, 265 said they had often gone to bed hungry in the last 12 months, with 207 people saying they often had to rely on food banks or other emergency food provision.
Zahraa says she did go for food parcels, but as someone who eats halal and vegetarian food, there wasn't much suitable for her.
"And I was really depressed those days," she says.
But she credits help from Centrepoint and her housing support officer for providing suitable food options and advising her on the procedure around universal credit.
And it was support from the community - including her local church - which helped 23-year-old Jayde, from London, who has two children, aged seven and three.
"It's just not feasible to do it by yourself," she says.
"If I didn't have them around, then I probably would go hungry, I probably wouldn't be able to top up my gas or have electric in the house."
333 of 2,000 young people surveyed said they had often relied on family or friends for food.
Jayde and her friend Ruth help at an organisation called City Welfare, a non-profit which aims to help those in need.
Ruth says they visit people's houses to speak to them to see exactly what they need.
"Sometimes you'll see that they don't have furniture, or there's literally nothing in the cupboards," she says.
Jayde has three jobs at the moment and says she uses her salary to try and make a difference for others.
"If that's £20 or £30, putting it aside to make sure that a young parent has nappies or a young parent has wipes."
Ruth adds they purchase all the essential items and deliver to their door.
"We help them unpack and that's how the relationship is formed. There's always a follow-up."
"In the longer term, not having access to a regular balanced diet has serious consequences on all of the body's systems," says Heather Paterson, Centrepoint's senior dietitian.
"No one's immune system should be tested like this. This way of living is simply not sustainable."
Centrepoint have also said they want universal credit to be increased to "support those who need help with bills and essentials".
"Benefits are not high enough to support the country's most vulnerable young people. In fact, young people are getting the lowest level of social security in a generation or more," added Balbir Kaur Chatrik, Centrepoint's director of policy.