Scott Mills' Radio 1 replacements announced as show moves to Salford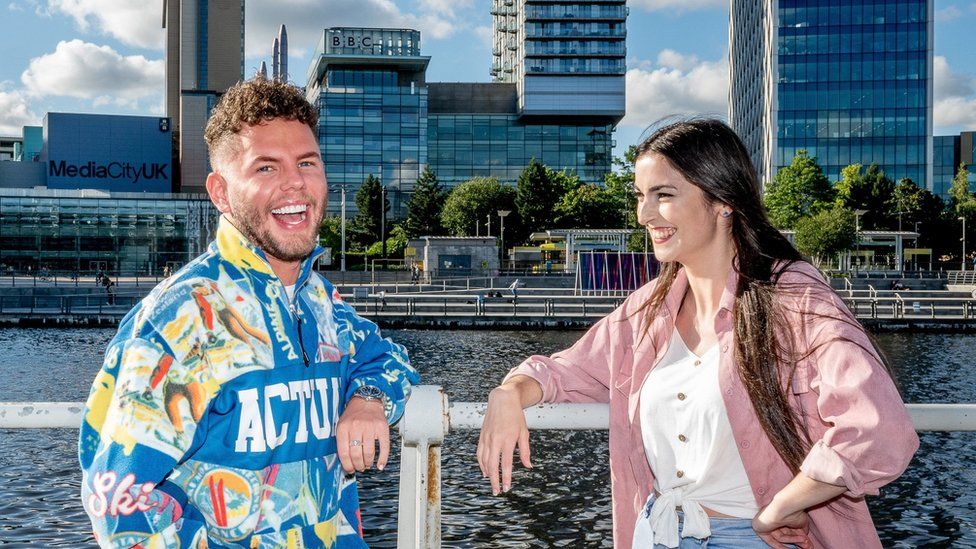 Dean McCullough and Vicky Hawkesworth have been announced as the replacements for Scott Mills, who is leaving Radio 1 after 24 years.
The pair's new afternoon show will be the station's latest weekday programme to come from outside London.
Legendary DJ Scott is heading to Radio 2 to take over the afternoon show from Steve Wright, while his long-time co-host Chris Stark is leaving the BBC.
Dean said getting the new show was a "full-on dream come true".
Bolton-born Vicky, 26, currently presents regular shows on BBC Radio Manchester and has covered a range of shows across Radio 1.
And the duo will stay in Greater Manchester when they take over Scott's Monday-Thursday 13:00-15:30 slot in September - with the show coming from the BBC's Salford base.
Speaking to Scott and Chris on Radio 1 earlier, Vicky said: "It seems sort of not real. I actually thought maybe I was making it up, maybe I dreamt it.
"I am quite literally about to live my dream and I can't wait to get going."
Her new co-host Dean joked that the thought of replacing Scott and Chris was giving him "borderline nightmare vibes".
"You know when you have those dreams and you wake up and you're like did that really just happen?" he said.
"I feel like I am going to wake up tomorrow and all of this was just a dream."
Dean and Vicky both got their break on Radio 1 as part of the 2020 Christmas Takeover, where 33 new DJs and presenters were given a "once in a lifetime opportunity".
Head of BBC Radio 1, Aled Haydn Jones, said the pair were "highly engaging presenters who made me laugh so much in their company".
It was also revealed that Katie Thistleton would take over Dean's Friday and Saturday morning show.
Nat O'Leary, who was part of the 2021 Christmas Takeover, will be joining Radio 1 to host a brand-new '00s show on Sunday mornings.
Scott is leaving Radio 1, which has been his home since 1998, and will also no longer present his Saturday morning show on Radio 5 Live.
The DJ has built up an army of fans thanks to hit games and features like Innuendo Bingo, Flirt Divert and the Who Game.
His best pal Chris, who joined Radio 1 in 2012, is also leaving the station.
The pair were known for their bromance and pranking each other but also raised more than £500,000 for Comic Relief with their 24-hour LOL-a-thon show in 2021.
In March last year the BBC said key daytime strands on Radio 1, 1Xtra and Radio 2 would be moved from London and made across the UK.
Announcing the Across the UK plans, director general Tim Davie told staff the scheme would make the BBC "a genuinely UK-wide organisation", adding: "People must feel we are closer to them."