F1 British Grand Prix: What is halo and how does it save lives?
By Olivia Le Poidevin
Newsbeat Reporter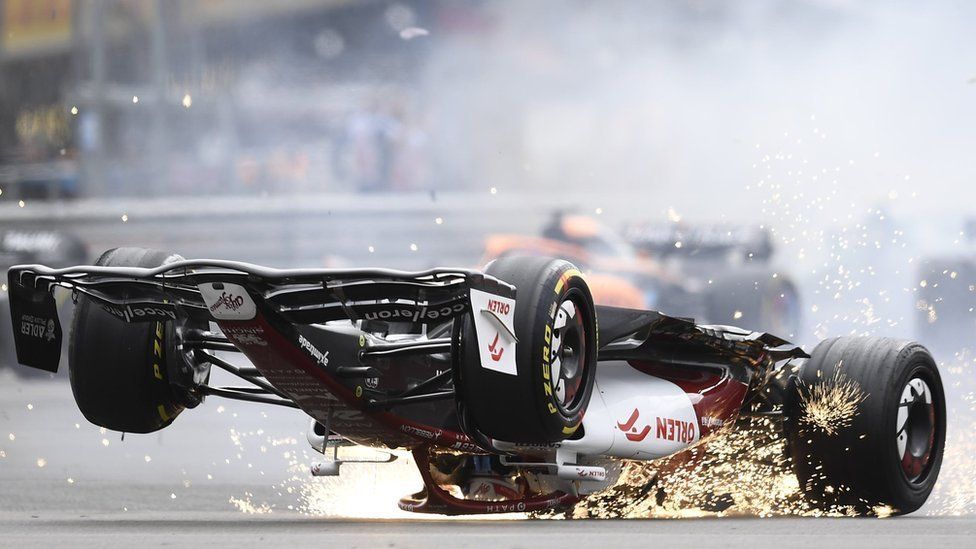 Tom Cruise was at the British Grand Prix this weekend and the action on the track looked like something from one of his films.
F1 driver Zhou Guanyu's car flipped several times at almost 200mph and smashed into a grandstand barrier during the first lap at Silverstone.
Incredibly, the Alfa Romeo driver survived and wasn't even seriously injured.
He says he is the latest in a series of drivers to be saved by the halo safety device. But what is it and how does it work?
Halo is a wishbone-shaped titanium bar that sits on top of the cockpit of the car and wraps around the driver's head.
When and why was it introduced?
F1 has always been a dangerous sport but over recent years safety has been taken more seriously following the deaths of Henry Surtees in a Formula 2 race in 2009, Jules Bianchi at the 2014 F1 Japanese Grand Prix and Justin Wilson at an IndyCar event in 2015.
Surtees and Wilson were killed after being struck on the head by debris from other cars.
Halo was first trialled in F1 in 2016 before it became mandatory in the sport two years later in 2018 to protect drivers' heads from flying debris or the car flipping.
After years of research it was found to be the only device that successfully passed the test of deflecting a wheel fired at it at 150mph.
Also, crucially for drivers, it also was the only safety device that provided a largely unobstructed view.
From initial resistance to support
It took some years for halo to be introduced as many opposed it, including then-F1 boss Bernie Ecclestone.
"People weren't happy with the aesthetics of it. People didn't like that there was a great big bar over the driver's head," F1 commentator Harry Benjamin tells Radio 1 Newsbeat.
"The other argument was whether it was affecting the driver's visibility, looking out of the cockpit. Both have been disproven. Over the last few years people have got used to it."
In 2016, Lewis Hamilton called it the "worst-looking modification" in the sport's history.
By Andrew Benson, chief F1 writer
The halo head-protection device has been one of the single biggest success stories of Formula 1's constant quest to improve safety since the death of Ayrton Senna in 1994.
It faced opposition from people who felt it might undermine the essence of the sport as an open-cockpit series - including a minority of drivers.
But it quickly proved its worth when it was introduced in 2018, following a campaign by the late FIA F1 director Charlie Whiting and the Grand Prix Drivers' Association.
In a multi-car pile-up at the 2018 Belgian Grand Prix, the halo deflected Fernando Alonso's flying McLaren away from Sauber driver Charles Leclerc's head.
Since then, there have been at least three other incidents in which it has apparently saved a driver's life, most famously in preventing Romain Grosjean from being decapitated when his Haas pierced a barrier in his fiery crash in Bahrain in 2020.
Alfa Romeo's Zhou Guanyu in Sunday's British Grand Prix was just the most recent example - and he almost certainly won't be the last.