EastEnders: Drag queen Tara Misu revealed as regular character
By Manish Pandey
Newsbeat reporter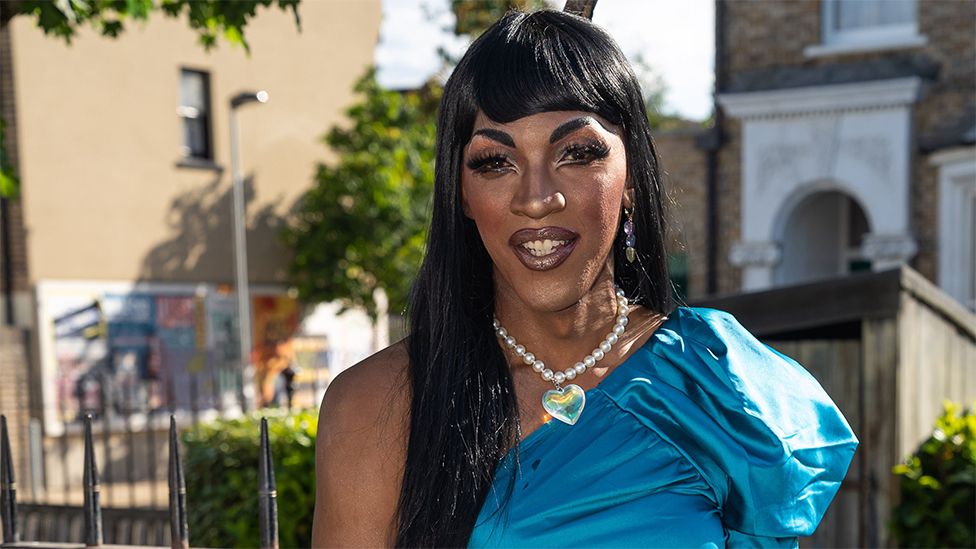 EastEnders' first ever drag queen is due to sashay on to Albert Square as a regular character.
Fans have been given a sneak peek at Tara Misu, played by Matthew Morrison.
Matthew said it was a privilege "to showcase the creative art of drag" to viewers and the residents of Walford and to "represent the LGBTQIA+ community".
"It's important for people to feel reflected on screen," he added.
He's joined the cast in the role of Felix Baker, the younger son of Mitch Baker's estranged brother Avery.
'Normalise queer community'
Lucas Young, a drag queen by the name of Ms Classpergers who uses the pronouns she/they, says it's significant for a show as big as Eastenders to be "unapologetically dealing with these issues".
It could have a big impact, Lucas feels, as growing up they didn't see much representation on TV.
"If I had that realisation or opportunity from a younger age, I feel like I would have been able to begin creating more. And knowledge is power.
"The only way we can normalise drag and the queer community is to talk about it and make people aware of the people we are," the 23-year-old from the East Midlands tells Radio 1 Newsbeat.
Lucas, who gets regular abuse because of a rainbow-dyed hairstyle, says people "are so scared of difference and change".
But "EastEnders, which is a comfort show, can affect change", they say.
Lucas is "excited to see what conversations" the show will create and whether "people who don't necessarily understand the community" will be more open afterwards.
In a video posted to the show's social media, Matthew said he'd never done drag before.
Lucas's "knee-jerk reaction" to this was that having a character who is already a seasoned drag queen would be preferable.
"However, if a person can do it without a drag persona, I don't see anything wrong with it," Lucas adds.
"Drag is an expression of an inner part of ourselves that we normally don't get to show. Let's create more drag queens, and as long as they do a good job I don't see an issue with it."
To help Matthew perfect his role, Natalie Cassidy, who plays Sonia Fowler, roped in Drag Race UK star Vinegar Strokes to help out.
Some of Vinegar's top tips were:
Confidence, confidence, confidence
"Drag is all about the invisible superhero cloak," Vinegar says.
Wear a nail, wear a glove, paint the nails
"Or stay at home. We're creating an illusion for the audience."
"It's non-negotiable, because we're creating an illusion and balancing everything."
"What's your favourite film or celebrity?"
"And confidence in the heels."