Logan Paul: Youtuber signs WWE contract ready for Summerslam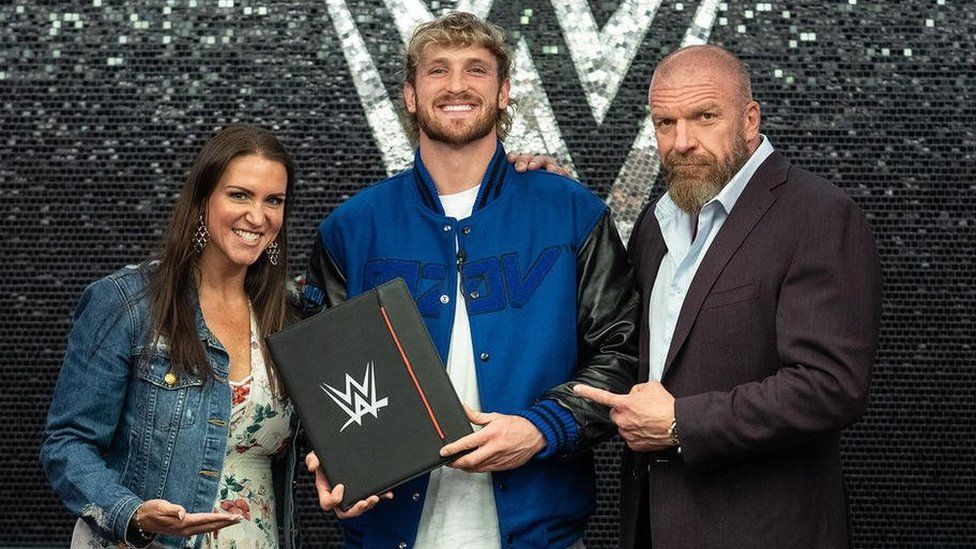 Youtuber Logan Paul is set to reignite his feud with veteran wrestler The Miz after signing a contract with the WWE.
The social media star joined a tag team with the superstar when he made his ring debut at Wrestlemania 38 in April.
But fans watched on as The Miz turned on Logan - flooring him with his trademark Skull-Crushing Finale finisher - after the pair's victory over father-son duo The Mysterios.
The rivals are expected to face off at Summerslam at the end of the month.
Logan announced the news to his 23.2 million Instagram followers with a picture of him next to WWE bosses Stephanie McMahon and Paul "Triple H" Levesque.
In a video message shot at the company's headquarters, the 27-year-old turns to the camera and says: "The Miz is dead to me, he is my enemy, and I signed this contract so I could beat his ass at Summerslam."
One of Logan's previous rivals was quick to congratulate him.
Youtuber KSI - who faced him twice in the boxing ring - replied on Instagram: "Been watching WWF/WWE for so years and to see you achieve this is legit unbelievable. Congrats."
But not everyone was as complimentary.
The Miz mocked Logan in a ring appearance and with a string of tweets after the announcement.
The Paul brothers Logan and Jake have previously had high-profile boxing matches against other influencers and established fighters.
Logan went the distance with undefeated former world champ Floyd Mayweather, who said he made a whopping $50m (£35m) from the eight-round exhibition fight.
Related Internet Links
The BBC is not responsible for the content of external sites.