Sugababes: 'I didn't know I needed this until we did it'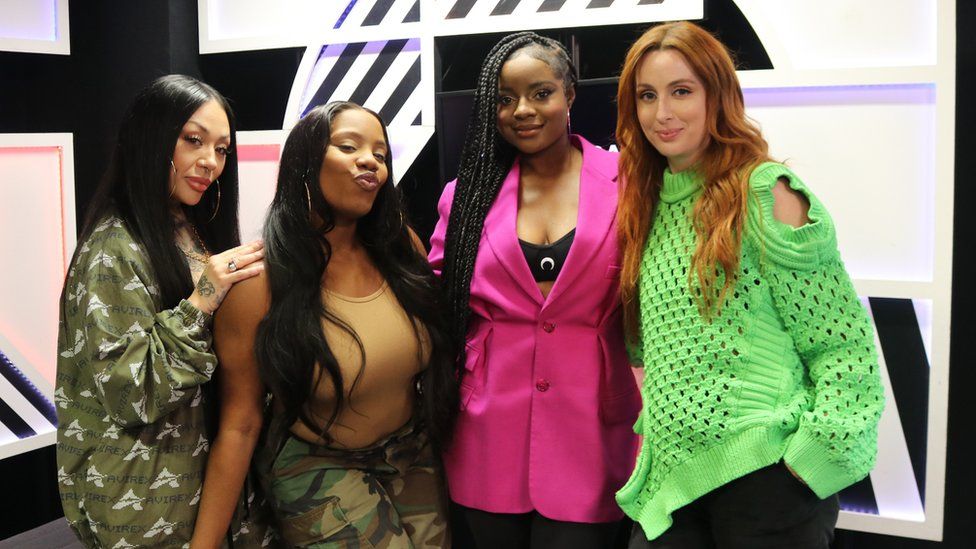 The Sugababes are back, with the original line-up and a UK tour - it's like the year 2000 all over again.
The trio - Keisha Buchanan, Mutya Buena and Siobhan Donaghy - have reunited and reclaimed their name after an earlier relaunch under the name MKS in 2013.
The group went through several line-up changes during its time in the pop spotlight, and by the time Sugababes released their final album, Sweet release 7 in 2010, it was made up of three entirely different women.
It was a reunion that started out organically.
"Me and Mutya reached out to each other," Siobhan tells Nadia Jae, presenter of the BBC Radio 1Xtra breakfast show.
"We used to see each other at the odd party. We were like: 'This is weird'."
Keisha found out about their communication through her lawyer - a year or two after she quit the third generation of Sugababes in 2009.
She says at the time she felt "girl-banded out" but compares the original line-up, and their debut album One Touch, as feeling like a TV show that's been left on a cliffhanger.
"I resisted the most I did it first, but that was because I just needed to adjust," Keisha says.
"After Siobhan left, there was still Mutya there so it had my childhood and it felt like the essence of Sugababes.
"When Mutya left, I was just like: 'Oh, and then there was one.'
"I definitely feel like with us three, it's always felt so natural with us since we were kids."
The group were in their early teens when their first single, Overload, was released in 2000.
The group, and it's various line-ups, achieved top 10 hits for a decade, including Freak Like Me, About You Now, Push The Button and Hole In the Head.
By the time the final Sugababes was released, the members were Heidi Range, Amelle Berrabah and Jade Ewen.
The original trio previously reformed to release single Flatline in 2013 and planned a new album then - but it never saw the light of day, other than leaks of demos for the scrapped record.
Now, in 2022, Mutya says they're once again picking up where they left off with their debut album.
"It's just really, really nice to get back with girls - we've got our history together," she says.
"It's just nice to kind of carry on where we left off."
Both Mutya and Siobhan released solo music after leaving the group. Mutya scored a string of hits including the iconic Song 4 Mutya, while Siobhan released two critically acclaimed albums and had a top 20 hit with her single, Overrated.
"I went off and had a completely different career, and to be honest, I loved it," Siobhan says.
"I've loved my journey but it was important to me to circle back. And I don't think I really knew that I needed that until we did it.
"It's amazing to be singing with the girls again. We do a little harmony and I'm like: 'Yeah, there it is'."