BTS hiatus 'not as severe' as One Direction
By Michael Baggs
Newsbeat reporter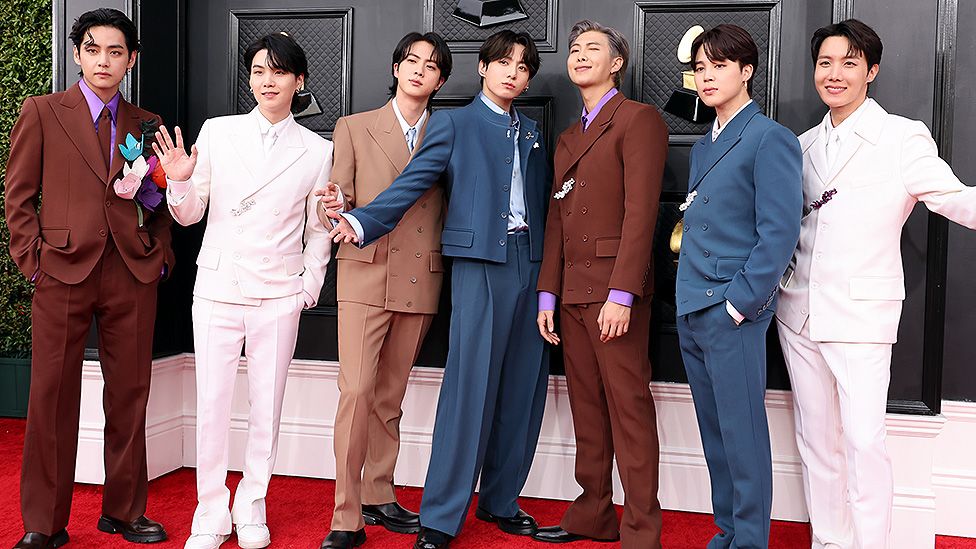 Pop fans might feel like they've been here before.
The biggest boy band in the world, announcing they're going on hiatus - anyone who remembers One Direction's decision, in January 2016, might have feared the worst when BTS said it was time to take a break.
But things work a little differently in the K-pop world than they do for Western bands - as entertainment journalist and BTS super-fan Lucy Ford explains.
"In K-pop, it's really not uncommon for groups that have seven, eight or nine members for the individuals in that group to have thriving solo careers but still very much be in their groups," she tells Radio 1 Newsbeat.
And this might explain why, shortly after news broke of BTS's plans, its management stepped in to say it's not a hiatus - at least not as fans in the west might think.
"Many of us experienced One Direction, we experienced N*Sync - both who are all still on hiatus," Lucy adds.
"I think they just wanted to clarify that it's not as severe as that."
This should come as some comfort to 22-year-old Naomi Cairns, who says she was "shocked and upset" when she first heard the news.
Naomi's dad broke the news. "I couldn't actually believe what I was reading," she tells Newsbeat.
Her friends threw her a BTS-themed party, and she has cut-outs of their faces hanging in her bedroom.
In the group's statement, which was made during a televised dinner to mark their anniversary, BTS acknowledged they had been going through a "rough patch" and said that trying to find their identity had been "exhausting."
Lucy says it's "massively rare" for a K-pop group, who are often tightly micro-managed to portray a certain image to fans, to speak openly about the pressures of a global pop career.
"In many ways across their career, BTS have been sort-of industry leaders," she says.
She believes speaking honestly shows the groups "bravery" but also their "power" in the K-pop scene.
"You don't often hear people talking about burnout, or artists talking about like, feeling lost in their identity."
The seven members of BTS - Jin, Suga, J-Hope, RM, Jimin, V, and Jungkook - are aged between 24 and 29, and Lucy says one of the key points made in the announcement was that the K-pop industry "doesn't really create space for maturity."
In South Korea all men must serve in the military for about 20 months, between the ages of 18 and 28.
But members of BTS have already been releasing solo material. J-Hope, Suga and RM have released solo mixtapes of original material, V, Jin and Jimin have contributed music to soundtracks.
Earlier this year Jungkook released solo track Stay Alive, which was produced by Suga. It's been streamed more than 115m times on Spotify alone.
Naomi says she's most looking forward to hearing what V does next, as he's her favourite member of the group.
Lucy says all seven members of the group have "a lot to offer" as solo artists - but believe Jungkook could go on to a career that rivals some of the biggest names in pop.
"Jungkook's just got such an amazing voice, and I really think that he could do so well a sort of similar sort of vocal vein to Justin Bieber," she says.
"I think he's really poised for that. And I would look forward to that a lot."
She also believes that the BTS hiatus, however it pans out in reality, could actually be a good thing for the fans.
"It doesn't feel like they're actually competing with each other in the music they would make which I think is like exciting for fans.
"You've got so much more to look forward to."