Megan Thee Stallion living with bullet fragments in feet after shooting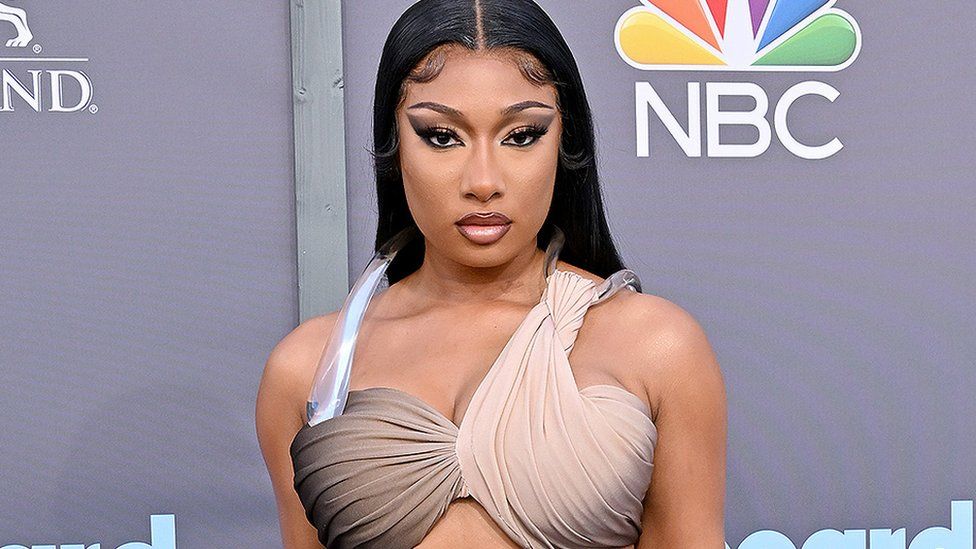 Megan Thee Stallion wants Tory Lanez "to go to jail", after he allegedly shot her after a party in the Hollywood Hills in 2020.
The 27-year-old says she "never would've thought he would've shot at me at all", in a new interview with Rolling Stone magazine.
The rapper, real name Daystar Peterson, denies shooting Megan in both feet.
The case is expected to go to trial on 14 September. Tory Lanez faces up to 23 years in prison if convicted.
She says she still has fragments of the bullets in her feet today.
She then posted on Instagram to say she'd been shot by Tory, but many of the tracks on his 2020 album, Daystar, claim he's being framed.
Megan says she wanted to protect Tory Lanez by keeping the shooting private, but the spread of jokes, memes and rumours became too much.
Megan felt her and Tory Lanez "had a real connection".
"I never did anything to him. There was an argument, people argue every day. Friends argue every day."
There have been both physical and mental scars, she says.
"What nobody knows is, I had to get the surgery the same night. I stayed in the hospital in California for maybe four days."
She says she "could not walk" and still has "bullet fragments in my feet right now", and was scared she would no longer be "able to be Megan Thee Stallion no more".
Megan blames herself for what happened and feels "shame, a little bit".
"Because even after he shot me, I still was thinking about everybody else in the car," she says.
Megan criticises the false rumours that have spread online about what happened.
"I think it's so crazy that people are able to get online or publish anything that is not 100% fact. That really is messing with my life."
She praises her fans, who she describes as "Thee Hotties" for caring about her mental health.
But she says there are also abusive comments, including people saying they "would've shot" her too.
"In some kind of way I became the villain."
Megan says she's "trying every day to get through it and be good" and doesn't want those against her to see her cry.
"I don't want them to know that I feel like this, because I don't want them to feel like, 'Oh, I got you. I'm breaking you.'"
She feels the same way about Tory Lanez.
"I feel like you've already tried to break me enough. You've already shot me. So, why are you dragging it out like this?"