Innuendo Bingo returning to Radio 1 after Covid shutdown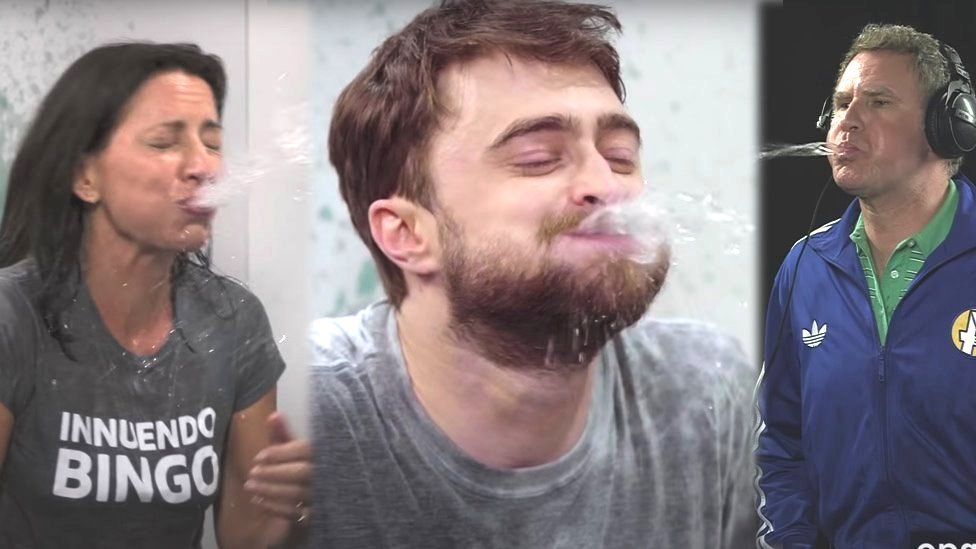 Innuendo Bingo is returning to Radio 1, 18 months after the messiest game in British radio was taken off the air due to the coronavirus pandemic.
It was understandable, given how Covid-19 is spread, that having people spitting water in each other's faces just couldn't meet health and safety standards in "the new normal".
But now it's back, albeit with some changes to keep everyone safe in 2022.
Scott Mills announced the comeback on Twitter. It had been a regular part of his Radio 1 show for 13 years before it was taken off air in November 2020.
For its relaunch, each contestant will have their heads inside a plastic box, to make sure there's no risk of infection from Covid-19 or any other airborne illnesses.
The feature has seen a raft of stars, including Hugh Jackman and Daniel Radcliffe, soaked with water over the years, and even led a sopping-wet Davina McCall to exclaim "I'm in heaven!"
So, as we welcome back the wetness, here's a brief history and a look back at some of Bingo's biggest spurts.
This seems like a good place to insert a warning. And yes, that use of the word 'insert' is entirely deliberate.
The remainder of this article contains innuendo. It's childish. It's puerile.
If you feel that's likely to offend you, look away now.
But if you're still here, please join us for one last peep inside grandma's cabinet as we bid Innuendo Bingo a fond farewell.
Cameras on... more water please!
The first time Innuendo Bingo was played was all the way back in 2007.
But back then, it had a very different format. Scott would simply highlight any slightly risque comments his fellow Radio 1 DJs had let slip.
Think Sara Cox inadvertently announcing that she wanted "a gob full" or Vernon Kay asking listeners if they enjoyed riding.
The feature came and went over the years.
History does not relate the exact date when glasses of water made an appearance (though if anyone from the Unofficial Mills fansite wants to enlighten us, we'll update this article.)
But at some point the modern rules were established, which are briefly these:
Two people fill their mouths with water and face each other as Scott plays a selection of innuendoes spotted on TV or radio.
The idea is to see who can last the longest without collapsing with laughter, at which point all that water filling their cheeks gets expelled.
Yes, they basically end up spitting water all over each other. And, erm... that's pretty much it.
After its humble beginnings, Radio 1's news and sport presenters began to take part, then a few celebrities. And then, the golden years.
The cameras went on. And the stars came flocking.
Here are a few of Bingo's classics.
Connoisseurs will enjoy a premature spillage from Chris at the mere mention of the words 'bell factory'.
Ferrell, meanwhile, shows impressive composure - remaining for the most part as stony-faced as the audience at Anchorman 2.
There's a post-modern moment during this one, as Scott invents his own innuendo by pointing out to the Harry Potter star that Chris' "impressive spray" is "in your hair now".
Hugh Jackman and actual Kylie
It's time to go down under for this special edition.
With Scott on holiday, only one person could step in to host, and that person is Kylie. Hugh Jackman proves that, when confronted with Seve Ballasteros' balls, his water-spitting powers are even more impressive than the Adamantium claws of Wolverine.
This is rightly praised as one of the wettest editions ever, though Lewis' alternative name for the feature was presumably rejected by BBC schedulers.
You can Listen to Scott Mills live or catch up on shows you've missed via the BBC Sounds app