Mal Benning: 'We need more South Asian role models in football'
By Ankur Desai
BBC Asian Network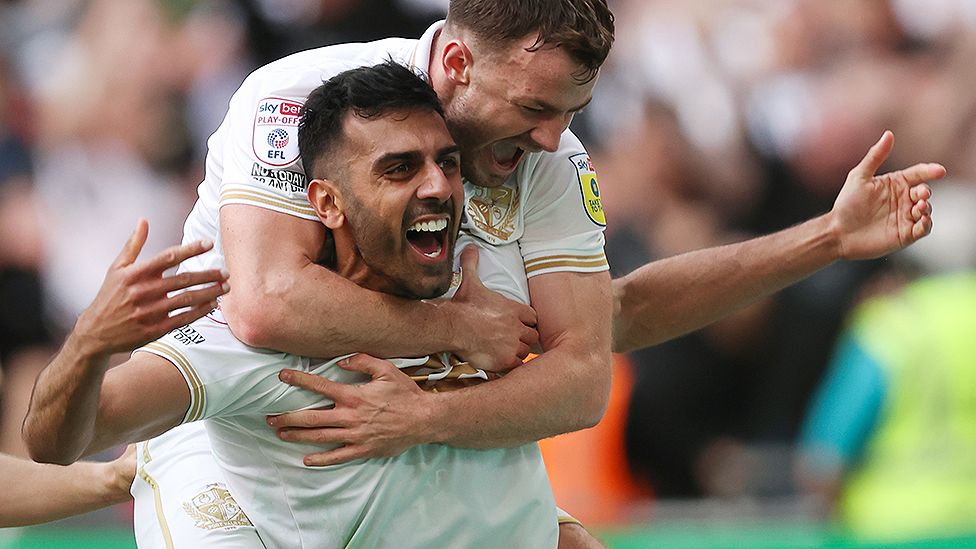 Footballer Mal Benning is hoping his success on the pitch will inspire more South Asian players into the sport.
The Port Vale player scored in the team's 3-0 win over Mansfield Town at Wembley on Saturday, securing a promotion for the team into League One.
And he hopes more South Asian and Sikh players will be inspired to pursue football dreams of their own.
"It's what dreams are made of, to score at Wembley, to play at Wembley, to get promoted at Wembley - you couldn't write it," he tells BBC Asian Network.
"I'm thankful enough to do it and hopefully it inspires a lot more Asian lads coming through."
British South Asians are under-represented in football and, according to figures, there are only 115 British South Asian footballers in the UK, out of 15,000 players in academy and professional football.
'More role models needed'
In his 10 years in the game and on the pitch, he's not witnessed much "movement" when it comes to representation for minority groups in football - but now says he's seeing some change.
"You've got Arjan Raikhy and Danny Batth, there are a lot more role models, but not as many as we need," he says.
But it's not just aspiring players he wants to motivate - it's their parents too.
"Hopefully everyone can see that things are achievable.
"The young lads coming through the system, their parents can see that and hopefully use us as role models to push them."
'Asian players need to be 25% better'
He hopes his success, and the small number of rising stars, will open the possibility of a career in football up to South Asian and Sikh families.
"A lot of parents can hopefully look up to that and push their kids even harder to carry on with the football path."
Mal says a lesson from his own father still echoes with him and, he believes, is one that aspiring players from minority groups still need to pay attention to.
"We need to be that 25% better, I still think we need to. But the more players that break through, the more players will start getting more opportunities," he adds.
"The 25% message I'm putting across is something that my dad's instilled in me from a young age.
"I knew I had to work even harder, just to get on that level playing field."
But, he says, success for players from all backgrounds is achievable.
"Yes, it's going to be incredibly hard, because of the players that do make it in football is a very small minority and to be Asian is even smaller, but it is possible.
"It's all down to hard work and the right kind of support you've got around you."