Tom Grennan 'on positive journey' after NYC attack
By Jordan Kenny and Pria Rai
Newsbeat reporters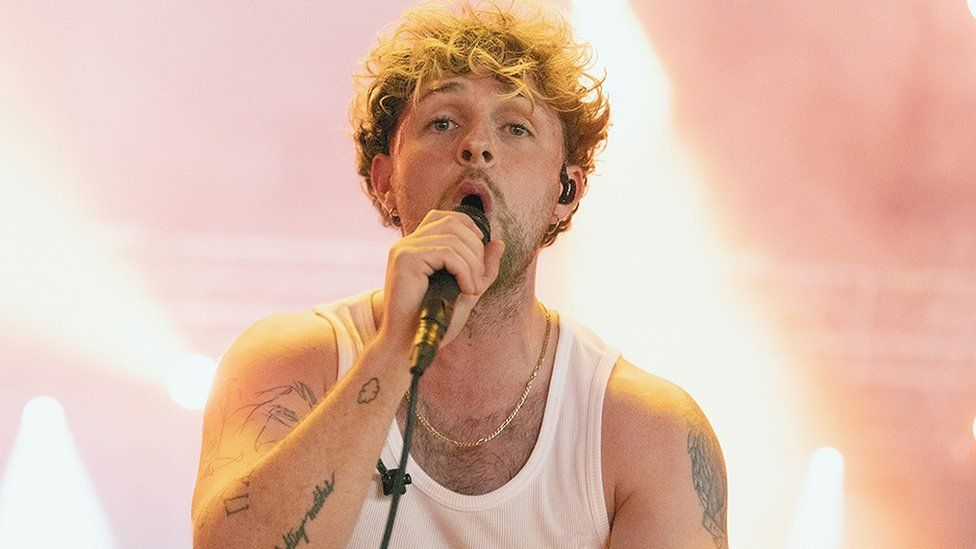 Tom Grennan says he's "looking forward" and is on a positive journey after he was attacked in New York last month.
"I hope that whoever did it to me got the help that they needed," he told BBC Newsbeat. "It's unfortunate that [the attack] happened but I'm living my dream now."
The Brit Award nominee was speaking after his set at Radio 1's Big Weekend in Coventry.
"It's been a positive journey, I've been trying to keep positive," he said.
"I've got to look forward."
Tom's attack happened while he was touring in the US. His injuries included a torn eardrum and he was forced to postpone a gig in Washington DC.
The singer arrived on the Future Sounds stage at the festival on top of Radio 1 DJs Scott Mills and Chris Stark, who were dressed as a pantomime horse.
It was the first time he's played the festival and says it's "an honour to do so".
"I've been watching this for years and I can't believe I'm doing it."
The player signed for the club in in 2020 and has scored 15 goals for the side.
Teasing his new music, Tom says he "ain't got time for no more ballads" and said his next single is coming "very, very soon".
"It's a whole new chapter for me - this whole album is colourful, it's exciting.
"It's all uplifting, up tempo - I want what the people want, fun."
The Little Bit of Love hitmaker said it was good to be back in front of a home crowd.
"It's so good to be back doing festivals and be back with an English crowd again - you forget how good they are," he says.
He says playing the gig felt like a homecoming for him.
"[Coventry's] in my blood", says the singer, whose grandma is from Coventry.
"I've been coming here for years. The energy is just incredible."