Music festivals: Only 13% of UK headliners in 2022 are female
By Mitch Mansfield, Paul Lynch and Lauren Woodhead
BBC Newsbeat and BBC Shared Data Unit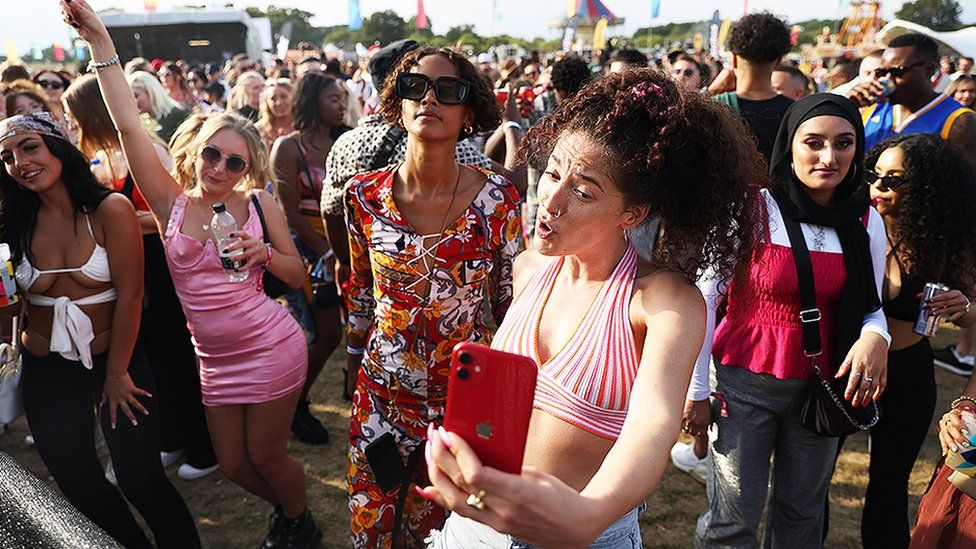 Only one in ten headliners at the UK's top music festivals this summer will be women, a BBC study has found.
This is despite many events previously promising to achieve a '50/50' gender balance across their line-ups by 2022.
"It feels awful," US singer songwriter Maggie Rogers tells BBC Radio 1 Newsbeat.
But festival organisers say it's unfair to blame them alone for the lack of diversity, and insist some progress has been made.
Five years on, new analysis by the BBC indicates there's been little change at the top of the bills.
The study focused on 50 of the biggest festivals in the UK, taken from a YouGov survey.
Out of 200 headline acts looked at, it found:
26 (13%) were an all-female band or solo artist.
149 (74.5%) were either an all-male band or solo artist.
24 (12%) had a mixed line-up of male and female performers.
One (0.5%) artist identified as non-binary.
This year's Glastonbury headliners are Paul McCartney, Kendrick Lamar and Billie Eilish.
Latitude festival headliners are Lewis Capaldi, Foals and Snow Patrol.
Progress has been made on some line-ups, however. Wireless festival headliners are SZA, Cardi B and Nicki Minaj - all female.
Reading and Leeds headliners are Megan Thee Stallion, Halsey, Dave, Artic Monkeys, Bring Me The Horizon and Rage Against The Machine.
"It's definitely disappointing," says Maggie Rogers, who will be returning to the UK this summer to perform at Latitude Festival.
"What I come to music for - as a fan and artist - is community and to feel part of something, and I think community functions at its best when it feels inclusive.
"When that doesn't happen - when the line-ups reiterate imbalances that exist in gender and race and class - it's not surprising, but it's certainly not ideal."
Maggie says "it feels awful" to look at event posters with the names of female artists so often in a smaller text, beneath those of male acts.
She believes the issue goes beyond festivals.
"The music industry has been largely run and dominated by males since the beginning of time," she says.
"I'm sure that every female act can tell you a story of growing-up, walking into a guitar shop and just just having your dreams crushed".
"It's interesting, in a post-#MeToo era, because this imbalance is something we've had so much conversation about, but still in the music industry, [the proportion of women working in it] is a horrifying number."
"Festivals can be somewhat of an easy target for this," Paul Reed from the Association of Independent Festivals, which represents more than 90 festival organisers across the UK, tells Newsbeat.
"They are annual events and they do publish their entire line-ups very visually on a poster."
He agrees with Maggie, that it's an issue with "the wider music industry ecosystem."
While accepting that "there is clearly more work to be done", Paul also insists that progress has been made with "members such as Standon Calling and Strawberries & Creem Festival, who have achieved gender-balanced line-ups".
'We didn't struggle at all with 50/50'
Strawberries & Creem in Cambridge says 60% of its artists this year are female or non-binary, with Ella Mai, Mabel and Tems headlining alongside Lil Wayne.
"We didn't seem to struggle at all getting really high-profile females on our line-up," says the festival's CEO Chris Jammer.
"That was something we set our agenda to at the beginning of the booking process and carried it through."
Chris believes the diversity of a line-up goes beyond the stage.
"It really translates to the audience, so women and girls and non-binary people feel more comfortable there and it just resonates."
So why haven't more events done the same?
"I think a lot of festivals struggle by just going with what they know, and not really wanting to deviate from their norm," says Chris.
"There's a lot of proven ticket-sellers in this industry, and in the times of economic downturn and Covid, a lot of people wanted to go with the safe option, but I think that just isn't the way to operate it."
Analysis - Mark Savage, BBC Music Correspondent
In some respects, festivals are getting the blame for a larger structural problem in the music industry.
Of the 40 best-selling songs in the UK last year, only six were by female artists. That's 15%... roughly the same as the number of female headliners this summer. Many of the artists behind those songs - including Dua Lipa and Olivia Rodrigo - are skipping the festival circuit to concentrate on their own tours.
But there is hope for the future. When you zoom out from the headline slots, acts like Doja Cat, Wet Leg, Charli XCX, Haim, Griff, Sigrid and Self Esteem are getting more prominent billing than ever before. On secondary stages at Reading and Latitude, the likes of Megan Thee Stallion, Halsey and Phoebe Bridgers are the top attraction.
They all have the potential to make the leap to headline status in 2023 and beyond. And there's no truth to the argument that the change will happen slowly.
Take Billie Eilish as an example. Just three years ago, she was booked to play Glastonbury's John Peel tent… only to be promoted to the festival's second-biggest stage as her career exploded. Now, she's back to headline the Pyramid Stage. The booking isn't just a validation of her phenomenal success, but an important step in replenishing the festival's aging audience.
More festivals need to be thinking the same way, before they programme themselves into insignificance.
'Fewer opportunities' for women
Strawberries & Creem is among more than 300 festival operators across 12 countries that signed-up to the European Union-funded Keychange initiative, pledging to achieve a 50/50 gender balance in their line-ups by 2022.
The project's manager Francine Gorman admits the original timescale had been optimistic.
"Women and gender minorities have had access to far fewer opportunities than their male counterparts over the years, and therefore it does take a little bit of time to build artists to the status that they'd be able to take a headline spot," she says.
"I think the progress that has been made over the last couple of years is going to pay off. We are going to start seeing a lot more women and gender minority headliners across stages in the future."
"There does seem to be some myth flying around the live music industry that women artists don't sell tickets, but I'm yet to see any evidence to support this. In fact, the evidence that I have seen is quite the contrary," says Francine.
Festival Republic - the company behind many of the UK's biggest festivals, including Reading and Leeds, Latitude and Download - also launched a scheme in 2017 aimed at getting more female acts on stages, following criticism of its line-ups.
ReBalance was a three-year project, funding the development of female artists by paying for studio time, travel and accommodation.
Kate Nash - who has been performing at festivals for more than a decade, and has headlined smaller stages at Reading and Leeds - says she's not surprised by this.
"I don't think there are any consequences in the music industry. We are an unregulated industry."
"Silence is just safer," she adds.
"Don't say anything and it'll go away. If you get involved there will be a quote, it'll go on Twitter and it'll get blown up - if you say nothing you are safer, you are protected."
Some festivals - including Green Man in the Brecon Beacons and BBC Radio 1's Big Weekend - say they have stuck to the Keychange pledge by delivering a broadly balanced line-ups across all stages, despite having no female headliners.
Green Man says "we're improving our representation of female acts year-on-year, but recognise it's a journey that may not have overnight solutions".
But Kate says she has "very little patience for this issue now, because we've been pointing it out and highlighting it for so many years".
"I've been told audiences don't want to see women. That's just not true."
"They say you are not a festival headliner until you become a festival headliner. It's a chicken or egg thing. If you've never been a headliner, how are you going to become one?"
This is echoed by Maggie Rogers, who says "I understand the nature of booking festivals, and you need artists at a certain echelon to be able to headline."
But she rejects the idea that gender doesn't matter, and that festival organisers are just giving fans what they want.
"People that feel that way probably feel really well represented on those stages, and so they probably feel really included".
Maggie urges promoters "to create an environment that feels inclusive for all people and to really think about what it means to go outside your comfort zone, to maybe include someone whose world you don't know anything about".
The Shared Data Unit makes data journalism available to news organisations across the media industry, as part of a partnership between the BBC and the News Media Association.