Hostile behaviour toward people with a visible difference on the rise - study
By Sam Gruet and Pria Rai
Newsbeat reporters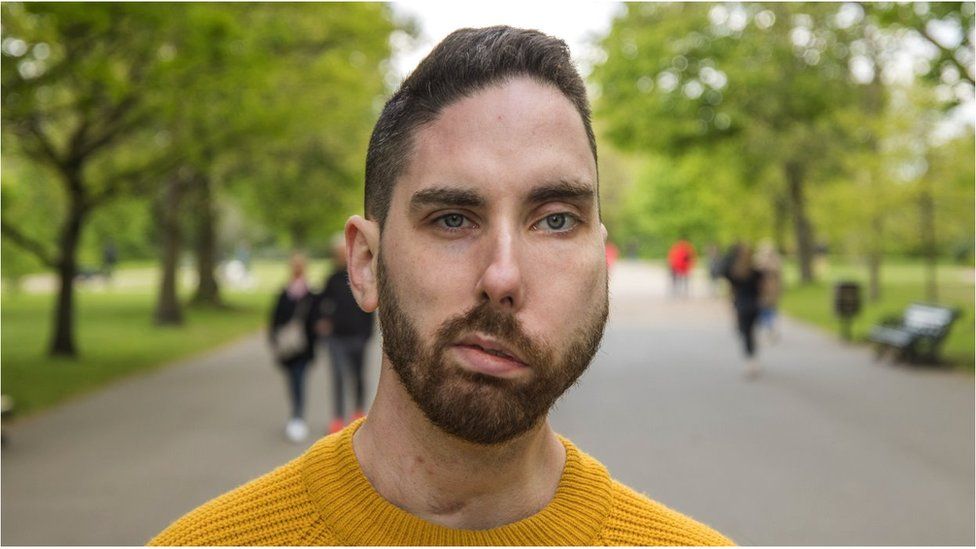 "I didn't even leave my flat. I was just so concerned that people were staring at me, or they were going to say something."
28-year-old Atholl Mills was born with cystic hygroma - causing cysts to form on his body.
He's part of a new campaign raising awareness about the impact of staring at people with disfigurements.
There's been an increase in hostile behaviour towards those with visible differences, according to new research.
The charity Changing Faces says reports have risen from a third of people with a visible difference reporting hostile behaviour in 2019, to more than two in five in 2021.
A third of people with a visible difference say they've been stared at because of it.
The charity says one in five adults self-identify as having a visible difference such as a scar, mark or condition, with over a million estimated to have significant disfigurements
The charity surveyed over 1,000 people with visible differences.
Atholl says having people stare at him is a common occurrence.
"There's been times in shops where I've tried to hide behind pillars or behind stalls, and people have actually moved around the stall to try and continue looking at me," he tells Radio 1 Newsbeat.
"Both my sisters used to get really upset that people would be staring... they'd try and stand in front of me. So it doesn't just affect me, it affects the people around me as well."
It's why he says he wanted to get involved in the campaign.
"Sometimes people don't realise they're staring. I was told it was rude to stare. I think some people have clearly missed that and they do it anyway. This is about raising awareness and educating people."
Amba Smith is 20 and is studying to become a special effects makeup artist at Bolton University. She's also got a visible difference - a birthmark going from her head to her toes, which she was born with.
"I've had it literally from the moment my parents walked out of that hospital… the hate, the staring, the comments."
She says her mum and dad would tell her the people staring were doing so because "you're so beautiful."
"I knew deep down my parents saw me in that light but others who were doing the staring, probably saw it in the complete opposite."
Amba says she's now learnt to be proud and reclaim her birthmark.
She says, defiantly: "My birthmark doesn't define me, it doesn't make me the person I am.
"Now I define my birthmark rather than - for so many years - my birthmark defining me."
Aged 14, Shankar Jalota developed the condition vitiligo, which affects the pigment on the skin.
"I was working in retail at the time. It was horrible - you'd see people's eyes just move from left to right, just really staring at my vitiligo," he tells Newsbeat.
"I remember going through a torment of time with my mental state, asking why do I look that this? Why can't I control it?"
Shanka's aim from the campaign is to get the public to embrace people with visible differences, starting on social media.
"We're helping our future generations get brought up in a more accepting world," he adds.
Advice if you find yourself staring
If you ever find yourself staring at someone with a visible difference or disfigurement, the advice is to smile, say hello or acknowledge you were looking with an apology.
"It might feel embarrassing for you, but please don't shout at or pull a child away. It's best to simply explain that everyone looks different and that's a good thing."
The charity's research also found just over a quarter of people with a visible difference have been stared at whilst at work, while nearly one in five reported that they have been passed over for development opportunities, promotion, wage increases or client/customer contact in the workplace.
If you have been affected by any of these issues in this story you can visit BBC Action Line.