Britain's Got Talent: Acts judged 'on merit' after viewer backlash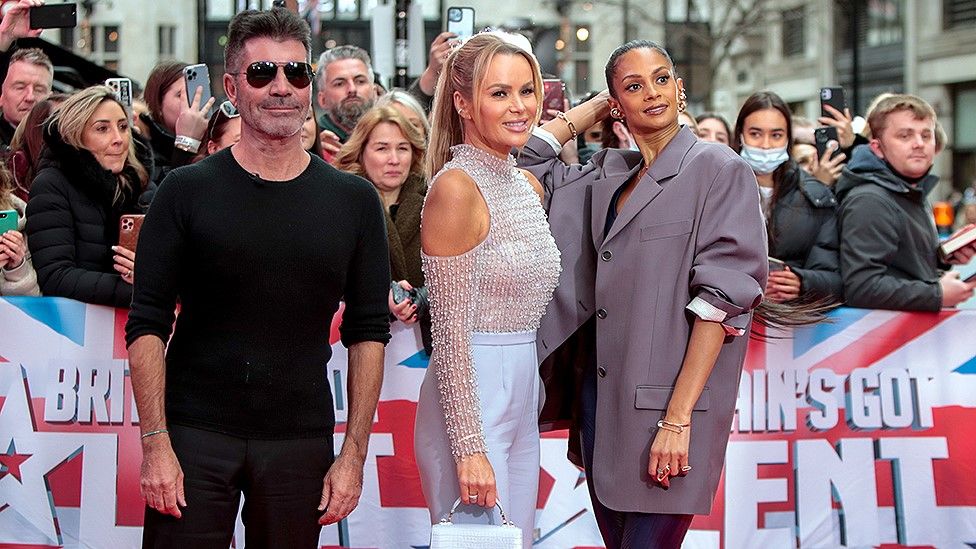 Britain's Got Talent has denied claims of a fixed show, after criticism from fans over professional acts.
It comes as two acts - singer Loren Allred and comedian Axel Blake - were given the golden buzzer to go through automatically to the final.
Loren, 32, previously recorded Never Enough for The Greatest Showman and Axel already has an Amazon Prime show.
"All contestants are auditioned on merit and judged on their performance on the day," a BGT spokeswoman says.
"Whilst some of the acts appearing on the show may have tasted a level of success, they are not household names."
Britain's Got Talent returned to screens for the first time in two years after it was cancelled in 2021 due to the coronavirus pandemic.
The show became popular for taking unknown talent - such as Susan Boyle and Diversity - and making them household names.
Some viewers were unhappy with the inclusion of people who had experienced success previously.
No offence to Loren Allred, but why on earth is she on #BritainsGotTalent? She's the voice of one of the biggest songs in the huge movie the greatest showman. She's collaborated with Michael bubble, and had a record deal with Def Jam at 19.. she's also America. I'm just.. ???

— D (@DKillingA) April 16, 2022
Although Loren, who was given the golden buzzer by Amanda Holden, was the voice behind the song, she didn't feature in the film, with actress Rebecca Ferguson miming to the track.
She has also released recordings in the US and has performing duets with established names such as Michael Buble.
For BGT fan Lewis Cole, Loren is a great singer but having professionals is "harsh" on the other contestants.
"Surely this show is for the general public who are trying to make something of themselves when she's already made it for herself," the 29-year-old from Essex tells Radio 1 Newsbeat.
"For most people, you want to see members of the general public, people who you wouldn't expect to have a talent."
The BGT spokeswoman added: "Anyone can apply for Britain's Got Talent whether they are professional or amateur, irrespective of their experience".
"All enter the contest with the hope of elevating their career to the highest level."
Loren has also defended her right to be in the show, reportedly saying she's "been fighting for my chance to be known and to make it".
Comedian Axel received the golden buzzer from Simon Cowell, after jokes about the pandemic and his pregnant girlfriend.
Axel, a 33-year-old property maintenance manager from west London, is listed as having a show on Amazon Prime, from a performance at The Indigo at the O2 arena - although it's not available to watch in the UK.
"He's already made it and made a name for himself doing what he does. Now he's getting on the talent show to do what he does," Lewis adds.
Some fans, however, have defended Axel's right to be on the show, saying he deserves to use BGT's platform to achieve his dream of making it big.
Why are people moaning about Axel Blake because hes supposedly well known? Did you know who he was before he stepped on stage? No you didn't. Which means he hasnt had his big break. Leave him alone. #BritainsGotTalent

— Jodes (@BigTiddyMoth23) April 17, 2022
Show boss Simon Cowell told The Sun newspaper: "This year, there are less professional people."
"We started by opening the show to anyone regardless of a day job or hidden talent that they want to show to the world."
"This is the place to do it and thank god that's the show it's evolved into. We don't really have any rules on it," Simon said.
Lewis feels the show has changed in recent years.
"Maybe they want people to watch it and have that wow factor, like they'll see Loren and go 'wow she's really good'."
"I'd rather see someone who is just a normal person trying to make it, win over someone who's actually a professional singer."