'I want my film to show that queer South Asians are thriving'
By Michael Baggs
Newsbeat reporter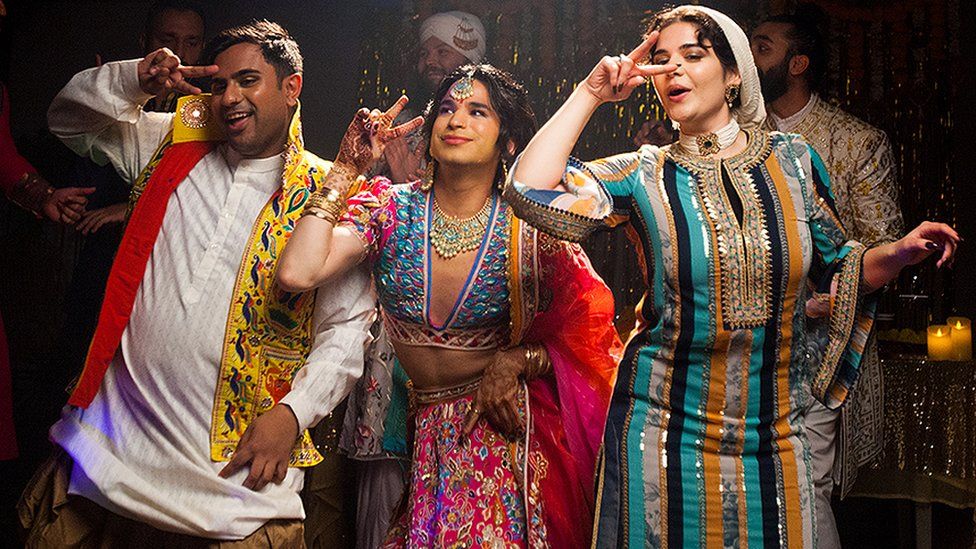 "What would it look like for someone who is queer, South Asian and brown to get married? What would it look like for an elder, queer, South Asian to come out?"
These are some of the questions 29-year-old Shiva Raichandani asked themselves when making their first short film, Queer Parivaar.
Shiva - who's non-binary and uses they/them pronouns - also wanted to do something more with the film, something they didn't see much of on-screen and in stories about LGBTQ+ people of colour.
"A lot of our narratives tend to be really bleak, and just sad. We don't get to see things that give people joy," they tell Radio 1 Newsbeat.
Parivaar means family in Hindi, and the film is about an LGBTQ+ couple whose wedding is gatecrashed by someone from their past.
Queer has been used as a slur in the past, but today is used by many LGBTQ+ people as an umbrella term to describe their identity or refer to their community.
Queer Parivaar is an explosion of colour, humour and love that celebrates the idea of family - both blood relatives, and the chosen family many LGBTQ+ people surround themselves with.
It premiered at this year's BFI Flare, a major LGBTQ+ film festival, that was held in London in March.
Shiva, who Britain's Got Talent viewers may have seen in 2017 with the London School of Bollywood, and Marvel fans will have glimpsed in scenes alongside Kumail Nanjiani in 2021's Eternals, was inspired by their own experience as a non-binary South Asian person when co-writing the film.
"It does draw upon a lot of personal experiences, especially aspects around gender dysphoria, sometimes not feeling comfortable in who you are, how you present yourself and how society expects you to present yourself or be.
"Those are things that I still grapple with and still find it difficult to deal with."
Gender dysphoria is described by the NHS as "unease that a person may have because of a mismatch between their biological sex and their gender identity."
"Growing up, I didn't see getting married, finding love - all of those things as real possibilities," Shiva adds.
"So, putting stories out there which can tell people that you're valid, your love is valid - all of that matters."
'Parents don't understand queerness'
As a musical, the film is also heavily influenced by traditional Asian music and dance, which is something Shiva leant into heavily as they were growing up, before feeling comfortable and confident enough to embrace their gender identity.
"Because I couldn't address my queerness so much, my Asian side took precedence and I relied on that more than my queer side until I was able to then find the ways in which I could navigate my queerness," Shiva says.
"But my Asian-ness has held so much importance to me. And so showing that aspect of the culture was really important."
Shiva co-write the film with collaborator Amani Saeed, it was made by a cast and crew from across the LGBTQ+ community and financed through crowdfunding.
Shiva says that when they first came out to their family they were "confused", but says it was something "they weren't prepared for, or didn't know how to address".
"As a parent, you don't have the reference or understanding of what queerness is, you have this very narrow perception of this heteronormative lifestyle that you hope for your child. For them to grapple with that not being the reality, it was difficult."
Shiva says their family's first response was "how do we fix this" and to worry about shame.
"It took quite some time for them to process and to grieve, which is fair enough. Then they learned how to be a parent that is supportive, an ally and a huge champion, which they have become now.
"It's a huge privilege, one that I recognise isn't always the case for a lot of us."
Now Shiva hopes to have a viewing of the film for their parents in Indonesia - but hopes for something a little more grand than just sending them a streaming link to watch on a laptop, and would like to arrange a special screening.
Like the best Bollywood-inspired films, music drives the narrative in Queer Parivaar, and here the soundtrack is provided by young LGBTQ+ artists such as Leo Kalyan and MNEK, alongside more traditional South Asian music from Oscar-nominated singer Bombay Jayashri.
Shiva says they want people who see the film to see that "queer South Asians are thriving" and that "there is life beyond the trauma".
But despite being a film about queer lives, and queer South Asian lives in particular, Shiva says the themes explored are entirely universal.
"It's all about love, identity, navigating life with the struggles and all the layers of your intersectionality.
"Whether it's your race, your ethnicity, your skin colour, your queerness, your age - it's all that stuff."