Student spends 400 days in hospital recovering from 2020 car crash
By Alice Evans & Tamsyn Kent
Newsbeat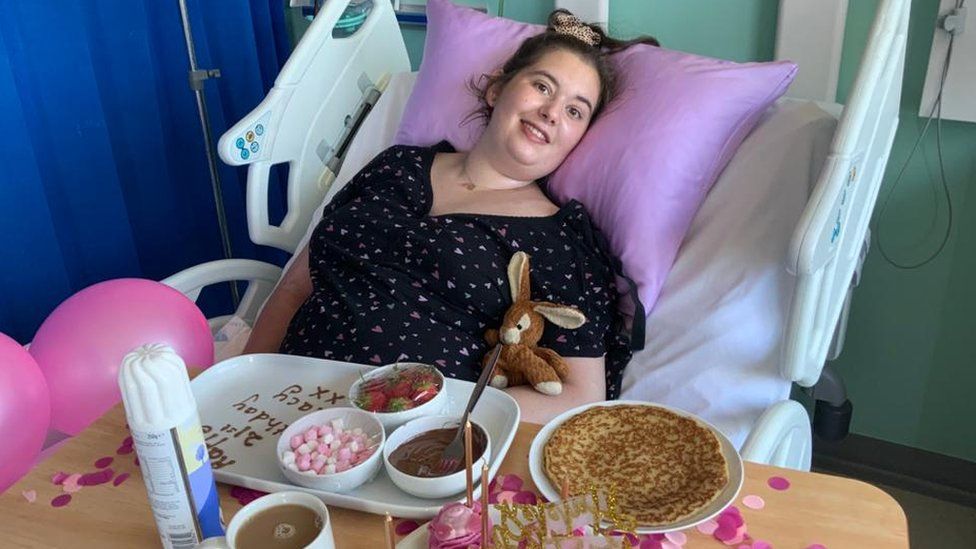 Macy Window was on her way to celebrate her dad's birthday as she drove from university in Kent back home to Essex last summer - but she never got there.
Heavy rain had made the M2 treacherous, and as Macy was overtaking other cars and a lorry, her car aquaplaned.
She hit a tree at almost 70mph and because of the extent of her injuries, was given just 2% chance of survival.
Some 400 days in hospital and 20 operations later, Macy has "made peace" with the fact she won't walk again.
"I just stay positive - it's surprising what you can do when you don't have a choice," she tells Radio 1 Newsbeat.
'Easier to say what she hadn't hurt'
The English Literature student, 21, hadn't been home since the start of the first Covid lockdown.
She severed a major artery, punctured her lung, and broke bones including both legs, her hip and ribs in the crash on 6 June 2020.
When her dad asked medics what her injuries were, "they said to my dad: 'It's easier to say what she hasn't hurt - she hasn't hurt her head, and she hasn't hurt her back.'"
Emergency services considered amputating Macy's legs to free her from the wreckage of her car. But after about 90 minutes they got her out, and she was airlifted to King's College Hospital.
Macy, who was 19 at the time, had 14 hours of life-saving surgery before being put into an induced coma for the next six weeks - including for her 20th birthday.
When she was brought out of the coma, she couldn't move, speak, or eat solid food.
After a while she was given what's known as a speaking valve, which helped her speak one word at a time, for a few minutes a day.
"The first thing I think I remember is waking up and asking my dad: 'Have I killed anyone?'" she tells Newsbeat.
Even though her dad said no - and was telling the truth - Macy felt "hysterical".
She was convinced she'd hurt somebody.
"I couldn't understand how I could be in such a bad accident and be the only one that was hurt. I was so worried about it because I was just like - 'if I've hurt anyone else I would not be able to live with myself.'"
Macy says she was determined to make enough progress with her speech to not need to rely on the speaking valve, and that eating and drinking without tubes was a huge moment.
"I remember I had a sip of orange juice and I was like, 'that's heaven'," she says.
"You have to gradually build up to solid foods whilst your swallow gets stronger... [eating] stuff like custard, blended food. But at the time everything tastes amazing because you haven't eaten in however long."
Over the past few months, with the help of intensive care physiotherapists, Macy's managed to get some movement back, building up the strength to sit on the edge of her bed or sit on a chair for a few minutes each day.
Macy was discharged from King's last month, almost 400 days after the accident.
She's now in a specialised rehab centre and will be for another couple of months.
Macy's set up a crowdfunding page to try to cover some of the costs of her future treatment - such as £150,000 for rehab, £85,000 for adapting her parents' house so that she can live there, and £10,000 for a special outdoor wheelchair that would allow her to go to see her horse, Eddie.
Macy, who loves horse-riding, hopes that one day - even though it might take years - she'll be able to sit on a horse again.
"I don't see how me not being able to walk will affect me getting on my horse. Paralympians do it… I can do it, I know I can do it. But I don't think that'll be for a while yet."
Macy's tight-knit group of family and close friends have managed to keep her spirits high.
"I've got this unit of people that have been there since day one, doing fundraising events, visiting me in the hospital, holding my hand whilst I'm screaming in pain, being my voice when I didn't have one," she says.
"I don't really care about who's my mate, who likes me, if I look good - as long as I've got these people in my life."
She says she keeps a positive mindset because there's no other way to move forward.
"I have to live this life, so I'm going to live this life. I want to do it as best I can, I don't want to live it in a rubbish way because I didn't try when I had the opportunity, to start learning how to do things.
"I want to do things properly - when life gives you lemons, you make lemonade."