Why you shouldn't get a second Covid jab too early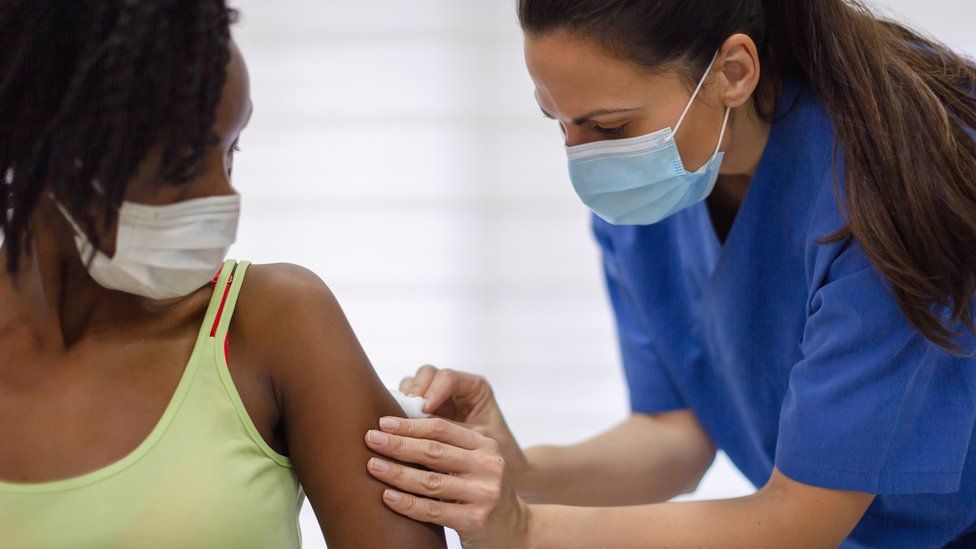 A government scientific advisor says four weeks is too soon between some Covid jabs.
This comes as people have been sharing tips online of some locations giving out second doses after just a month.
Walk-in vaccination centres opened up across England last weekend.
According to Public Health England, Pfizer jabs can safely be administered after just 21 days.
But government scientific advisor Professor Anthony Harnden says for others, the "sweet spot" is eight weeks and any earlier means you won't be protected for as long.
If you are in London and want the Pfizer vaccination, get to the Emirates stadium TODAY. I just had my second jab there, four weeks after the first. pic.twitter.com/zAY9eG5OW5

— Cassia Curran (@CassiaCurran) June 28, 2021
Prof. Anthony Harnden is on the Joint Committee on Vaccination and Immunisation and he advises the government on the vaccine rollout.
He says: "The data suggests very strongly that the longer you leave that second dose, the better longer term protection you will have.
"There is a sort of sweet spot from about eight weeks onwards, and we wouldn't advise anybody to really have the second dose before then."
According to the NHS website, second doses should "usually" be given eight to 12 weeks after the first dose.
Prof. Harnden says he understands the worry about jabs going to waste: "We want vaccines in arms, not in fridges."
But it's still much more effective to wait the correct amount of time before a second vaccination.
Getting my second jab at CP House in Ealing. No need to book and you can get your jab four weeks after the first.

— Sam 🏳️‍🌈 (@Ealing_Sam) June 27, 2021
Prof. Harnden's advice is too late for a number of people, who have posted online to say they've had a second jab before the recommended wait period.
If this means protection from the virus is less effective, Prof. Harnden says it's "entirely possible" that younger people could need booster jabs later down the line.
Currently the booster programme is being planned for over 50s this winter.
"We will be looking at that data very carefully," says Prof. Harnden, "if it emerges that young people are actually at risk greater than six months after vaccination, then we'll adjust the booster programme accordingly.
"But there's no need to do that at the moment."
Prof. Harnden says young people have made "such sacrifices" throughout the pandemic, "in terms of restricting their lifestyles and financial implications", and that its now "in their interest" to get vaccinated.
"We know that they're highly effective. We know that some young people do get severe episodes of Covid, and long Covid.
"There are a lot of myths around about the vaccine, particularly those around fertility, which are completely incorrect."
If the health reasons aren't enough, Prof. Harnden adds to his plea by saying: "We don't know what other countries are going to do and we're seeing more and more countries requiring vaccine passports.
"I think travelling in future you're going to need the vaccine."
In terms of a UK vaccine passport system coming in at some point, he says it's "highly likely" we will want to see people's vaccine status before allowing them into the country.
"And so what I would say to young people is when you get the offer, just take it up."