Mumford & Sons' Winston Marshall quits to avoid 'self-censorship'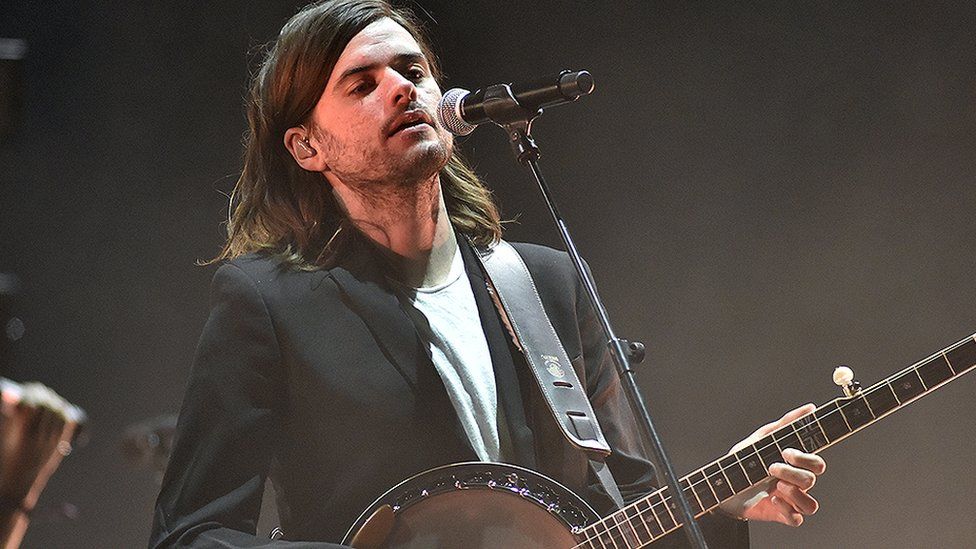 Mumford & Sons' lead guitarist has quit the band following backlash to a tweet supporting a right-wing author.
Winston Marshall took time away from the band in March after saying journalist Andy Ngo was "brave" for his book which says far-left activists have "radical plans to destroy democracy".
Winston says he regrets the distress to his bandmates caused by his tweet.
"I could remain and continue to self-censor, but it will erode my sense of integrity," he wrote in a blog post.
He blamed a "viral mob" for his decision to leave the band permanently.
"I failed to foresee that my commenting on a book critical of the far-left could be interpreted as approval of the equally abhorrent far-right."
"Nothing could be further from the truth," he said, adding that 13 members of his family were murdered in concentration camps during the Holocaust, in the Second World War.
'A divisive and totemic issue'
During the coronavirus pandemic, Winston, 33, had used his social media accounts to comment on the books he was reading.
Much of the backlash from his tweet about Andy Ngo's book was aimed at the band's frontman, Marcus Mumford.
"It's our singer's name on the tin. That name was being dragged through some pretty ugly accusations, as a result of my tweet," Winston wrote.
"The distress brought to [the whole band] and their families that weekend I regret very much. I remain sincerely sorry for that.
"Unintentionally, I had pulled them into a divisive and totemic issue."
Winston said his Mumford & Sons bandmates had asked him to stay with them after his tweet.
But when he decided to step back from the band "another viral mob came after me, this time for the sin of apologising".
He said articles calling him right-wing are "libellous" and that his political views are somewhere between "centrist" and "liberal".
"Being labelled erroneously just goes to show how binary political discourse has become," he wrote.
"I had criticised the 'left', so I must be the 'right', or so their logic goes."
Winston had been in the hugely successful four-part band for 14 years, since it formed in London in 2007.
In that time they've released four albums - two of which have topped charts in both the UK and the US.
The book Winston tweeted his support for was called Unmasked: Inside Antifa's Radical Plan to Destroy Democracy.
It was an Amazon bestseller and appeared on The New York Times Best Seller list for non-fiction.
Antifa is an abbreviation of anti-fascist, and is a word that became widespread while Donald Trump was in power in America, especially in coverage of clashes with white supremacists.
It is not an official organisation.
The loose affiliation of mostly far-left activists includes anarchists, but also communists and a few social democrats. What sets them apart is their willingness to use violence - in self-defence, they say.