Download: 'Weird to get back to normality' for festival goers
Interviews by Will Chalk
Newsbeat reporter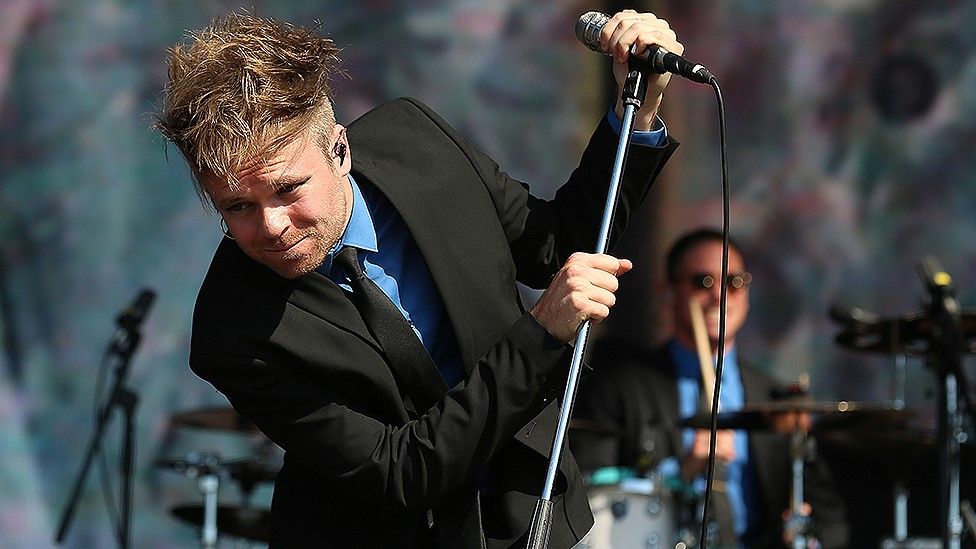 "Can you believe it? We've been spending the last three weeks trying to work out how to be a live band again."
Like many others, Enter Shikari frontman Rou Reynolds says the last 18 months have been strange.
"I remember saying halfway through the pandemic, it sort of feels like we're experiencing what the death of a band would be like, by just not being able to play," he tells Radio 1 Newsbeat.
"I haven't written any music for like 18 months and the live shows is what I think gives us this fuel as a songwriter."
But he's back on stage with the band this weekend at Download Festival in Donnington Park, Leicestershire.
However, it's in a new format.
You'll still get headliners: Enter Shikari, Frank Carter & The Rattlesnakes and Bullet for My Valentine.
But the crowds will be smaller - instead of 111,000, there will only be 10,000.
It's a 3-day test event so the government can see how Covid-19 transmissions happen in crowds.
These test events have been previously in Liverpool which the city's health chief said were "undoubtedly successful".
In April and May more than 13,000 people went clubbing, to a music festival and a business conference and tests showed these events didn't cause any detectable spread of coronavirus.
'Mate, you're a bit close to me'
Friends Ryan Carroll, Ben Thompson and Daniel Davis, who are all 20 years old, are heading down to Download.
"We're so excited to get back out there after this time," Ben tells Newsbeat.
"It's going to be weird because no social distancing is really involved but we're looking forward to it."
As part of the test event, a mosh pit will be allowed.
Ryan says it will take some getting used to.
"We're definitely going to be looking around and going, 'ah mate you're a bit too close to me' as it'll be hard to remember that it's allowed.
"It's weird to get back to a kind of normality, isn't it?"
But they're also using the event as a reunion.
"Our families and other friends are going and so we are all seeing each other in the first time for two years or something now," says Daniel.
There are no day tickets and the boys will be camping all weekend.
Also, everyone must take Covid-19 tests before and after the festival and provide proof of a negative result to gain entry.
'Throw me in the moshpit'
Someone else incredibly excited about the weekend is 21-year-old Emie Schofield - she's literally been crying about it.
"The last festival I went to was Reading 2019 and I've missed it so much. I've never missed a muddy floor before!"
She booked for Download last minute, a week ago, and is at the festival on her own.
"I thought why not. This Covid situation has been driving me insane and this is the opportunity I need."
Wandering around the campsite she says: " I feel like I've got a bit of home with me because it feels normal again."
"Even the rain is not ruining my mood at all, I'm having the best time."
As for worrying about getting close to people?
"No I want to be close. Throw me in the moshpit. Even if I don't know what the song is - put me in there!"
'Light at the end of the tunnel'
Download will get back to normal next year - a proper weekend has already been announced with Biffy Clyro, Iron Maiden and Kiss already confirmed as headliners.
But for 2021, events in the summer calendar are being scaled down.
Organisers of the Notting Hill Carnival have said today that it won't go ahead for the second year running because "safety has to come first" following the latest announcement on the government's roadmap.
But for Rou and Enter Shikari, this weekend is a real turning point.
"I think there's going to be a real emotion to the whole thing," he says.
"This event is effectively helping the return of live music, so it feels like it's the light at the end of the tunnel."