Instagram model Demi Rose on why she joined OnlyFans
By Annabel Rackham
Newsbeat reporter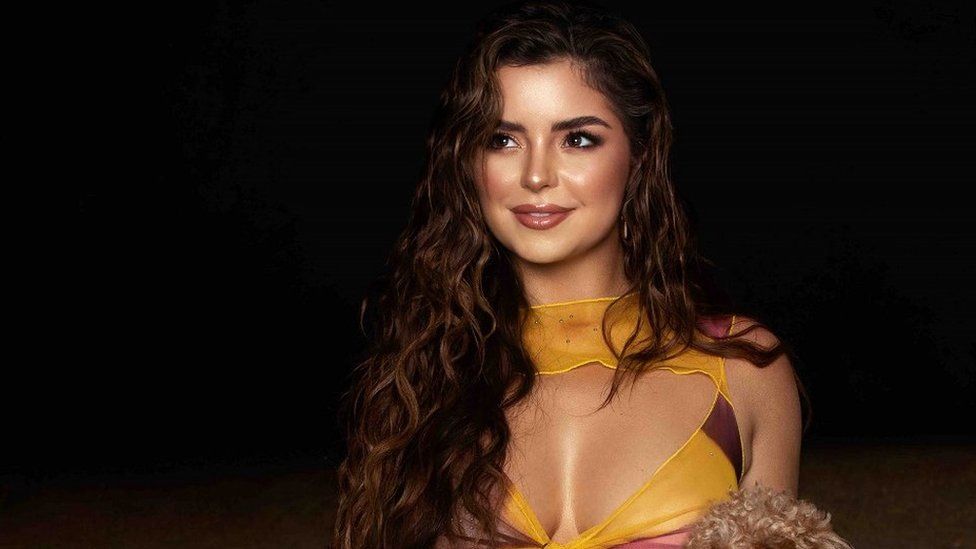 Demi Rose Mawby is someone you've probably seen pop up when scrolling through certain tabloid sidebars, but don't know much about.
The 26-year-old from Birmingham has been modelling for eight years and has racked up over 16 million Instagram followers.
Her bikini photos are shared daily online and are often met with hundreds of comments from people wondering how she seemingly became so famous out of nowhere.
"I never expected this when I was younger, but it's something that I've had to learn to live with," she tells Radio 1 Newsbeat.
"I always wanted to get into modelling and when I eventually got there I classed it as a blessing because I grew up being bullied and didn't have many friends at all."
The majority of her online content is fashion-based, showing off editorial shoots she's been involved with and collections with brands, but she's also used her platform to talk about bereavement.
In 2019 both of Demi Rose's parents died, just seven months apart.
"I use [my platform] to uplift people because after what I've been through, I want people to have a more positive outlook on death and not see it as a bad thing," she says.
She has shared her personal coping mechanisms on social media - including notes she's written to her parents after their death and updates on her mental health.
But she says despite trying to stay positive, going into lockdown shortly after their deaths was tough.
"Having to deal with my parents' house and selling their stuff - it was a really sad place for me.
"I wanted to go and travel but I had three months in London, which was a lot of facing what I had been through and was a time of reflection."
When restrictions were lifted, she moved to Ibiza so that she could continue working on modelling shoots and think about where her career would go next.
She describes her online community as an "amazing support system" and says that the majority of her interactions on social media are positive.
"Anything negative is usually from people who are haters or trolls, but I don't see many bad articles because the things I put out aren't really bad."
Demi Rose says that despite having so many followers, she'd like more control over what she posts - and to make more money off it.
She has done sponsored posts for some of the big online fashion retailers.
"I've been posting online for years and most of my shots are free, some are paid collaborations but I haven't been able to monetise it properly."
After several offers, she's made the decision to join subscription-based service OnlyFans.
There are thousands of creators on the platform, from fitness coaches to beauty bloggers, but it has become infamous for adult content and porn.
Regulator Ofcom's 2020 media report named OnlyFans as one of the fastest growing websites during the pandemic, with its owners saying it experienced a 75% increase in new creators in May last year.
"There's always been a stigma in the UK," Demi Rose says.
"I was always cautious about joining, but I've been watching more creators and artists joining and I was like, 'OK wow it's becoming more accepted'," she says.
Cardi B, Jordyn Woods and Tyga are all on the platform and use it to show behind the scenes images of photo shoots or backstage footage, which is the route Demi Rose wants to go down.
She says her OnlyFans posts will be different to her other social media accounts, and might include videos such as her cooking, or playing her instruments in her underwear - she has been learning the harp.
"I'm finally taking more creative control and being artistic, I'm finding my shoots fun and they [the subscribers] are happy with what I'm putting on there," she adds.
"It makes me feel empowered".