Crocodile attack: Twin Melissa Laurie is out of her coma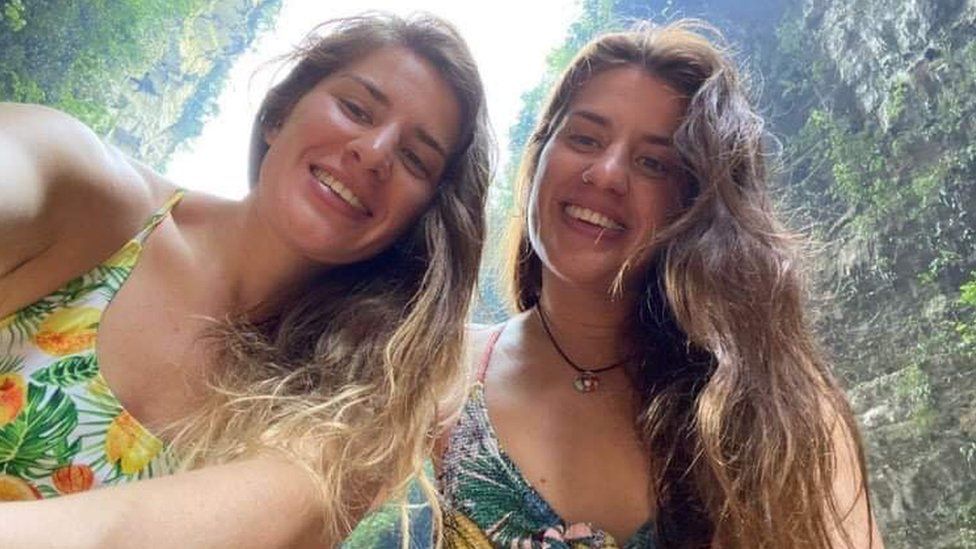 A British woman attacked by a crocodile in Mexico is out of her coma and breathing independently, her twin has said.
Melissa Laurie, 28, developed sepsis from her wounds following the attack in a lagoon near Puerto Escondido and has been in a medically-induced coma.
Her twin Georgia saved her by punching the reptile in the face.
"She's doing really much better. She's doing really good," Georgia told Radio 1 Newsbeat in a WhatsApp voice note.
Crocodiles try to drown their victims and Melissa was dragged underwater in the attack at the weekend.
The 28-year-old had water on her lungs and possibly a punctured lung as well.
She was receiving help to breathe in the hospital but, in her message, Georgia said the tube was taken out this morning.
"She's been breathing on her own very well.
"She can't talk because of the soreness in her throat from the tube."
But she explained that her sister can hear well and seemed to understand what was going on around her.
"She recognised me and knew who I was. She seemed happy to see me," Melissa's twin said.
The twins, from Berkshire, had been in Mexico to volunteer, work in animal sanctuaries and travel.
They were out swimming with a guide when the crocodile attacked.
Melissa disappeared under the water and Georgia eventually found her unresponsive. The reptile kept coming back for more so she just started hitting it.
Their older sister Hana Laurie feared the worst at the time but is now relieved to hear Melissa is out of the coma.
"Obviously Melissa is still really really unwell but this is going in the right direction," the 33-year-old said.
"We are so pleased. What an absolutely amazing strong young woman she is. Very proud of her too."
Hana said the British Embassy in Mexico have been really supportive.
The family set up a crowdfunding page with a goal of reaching £35,000 to help pay for medical bills and fly the twins' parents to Mexico.
That target was reached on Wednesday and the twins' dad will fly out in the next few days.