Abortion: Texas teen attacks new law in high school graduation speech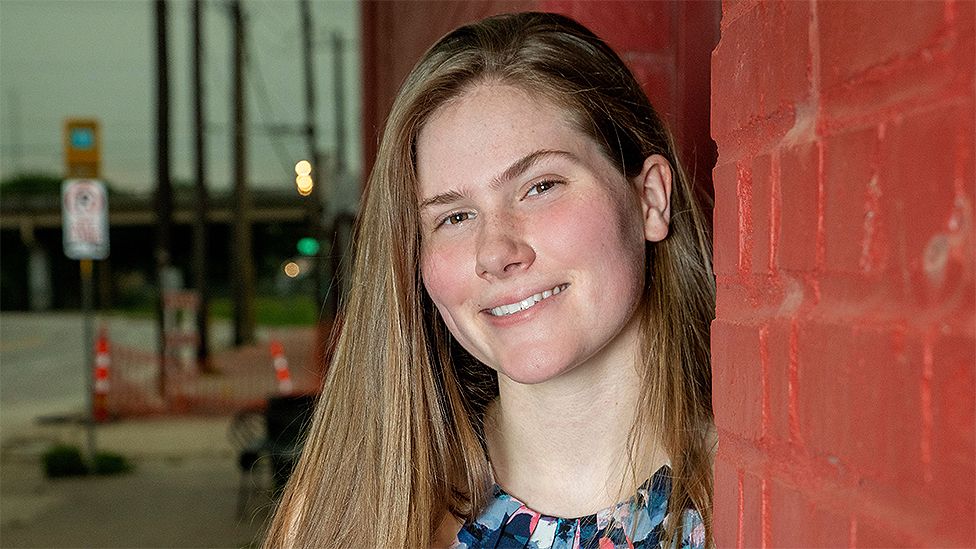 When Paxton Smith got up to deliver her high school graduation speech, it was supposed to be about TV and the media.
But the teenager ditched the script that had been approved by her school, and spoke about abortions instead.
"I cannot give up this platform to promote complacency and peace when there is a war on my body," Paxton said in the speech that's since gone viral.
The law bans abortions after the detection of what anti-abortion campaigners call a foetal heartbeat, something medical authorities like the American College of Obstetricians and Gynaecologists say is misleading. Many women would not know they are pregnant that early on.
The law does allow abortions in the case of a medical emergency, but not for pregnancies resulting from rape or incest.
When signing the bill, Texas governor Greg Abbott said "millions of children lose their right to life every year because of abortion" and "in Texas we work to save those lives".
Doctors and women's rights groups have heavily criticised the change, which will take effect in September if it's not stopped by a court.
"In light of recent events, it feels wrong to talk about anything but what is currently affecting me and millions of other women," Paxton said to fellow students at Lake Highlands High School.
"I have dreams, hopes and ambitions," Paxton said.
"Every girl here does. We have spent our whole lives working towards our futures, and without our consent or input, our control over our futures has been stripped away from us."
"I am terrified that if my contraceptives fail me, that if I'm raped, then my hopes and aspirations, efforts and dreams for myself will no longer matter," she added.
She said it was "gut-wrenching" and "dehumanising" to have the autonomy over her body taken away and that this was a "problem that can't wait".
"I cannot give up this platform to promote complacency and peace, when there is a war on my body and a war on my rights.
"A war on the rights of your mothers, a war on the rights of your sisters, a war on the rights of your daughters.
"We cannot stay silent," she concluded.
The speech has been viewed millions of times across YouTube, Twitter and TikTok, being praised by many.
Hillary Clinton, the 2016 presidential candidate, tweeted: "This took guts. Thank you for not staying silent, Paxton."
And local Democratic politician Beto O'Rourke thanked Paxton for "inspiring Texas with your refusal to accept injustice as the price of participation in civic life".
Speaking to BBC News, Paxton says she was stunned that the speech was received so well by the audience and school officials, saying: "With every sentence that I made I was shocked that the microphone was not cut off."
The only people who knew in advance that she planned to change her words were her parents, who have been "extremely supportive" after earlier expressing concerns that the controversial topic "would come back to haunt me in my future".
"I think we're all surprised at how much traction the speech has gained. It definitely came to me as a shock and it came as a shock to my parents as well," says Paxton.
"But we're very excited about it and we're excited that this is opening up this conversation for so many people across the world."
Paxton says she hopes her words inspire others to speak about subjects that matter to them.
"Whether or not you think that your words will have an impact, they can, and they can have a really large impact.
"So if you have the opportunity to share your thoughts and your feelings do it."
The Richardson Independent School District, that Lake Highlands School is a part of, has reportedly said it will review student speech protocols before future graduation ceremonies.
"The content of each student speaker's message is the private, voluntary expression of the individual student and does not reflect the endorsement, sponsorship, position or expression of the district or its employees," it said in a statement to CBS.
Newsbeat has contacted the school for additional comment.