Khady Gueye: 'Organising a Black Lives Matter protest changed my life'
By Sam Gruet
Newsbeat Reporter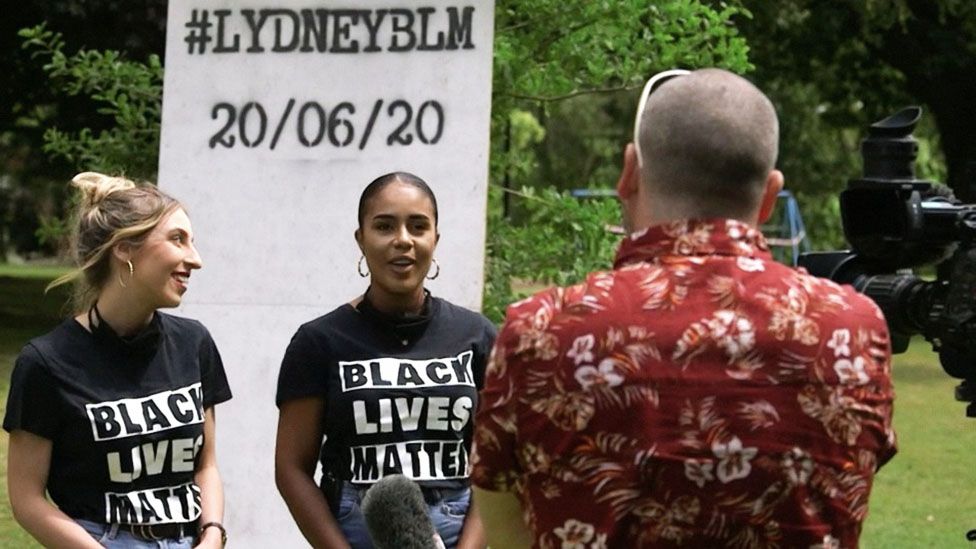 Khady Gueye first became the target of online racist abuse after a Black Lives Matter protest she organised was met with opposition by some people in her hometown.
A year on, the 25-year-old is still glad she did it, but says the abuse she's received has got more frequent.
Despite this, she says she doesn't regret making a stand and will continue to do so.
"It's changed my life entirely," she tells Radio 1 Newsbeat.
'No-one was talking about it'
This time last year, Black Lives Matter demonstrations were popping up all over the world, in response to the murder of George Floyd by a white police officer in Minneapolis.
But Khady felt that "no-one was talking about it" where she lived in Lydney, Gloucestershire.
"Outraged and upset", as the footage of George Floyd's death circulated online, she decided to organise her own local protest.
"I wanted to highlight this tragedy for black communities in the area I live in, where discussions about race and racial justice just don't happen," she said.
The town council tried to block the demonstration from happening. The UK was still in a national lockdown and they told Khady they were worried about the spread of coronavirus.
But after getting threats and abuse about it online - including in the comments section of her local MP's Facebook page - Khady suspected racism may be part of the reason.
The protest went ahead after the town council backed down, but Khady is keen to move away from a period she says "fractured" the local community.
"It was controversial in this area, everyone knows that," she says.
"I feel that we've made progress in the sense that the conversations are still happening. Whether they are positive or negative, to make any real tangible change it starts with a conversation."
Khady's since founded a Local Equality Commission - a group that runs workshops challenging racism.
This includes teaching kids in school about racial justice, supporting food banks that help black and ethnic minority families, and working with the police on issues like stop and search.
But Khady still feels there's a long way to go and "not everyone has been in support" of her work.
Khady, who is Senegalese-British, says her first experience of racist abuse was at primary school.
She partly puts the racist comments and nicknames she endured down to there being little diversity where she grew up in the Forest of Dean - some 98% of the population are white.
Looking back at the past year, she says: "It's been an opportunity to provide people with a understanding of black lived experience."
There are positives, which she says include "a lot of changed opinions" but she admits that she's not going to be able to change everyone's minds.
"Growing up in this area I've always tried not to fall into the stereotypes of being the angry black girl who calls out racism 24/7 or trying to tackle racial injustice, simply because I'm already outnumbered."
So, Khady decided to run to be a local councillor because, she says, "real and systemic change" needs to happen "from the inside".
She got 16% of the votes in the council election for the ward of Blakeney and Bream - something that she's "really proud of" even though she didn't win.
"I would have never have thought that I would be director of an organisation or running for council a year ago. It's been my life for the last year and something that I've really grown to love."
Campaigning has given Khady a platform to speak about her experiences of growing up mixed race in a predominantly white area - but it's also made her a fresh target for racist abuse on social media.
"It's brought out this sort of nationalist uprising where it has become acceptable to say these things without much repercussion," she says.
"It would have been quite easy for me to experience the racism I have over the last year and think: 'I'm going to move away, that's not my problem,'" she says.
Despite this, Khady says she loved growing up in rural west England - and wants her young daughter to grow up in the area, too.