Eurovision: Flo Rida to join Senhit on stage for San Marino
By Steve Holden
Newsbeat music reporter in Rotterdam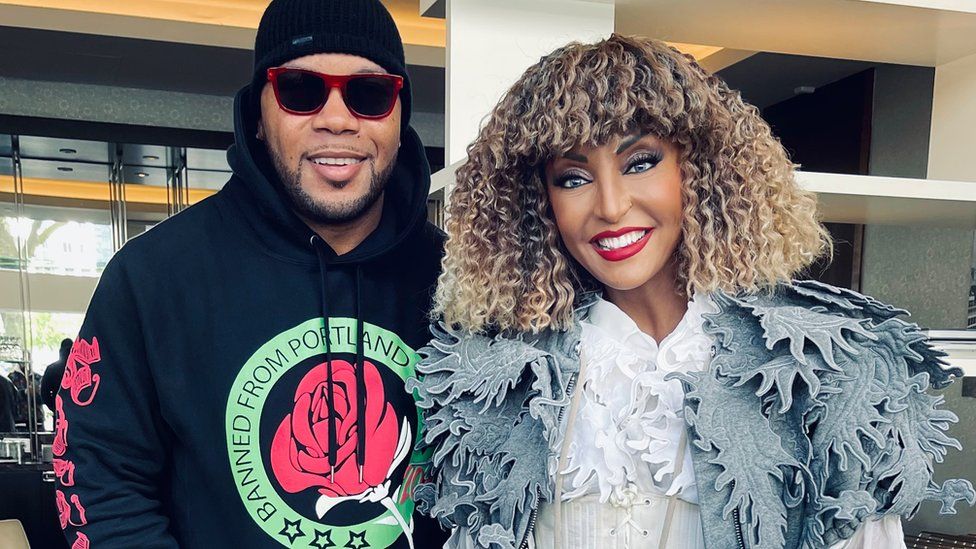 Flo Rida will appear for San Marino at this year's Eurovision Song Contest, it has been confirmed.
The rapper features on singer Senhit's track Adrenalina, which will open the second semi-final on Thursday.
There was uncertainty before the event in Rotterdam on whether he would make it to the Netherlands, but he arrived from the US early on Tuesday.
In rehearsals, a stand-in has been rapping his verse as Italian singer Senhit performs.
Referencing one of his biggest hits, he said it's "such a good feeling to be back in Europe after so long" and is "very grateful to be able to perform on one of the biggest stages".
Earlier this year, Flo Rida told Radio 1 Newsbeat he had no prior knowledge of the contest before he was approached to do his verse for the track.
"Senhit's people reached out to my people. The song is high energy, which I love," he said.
Flo Rida appearing in person now means the US chart topper is helping to represent one of the smallest countries in the world.
"It's been so hard to keep this a secret," says Senhit. "He's an amazing artist and he did an amazing job on my song. It's the perfect match.
"For those three minutes on stage, we're going to put on a huge concert."
There are strict rules in place for all artists and staff at Eurovision to make sure the contest goes ahead smoothly.
To perform at the event, Flo Rida has to be tested every 48 hours for Covid-19. A negative result then gives him access to the venue in Rotterdam where the competition is taking place.
In a statement, the rapper referenced the pandemic and said his medical staff had worked with him to make sure he could get to Europe safely.
More stories from the world's favourite song contest:
Flo Rida has had five number one UK singles: Right Round, Club Can't Handle Me, Good Feeling, Bad Boys (with Alexandra Burke) and Troublemaker (with Olly Murs).
The country he's helping to represent, San Marino, is the 5th smallest in the world and has competed ten times at Eurovision.
Its highest placed finish was in 2019, when representative Serhat came 19th with his track Say Na Na Na in the grand final.
This year's singer Senhit previously represented the country in 2011 but failed to qualify for the final.