Chelsea women: Why Emma Hayes is the driving force behind success
By Manish Pandey and Betty Glover
Newsbeat reporters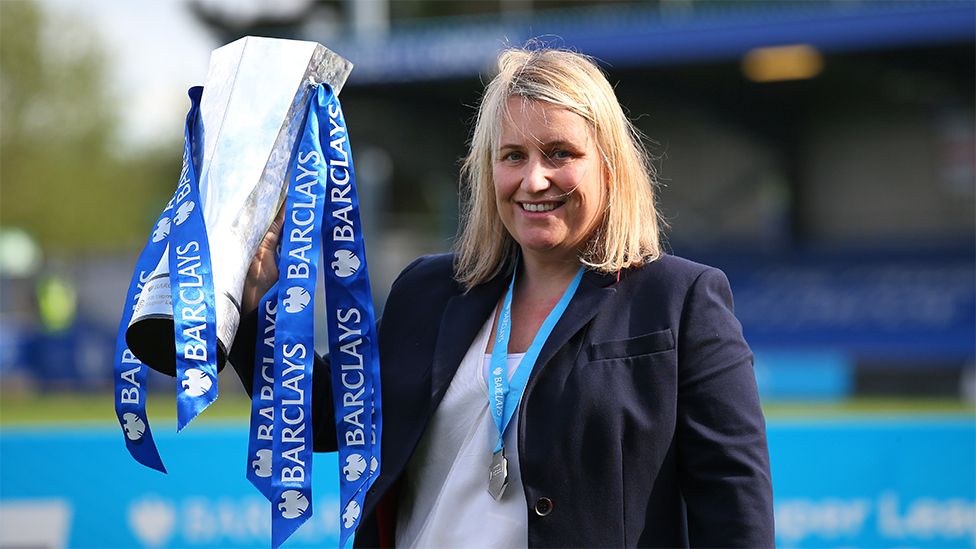 When Emma Hayes became Chelsea women's coach in 2012, they'd just finished sixth. Now, they're gunning for a historic quadruple of trophies.
After a dramatic semi-final victory, in which her heart rate spiked rather dramatically, they play Barcelona in the Champions League final to get the third trophy in that quest.
They've already won the League Cup and a record fourth Super League.
"She knows how to put things in perspective," Chelsea midfielder Erin Cuthbert tells Radio 1 Newsbeat.
Emma is widely credited for evolving the team through the years and getting the best out of the players.
Team talks featuring geese
It may not sound like a conventional motivation tool but her methods do work wonders.
"She does a new topic every week and it's an inspiring team talk," 22-year-old Erin explains.
"Sometimes it's about people who've run marathons without sleep, so she says if they can do that, surely we can play 90 minutes of football and win the game."
Downplaying the importance of football, in a year when the world has been hit by a pandemic, has brought the best out of players like Erin.
"When things are put in perspective, it makes you believe I can go and do that. If they can do it, I can do it."
Chelsea forward Beth England praises Emma for being able to emphasise the importance of teamwork to make it to the very top of the game.
Using a geese analogy is something Sir Alex Ferguson did to his players at Manchester United.
The birds would fly in a V shape, with each bird taking it in turn to be at the front leading the others.
"The point being that as a unit they all work well together and it's not just about having one leader, but multiple leaders in the team."
"It's how the team works together to reach their common goal," 22-year-old Beth adds.
Emma O'Connor has been a Chelsea fan her entire life; "a religion" she calls it.
She's seen the progress of the women's team "building for years" under Emma Hayes.
"We've gone from having semi-professional players to world-class internationals that want to play for Chelsea. It's the same for the support staff."
She says Emma had a vision "and now we're actually seeing the fruits of it".
"When she started, a lot of the players were not getting paid a full-time salary. And now they train at the main training ground, have access to the same marketing team and get more recognised."
"The mentality has changed. Emma wants to win and she's got that through to every single player."
She says Emma has made the right calls and been backed by the club as well, which deserves praise.
"She has high expectations of herself but also players and staff. So to be the best you need to be that role model."
As the competition's become tougher, with Manchester City, Arsenal and Manchester United all competing now, it's about improving.
"She keeps thinking outside the box, developing the mentality to be the best. If you stop adapting, you become stale and you won't win."
They share a name but as a coach herself, Emma also wants to emulate the success of the Chelsea boss.
"She's the pinnacle of what I'd like to achieve. She wants to be better and tells her team to work the hardest to be the best."
"You can't expect to be the best or expect to get respect if you're not at the top of your game."
The Chelsea boss has also shown that gender is not a barrier to being a successful coach.
"Ignore that it's Chelsea women. She coaches players, footballers who have the same needs and demands as male footballers as well. It's literally the same sport."
And it's that quality of coaching which gives the club and its fans belief they can lift their first Champions League trophy.
"We're not just going for a runners-up medal, we're not going there just to show our faces," says Beth.
"We're going there to win".