Accessibility and outdoor socialising: 'I feel unwelcome in my own city'
By Michael Baggs
Newsbeat reporter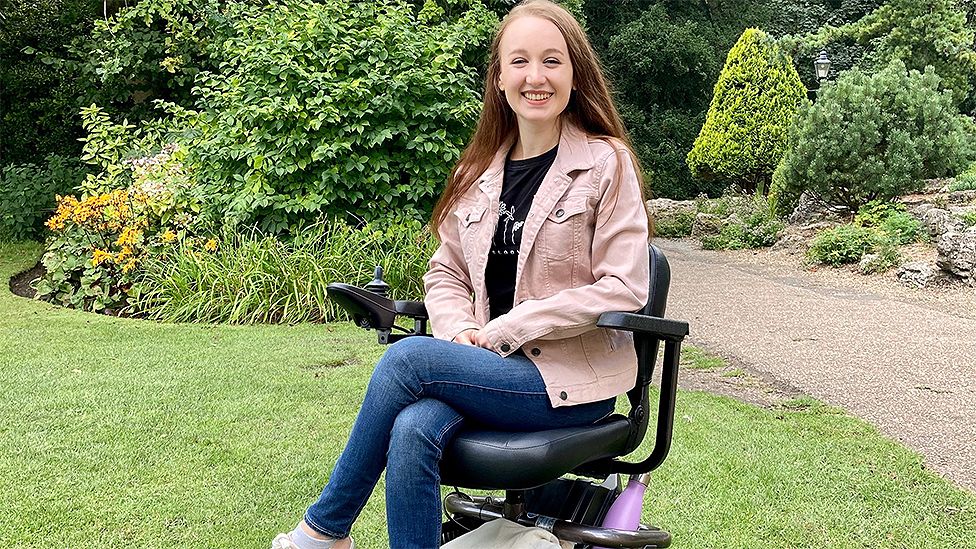 There's probably quite a nice vibe on your high street at the moment, with tables outside restaurants and bars as people catch up with each other face-to-face for the first time in months.
But it's not been great news for everyone.
Some disabled people, especially wheelchair users, have seen reduced access to certain streets and parts of their hometown.
Earlier this month, accessibility campaigner Katie Pennick shared her experiences of trying to get through the streets of Soho, London - and received thousands of responses.
Fun fact about me: I use a 'teenagers' wheelchair. It's tiny. 23inches wide.

If I'm struggling to get through these "gaps", they are completely impassable for most wheelchair users and visually impaired people with dogs.

Pavements must be kept clear enough for pedestrians. pic.twitter.com/ey0bQawdAr

— Katie Pennick (@KatiePennick) May 3, 2021
Pippa Stacey's had very similar experiences.
"It's not just options of places to go, but when you're trying to get from A to B, there are all kinds of obstacles that are blocking the way," she tells Radio 1 Newsbeat.
Pippa, 26, was diagnosed with myalgic encephalomyelitis (ME) while she was at university.
She now uses either a wheelchair (which she calls George) or a power chair (named Janice).
'I had to squeeze between two bins'
Pippa lives in York, and says its cobbled streets weren't very wheelchair friendly even before the post-lockdown hazards of people dining on pavements.
But in recent weeks, it's got worse.
"The other day I had no choice but [to] squeeze between two big public bins. That was the only way to get through to where I needed to go - it was embarrassing," Pippa says.
"More often than not, in these situations, there are other people nearby looking and they don't get up to help.
"It is very embarrassing to think, well, I've got no choice here."
Pippa says the idea that disabled people should "stay home" while things reopen is frustrating and "very telling" about how society views disabled people.
"The attitude still seems to be: 'Well, it's just a minority of people, they should probably just stay at home for a few more weeks, it's more important to start opening the businesses.'"
"I feel like I'm not welcome in my own city," she adds.
"Like lots of other people, I just want to go out, and I want to support the independent businesses and do my part.
"I think it's easy to forget that wheelchair users, more often than not, are working professionals. They have their own lives. It's not just a case of putting them neatly in the corner. So it's a very frustrating situation at the minute."
'I shouldn't have to change my routine'
It's the same for Ellie and Jasmine Bamber. They're sisters, live in Manchester and both use wheelchairs.
Jasmine, 21, says she's been struggling to catch her bus to attend her college because of obstructed pavements.
"The usual bus route I was getting isn't possible anymore, because the street I'd have to get across is now covered with tables and chairs for all the restaurants," Jasmine tells Newsbeat.
Unless she leaves home much earlier, she's arriving at college 20-30 minutes later than she should be.
"I don't want to be getting up hours too early and then getting in far too early. I shouldn't have to," she adds.
They both avoid going near the city centre and if there's any spot they have particular problems with, they won't go back.
"Although people have been quite considerate, I think people are starting to forget a little bit and that makes it harder to be out," says 25-year-old Ellie.
"The space we did have is getting taken up."
For Holly Greader, 23, it's not just the people at tables she's had problems with - it's the queues of people waiting to be seated as well.
"They make eye contact with me but they don't move out the way and I don't have a choice but to sit there and wait for somebody to move," says Holly, who's from Cardiff.
"I think the hope was that lockdown had given people an insight into what it can be like for disabled people - the isolation and everything else.
"I feel like now we're coming out of the restrictions, we're forgetting all these things that we've learned, and there is a lack of understanding."
Disability equality charity Scope says the post-lockdown world seems to be "locking out" disabled people.
"We understand that people want to get out, meet their friends and enjoy a meal or drink out with them, but this should not be at the expense of disabled people," says Alison Kerry, Scope's head of communications.
Pippa says it comes down to finding a solution that works for everyone.
"It doesn't have to be outdoor seating or accessibility, you can have both," she says.
Holly adds: "We just want to get out, we want to see the world returned to a bit more normal. And we just need them to be a bit more understanding around how we're getting around."