Junior doctors in India's Covid crisis: 'We've grown up really fast'
By Alice Evans
Newsbeat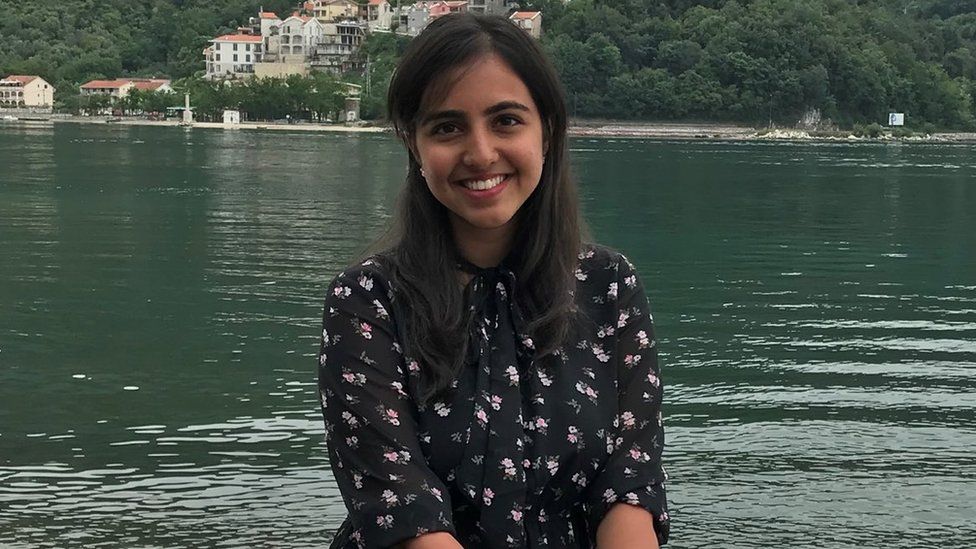 "We've had to grow up a lot in one month... as fresh interns we've been thrown into a crisis-like situation."
It's often said that jumping in at the deep end is the best way to start a new job.
And as Covid cripples India's healthcare system, it's sink or swim for junior doctors fresh out of university.
On 26 February, 22-year-old Dr Pankti Pandya had just finished her final year of undergraduate study in her home state of Gujarat, on India's west coast.
There were 424 Covid cases that day in Gujarat.
That daily number had risen to 1,580 by 22 March, when Pankti started her internship - the final phase of medical training before officially graduating - at Shree Krishna Hospital, in the district of Anand.
And by the time she had finished her first month of work, Gujarat's daily cases had soared to more than 12,500.
"It is a lot of work and you cannot sit for even a moment," Pankti tells Radio 1 Newsbeat.
Instead of spending the year doing placements in lots of different areas of medicine, this year's interns are needed on the Covid front line.
Pankti and her peers have been put on a constantly changing shift pattern that includes periods of seven consecutive days of 12-hour shifts - night or day - on a Covid ward.
"We've been thrown into that field, into the thick of things," she says.
Pankti describes one shift where she had to look after about 60 patients with only two more doctors - also junior - on shift.
They were on a non-critical Covid ward, where patients are considered "stable" - which means fewer doctors get allocated per ward.
"We could feel the shortage of workforce," Pankti says.
She says it can feel "very scary" to work in critical care units when there are so many patients that "there's no way that you can look after all of them".
Deciding how to prioritise patients and seeing lots of people die are things doctors usually take years to learn to manage, Pankti says.
But in the face of the pandemic, the interns "have grown up really fast".
"A lot of my friends have had to deal with death at a very early time in their internship, almost on their first day or first night - which is always something which affects you a lot when you are first training."
That's a feeling shared by Dr Simran Agrawal, 24, who began her internship at Nair Hospital in Mumbai in March 2020.
"It was difficult for us to cater to the mental health needs of our patients when we ourselves were physically and mentally drained and burnt out," she tells Newsbeat.
Simran says the "level of fear" among patients and staff was "the most challenging thing" during her internship.
"I saw patients who were isolated from their families... they would cry and they would try to run away."
In a separate conversation on the BBC's OS programme, Simran adds: "You know being a doctor will not be candies and roses… but to start your training with such a disheartening and heart-breaking atmosphere - that's quite challenging."
Between shifts on Covid wards, interns have been given some seemingly less demanding jobs, such as monitoring medical supplies across hospitals to combat shortages.
But these behind-the-scenes jobs can be just as draining.
Simran says one of her toughest jobs as an intern was managing a Covid helpline, which often involved finding hospital beds for callers and arranging ambulances for them.
In December and January, Simran began to feel burnt out, both physically and mentally, but felt there was "no option" to take a step back from her work.
"I would have loved to have a small break at that time, but there was no time for it," she says.
Back in Anand, Pankti also prefers the "exhausting" Covid ward shifts to the deskbound ones.
"Maybe because we're fresh trainees and we've just started out, we kind of feel the adrenaline rush.
"We see that this is a situation which needs help, and we feel like we can do our bit in helping - so we actually like to go there and we like to take care of patients.
"It's an exciting job - I actually cannot wait to get back."
Another junior doctor who is trying to focus on the positives is Dr Kamna Kakkar.
Kamna, 29, graduated as an anaesthetist last summer, but after spending a year treating critically-ill Covid patients in Rohtak, Haryana, she is thinking about changing her career path to stay in ICU.
"Despite all the sadness around us, despite all the devastation that's happening, I think when I'm able to save even one patient or two patients, that feeling of satisfaction is just so rewarding," she says.
"Maybe I was destined to be here."
However, Kamna admits the latest wave has been "devastating".
She works lots of double shifts because many colleagues are catching Covid, which leaves the wards understaffed.
A week ago, she became upset after seeing the "super crowded" emergency room full of Covid patients waiting for an ICU bed.
"It just broke my heart," says Kamna, who spoke to Newsbeat in a personal capacity.
Since that moment, Kamna is trying not to think about "the number of dead bodies piling up", so that she can focus on the people she can save.
"I hope I don't come across as someone inhuman, but this is the kind of life we live," she says.
"I think I've gotten used to these highs and lows of working in ICU and, hopefully, I'll be able to cope with it better in the coming days."